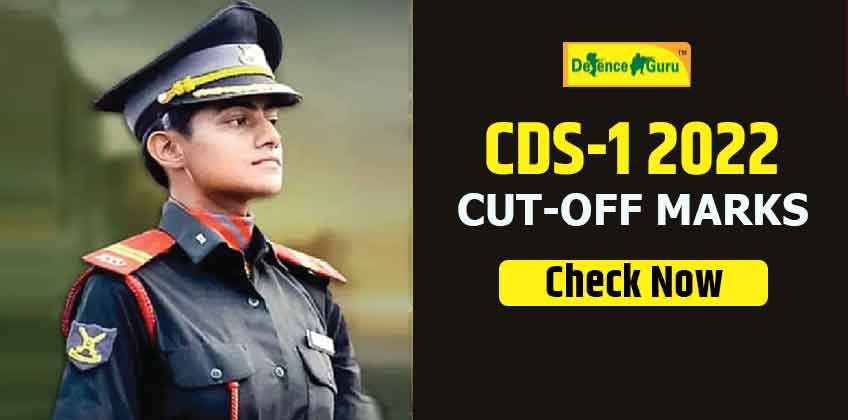 CDS-1 Cut Off 2022
Union Public Service Commission ( UPSC) will release CDS 1 cut-offs in 2022 after the completion of the exam. We have provided the expected cutoff for the exam. CDS cutoffs for the written exam are calculated based on the minimum qualifying marks in each subject and the minimum aggregate marks of the last qualified candidate. The final CDS cutoff is decided based on the marks of the last recommended candidate. The minimum qualification for each subject is 20 %.
Candidates need to secure separate qualifying marks in the written exam and SSB Interview. On the basis of the CDS cutoff, candidates got selected for the Indian Academy (IMA), Indian Naval Academy (INA), Air Force Academy (AFA), and Officers Training Academy (OTA).
Under the UPSC The CDS is conducted twice a year in the months of April and November. UPSC is going to conduct the CDS 1 2022 exam in the month of April 10
Factor Determining CDS Cut Off Marks
The cutoff marks of the CDS Exam are determined on the basis of the following factors:
Number of vacancies.
Total number of candidates appeared.
Difficulty level of the Exam
CDS-1 Cutoff 2022 - Written Exam
The written exam is the first stage of the CDS Exam. Candidates appearing for the Exam must score equal or more than the cutoff marks to qualify for the next stage which is SSB.
The minimum cutoff marks for the CDS exam 2022 is 20 % in all 3 papers. The written exam of CDS 2022 comprises 3 papers while candidates appearing for OTA have to appear for only two papers.
CDS-1 Cutoff 2022 - Final Merit List
The merit list of CDS 2022 will be released on the basis of performance in the written exam, SSB interview, and medical examination. Candidates who qualify in the CDS written exam 2022 will be called for an SSB interview and Medical examination.
After qualifying in all these stages, they will be recruited to the vacant posts as released by UPSC for the Combined Defence Services examination.
CDS Cutoff 2022 for SSB Interview
SSB Interview is conducted for the qualified candidates of the written exam. The SSB Interview follows the two-stages selection process. Stage 1 comprises Officer Intelligence Rating (OIR) test and Picture Perception Description Test (PP&DT). Stage 2 comprises interviews, Group Testing Officer Tasks, Psychology Tests, and the Conference. To Qualify SSB Interview, candidates need to secure the minimum qualifying marks. CDS cutoff for SSB Interview is decided out of 300 marks for IMA, INA, and AFA and 200 marks for OTA.
CDS 1 2022 Expected Written Cut-off
We have provided the expected cutoff for the written exam of the CDS 1 2022. With the help of cutoff marks, you can get an idea of how many marks you will need to get recruited
| | | |
| --- | --- | --- |
| Academy | Written Exam | Final Exam |
| IMA (Indian Military Academy) | 119 – 131 | 244 – 256 |
| INA (Indian Naval Academy) | 104 – 121 | 232 – 246 |
| AFA (Air Force Academy) | 146 – 151 | 267 – 271 |
| OTA (Officers' Training Academy) men | 73 – 84 | 161 – 170 |
| OTA (Officers' Training Academy) women | 75 – 85 | 164 – 170 |
CDS 1 2021 Cutoff
| | | |
| --- | --- | --- |
| Category | Written Cutoff | Final Cutoff |
| IMA (Indian Military Academy) | 145 | 268 |
| INA (Indian Naval Academy) | 136 | 260 |
| AFA (Air Officer's Academy) | 158 | 281 |
| OTA (Officers Training Academy) Men | 107 | 189 |
| OTA (Officers Training Academy) women | 107 | 191 |
CDS 1 2020 Cutoff
| | | |
| --- | --- | --- |
| Category | Written Cutoff | Final Cutoff |
| IMA (Indian Military Academy) | 130 | 250 |
| INA (Indian Naval Academy) | 118 | 242 |
| AFA (Air Officer's Academy) | 143 | 274 |
| OTA (Officers Training Academy) Men | 93 | 173 |
| OTA (Officers Training Academy) women | 93 | 177 |
CDS 1 2019 Cutoff
| | | |
| --- | --- | --- |
| Category | Written Cutoff | Final Cutoff |
| IMA (Indian Military Academy) | 116 | 242 |
| INA (Indian Naval Academy) | 105 | 233 |
| AFA (Air Officer's Academy) | 129 | 264 |
| OTA (Officers Training Academy) Men | 78 | 160 |
| OTA (Officers Training Academy) women | 78 | 162 |
CDS 1 2018 Cutoff
| | | |
| --- | --- | --- |
| Category | Written Cutoff | Final Cutoff |
| IMA (Indian Military Academy) | 118 | 240 |
| INA (Indian Naval Academy) | 98 | 225 |
| AFA (Air Officer's Academy) | 138 | 279 |
| OTA (Officers Training Academy) Men | 69 | 154 |
| OTA (Officers Training Academy) women | 69 | 150 |