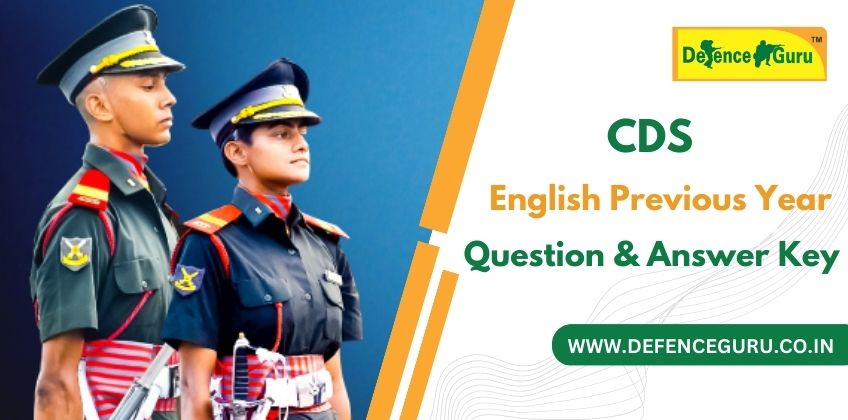 CDS English Previous Years Question Paper with Answer Keys
Previous Year Question Papers are an essential part of the CDS Preparation, especially in the English and maths papers. For the benefit of Candidates, we are providing the previous year's question paper for the English paper of the CDS Exam. We are providing answer keys for this paper so that candidates can practice questions in English and check their answers through answer keys.
Combined Defence Services Exam or CDS is a defence exam conducted every year by Union Public Service Commission to recruit Officers for Indian Armed Forces. Candidates are selected for Indian Army, Indian Navy, and Indian Airforce through his exam. After successfully qualifying CDS exam, Successful Candidates will be trained at Officers Training Academy, Indian Naval Academy, and Indian Airforce Academy. Thus training ranges between 9 months to 18 months at different training Academies.
CDS Exam has different patterns for OTA and Other Academies. For Officers Training Academy Chennai, General English and General Studies Papers are conducted. For Other Academies, General English, General Studies, and Mathematics Papers are conducted.
How do practice English for CDS Exam?
Practice is very vital for English papers in the CDS Exam. Without proper practice, it will be very hard to qualify this paper. There will be questions on a para jumble, comprehension, reordering, error detection, and cloze test in the English paper. You need to practice questions from these areas regularly from these areas to score good marks on the English paper.
Important things that should be kept in mind before starting to attempt English Paper:
First of all, English is a lengthy paper in the CDS, so time management in this paper is very important. You should attempt those areas first which take less time or those areas you are good at.
You should not start with time-taking areas like comprehension or para jumble. A question same mark as other questions, so you should start with a question that can be solved fast and easily like error detection.
Use Elimination Technique. Elimination Technique will help you not only in saving time but also prevent you from committing mistakes. For example, in reordering, if you think that the first sentence is not starting with P then you should eliminate options starting with P.
There are slight differences in the options in English papers, so you should be very careful while selecting the correct answer. Sometimes, Candidates mark the wrong answer in haste despite knowing the correct answer.
Candidates need to be extra careful while filling out OMR as well. They must cross-check that they are filling the right bubble. At times, Candidates fill the wrong bubble in the haste. Candidates must understand that overwriting is not allowed on the OMR so they must fill the OMR very very carefully.
Download CDS English Previous Years Question Paper with Answer Keys