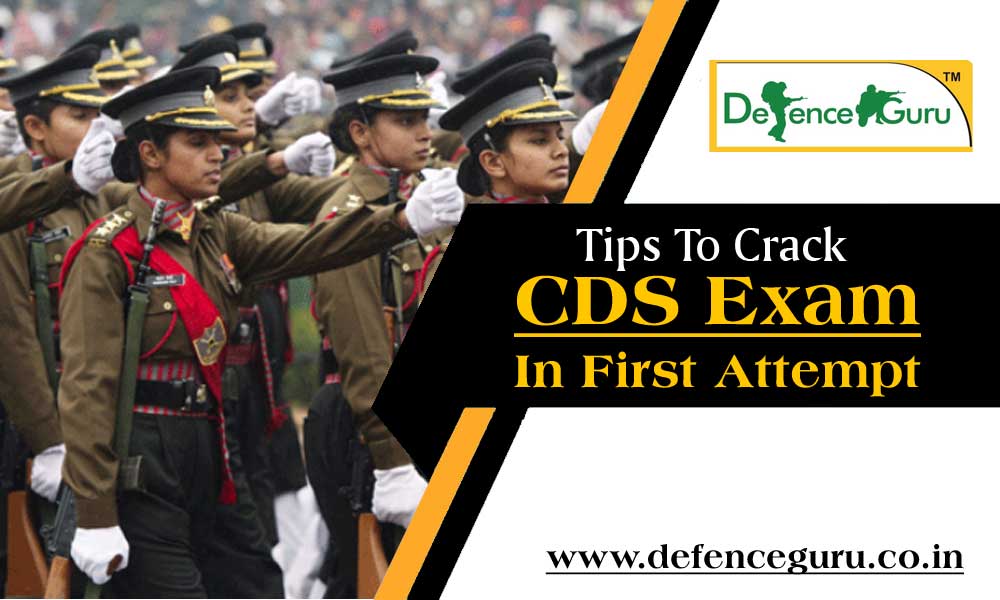 Tips to Crack CDS Exam in First Attempt
UPSC conducts CDS Exam twice a year. It is the golden opportunity for non-engineers to attend SSB interview for all three services. Here Defence Guru present you the Tips to Crack CDS Exam in First Attempt. If you follow these tips, you will surely clear the CDS Exam. To clear CDS exam, one needs to be focused, invest time and work hard.
Section-Wise CDS Exam Preparation
You should start your CDS preparation topic wise. First complete one subject and then start another one. This trick will help you focus all your attention in gaining expertise in a given subject first. Once you have mastered a subject you can move on to the next. more on single subject to better understand it. For a proper direction you can join Best CDS Coaching. This will ensure that you have a structured and methodical manner of studying and you are more likely to retain what you have studied, for longer periods of time.
Tips to Crack CDS English Test:
1. Develop the habit of reading the newspaper regularly to improve your vocabulary and reading speed for solving comprehension.
2. Improve your vocabulary for tackling Antonyms and Synonyms.
3. Grab a good book and practice a lot.
4. Go through previous year question papers for understanding the nature of questions and practicing.
Tips to Crack CDS General Knowledge Test:
1. Try to go through several sources to get knowledge of Current Affairs/Current news. Get to know current news on national and international affairs, financial news, sports, government scheme, currencies, Budget plan, etc.
2. you need to have your basics clear regarding Science subjects (Physics, Biology and Chemistry)
3. Read NCERT books for History, Geography, Polity, and Science etc.
4. Go through previous year question papers for understanding the nature of questions and practicing.
Tips to Crack CDS Mathematics Test:
1. Keep track of time. The questions in Mathematics are lengthy and you need to solve them without taking too much time.
2. Pick those topics in which you are comfortable with and which you find easy.
3. Write all important formulae on paper and clear all concepts.
Here are few commen tips for CDS Exam Preparation
1. Set A Routine: You could set a routine, plan which topics you want to cover and when; after doing a thorough study of the syllabus and the most important thing-follow the plan religiously to crack the CDS exam.
2. Topics To Be Covered In Syllabus: A comprehensive list of topics to be covered for the CDS exam is provided on the website. It is your job to go through this syllabus and memorize it if the need arises. The key is to remember what exactly you need to study and have an updated checklist of the completed/pending topics in the computer that is your brain.
3. Reading Newspapers, Watching The News On TV, Debates And Discussions For General Knowledge: A major section of CDS includes the General Knowledge section and this is not a subject that can be studied overnight. You need to start preparing as soon as you know you're giving the CDS. You can start by reading newspapers, watching the news on TV; attend debates and discussions that will enhance your awareness.
4. Time Management: One valuable weapon that you need to be armed with, not only for CDS Exam, but for any competitive exam, is the art of time management. These tests are generally designed to test your speed.
5. previous years' papers Practice: Always remember that no amount of practice is too much. You can try UPSC CDS model papers to practice for the exam and revise your concepts. There are also a couple of test series and mock tests available online. Also, check out previous years' papers for CDS to get a better idea of the exam.