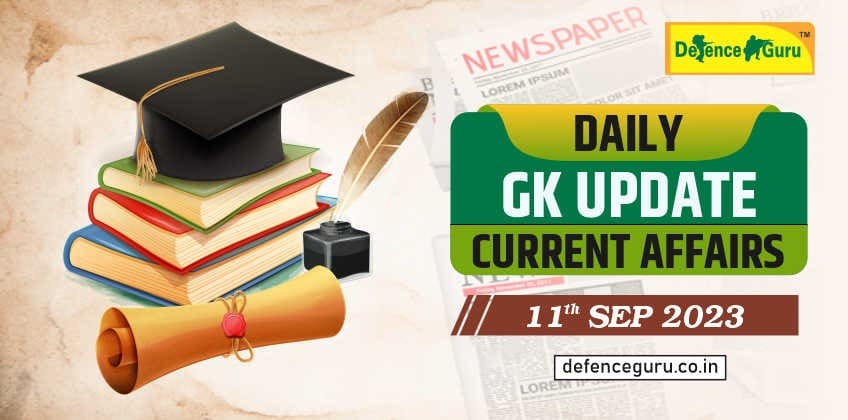 Defence Guru is a dedicated platform to provide Daily Current Affairs Updates to Defence Aspirants. Our Daily Current Affairs Update covers National Affairs, International Affairs, Economy, Sports, Awards and Honours, Books, Appointments, etc. You can follow us for regular current affairs updates. Current Affairs cover almost 15-20% of NDA, CDS, AFCAT, and MNS Exam syllabus. That's why It becomes very important for Defence Aspirants to cover Daily Current Affairs Updates. Our Current Affairs Update is accurate, reliable, and useful for every defence exams and other exams in India.
Current Affairs

National Affairs

PM Modi hands over the G20 Presidency gavel to Brazil's President.

Indian PM Narendra Modi handed over the G20 Presidency to Brazil's President Lula da Silva, who outlined priorities including social inclusion, sustainable development, and global governance reform.

World's Highest Fighter Airfield To Come Up In Ladakh's Nyoma.

The Border Roads Organisation (BRO) has initiated the construction of the world's highest fighter airfield in Nyoma, located in Ladakh.

International News

A deathly earthquake occurred in Morrocco claiming 21,00 Lives.

A catastrophic earthquake took place in the Al-Houz Province of Morocco.
In this catastrophic earthquake, at least 2100 hundred people have lost their lives.

Italy has decided to come out of the Belt and Road Initiative.

Italian Prime Minister Georgia Meloni has decided to pull out from the Belt and Road initiative started by China.
Italy was the first European country to join the One Belt and One Road Initiative.

Economy

Union Bank became the first bank to launch a Rupay Debit Card for Women.

Union Bank has launched 'Rupay Empower Her Debit Card' in association with the National Payment Corporation.
After launching this card, Union Bank became the first bank to launch a Rupay Debit Card for Women.

Important Days

Himalaya Diwas 2023- 9 September

Himalaya Day or Himalaya Diwas is celebrated every year on 9 September with an aim to preserve the Himalayan ecosystem and region.

Books and Author

Fire on the Ganges Life among the Dead in Banaras by Radhika Iyengar

Radhika Iyengar is the author of the book 'Fire on the Ganges: Life Among the Dead in Banaras,' released by HarperCollins.

Sports Current Affairs

The Indian U-16 Football Team has won the SAFF Under 16 Championship.

After Defeating Bangladesh, the Indian Under 16 Football Team has successfully won the South Asia Football Federation Under 16 Championship.
Read Also:
9th September 2023 Current Affairs
8th September 2023 Current Affairs