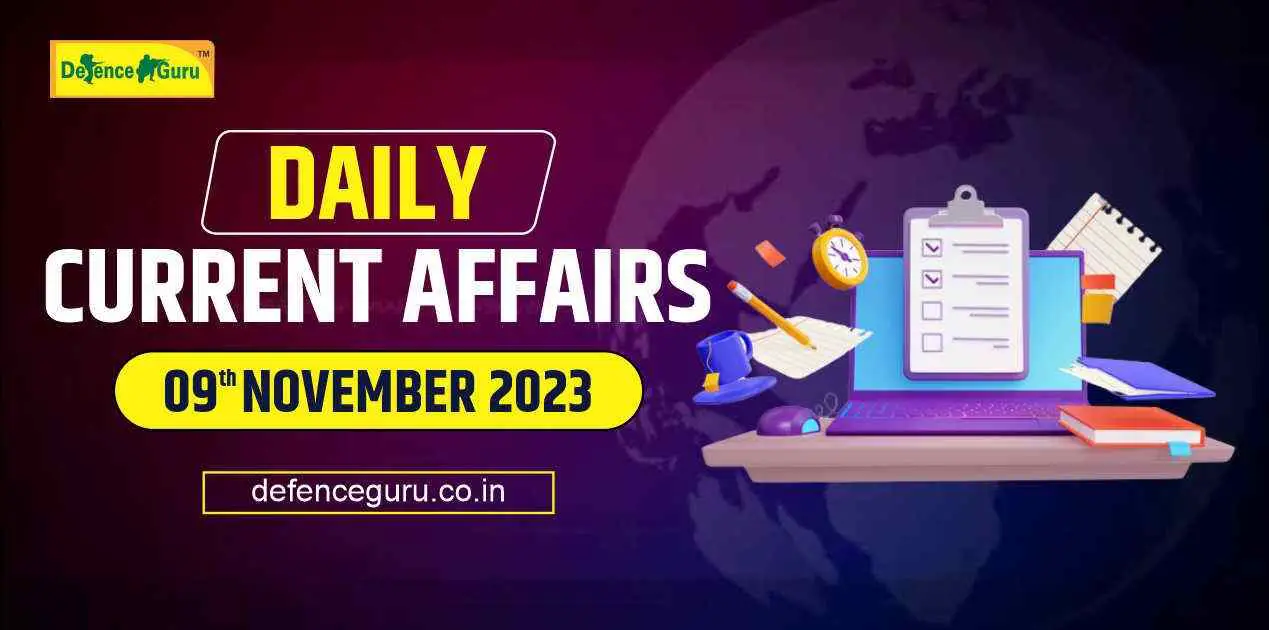 Defence Guru is a dedicated platform providing daily updates on current affairs tailored for defense aspirants. Our comprehensive Daily Current Affairs Update includes topics such as National Affairs, International Affairs, Economy, Sports, Awards and Honours, Books, Appointments, and more. Keeping abreast of current affairs is crucial as it constitutes nearly 15-20% of the syllabus for exams like NDA, CDS, AFCAT, and MNS. Defence aspirants can rely on our accurate and reliable Current Affairs Updates, which are not only valuable for defense exams but also beneficial for various other exams in India. Stay informed and stay ahead with our updates.
Saab's becomes first foreign defence company to get 100% FDI nod
In a landmark development, Swedish defence giant Saab has achieved a significant milestone by becoming the first foreign company to secure 100 per cent Foreign Direct Investment (FDI) approval for a defence project in India.

Saab has been given the green light to establish a new manufacturing facility in India, which will focus on producing shoulder-fired rockets.
Army Aviation to phase out Cheetah, Chetak helicopters from 2027
The Army Aviation Corps is currently operating around 190 Chetak, Cheetah and Cheetal helicopters which were introduced in 1976-1977.

Thus the helicopters require immediate modernization.

Induction of around 100 light utility helicopters (LUH) is planned for replacement.

Leasing additional helicopters is also under consideration to meet operational needs.
Amit Shah launches 'Bharat Organics' brand of cooperative body NCOL
Cooperation Minister Amit Shah launched 'Bharat Organics', a brand under National Cooperative Organics Ltd, aiming to become "trusted" globally.

NCOL, a platform for organic growers, plans to introduce 20 products by December, starting with six: tur dal, chana dal, sugar, rajma, basmati rice, Sonamasoori rice.

These products will be sold via Safal outlets, online platforms & retail stores.
Maharashtra: 1st state in National Games to cross 200 medal tally
Maharashtra has so far bagged 203 medals including 70 Gold.

Services Sport Control Board also continued its second position in medal tally with a total of 112 medals including 55 Gold medals.

While Haryana stood at third position with a total of 145 medals including 50 gold medals.

The 37th National Games is being held in Goa.
Mehuli Ghosh clinches 10m air rifle gold in National Games, Goa
On Tuesday, at the Mandrem Ranges, Mehuli demonstrated an impressive display of consistency in her performance.

Outputting a total of 633.1 points during the initial qualification round, she managed to top the qualification chart, further cementing her strong start to the competition.

She belongs to West Bengal.

The 37th National Games is being held at Goa.
Maharashtra CM Eknath Shinde unveils Shivaji Maharaj statue in J&K's Kupwara
Maharashtra's Chief Minister Eknath Shinde inaugurated a Chhatrapati Shivaji Maharaj statue near the India-Pakistan border in Kupwara, Jammu and Kashmir.
Maharashtra Chief Minister Eknath Shinde, along with other dignitaries, inaugurated a statue of Chhatrapati Shivaji Maharaj in the Kupwara district of Jammu and Kashmir on November 7.
The statue, a symbol of cultural pride, was installed at the 41 National Rifle (Maratha LI) camp, which is located in close proximity to the Line of Control (LoC) separating India and Pakistan.
President Droupadi Murmu's Visit On Uttarakhand Foundation Day
Uttarakhand marks its 23rd Foundation Day today, with President Draupadi Murmu participating— the first time a President has been part of Uttarakhand's Foundation Day program.
On November 9, Uttarakhand observes its 23rd Foundation Day, and President Draupadi Murmu will participate, marking the first instance in 23 years that a President has been part of Uttarakhand's Foundation Day program.