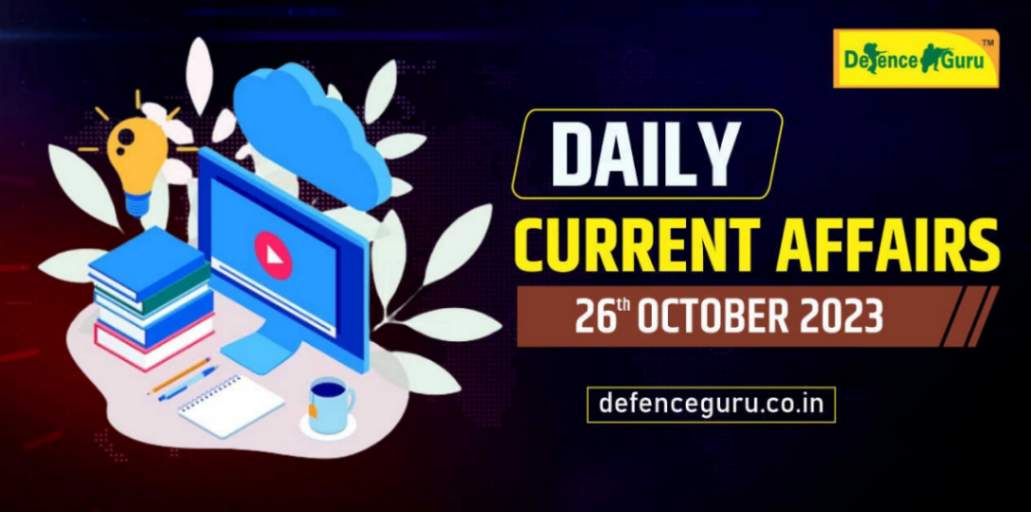 In an ever-changing world, remaining informed about the latest news and events is of utmost significance. Today, we present the Daily GK Update for the 26th of October 2023, offering a thorough glimpse of the most notable current affairs worldwide.
Being well-versed with the current affairs of October 26, 2023, is imperative, especially for students gearing up for NDA, CDS, AFCAT, MNS, and other defense examinations, as it constitutes a crucial segment of the syllabus. Stay tuned for the latest updates.
PM Modi chairs meeting of 43rd edition of PRAGATI
Prime Minister Shri Narendra Modi chaired the meeting of the 43rd edition of PRAGATI, the ICT-based multi-modal platform for Pro-Active Governance and Timely Implementation, involving Centre and State governments.
During the interaction, Prime Minister also reviewed 'Mobile Towers and 4G Coverage under USOF Projects'.
In the meeting, a total of eight projects were reviewed.
PM Modi to visit Maharashtra and Goa
Prime Minister Narendra Modi will visit Maharashtra and Goa.
Prime Minister will launch the 'Namo Shetkari Mahasanman Nidhi Yojana'.
It will benefit more than 86 lakh beneficiaries of the Pradhan Mantri Kisan Samman Nidhi Yojana in Maharashtra, by providing an additional amount of six thousand rupees per year to them.
He will inaugurate the 37th National Games in Margao.
Kerala: India's first all-woman police station celebrates 50 years
October 23, 1973, Prime Minister, Indira Gandhi, inaugurated the country's first women's police station in Kozhikode.
The PM then handed the station's first sub-inspector, M Padminiamma, a pen to sign the inaugural register.
Some assert that this trailblazing initiative might, in fact, hold the distinction of being the world's first of its kind.
Operation Chakra-2: CBI action against cyber criminals
The Central Bureau of Investigation (CBI) carried out a widespread crackdown on cyber criminals in India in an operation known as 'Operation Chakra-2.'
This operation involved searches at 76 locations across the country and was prompted by the registration of five separate cases of cyber-enabled financial fraud, including a ₹100-crore cryptocurrency scam.
All India Nau Sainik Camp held at INS Shivaji in Lonavala
All India Nau Sainik Camp 2023 showcased the excellence of Naval Wing Cadets of NCC in INS Shivaji, Lonavala.
The above mentioned Maiden Camp is aimed towards Nation Building and youth empowerment.
The event this year was won by Maharashtra Dte with AP & Telangana Dte being Runners Up.
Lt Gen Gurbirpal Singh AVSM, VSM, DG NCC presided the event.
Rakesh Bhaira won Bronze in Men's 1500m-T46 event at Asian Para Games
The Prime Minister Shri Narendra Modi congratulated Rakesh Bhaira for securing a bronze medal in the Men's 1500m-T46 event at the Asian Para Games, held at Hangzhou, China.
Rakesh Bhaira won bronze with a season-best timing of 4:11:09 minutes.

Simran Vats won Silver in Women's 100m T12 event in Asian Para Games
The Prime Minister, Shri Narendra Modi has congratulated Simran Vats on winning the Silver medal in Women's 100m T12 event at Asian Para Games 2022 in Hangzhou, China.
Simran Vats secured the silver medal after beating Shen Yaqin of China to earn the first medal of the day in para athletics with a timing of 12.68 seconds.
NASA's Roman Space Telescope

NASA is preparing to embark on a remarkable journey into the depths of our Milky Way Galaxy using the Nancy Grace Roman Space Telescope.
the Roman Telescope will conduct stellar seismology studies on one million giant stars. Scientists will analyze the variations in brightness that occur as sound waves travel through the gaseous interiors of these stars.
Stay informed on the latest International, National, Sports, Economy, schemes, appointments, and current affairs updates with the comprehensive coverage provided by Defence Guru Current Affairs. Our platform is your reliable source for daily updates and insights into the dynamic world of current affairs. Keep yourself up to date with us!

Read Also:
25th October 2023 Current Affairs