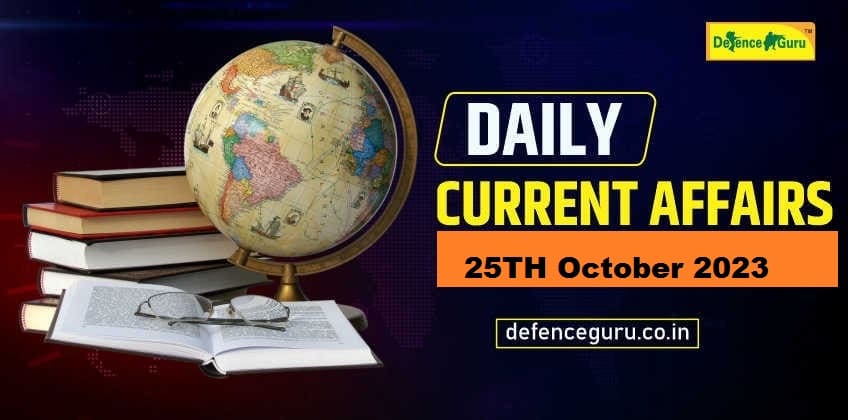 Stay ahead of the curve with our Daily GK Update for October 25th, 2023. Dive into the latest Current Affairs, uncovering essential news, events, and insights shaping the world today. Enhance your knowledge, broaden your horizons, and be in the know with our comprehensive daily roundup.
Staying updated with the 25 October Current Affairs 2023 is essential for students who are preparing for NDA, CDS, AFCAT, MNS & Other Defence exams, as it forms an important part of the syllabus.
Amit Shah inaugurates Country's first Nano DAP plant in Gandhinagar
Union Minister for Home and Cooperation Amit Shah inaugurated IFFCO's nano DAP (liquid) plant at Kalol in Gandhinagar, Gujarat.
Nano urea is sprayed not on the ground but on the plants and due to this, there is zero possibility of destruction of natural elements or the earthworms present in the soil.
It may also help in natural farming.
Skyroot unveils Vikram-1 rocket, set to launch satellites early 2024
Space start-up Skyroot Aerospace unveiled its indigenously built Vikram-1 rocket.
Planned to be launched in early 2024, Vikram-I will be Skyroot's second rocket, after the successful launch of the Vikram-S rocket.
Vikram-1 is a multi-stage launch vehicle with a capacity to place around 300 kg payloads in Low Earth Orbit.
Kangana Ranaut becomes first woman to perform Ravan Dahan
Actor Kangana Ranaut performed the Ravan Dahan at New Delhi's famed Lav Kush Ramleela on the occasion of Dussehra.
In the 50-year history of the event, held annually at the Red Fort, this was the first time a woman set the effigy of the demon king ablaze by shooting an arrow.
67th Dhammachakra Pravartan Day being celebrated in Nagpur
In Nagpur, on the occasion of 67th Dhamma Chakra Pravartan Day various events are being organised.
Dr. Babasaheb Ambedkar, embraced Buddhism with millions of his followers on the day of Vijaydashmi at Deekshabhoomi in Nagpur at October 1956.
Monk Dhammaratna Thero of Sri Lanka is the chief guest on the occasion of 67th Dhamma Chakra Pravartan Day.
India-Malaysia joint army EX. HARIMAU SHAKTI commenced in Umroi.
Joint bilateral training Exercise Harimau Shakti 2023, between Indian & Malaysian Army commenced in Umroi Cantonment, India.
The Malaysian Army contingent comprises troops from 5th Royal Battalion.
The Indian contingent is being represented by the Rajput Regiment.
120 personnel from both sides will participate for enhancing military capability in Multi Domain and Sub-Conventional Operations
Rajnath Singh launches army's project "Udbhav"
Project Udbhav is aimed at integrating ancient wisdom with modern military pedagogy, thereby fostering Revolution in Military Affairs and nurturing India's civilizational military values.
It will also provide a platform for discussing various contemporary issues relating to India and the world pertaining to security, strategy, and international relations.

Read Also:

Current Affairs One Liners September 2023