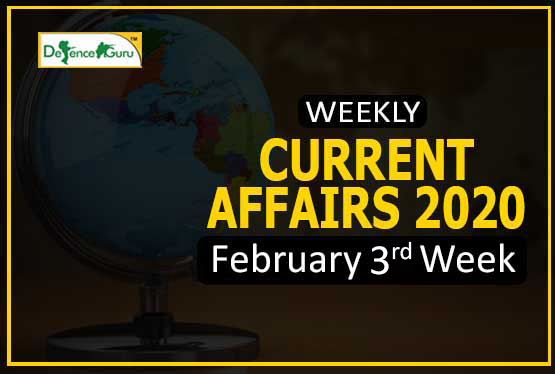 APPOINTMENTS
JP Nadda
BJP Working President J P Nadda was elected unopposed as the National President of the Bharatiya Janata Party. Party's election in-charge of organization, Radha Mohan Singh gave him the certificate of his election on the occasion. Earlier, the nomination process for the top party post was held at party headquarters in the national capital.
Mr. Nadda, who is from Himachal Pradesh, was appointed as the party's working president in July last year. He has long been a member of the BJP Parliamentary Board, its highest decision-making body. He was also the Cabinet Minister in the first tenure of the Narendra Modi Government.
Nripendra Misra
Former principal secretary to the Prime Minister, Nripendra Misra, has been appointed chairperson of the executive council of the Nehru Memorial Museum and Library (NMML).
According to a government order, the Executive Council of the NMML has been reconstituted and it will be now chaired by Mr Misra. Mr Misra is a 1967-batch retired IAS officer. The Nehru Memorial Museum & Library is a museum and library in New Delhi, which aims to preserve and reconstruct the history of the Indian independence movement.
Arjun Munda
Union Minister Arjun Munda was elected as President of the suspended Archery Association of India (AAI) in its much-delayed elections. The elections were held as per the Delhi High Court order. Mr Munda had a smooth sailing as he beat his rival B V P Rao by a margin of 34-18 votes. A three-time Jharkhand Chief Minister, the 51-year-old Munda is a hugely popular tribal leader who also runs an archery academy which was instrumental in the rise of former world number one Deepika Kumari.
Harish Salve
Senior Advocate Harish Salve has been appointed the Queen's Counsel for the courts of England and Wales. This was announced by the United Kingdom's Ministry of Justice Department. The title of Queen's Counsel is usually awarded to lawyers possessing demonstrated skill and expertise in the conduct of advocacy. Advocate Salve served as a Solicitor General for India until 2002.He is known for representing India before the International Court of Justice in the Kulbhushan Jadhav extradition case.
Sujit Pandey
Senior IPS officer Sujit Pandey took over as the first police commissioner of Lucknow. Senior IPS officer Alok Singh also took charge as the first commissioner of police of the newly-formed Gautam Buddh Nagar commissionerate. Yogi Adityanath government had approved the commissionerate system of policing in Lucknow and Noida. The system gives more powers, including magisterial powers, to police officers and is aimed at better and effective policing.
DEATHS
Shamsher Singh Surjewala
Veteran Congress leader Shamsher Singh Surjewala has passed away following prolonged illness.n Surjewala, father of party leader Randeep Surjewala, breathed his last at the AIIMS hospital in Delhi. Shamsher Surjewala remained a five-time MLA and one-time Rajya Sabha MP. He was also the former president of the Haryana Congress and a former minister. He was the president of the Haryana Krishak Samaj and fought for farmers rights.
Sunanda Patnaik
Eminent Indian classical singer and daughter of noted Odia poet Baikunthanath Patnaik, Sunanda Patnaik passed away. Singer of Gwalior gharana of classical music, Sunanda was referred to as 'Guruma' in the classical music circle. Her popular devotional Odia song 'Jeevana Patra Mo Bhariccha Kete Mote' that was penned by her father, still holds a special place in the hearts of Odias. For her contribution to Hindustani classical music, Sunanda was honoured with the Odisha Sangeet Natak Akademi award in 1970 and 1971 and the Central Sangeet Natak Akademi Award for the year 2012.
Khagendra Thapa Magar
The world's shortest man who could walk, as verified by Guinness World Records, died in Nepal. Khagendra Thapa Magar, who measured 67.08cm (two feet and 2.41 inches), died of pneumonia. Magar was first declared the world's shortest man in 2010 after his 18th birthday. Magar became an official face of Nepal's tourism campaign, which featured him as the smallest man in a country that is home to the world's highest peak, Mount Everest.
Bapu Nadkarni
Nadkarni enjoyed a 13-year international career, during which he played 41 Tests and snared 88 wickets. The legendary cricketer will be best remembered for bowling 21 consecutive maiden overs against England in a Test match in Chennai. He also served as a member of the National Selection Committee and also as the Joint Honorary Secretary of the Mumbai Cricket Association (MCA).
AWARDS
10. 18th Dhaka International Film Festival (DIFF)
The Iranian film 'Castle of Dreams' directed by Reza Mirakarimi won the Best Film Award in Asian Competition section of the 18th Dhaka International Film Festival (DIFF). The film also won the Best Director Award. Information Minister of Bangladesh Hasan Mahmud gave away the award carrying prize money of Tk 1 lakh, a citation in the closing ceremony held in Dhaka.
Indian film 'Finally Love' directed by Anjan Dutt bagged Best Audience Award in Cinema of the World Category. The theme of this year's festival was 'better film, better audience, better society'
SPORTS
Tow-day SQAY competition kicks off in Madhya Pradesh
The two-day SQAY competition is being organized at Sports Authority of India (SAI) in Bhopal, Madhya Pradesh. The under-21 category tournament is organized under the 'Ek Bharat Shreshtha Bharat' campaign. SQAY is a martial art form of Central Asia, in which the players show the skills of fencing. Experts say that the martial art form originated in Kashmir. In this competition, teams from eight states across the country including Uttarakhand, Karnataka, Goa, Jharkhand, Madhya Pradesh, Manipur, Bihar and Tripura will participate.
Indonesia Masters 2020
Thailand's Ratchanok Intanon lifted the Indonesia Badminton Masters 2020 women's singles title after defeating Carolina Marin in the summit clash. Intanon defeated Marin 21-19, 11-21, 21-18 in one hour and twenty minutes long match.
The clash went into three-games and both the shuttlers tried their 100 per cent to turn things in their favour. Despite losing the first game, the Spanish shuttler made a comeback in the second game and claimed the game by 21-11. Intanon won the match by claiming the third game by 21-18.
Rome Ranking Series-2020
In wrestling, India has returned with seven medals from the Rome Ranking Series. Bajrang Punia and Ravi Kumar Dahiya claimed gold medals in the tournament.
The 25-year-old Bajrang staged a comeback to secure a 4-3 win against USA's Jordan Michael Oliver in the summit showdown of the 65kg freestyle category. The 23-year-old Ravi bagged the gold after defeating Kazakhstan's Nurbolat Abdualiyev 12-2 in his final 61 kg category bout.
Earlier, Vinesh Phogat won a gold and Anshu Malik a silver in the women's competition.In Greco-roman, Gurpreet Singh won gold in 82 kg category. Sunil Kumar settled for a silver in the 97kg category while Sajan Bhanwal got a bronze in the 77 kg category.
A dominant Vinesh Phogat won her first gold medal of the 2020 season at the Rome Ranking Series event after teen sensation Anshu Malik settled for a silver in 57kg competition, in Rome. Vinesh downed two tough Chinese rivals on her way to the 53kg gold medal bout in which she overpowered Ecuador's Luisa Elizabeth Valverde 4-0. She won by technical superiority against Khrystyna Bereza (10-0) and Lannuan Luo (15-5) before getting the better of Qianyu Pang (4-2).
WTA International trophy -2020
In Tennis, Sania Mirza and her Ukrainian partner Nadiia Kichenok have won the women's doubles title of the WTA International trophy at Hobart in Australia. In the final, they beat Shaui Peng and Shuai Zhang of China 6-4, 6-4. It is Sania's 42nd WTA doubles title and first since Brisbane International trophy in 2007 with American partner Bethanie Mattek-Sands.
MS Dhoni
Mahendra Singh Dhoni was dropped from the Board of Control for Cricket in India's list of centrally-contracted players. The BCCI announced the central contracts for the period of October 2019 to September 2020. The 38-year-old player was in the 'A' category, which fetches a player five crore rupees as annual retainership, until last year. Skipper Virat Kohli, Rohit Sharma and top pacer Jasprit Bumrah were retained in the highest A bracket of seven crore rupees. Veteran Cricketer Mithali Raj was demoted to Grade 'B' from 'A' while Radha Yadav and Taniya Bhatia were elevated to the middle bracket. T20 skipper Harmanpreet Kaur retained her 'A' category contract alongside Smriti Mandhana and Poonam Yadav.
INTERNATIONAL
50th Annual Meeting of World Economic Forum
The 50th Annual Meeting of the World Economic Forum, a congregation of rich and powerful from across the world, opens in Davos, Switzerland. Commerce and Industry Minister Piyush Goyal will lead the Indian delegation to the WEF. Besides, over 100 CEOs, political leaders including Union Ministers and Chief Ministers will take part in the 50th edition of the annual event. The welcome message was followed by the annual crystal awards and this year's recipients included celebrity film star Deepika Padukone.
Myanmar-China push for BRI with 33 deals
Myanmar and China signed 33 bilateral deals including agreements, MoUs, exchange letters and protocols on the concluding day of the two day visit by the Chinese President Xi Jinping to Myanmar. A large number of these deals relate to the implementation of the China Myanmar Economic Corridor (CMEC) under the Belt and Road Initiative (BRI) launched by China. The two countries signed a concession agreement and shareholders' agreement for the Kyaukphyu Special Economic Zone (SEZ) deep seaport project. The port will link the land locked Yunnan province of China directly to the Indian Ocean allowing China to bypass the strait of Malacca through which it imports a sizable amount of oil and gas.
Social Mobility Index: India ranks low at 76th place; Denmark tops
India has been ranked very low at 76th place out of 82 countries on a new Social Mobility Index compiled by the World Economic Forum. Denmark has topped the charts. The report, released ahead of the 50th Annual Meeting of the WEF, also lists India among the five countries that stand to gain the most from a better social mobility score. The top five are all Scandinavian, while the five economies with the most to gain from boosting social mobility are China, the United States, India, Japan and Germany.
China reports SARS-like virus spreads across country, nearly 136 new cases
China reported a mysterious SARS-like virus has spread across the country, including to Beijing. A third person was confirmed to have died and nearly 140 cases were announced. The new coronavirus strain has caused alarm because of its connection to Severe Acute Respiratory Syndrome, which killed nearly 650 people across mainland China and Hong Kong in 2002-2003. A total of 201 people have now been diagnosed with the virus in China. SARS, or Severe Acute Respiratory Syndrome, is the disease caused by SARS coronavirus.
Russia to deliver S-400 air defence systems to India by 2025
Russia said it has started production of S-400 long-range surface-to-air missile systems for India, and all five units will be delivered by 2025. In October 2018, India signed a USD 5 billion deal to buy the air defence missile systems. Russian Deputy Chief of Mission Roman Babushkin also said that a contract will be finalised shortly for joint production of Kamov lightweight multi-role military helicopters for India. The Indian Armed forces will receive the first batch of 5,000 Kalashnikov rifles this year as well. These will be produced in India under a joint venture.
Brazil's new US$100 million Antarctic base, built by China
Brazil has inaugurated a new US$100 million Antarctic base, built by Chinese company CEIEC to replace a research station destroyed by fire almost seven years ago. The new 48,375 sq ft facility was bigger and safer, with 17 laboratories, a heliport, and other advances. Scientists will use the base to study microbiology, glaciers, and climate, among other areas. Brazil's programme was set back in 2012 when an explosion in the generator room caused a fire that killed two naval officers and destroyed 70 percent of the building.
First Session of India-Norway Dialogue on Trade & Investment (DTI) concluded
The first Session of India-Norway Dialogue on Trade & Investment (DTI) was convened in New Delhi on 15-16 January, 2020. The session was based on the Terms of Reference (ToR) signed between India and Norway on 8th January, 2019 in New Delhi, during the visit of Prime Minister of Norway. This was the first meeting after the signing of DTI.
Sri Lankan President decides estate workers' daily wage to be Rs. 1,000 from March 1
Sri Lankan President Gotabaya Rajapaksa has decided that the minimum daily wage of estate workers will be 1000 rupees with effect from 1st March. The decision came on eve of Thai Pongal as most of the estate workers are Tamils of Indian origin. The workers have been demanding the 1000 rupee wage since past few years and held several protests during the previous government. Gotabaya has promised the hike in his election manifesto.
Russian Prime Minister Dmitry Medvedev submits resignation
Russian Prime Minister Dmitry Medvedev has resigned. The Medvedev submitted his resignation to President Vladimir Putin. The surprise announcement came after Putin proposed constitutional amendments that would strengthen the powers of the prime minister and parliament at the expense of the presidency. Mr. Putin will name Mr. Medvedev as deputy of the presidential Security Council. Russian President asked Medvedev's Cabinet to keep working until the new Cabinet is formed.
Nepal celebrates 'Maghe Sankranti' with gaiety & religious fervor
The festival of Maghe Sankranti is being celebrated with gaiety and religious fervor in Nepal. It is known as Maghi Sankranti in Tarai region. The day is also being celebrated as Maghi festival by Tharu community to mark the beginning of its new year.Maghe Sankranti is celebrated on the first day of Magh month of Vikram Samvat. It marks the transition of Sun into Hindu zodiac sign Makara (Capricorn) and is seen as a celebration of the end of the winter.
NATI ONAL
PM Modi, Nepali PM KP Sharma Oli to inaugurates ICP Biratnagar
Prime Minister Narendra Modi and his Nepali counterpart K P Sharma Oli inaugurated Integrated Check Post (ICP) Biratnagar. ICP Biratnagar has been built on 260 acres of land at a cost of around 140 crore rupees. it has the facilities for immigration clearance of foreign passengers, export and import cargo handling.It is designed to handle around 500 trucks per day.
India and Nepal share over 1,850 kilometre- long border which is characterized by a unique and long tradition of free movement of people. Jogbani-Biratnagar international trade point is one of the important trade points between the two countries. Biratnagar is also the third-largest Revenue Collecting Customs Office of Nepal. Presently, over 65 percent of Nepal's trade is with India and also over 65 percent of Nepal's exports are to India.
IAF inducts its first squadron of Sukhoi-30 MKI aircraft equipped with BrahMos missiles
The Indian Air Force has inducted its first squadron of Sukhoi-30 MKI aircraft carrying the BrahMos missiles in the South at its Thanjavur base in Tamil Nadu. The Chief of Defence Staff General Bipin Rawat and the Chief of Air Staff, Air Chief Marshal Rakesh Kumar Bhadauria inducted the squadron at an impressive ceremony. The newly reinstated 222-squadron, also known as the Tigersharks, would serve as a lethal weapons platform capable of carrying both aerial and maritime roles in the Indian Ocean Region. Thanjavur is strategically located in the southern peninsula. From there, the Tigersharks can dominate the seas and provide very close and integrated support to the Indian Navy.
Ravi Shankar Prasad inaugurates second edition of NIC Tech Conclave-2020
Union Minister for Electronics and Information Technology Ravi Shankar Prasad inaugurated the second edition of NIC Tech Conclave-2020 in New Delhi. The two-day event is being organized by the National Informatics Centre. This Conclave will contribute immensely to the capacity building of Government officers across the country and help in delivering high-quality citizen-centric services. This year's theme is Technologies for Next-Gen Governance.
National Girl Child Day to be celebrated on January 24
The National Girl Child Day is celebrated in India every year on January 24. It was started by the Ministry of Women and Child Development and the Government of India in 2008.
National Girl Child Day will be celebrated on 24 January in Madhya Pradesh. The theme of the day will be "Aware girl child-able Madhya Pradesh" (Jagruk Balika-Samarth Madhya Pradesh) under the "Beti Bachao-Beti Padhao" scheme. The aim of this celebration is to create awareness in the society about the rights of daughters and to provide new opportunities to the daughters for their social and financial development. Apart from Girl child day, Women and Child Development Department will also celebrate National Girl Child Week from January 24 to 30.
Andhra Pradesh Assembly passes bill to establish three capitals
The Andhra Pradesh Legislative Assembly passed a bill proposing three capitals, Legislative, Executive and Judicial for the state. The Assembly passed the AP Decentralisation and Inclusive Development of All Regions Bill this regard. Visakhapatnam is proposed to be the Executive capital, Amaravati Legislative capital and Kurnool will be the Judicial capital. The Bill also provides for dividing the State into various zones. It seeks to establish zonal planning and development boards. The Bill will be moved in the Legislative Council where YSR government may face an uphill task to see it through as it has just nine members in the 58-member Upper House.
Haryana Assembly ratifies 126th Constitutional Amendment Bill
The Haryana Assembly ratified the 126th Constitutional Amendment Bill, passed by the Parliament in December last year. Earlier, Uttarakhand, Maharashtra and Bihar Assemblies had ratified the Bill, which was introduced in the Lok Sabha by Union Minister of Law and Justice Ravi Shankar Prasad on December 9, 2019. The Bill amends provisions related to reservation of seats for Scheduled Castes (SCs) and Scheduled Tribes (STs). The Constitution provides for reservation of seats for SCs and STs and representation of the Anglo-Indian community by nomination in Lok Sabha and Legislative Assemblies of states. This has been provided for a period of 70 years since the enactment of the Constitution and will expire on January 25, 2020. The Bill seeks to extend the reservation for SCs and STs by another 10 years till January 25, 2030.
India successfully test-fires K-4 ballistic missile
India has successfully test-fired a 3,500 kilometre range nuclear capable missile that can be launched from a submarine. The test of the K-4 ballistic missile was conducted off the Vizag coast in Andhra Pradesh on. With this test, India has moved one more step towards the induction of this ballistic missile on the INS Arihant class of nuclear submarines. The missile was developed by Defence Research and Development Organisation (DRDO). Only the US, Russia and China have submarine-launched ballistic missiles of 3,500-kilometre range.
Nationwide programme to administer polio drops to children organized on National Immunization Day
The National immunization day was observed on 19 January. With an aim to maintain the 'NO POLIO' status, a nationwide programme to administer polio drops to children below 5 years was organized throughout the country. President Ram Nath Kovind launched the Pulse Polio Programme for this year by administering Polio drops to children below the age of five at Rashtrapati Bhavan. This immunization programme would be held for the next two days to cover all the left out children by door to door visit.
PM Modi interacts with students in 'Pariksha Pe Charcha' program
PrimeMinister Narendra Modi interacted with school students in his 'Pariksha Pe Charcha-2020 programme. The third edition of Pariksha Pe Charcha was organised at Talkatora Indoor Stadium in Delhi. Over 2,000 students, parents and teachers participated from all over the country. Mr Modi answers questions and interacts with students on how they can beat examination stress.
Delhi CM launches 'Guarantee card'
Aam Aadmi Party national convener and Delhi Chief Minister Arvind Kejriwal launched party's Guarantee Card ahead of upcoming assembly elections in the national capital. This card lists 10 promises that AAP will deliver on if it is elected to rule Delhi again. The card, '10 guarantees of Kejriwal', also promised to continue the scheme for free electricity up to 200 units, free health facilities and to plant two crore saplings in the national capital over the next five years.
50th World Economic Forum in Switzerland on 21 January; Union Minister Piyush Goyal to lead Indian delegation
The four day 50th World Economic Forum at Davos in Switzerland will begin on 21 January. 53 heads of state or government from 117 countries are participating in the event. The theme of this year's WEF is 'Stakeholders for a Cohesive and Sustainable World'. Union Minister for Commerce and Industry Piyush Goyal will lead the Indian delegation. Among other highlights of the forum is Indian actress Deepika Padukone, who will be given a WEF crystal award for her work on mental health while the US rapper William Adams will be talking about ending gun violence.
9th International Children's Film Festival begins in Kolkata
The 9th International Children's Film Festival begins in Kolkata with the screening of Aizaz Khan directed Hamid. About 250 films from 45 countries will be screened in the week-long festival. The National Award winner Children actor, Talha Arsad Rishi will inaugurate the festival. Besides the screening of films, an exhibition on the children's film festival will also be organised.
Prakash Javadekar inaugurates ELECRAMA 2020, a flagship showcase of electrical industry in India
Union Minister for Heavy Industries Prakash Javadekar inaugurated ELECRAMA 2020, the flagship showcase of the Indian electrical industry, in Greater Noida. He asked the power industry to focus on the quality of electrical equipment. He urged the industry to become a part of the production chain and not just a supplier of spare parts.
Kiren Rijiju and Pramod Sawant flag off 'Fit India Cyclothon' in Panaji
The Fit India Mission under the Ministry of Youth Affairs and Sports organized the inaugural event of 'Fit India Cyclothon' event in Panaji. The Cyclothon was flagged off by Union Minister of Youth Affairs and Sports Kiren Rijiju and Goa Chief Minister Pramod Sawant from the Campal Parade Ground in the city. The Cyclothon event witnessed participation by over 500 cycling enthusiasts who came together to cycle through a five-kilometre stretch within the Panaji city.
State of Art Tejas express train between Mumbai-Ahmedabad flagged off
The state of art- new Tejas Express train between Ahmedabad and Mumbai Central has been flagged off by Gujarat Chief Minister Vijay Rupani at Ahmedabad Railway Station. The train will have stoppages at Nadiad, Vadodara, Bharuch, Surat, Vapi and Borivali en-route to Mumbai Central. The first train under the private sector has world-class comfort and facilities for passengers. The train operated by IRCTC will run between Ahmedabad and Mumbai on a six days a week- basis except Thursday. The second Tejas Express by IRCTC is being called a 'private' train since its operational. control is entirely under IRCTC, instead of Indian Railways.
IIM- Indore to give management lessons with Tik Tok
Indian Institute of Management- Indore joined hands with video-sharing application Tik Tok to produce short video modules on management courses. The institute has signed a Memorandum of Understanding (MoU) with Tik Tok to prepare short video modules on communication, strategy, negotiation, marketing among others things. IIM-I will implement these video modules in its different courses.
India successfully launches high power communication satellite GSAT-30
India's high power communication satellite GSAT-30 was successfully launched onboard Ariane 5 rocket from French Guiana. Indian Space Research Organisation (ISRO) said the GSAT-30 is aimed at providing high-quality television, telecommunications and broadcasting services. The 3,357-kg GSAT-30 derives its heritage from ISRO's earlier INSAT/GSAT satellite series, and is equipped with 12 C and 12 Ku band transponders. GSAT-30 will serve as replacement to the aging INSAT-4A spacecraft services with enhanced coverage.
Rajnath Singh dedicates 51st K9 Vajra-T guns to nation
Defence Minister Rajnath Singh dedicated to the nation the 51st K9 Vajra self-propelled Howitzer gun made by L&T at Hazira in Gujarat. The gun weighs 50 tonnes and can fire 47-kilogram bombs at targets up to a distance of 43 kilometres. It can also turn around at zero radius. L&T's Armoured Systems Complex (ASC) has a state of the art complex to manufacture and integrate advanced armoured platforms. L&T's Armoured System Complex at Hazira in Surat had been dedicated to the nation by Prime Minister Narendra Modi in January Last year.
India to host SCO Heads of Govt meeting
India will host the Shanghai Cooperation Organization (SCO) Council of Heads of Government meeting later this year. The meeting is held annually at the Prime Minister's level and it discusses the SCO's programme and multilateral economic and trade co-operation. All eight members and four observer states and other international dialogue partners will be invited for the meeting. SCO member states are Russia, China, India, Pakistan, Kyrgyzstan, Kazakhstan, Uzbekistan and Tajikistan. Observer states are Afghanistan, Iran, Mongolia and Belarus.
First edition of Krishi Manthan begins in Ahmedabad
In Gujarat, the first edition of Krishi Manthan- the largest Food, Agri-business and Rural Development Summit of Asia organized by Indian Institute of Management, Ahmedabad began. More than 1,500 delegates including students and academicians are participating in the two-day event organized by the Food and Agribusiness Committee of IIMA. The students along with working professionals from Food, Agriculture and allied sectors are getting benefited from the workshops during this summit.
Bru refugees from Mizoram to settle down in Tripura
The Union Government signed an agreement with stakeholders from the State of Tripura, Mizoram and members of the Bru community bringing an end to the 22-year old Bru refugee crisis. This agreement was signed in the presence of Home Minister Amit Shah, Tripura Chief Minister Biplab Kumar Deb, Mizoram Chief Minister Zoramthanga and others in New Delhi.As per the agreement, over 30 thousand Bru refugees will be settled in Tripura.
The Centre has sanctioned a 600-crore rupee package for the rehabilitation of the people from this community. Bru refugees will get a 40 x 30 feet plot along with a fixed deposit of four lakh rupees, cash assistance of five thousand rupees per month for two years and free ration. The Bru tribals from Mizoram have been living as refugees in Tripura since 1997.
Arunachal to start red-listing of orchids
Arunachal has become the first state in the country to initiate the International Union for Conservation of Nature's (IUCN) 'red listing' at the state level after it inked a memorandum of understanding (MoU) with the IUCN. As per the MoU, the state government will collaborate with the IUCN in carrying out red-list assessment of the orchids in the state. The IUCN's Red List of Threatened Species is a critical indicator of the health of the world's biodiversity. The project will be spread across 12 months, during which workshops on red list assessment will be conducted by experts from the IUCN.
International Union for Conservation of Nature : Headquarters: Gland, Switzerland
CEO: Grethel Aguilar
Postal Ballot now for PwDs and super Senior Citizens too
People with disabilities (PwDs) and people over 80 years of age can now cast their vote in Delhi Assembly Election through postal ballot. For the first time, Delhi Metro, Northern Railway Employees and media persons covering polling can also use postal ballot facility to cast their votes. Till now, voting through postal ballot was available to armed forces and those assigned in poll duties. Employees of essential service can fill out the form 12(D) and submit before 19th of this month to avail the postal ballot facility.
Mega campaign on fuel conservation 'Saksham' launched
Saksham, a people centric fuel conservation mega campaign of Petroleum Conservation Research Association (PCRA) has been launched. One month long mega campaign was inaugurated by Petroleum and Natural Gas Minister Dharmendra Pradhan in New Delhi. During this campaign, PCRA along with Oil and Gas companies will carry out various activities like 'Saksham' cycle Day, cyclothons, seminars for housewives on adopting simple fuel saving measures.
This campaign aims to spread the message of fuel conservation and greener environment across India.
7th Conference of Commonwealth Parliamentary Association, India Region starts
The 7th Conference of Commonwealth Parliamentary Association (CPA) India Region started at the legislative assembly building in Lucknow, Uttar Pradesh. Lok Sabha Speaker Om Birla inaugurated the Conference in the presence of Chief Minister Yogi Adityanath. Around 100 Delegates of 15 state assemblies and representatives of some foreign countries have reached Lucknow to take part in the 7th Conference of CPA India Region. The main theme of the conference is 'ROLE OF LEGISLATORS'.
Ladakh hosts first ever Food Processing Summit to attract investors
Union Territory Ladakh is hosting the first ever Food Processing Summit to attract investors to the region. With the help of the Ministry of Commerce and Industry and the Ministry of Food Processing Industries, the UT Administration of Ladakh is organizing the Summit. Ladakh region has vast scope for investment in food Processing Industries in horticulture products like Apricot, SeabuckThorn, Apple and agricultural produce like buckwheat and barley. Over a hundred entrepreneurs from Leh and Kargil are participating in the Summit. The event is aimed at encouraging the entrepreneurs to begin a StartUp to tap the potential in the Food Processing Industries in Ladakh.
Fifth Science Film festival kick-starts in Goa
The fifth edition of Science Film Festival of India, SCI-FFI 2020, was kick-started on in Goa's capital city Panaji. The four-day-long festival was inaugurated by Chief Minister, Dr. Paramod Sawant. The festival aims at instilling the knowledge of science among the youth with the help of exhibitions, masterclasses, workshops, and other activities. Besides, Goa Government and Government of India, the event is being supported by Satyajit Ray Film and Television Institute and National Institute of Science Communication and Information Resources (NISCAR).
Delhi Govt recommends rejection of Nirbhaya convicts mercy petitions
The Delhi government has recommended rejecting the mercy petition filed by Mukesh Singh, one of the four men convicted in the Nirbhaya murder case. The mercy petition was filed by Mukesh Singh moments after the Supreme Court rejected a curative petition filed by him. A curative petition is the last judicial remedy available to a person convicted by courts of law. If rejected, convicts are left with the option of seeking mercy from the President. Delhi deputy chief minister Manish Sisodia confirmed the development saying the recommendations of rejection was done with lightning speed. The recommendation has been sent to Delhi Lieutenant Governor Anil Baijal, who will base his recommendation on the Delhi government's advice.
Mr Baijal's recommendation will then be sent to the Union Ministry for Home Affairs, which in turn will form its own recommendation and forward that to the President. President Ram Nath will ultimately make the decision of whether or not to grant Mukesh mercy. Mukesh, along with Vinay Sharma , Akshay Kumar Singh and Pawan Gupta , was convicted for the 2012 gang-rape and murder of a 23-year-old paramedic student in Delhi.
Maharashtra police to organise international marathon in Mumbai
In a first in the country, Maharashtra Police would be organising an international marathon in Mumbai on February 9. Around 15,000 runners are expected to take part in the marathon. A state police force is organising an international marathon for the first time. The theme of the marathon would be "Health Run".
BUSINESS
years after launch, Jio becomes No.1 telecom company by user base, revenue
According to data released by the Telecom Regulatory Authority of India (TRAI), Reliance Jio surpassed all other telecom players to become the largest in terms of the number of subscribers. It added 5.6 million new subscribers added in November 2019 In addition to this, the telco held 32.04 percent share in the wireless subscriber segment in November 2019, as against Vodafone Idea's 29.12 percent and Bharti Airtel's 28.35 percent. As of November 2019, Jio had 369.93 million subscribers, up from the 364.32 million in the month-ago period. The company replaced Vodafone Idea to become India's largest mobile service provider with the latest addition to its customer base.
After Iran, UCO Bank chosen to pay Russia
India is set to change the bank it uses to make payments for Russian arms and is likely to route the money through UCO Bank, which is also being used to carry out trade with Iran. The payments were earlier being routed through Syndicate Bank. The new route was necessary due to the merger of Syndicate and Canara banks. UCO Bank, which has been used in the past to make payments for oil to Iran, is likely to get business worth over $4 billion annually. Major projects for which payments will flow to Russia over the next few years include the $5.4 billion contract for the S-400 system, a $3 billion deal to lease another nuclear attack submarine and the $2 billion contract to procure four frigates for the navy.
Exim Bank to raise up to $3 billion from overseas borrowings in FY21
The Export-Import Bank of India (Exim Bank) is looking to raise up to $3 billion (about Rs 21,000 crore) from overseas borrowing in next financial year (2020-21). The bank has raised $1.7 billion (about Rs 11,900 crore) of overseas borrowing through bond issues and foreign loans in the current financial year. It has also raised $350 million in foreign loans so far in FY20. In terms of geographic distribution, 44 per cent bonds were distributed in Asia, 36 per cent in the US and 20 per cent from EMEA (Europe, Middle East and Africa) region.
Exim Bank CEO: David Rasquinha
Headquarters: Mumbai
Indian Railways, SBI come together to offer doorstep banking in 585 stations
Indian Railways' South Central Railway(SCR) zone has signed a Memorandum of Understanding (MoU) with State Bank of India (SBI) for 'doorstep banking'. The signed MoU will help in direct pickup of earnings covering all 585 Railway stations over SCR Zone. With the facility of direct pick up of cash from all the railway stations it will save the tedious and complex activity of movement of cash earnings through 'cash safes' by trains. It will help in hassle free collection of traffic earnings by SBI and remittance into Government account avoiding delay in transmission of traffic cash earnings.
BoB and Kotak Mahindra Bank exit Equifax Credit Information Services
State-owned Bank of Baroda (BoB) and Kotak Mahindra Bank has exited from credit information bureau Equifax Credit Information Services for a consideration of Rs 91.03 crore. In a regulatory filing, BoB sold 1,35,00,000 shares of a face value of Rs 10 for Rs 67.43 per unit. Kotak Mahindra Bank also existed from Equifax Credit Information Services. This is part of capital-raising exercise by exiting non-core business.
World Bank and Government of India Sign $88 million loan agreement for the implementation of Assam Inland Water Transport Project
The Government of India, the Government of Assam and the World Bank signed a loan agreement of $88 million here to help modernize Assam's passenger ferry sector that runs on its rivers including the mighty Brahmaputra. A majority of Assam's more than 361 ferry routes cross the Brahmaputra or serve its islands, providing a crucial means of transport to thousands of commuters in both the urban and rural areas of the Brahmaputra Valley.
The Assam Inland Water Transport Project (AIWTP) will help Assam improve the passenger ferry infrastructure and its services and strengthen the capacity of the institutions running the inland water transport. The Assam Inland Water Transport Project will help develop a modern, efficient and safe river transport system for the large volume of passengers and cargo carried by the vessels. Assam has the largest network of navigable waterways in India.
UN lowers India's growth forecast for FY20 to 5.7%
United Nations World Economic Situation and Prospects (WESP) 2020 has lowered its GDP growth estimate for India to 5.7 per cent in the current fiscal (from 7.6 per cent forecast in WESP 2019) and lowered its forecast for the next fiscal to 6.6 per cent (from 7.4 percent earlier). It has also forecast a growth rate of 6.3 percent for the fiscal beginning in 2021. According to the UN study, one in five countries will see per capita income stagnate or decline this year, but listed India among few countries where the per capita GDP growth rate could exceed 4 percent level in 2020.