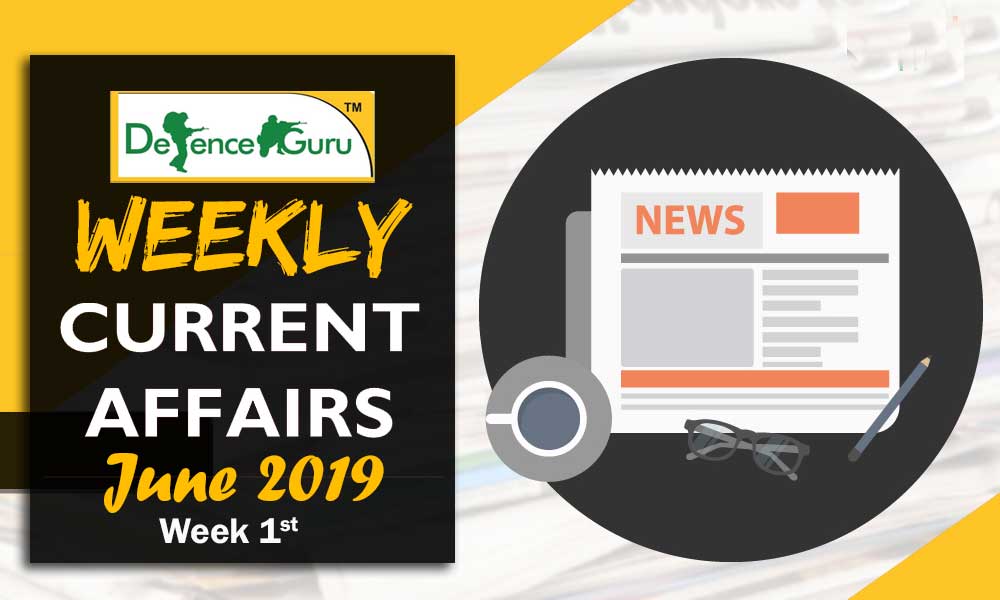 In this post Defence Guru Share Weekly Current Affairs June 2019. Weekly Current Affairs helps the students and aspirants preparing for Defence Services Exam like NDA, CDS, AFCAT, Air Force and other competitive exams.
1. Prayuth Chan-ocha
The Thailand Parliament has elected 2014 coup leader Prayuth Chan-ocha as Prime Minister. The military-backed party that nominated Prayuth won the second-highest number of seats in the House of Representatives in a general election in March. Prayuth was elected to serve a second term by a vote of 500 to 244 for his opponent, Future Forward party leader Thanathorn Juangroongruangkit. His appointment becomes official when it is endorsed by King Maha Vajiralongkorn.
2. Azim Premji
IT Industry icon Azim Premji will retire as Executive Chairman of Wipro with effect from 30th July this year. He led the company for 53 years. The company said in a statement that he will continue to serve on the board as Non-Executive Director and founder Chairman. His son Rishad Premji, Chief Strategy Officer and a board member, will take over as the Executive Chairman of the company. The board announced that Chief Executive and Executive Director Abidali Z Neemuchwala will be re-designated as CEO and Managing Director of Wipro.
3. Kumar Iyer
Kumar Iyer has been appointed by the UK government as the Chief Economist of the Foreign and Commonwealth Office (FCO). He is the first Indian-origin member of the department's management board. Kumar Iyer, who was born in London and spent his early years in India, has previously been based in Mumbai as Britain's Deputy High Commissioner. In this new role as the Chief Economist, which commences in July, he will lead the FCO's Economics Unit.
4. Mrutyunjay Mohapatra
Renowned scientist and cyclone warning specialist Mrutyunjay Mohapatra have been appointed as the chief of India Meteorological Department (IMD). Mohapatra and his team at the Cyclone Warning Division of the IMD have earned praise for their accurate forecasts on cyclones, its wind-speed and likely impact on life and property including during the recent cyclone 'Fani'.
5. Rajiv Mehrishi
Comptroller and Auditor General of India Rajiv Mehrishi has been elected as external auditor of the World Health Organization (WHO) for four years from 2020 to 2023. Mehrishi was elected at the 72nd World Health Assembly in Geneva last month with a majority The CAG of India is currently also on the Board of Auditors of the United Nations and Vice Chair of the UN Panel of External Auditors.
6. Rakesh Makhija
The Reserve Bank of India (RBI) has approved the appointment of Rakesh Makhija as chairman of the Axis Bank. The board of the bank in March had approved the appointment of Makhija as chairman subject to RBI clearance. He will serve as the chairman of the bank, for a period of 3 years, with effect from July 18, 2019, up to July 17, 2022. He has held a number of top management positions within the SKF Group.
7. Phosum Khimhun
MLA Phosum Khimhun has been sworn-in as the Pro-tem speaker of the 7th Arunachal Pradesh Legislative Assembly. Governor Dr BD Mishra administered the oath to Phosum Khimhun in an official ceremony at Raj Bhawan in Itanagar. Mr Khimhun will perform the duties of the office of the Pro-tem Speaker in the house until another Speaker is chosen by the Assembly. The operative person on the chair of the speaker of the Lok Sabha on State Legislative Assemblies, temporarily holding the post is called the Pro-tem speaker.
8. Nayib Bukele
In the Central American country of El Salvador, Nayib Bukele has been sworn-in as the nation's President. Bukele was sworn-in by the Speaker of the National Assembly in downtown San Salvador. Delegations from 83 countries attended the ceremony.
Points to Remember
Capital: San Salvador
Currency: United States Dollar
9. Admiral Karambir Singh
Admiral Karambir Singh took over as the Chief of Naval Staff. Karambir Singh served as the Vice Chief of Naval Staff at the headquarters in New Delhi before moving to Vishakhapatnam last year as the Eastern Naval Commander. Admiral Sunil Lanba relinquished his command of the Indian Navy on completion of his tenure and retirement from service after over four decades of distinguished service.
10. Anita Bhatia
Indian-origin Anita Bhatia has been the Deputy Executive Director of the United Nations Entity for Gender Equality and the Empowerment of Women (UN-Women) for Resource Management, Sustainability and Partnerships. A veteran in strategic partnerships, resource mobilisation and management, she was appointed by UN Secretary-General Antonio Guterres in the global body's agency. She has had a distinguished career at the World Bank Group, serving in various senior leadership and management positions, both at the headquarters and in the field.
11. Prestigious J C Daniel Award
Veteran actress Sheela was chosen for the prestigious J C Daniel Award. It is the Kerala government's highest honour for outstanding contribution to Malayalam cinema. The annual honour is named after J C Daniel, who made the first silent movie in Mollywood. The award comprises Rs 5 lakh, a citation and a plaque. Iconic director Adoor Gopalakrishnan and veteran lyricist Sreekumaran Thampi were the recipients of the honour in the previous years.
12. Global Leadership Award-2019
Google's India-born CEO Sundar Pichai and Nasdaq president Adena Friedman have been chosen for the prestigious Global Leadership Awards 2019. The award is given by business advocacy group USIBC in recognition of the two companies' contribution as the leading technology-driven platforms. The award by Washington-based US-India Business Council (USIBC) would be conferred upon Indian-American Pichai, and Friedman, during the next week's 'India Ideas Summit'. Given annually since 2007, the USIBC Global Leadership Awards recognise top corporate executives from the United States and India whose companies play a major role in catalysing growth in the US-India commercial corridor.
13. 6 Indian-origin students win US National Spelling Bee
Six Indian-origin students are among the eight participants who won the prestigious Scripps National Spelling Bee after defeating over 550 other contestants in an unprecedented competition in the US. It is the first time in the 94-year history of the competition that more than two co-champions have been named. Rishik Gandhasri, Saketh Sundar, Shruthika Padhy, Sohum Sukhatankar, Abhijay Kodali, Rohan Raja, Christopher Serrao and Erin Howard were named as co-champions. Each will receive the full winner's prize of 50,000 US Dollar in cash. The six boys and two girls combined to spell the final 47 words correctly over five consecutive perfect rounds.
14. Prakash Pant
The Finance Minister of Uttarakhand, Prakash Pant passed away in the US where he was undergoing treatment for a lung ailment. In February this year, Prakash Pant almost fainted twice while reading his budget speech in the state assembly. Governor Baby Rani Maurya, Chief Minister Trivendra Singh Rawat and Speaker Premchand Aggarwal have condoled the death of Prakash Pant.
15. Actress Ruma Guha Thakurta
Bengali actress and singer Ruma Guha Thakurta passed away following old age-related problems. She featured in films such as Jwar Bhata, Ganga and 36 Chowringhee Lane. She was the founder of the Calcutta Youth Choir (CYC), which played a role in popularising 'Gana Sangeet' or mass songs in Bengal, She was the first wife of actor-singer Kishore Kumar.
16. Sunil Chhetri becomes most capped India player
Talismanic striker and captain Sunil Chhetri with 108 matches have played the most number of international football matches for Indian national football team. He took the field in India's opening King's Cup tie against Curacao at the Chang Arena in Buriram, Thailand. Earlier, he was tied with legendary footballer Bhaichung Bhutia with 107 matches each. The Secunderabad-born is also the highest goal scorer for the 'Blue Tigers' with a total of 68 strikes to his name. He recently led India to the 2019 AFC Asian Cup, but unfortunately, India failed to get past the group stage.
17. Indian Jr. women's hockey team clinch Cantor Fitzgerald U21
The Indian junior women's hockey team clinched the Cantor Fitzgerald U21 International 4-Nations title after beating Ireland 1-0 in the final at Dublin, Ireland. The win meant India ended the tournament with an unblemished record. With three goals in four games, Mumtaz Khan finished as the highest goal scorer of the tournament.
18. China will host the 2023 Asian Cup
China will stage the 2023 Asian Cup football after South Korea, Thailand and Indonesia dropped their bids. This was confirmed by the Asian Football Confederation in Paris. It will mark the second time for China to host the quadrennial continental tournament. In the 2004 edition, China had finished runners-up to Japan.
19. Liverpool wins UEFA Champions League Trophy
Liverpool FC has crowned the Champions League champions as it defeated Tottenham Hotspurs 2-0 in the finals. As a result of this win, the club won its sixth champions league title and the first Champions League win since 2005. Earlier, the Liverpool FC finished at the second place in the Premier League standings with 97 points. Manchester City won the Premier League title by just one point as they had a total of 98 points.
20. India, France to hold mega air exercise 'Varun' in July
The Indian and French air forces will carry out a two-week-long mega air exercise beginning July 1 in France. A fleet of Sukhoi 30 fighter jets of the Indian Air Force will engage in dogfights with France's Rafale multirole aircraft in simulated scenarios as part of the 'Garuda' exercise. The exercise will also provide an opportunity to a sizeable number of IAF pilots to have a close look at the Rafale jets being operated by the French Air Force.
21. Russia launches the first Arctic train service
In Russia, the first tourist train travelling through Russia's Arctic region and on to Norway set off from St. Petersburg station with 91 passengers aboard for the inaugural trial journey. The train, named, Zarengold, complete with two restaurant cars will travel from Saint Petersburg through according to the organisers. The whole trip will take 11 days and allow passengers to discover areas difficult to access by other means.
22. Dzükou Valley, Nagaland becomes Plastic Free Zone on World Environment Day
In Nagaland, the scenic Dzükou Valley has become Plastic Free Zone on the occasion of World Environment Day. The much-appreciated initiative on declaring this scenic valley as a 'plastic-free zone' was taken by Southern Angami Youth Organisation (SAYO). SAYO had started the task of cleaning the valley since last month, where local volunteers had worked tirelessly to clear the plastic debris from all the areas of the iconic valley.
23. World Environment Day: 05 June 2019
World Environment Day is observed every year on the 5th of June. The day is celebrated every year to raise global awareness to take positive environmental action to protect nature and the planet Earth. This year the theme of Environment Day is 'Air Pollution'. Environment Minister Prakash Javadekar on the eve of world environment day launched a people's campaign #SelfiewithSapling urging all to join and plant a sapling and post the selfie with the sapling on social media.
24. World Bicycle Day: 3 June
In April 2018, the United Nations General Assembly declared 3 June as International World Bicycle Day. The day will be observed by all the bicycle enthusiasts across the globe with great excitement and fun. The aim of the event will mainly focus on devoting particular attention to the bicycle in the current era of automobiles.
25. Volcano erupts in the Indonesian island of Bali
A volcano on the Indonesian island of Bali, Mount Agung erupted. Mount Agung spewed a plume of ash and smoke more than 2,000 metres into the sky. The volcano is located about 70 kilometres from the tourist hub of Kuta. It has been erupting periodically since it came back to life in 2017.Indonesia is situated on the Pacific "Ring of Fire", where the collision of tectonic plates causes frequent quakes and major volcanic activity.
26. Culture Minister to inaugurate exhibition-'Unknown masterpieces of Himachal Folk Art'
Culture Minister Prahalad Singh Patel inaugurated the exhibition titled 'Unknown Masterpieces of Himachal Folk Art' at National Museum in New Delhi. The Exhibition is being jointly organised by the National Museum and Home of Folk Art, Gurugram in which more than 240 artefacts will be on display. The aim of the exhibition is to highlight the Folk art tradition of Himachal Pradesh. It will remain open for public till 31st of next month.
27. EAM S Jaishankar to embark on a two-day visit to Bhutan
External Affairs Minister S Jaishankar will embark on a two-day visit to Bhutan. This is Mr Jaishankar's first overseas visit after assuming charge of the Ministry. During the visit, Mr Jaishankar will call on Bhutanese Prime Minister Lotay Tshering and meet his counterpart Tandi Dorji.
Points to Remember
Capital: Thimphu
Prime minister: Lotay Tshering
Currency: Ngultrum
28. Hardeep S Puri launches Swachh Survekshan 2020 League
Union Housing and Urban Affairs Minister Hardeep Singh Puri launched Swachh Survekshan 2020 League in New Delhi. The league will be a quarterly cleanliness assessment of cities and towns in India and will be integrated with Swachh Survekshan 2020. In the Swachh Survekshan 2020 league, parameters pertaining to Wastewater treatment and reuse and faecal sludge management have been given special focus. Swachh Survekshan 2020 is the 5th edition of the annual cleanliness survey of urban India to be conducted between January - February 2020.
29. Govt reconstitutes eight Cabinet Committees
The Government has reconstituted eight Cabinet Committees. These are Appointments Committee, Committees on Accommodation, Economic Affairs, Parliamentary Affairs, Political Affairs, Security, Investment and Growth and Cabinet Committee on Employment and Skill Development. The Cabinet Committee on Security will have Prime Minister Narendra Modi, Defence Minister Rajnath Singh, Home Minister Amit Shah, Minister of Finance and Corporate Affairs Nirmala Sitharaman and External Affairs Minister Dr S Jaishankar. Appointments Committee of the Cabinet has Prime Minister Modi and Mr Shah. While the Cabinet Committee on Investment and Growth will have the Prime Minister and Ministers of Home, Road Transport and Highways, Finance and Corporate Affairs and Railways and Commerce and Industry.
30. Thaawarchand Gehlot leaves for Buenos Aires to participate in 2nd Global Disability Summit
Social Justice and Empowerment minister Thaawarchand Gehlot have left for Buenos Aires in Argentina to participate in 2nd Global Disability Summit. The objective of the summit is to deliberate on issues across the world concerning empowerment and inclusion of Persons with Disabilities (PwDs) and to work out a mechanism for enabling them to live an independent and dignified life. The Union Minister had also attended the '1st Global Disability Summit' held in London in July 2018.
31. PM Modi forms 2 cabinet panels for growth & jobs
In a bid to spur investment and create new employment opportunities, Prime Minister Narendra Modi set up two Cabinet committees to deal with the two crucial issues. Both the panels, respectively on Investment and Growth and on Employment and Skill Development, will be headed by the prime minister. The Cabinet Committee on Investment and Growth will have Union Home Minister Amit Shah, Finance Minister Nirmala Sithataman, Road Transport and Highways Minister Nitin Gadkari and Railways and Commerce Minister Piyush Goyal as its members.
32. Nirmala Sitharaman to attend G-20 Finance Ministers' meeting in Japan
Finance Minister Nirmala Sitharaman will attend the two-day meeting of G-20 Finance Ministers and Central Bank governors in Japan on June 8 and 9. This will be the first overseas visit of Ms Sitharaman as Finance Minister. Besides Ms Sitharaman, RBI Governor Shaktikanta Das is also likely to attend the meeting at Fukuoka in Japan.
33. L&T Financial Services launches 'Digital Sakhi' in Tamil Nadu
L&T Financial Services' (LTFS) 'Digital Sakhi' was launched in 20 villages of Villupuram district in Tamil Nadu. It is an educational programme aimed at digital financial inclusion of rural women. LTFS in association with Sri Aurobindo Society will train and develop a team of 100 rural women (Digital Sakhis) as digital enablers, who in turn, will train about 40,000 others in using digital modes of payments. The company has also identified 500 women from trades such as dairy, poultry and goat-rearing, to impart enterprise development training and upskilling.
34. Army commissions air quality monitor at Fort William
As part of it's countrywide 'Go Green' initiative, the Indian Army commissioned a "Continuous Ambient Air Quality Monitoring System (CAAQMS)" at Fort William Military Station, Kolkata. Lt Gen M M Naravane, General Officer Commanding-in-Chief, Eastern Command, commissioned the system, which monitors air pollution on a real-time basis. The CAAQMS at the Eastern Command headquarters will measure air pollution, including particulate matter throughout the year. In addition, it also displays wind speed, direction, ambient temperature, relative humidity, solar radiation, barometric pressure and rain gauge.
35. AAI in pact with Boeing for modernising India's air traffic management
Boeing has signed a technical assistance agreement with the Airports Authority of India (AAI) to jointly develop a comprehensive 10-year roadmap for modernising air traffic management in India. The roadmap is expected to be developed within 18 months and it will be undertaken with a grant from the United States Trade and Development Agency (USTDA). The AAI owns and manages around 125 airports across the country.
36. World Bank retains growth forecast for the Indian economy at 7.5%
The World Bank retained its forecast of India's growth rate at 7.5 per cent for the current financial year. In its Global Economic Prospects report, the World Bank also said growth rate is expected to remain the same for the next two fiscals. According to the report, private consumption and investment will benefit from strengthening credit growth amid more accommodative monetary policy, with inflation having fallen below the Reserve Bank of India's target.
37. PM Modi to pay 2-day visit to the Maldives from June 8th
Prime Minister Narendra Modi will pay a two-day visit to the Maldives from 8th of June. This will be the first overseas visit of Prime Minister Modi after his re-election. Prime Minister Modi will also visit Sri Lanka on 9th of this month. The visits to the Maldives and Sri Lanka will demonstrate the priority India attaches to its Neighbourhood-First Policy and the SAGAR Doctrine.
Points to Remember
Maldives:
Capital: Malé
Currency: Maldivian rufiyaa
Sri Lanka
Capitals: Colombo, Sri Jayawardenepura Kotte
Currency: Sri Lankan rupee
38. Food grains production for the agricultural year 2018-19 estimated at over 283 million tonnes
Food grains production for the agricultural year 2018-19 has been estimated at over 283 million tonnes. It is higher by over 17 million tonnes than the previous five years average production of foodgrain. As per the third advance estimates the rice production is estimated at an all-time high of over 115 million tonnes during 2018-19, beating the previous record of over 112 million tonnes achieved in the 2017-18 crop year. Production of wheat is also estimated at a record of over 101 million tonnes, which is higher by 1.33 million tonnes as compared to the previous year.
39. Search operation continues to locate Indian Air Force's missing AN-32 aircraft
The search operation continued last night to find out the IAF's AN-32 transport aircraft missing since 03 Jue afternoon. The aircraft took off from Assam's Jorhat with 13 people onboard. The aircraft lost contact with ground agencies after taking off from Jorhat airbase at 12:25 PM. Indian Air Force has deployed Sukhoi-30 combat aircraft and C-130 Special Ops aircraft on the search mission for locating the missing Aircraft that last contacted ground sources.
40. MP Cabinet passes a resolution to increase reservation for OBCs to 27 %
Madhya Pradesh Cabinet has passed a resolution to increase reservation quota for Other Backward Classes (OBC) from existing 14 per cent to 27 per cent. The matter will now be taken up in the monsoon session of the state Assembly. The move will lead to the reservation in the state breaching the Supreme Court-mandated 50 per cent cap to reach 63 per cent. If implemented, Madhya Pradesh will become the only state in the country to have a 27 per cent quota for OBCs.
41. Telangana enhances Rythu Bandhu scheme
The Telangana Government has issued a notification to extend the Rythu Bandhu scheme for 2019-20 by enhancing the amount from Rs 4000 to Rs 5000. The Rythu Bandhu scheme is the pet scheme of Telangana CM K Chandrasekar Rao and aims at providing income support to the agriculturists directly to back their crops. The scheme, which provides Initial Investment support to agriculture and horticulture crops through a grant of Rs 4000 per acre per farmer each season towards the purchase of inputs like seeds, fertilisers, pesticides, labour and other filed operations, has now been enhanced from Rs 4000 to Rs 5000 per acre per farmer per season.
42. Rajasthan government increases financial aid given to girls under 'Aapki Beti' scheme
The Rajasthan government has increased the financial assistance given to school girls under the 'Aapki Beti' scheme. The amount has been increased to 2,100 from Rs 1,100 for the girls studying in class 1 to 8 and for the girls in class 9 to 12, the financial aid has been increased to Rs 2,500 from Rs 1,500. Under the Aapki Beti scheme, girls living under the Below Poverty Line (BPL) and whose mother or father or both have died get annual financial assistance in the state.
43. Nilekani panel suggests measures to encourage digital payments
In order to encourage digital payments, the Nandan Nilekani committee has suggested a host of measures. The measures include elimination of charges, round the clock RTGS and NEFT facility and duty-free import of point-of-sales machines. The committee, which was appointed by the RBI, had submitted its suggestions on promoting digital payments to Governor Shaktikanta Das last month. Among other things, the panel has suggested that there should be no convenience fee on payments made to government agencies by customers and recommended that payment systems use machine-driven, online dispute resolution systems to handle complaints.
44. Ajit Doval to continue as NSA for next five years
National Security Advisor Ajit Doval has been given Cabinet rank in the Present government. This is in recognition of his contribution in the national security domain. His appointment will be for five years. Last year, the government had set up a panel, headed by Mr Doval, to assist the National Security Council, which advises the Prime Minister on matters of national security and strategic interests.
45. AYUSH Ministry launches 'Yoga locator' app
Ahead of International Yoga Day on June 21, the AYUSH Ministry has launched a mobile application to enable people to locate yoga events, centres providing training and instructors. Yoga locator- a map-based location app, will also enable yoga instructors to register themselves and reach out to a large number of people. It will be a permanent app, which will give information about yoga activities happening in their vicinity throughout the year.
Points to Remember
The International Yoga Day will be celebrated on June 21 across the globe and the AYUSH ministry has shortlisted five cities -- Delhi, Shimla, Mysore, Ahmedabad and Ranchi -- for holding the main function this year.
46. Gun license applicants in MP need to plant trees and take a selfie
In Madhya Pradesh, in a unique kind of initiative, the tree will now have to be planted for the license of arms. It has now been started from Gwalior, but it can be implemented in other districts as well. After planting the tree, the applicant of license has to take care of it for a month and then will take a selfie with plant and submit along with application form for the license. The Gun license seekers will need to plant at least ten saplings.
47. High Court declares all animals in Haryana to be 'legal persons'
The Punjab and Haryana High Court has accorded the status of "legal person or entity" to animals in Haryana. It has granted them the "corresponding rights, duties and liabilities of a living person". The verdict comes nearly a year after Uttarakhand High Court passed a similar order "to protect and promote greater welfare of animals". Both the orders were written by Justice Rajiv Sharma, who was transferred from Uttarakhand to the Punjab and Haryana High Court at Chandigarh last year. Justice Sharma was also part of the bench in Uttarakhand that had in 2017 declared rivers Ganga and Yamuna as living entities, a verdict that was later stayed by the Supreme Court.
48. Sivakozhunthu to be elected as Puducherry Assembly Speaker
Puducherry Assembly Deputy Speaker Sivakozhunthu will be declared unanimously elected as Speaker of the Assembly in the session. Sivakozhunthu was the only candidate who filed nomination paper on behalf of the Congress-DMK alliance. The Speaker's election was necessitated as speaker V Vaithilingam resigned and contested the April 18 Lok Sabha election and won it.
49. ONGC topples IOC to regain the most profitable public sector company
ONGC, India's top oil and gas producer, has toppled Indian Oil Corp (IOC) to regain the crown of being the country's most profitable public sector company. Oil and Natural Gas Corp (ONGC) reported a 34 per cent jump in its 2018-19 fiscal net profit to 26,716 crore rupees. In comparison, IOC registered a net profit of 17,274 crore rupees for the fiscal year ended March 31, 2019. ONGC, in the previous two financial years, had lost the most profitable PSU tag to IOC. IOC had also lost the title of being India's largest company by turnover tag to billionaire Mukesh Ambani-led Reliance Industries in FY19.
50. Assam govt hikes parental income limit under the fee waiver scheme
Assam government has hiked the parental income limit to waive admission fees for students taking admission up to Post Graduate level. Student's whose parental income is less than 2 lakh rupees per year can avail the benefits. All provincialized government colleges and 5 universities are incorporated under the scheme.
51. Telangana celebrates state formation day
June 2, 2019, marks the fifth Telangana State Formation Day. On 2 June 2014, the area was separated from the northwestern part of Andhra Pradesh as the newly formed 29th state with Hyderabad as its historic permanent capital. It is also known as India's youngest state.
Points to Remember
Governor: E. S. L. Narasimhan
Chief Minister: K. Chandrashekar Rao
Rajya Sabha seats: 7
Lok Sabha seats: 17
52. Elephanta festival of art and culture begins
The Elephanta Festival of art and culture kicked off at the iconic Gateway of India in Mumbai. The gala event is organised on the Elephanta Island and promoted by the Maharashtra government. Elephanta Caves located on the island are a UNESCO World Heritage Site. They are a collection of cave temples predominantly dedicated to Lord Shiv.
53. PM Modi approves a hike in rates of scholarship under National Defence Fund
Prime Minister Narendra Modi has dedicated his first decision after taking over to those who protect the country. Mr Modi has approved major changes in the Prime Minister's scholarship scheme under the National Defence Fund. He has enhanced rates of scholarship from 2000 rupees per month to 2500 rupees per month for boys and from 2250 rupees per month to 3000 rupees per month for girls. The ambit of the Scholarship Scheme is also extended to the wards of State Police officials who are/were martyred during terror/Naxal attacks.
54. Kasturirangan committee submits new draft education policy to HRD Ministry
Former ISRO chief Dr Kasturirangan led Committee submitted the draft National Educational Policy (NEP) to HRD Minister Ramesh Pokhriyal Nishank in New Delhi. The policy draft recommends incorporation of Indian knowledge systems in the curriculum, constituting a National Education Commission and curbing arbitrary fees hikes by private schools.
The expert panel also proposed massive transformation in Teacher Education by moving all teacher preparation and education programmes into large multidisciplinary universities or colleges. It added that the topics will include Indian contribution to mathematics, astronomy, philosophy, psychology, yoga, architecture, medicine, as well as governance, polity, society, and conservation course on Indian knowledge systems. The existing NEP was framed in 1986 and revised in 1992.
55. PM-KISAN Scheme extension to include all eligible farmer families irrespective of the size of land holdings
The Union Cabinet approved the extension of the Pradhan Mantri Kisan Samman Nidhi Yojana to all eligible farmer families, irrespective of the size of their landholding. The scheme for farmers was launched by Modi on February 24. Under the original scheme, households with agricultural landholdings smaller than two hectares were eligible to receive Rs 6,000 annually as direct benefit transfers from the Centre. The extension of the scheme will increase its coverage to 14.5 crore farmers, an addition of 2.5 crores, the government claimed. The Cabinet also cleared pension schemes for farmers and traders. The Pradhan Mantri Kisan Pension Yojana will provide a minimum fixed pension of Rs 3,000 per month to farmers above the age of 60.
56. GDP growth slows to a five-year low at 5.8% in the January-March quarter
India's economic growth rate slowed to a five-year low of 5.8 per cent in January-March 2018-19, It has been recorded due to poor performance in the agriculture and manufacturing sectors. According to the Central Statistics Office (CSO) data released, GDP growth during 2018-19 fiscal stood at 6.8 per cent, lower than 7.2 per cent in the previous financial year. The growth in the gross domestic product (GDP) was slowest since 2014-15. The previous low was 6.4 per cent in 2013-14.
58. Union Cabinet Ministers Portfolio 2019 Part 1
Click Here for Full List of Union Cabinet Ministers Portfolio 2019
A total of 24 Cabinet Ministers took oath at the forecourt of the Rashtrapati Bhavan, followed by nine Ministers of State (Independent Charge) and 24 Ministers of State.
Rajnath Singh – Defence
Amit Shah – Home Affairs
Nirmala Sitharaman – Finance; Corporate Affairs
Subrahmanyam Jaishankar – External Affairs
Nitin Gadkari – Road Transport and Highways; Micro, Small and Medium Enterprises
DV Sadananda Gowda – Chemical and Fertilizers
Ram Vilas Paswan – Consumer Affairs, Food and Public Distribution
Narendra Singh Tomar – Agriculture and Farmers Welfare; Rural Development; Panchayati Raj
Ravi Shankar Prasad – Law and Justice; Communications; Electronics and Information Technology
Harsimrat Kaur Badal – Food Processing Industries
Thawarchand Gehlot – Social Justice and Empowerment
Ramesh Pokhriyal Nishank – Human Resource Development
Arjun Munda – Tribal Affairs
59. Union Cabinet Ministers Portfolio 2019 Part 2
Smriti Irani – Women and Child Development; Textiles
Dr. Harsh Vardhan – Health and Family Welfare; Science and Technology; Earth Sciences
Prakash Javdekar – Environment, Forest and Climate Change; Information and Broadcasting
Piyush Goyal – Railways; Commerce and Industries
Dharmendra Pradhan – Petroleum and Natural Gas; Steel
Mukhtar Abbas Naqvi – Minority Affairs
Prahlad Joshi – Parliamentary Affairs; Coal; Mines
Mahendra Nath Pandey – Skill Development and Entrepreneurship
Arvind Sawant – Heavy Industries and Public Enterprise
Giriraj Singh – Animal Husbandry, Dairying, and Fisheries
Gajendra Singh Shekhawat – Jal Shakti
60. RBI to observe financial literacy week from June 5-9
The Reserve Bank of India will observe Financial Literacy Week across the country from 3rd to 7th of June. The theme this year is - 'Farmers and how they benefit by being a part of the formal banking system'. Posters and leaflets will be used to spread awareness and spread the message of financial literacy among the farming community. The RBI has advised banks to display the posters and content in their rural bank branches, Financial Literacy Centres, ATMs and websites.
61. RBI reduces repo rate by 25 basis points
The Reserve bank of India in its bi-monthly monetary policy review today reduced the repo rate by 25 basis points to 5.75 per cent from 6.0 per cent with immediate effect. Consequently, the reverse repo rate stands adjusted to 5.50 per cent, and the marginal standing facility rate and the Bank Rate to 6.0 per cent. The six-member Monetary Policy Committee headed by RBI Governor Shaktikanta Das also unanimously decided to change the stance of monetary policy from neutral to accommodative.