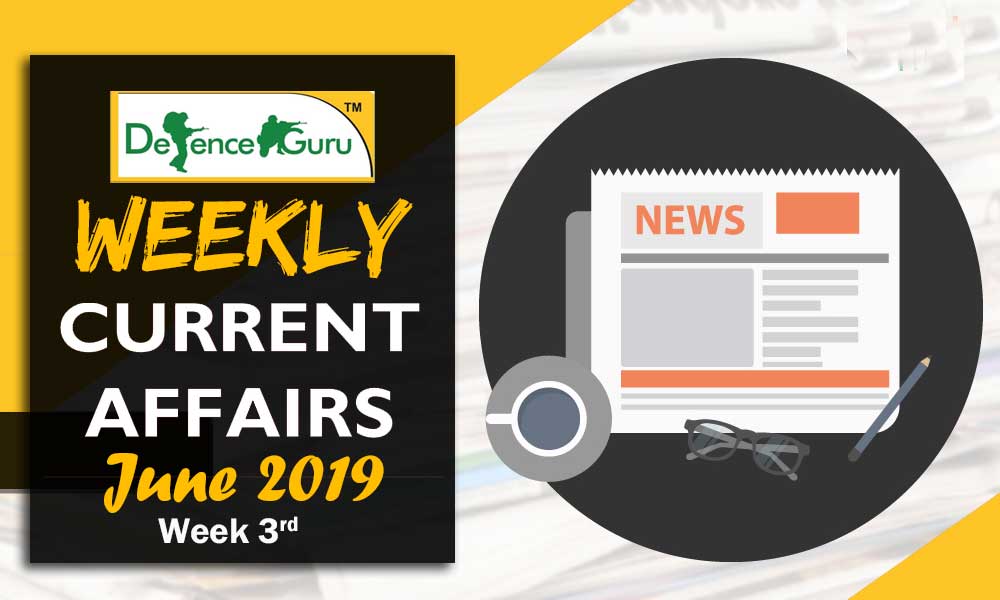 Current Affairs June 2019
Preparation for any Competitive Exam is incomplete without regular practice of GK and Current Affairs. Here Defence Guru Share Weekly Current Affairs June 2019 & Stay updated with the Latest Happenings.

1. Abhinav Bindra
India's only individual Olympic gold medallist Abhinav Bindra was appointed in an independent capacity by the World Archery to sort out the ongoing mess in the national federation. The development comes a day after the world body de-listed the Archery Association of India for violating the constitution by unanimously electing two parallel bodies in Chandigarh and New Delhi. The WA has stated that if the Supreme Court does not give a verdict on the controversial elections by July 31, the world body would go ahead with suspension.
2. Dr. Virendra Kumar
President Ram Nath Kovind swore in the seven-term member of Parliament Virendra Kumar as the Protem Speaker of Lok Sabha. As soon as a new speaker of the 17th Lok Sabha is elected, his role will cease to exist. As pro-tem speaker, Virendra Kumar will preside over the first sitting of the Lok Sabha and administer the oath to the newly elected MPs. The first session of the newly constituted Lok Sabha will be held from June 17 to July 26.
3. Zuzana Caputova
Anti-corruption campaigner Zuzana Caputova was sworn in as Slovakia's first female president. Caputova scored a convincing victory against Smer-SD candidate Maros Sefcovic. Known as the "Erin Brockovich of Slovakia" Caputova is a lawyer and an environmental activist, who came out of left field in the recent elections.
Points to Remember: Slovakia
Capital: Bratislava
Currency: Euro
4. 29 journalists conferred with Matri Shree Media Awards
Twenty-nine journalists from print and electronic media were felicitated with Matri Shree Media Awards for their contribution towards journalism. Apart from media personalities, a social activist has also presented the Bharat Mata shield at the 44th Matri Shree media award ceremony The Matri Shree Media Awards was constituted during the Emergency. The first award was presented to journalist Lala Jagat Narayan.
5. Mohammed Morsi
Egypt's former president Mohammed Morsi died after collapsing during a session in court. Morsi, who was 67, was on trial for espionage and had just addressed the court when he blacked out. He was country's first democratically elected president and a member of Egypt's most powerful Islamist group, Muslim Brotherhood. Morsi had been in custody since his removal by the military after mass protests in 2013.
Points to remember: Egypt
Capital: Cairo
Currency: Egyptian pound
6. Pazhavila Ramesan
Poet and lyricist Pazhavila Ramesan passed away in Thiruvananthapuram. Ramesan had received the 2017 Kerala Sahithya Akademi award for overall contributions. He wrote lyrics for Malayalam movies such as Njattadi, Aashamsakalode, Uncle Bun, Malootty, and Vasudha.
7. Naomi Osaka, Novak Djokovic continue as World No. 1 in latest WTA, ATP rankings
Japan's Naomi Osaka and Novak Djokovic of Serbia continue as World Number ones in the latest WTA and ATP rankings. The rankings were announced ahead of Wimbledon which is just two weeks away. Naomi Osaka is just 252 points ahead of world No.2 Ashleigh Barty of Australia. Novak Djokovic leads the men's ATP tennis rankings ahead of French Open champion Rafael Nadal and former world number one Roger Federer. The top of the ATP rankings remains unchanged a week after Nadal claimed the Roland Garros title with victory over Dominic Thiem in the final.
8. Indian men's recurve team bags Silver Medal at Archery World Championships
The Indian men's recurve team bagged a silver medal in the Archery World Championships at Den Bosch in The Netherlands. Indian trio of Tarundeep Rai, Atanu Das and Pravin lost to a Chinese team of Ding Yiliang, Wei Shaoxuan and Feng Hao 6-2 in the summit clash. India thus ended their campaign with one silver and two bronze medals won in the women's compound team and individual events. The men's recurve team was playing in the final of World Championships after a gap of 14 years.
8. India beat South Africa 5-1 to win FIH Series Finals
India thrashed South Africa 5-1 in the summit clash to win the FIH Series Finals hockey tournament. India and South Africa have already qualified for the final round of the Olympic qualifiers before summit clash. Earlier in the day, Asian Games champion Japan defeated USA 4-2 to finish third in the competition.
9. Kohli becomes the fastest batsmen to reach 11,000 runs
Indian skipper Virat Kohli became the fastest batsman to reach the 11,000 run mark in the ODI cricket. He achieved the feat in the match between India and Pakistan in the ICC Men's Cricket World Cup. The Indian skipper has just taken 230 ODIs to complete 11,000 runs. Kohli needed 57 runs before this match to reach 11000 run mark in ODI cricket. The 30-year-old Kohli broke Tendulkar's record. Tendulkar had achieved the 11000 run mark against England in 2002 in his 284th ODI.
7. Suman Rao from Rajasthan Crowned Miss India 2019
Suman Rao from Rajasthan has won the Femina Miss India World 2019 beauty pageant. 20-year-old Suman, a college student, will represent India at Miss World 2019 in Thailand. Shivani Jadhav from Chhattisgarh clinched Femina Miss Grand India 2019 title. Shreya Shanker from Bihar won Miss India United Continents 2019 title during the grand finale.
8. Indian compound women's team win bronze at Archery World Championships
Jyothi Surekha Vennam produced a stellar show to help India clinch two bronze medals in the compound women's section of Archery World Championships in the Netherlands. The Asian Games silver medalist first led the fight back in the team event by shooting six perfect 10s out of eight arrows. Jyothi then clinched another bronze insw3z the evening session when she pipped world number two Yesim Boston of Turkey 10-9 in the shoot-off.
9. International Day of Yoga: 21 June
International Day of Yoga is celebrated annually on 21 June since its inception in 2015. The idea of International Day of Yoga was first proposed by the current Prime Minister of India, Mr Narendra Modi. The International Day of Yoga aims to raise awareness worldwide of the many benefits of practising yoga.
2019 Theme: Yoga for Climate Action
10. World Music Day: 21 June
World Music Day 2019 or International Music Day 2019 is observed every year on June 21. It is originated in France where it is known as 'Fête de la Musique' meaning "festival of music" to honour both amateur and professional musicians. This move was proposed by French Politician Jack Lang and composer Maurice Fleuret to talk about the importance of music.
12. World Refugee Day: 20 June
World Refugee Day is observed on the 20th of June every year. The day celebrates the stories and contributions of refugees.The theme this year is Step with Refugees - Take a Step on World Refugee Day. According to the latest UN study, 70.8 million children women and men were forcibly displaced at the end of last year. This is the highest number in the organization's almost 70-year history.
13. Thousands protest against the Guthi Bill in Kathmandu
In Nepal, thousands of people came onto roads in capital Kathmandu against controversial "Guthi Bill". The protesters are demanding the government to scrap the controversial bill. Guthis are socio-economic institutions/trusts, both public and private, that fund their obligations from incomes from cultivated or leased land assets. Depending on their obligations, Guthis fulfil religious, public service or social roles and could either involve members from a common lineage, or several. The Government of Nepal had tabled the Guthi Bill to amend Guthi Act and nationalise both public and private Guthis or trusts and regulate all religious sites under a powerful commission.
14. Bangladesh has emerged as the fastest growing economy among 45 countries of the Asia-Pacific region: ADB
Bangladesh has emerged as the fastest growing economy among the 45 countries of the Asia-Pacific region according to the Asian Development Bank (ADB). In the financial year, 2018-19 Bangladesh attained a growth rate of 7.9 % which is its fastest rate since 1974. The bank predicted that the growth will be 8% in the next financial year. The bank said that higher public sector investment, stronger consumption demand, revival in exports, improved power supply and higher growth in private sector credit were the key factors of the high growth performance of Bangladesh.
15. Autistic Pride Day: 18 June
Autistic Pride Day is observed every year on 18 June. Autistic pride recognises the importance of pride for autistics and understands it not as a disease but as a difference. Autism or Autism Spectrum Disability is a range of complex neurodevelopment disorders characterized by social impairments, communication difficulties, restrictive and repetitive pattern of behaviour. It is a lifelong condition which usually occurs in the first three years of life. The exact cause of autism is not known but it is known to be associated with genetic and environmental factors.
16. India will overtake China as the world's most populous country in just 8 years
India projected to surpass China as the world's most populous country around 2027, according to a UN report. India is expected to add nearly 273 million people between now and 2050 and will remain the most populated country through the end of the current century. The report titled 'The World Population Prospects 2019: Highlights' estimated that the world's population is expected to increase by two million by 2050, from 7.7 billion today to 9.7 billion. Moreover, Indian along with eight other countries will constitute half of the population.
17. Netanyahu renames Golan heights after Trump
Israel Prime Minister Benjamin Netanyahu officially renamed a settlement in Golan height after United States President Donald Trump. Notably, the community is now just an isolated outpost of 10 resident. In April, Netanyahu had said he would name a new community in the Golan Heights after the US President to thank him for recognising Israel's sovereignty over the area, which Israel captured from Syria during the Six-Day War in 1967 and annexed in 1981. The United States became the first country to recognise the Golan Heights as part of Israel on March 25.
18. Govt to widen the spectrum of Khelo India Programme
President Ram Nath Kovind has highlighted the importance of the government's flagship 'Khelo India Programme'. Addressing the joint sitting of the two Houses of Parliament, the President said the new government has decided to widen the spectrum of the 'Khelo India Programme' to cover the entire country. Under this programme, 2,500 talented players have been selected and are being trained. The President said this facility will now be provided to 2,500 new players every year.
19. Integrated Grievance Cell, Call Centre inaugurated for Pensioners
Minister of State for Personnel, Public Grievances and Pensions, Dr Jitendra Singh inaugurated the Integrated Grievance Cell and Call Center for Pensioners. The Centre has been launched for Central Government pensioners at Janpath Bhawan in New Delhi. This centre will also act as a pressure on the departments to resolve the problems of the elderly pensioners.
20. Walmart to pay over 282 mn for violating anti-corruption regulations in 4 countries
International retail giant Walmart agreed to pay over 282 US Dollar to various US bodies to settle charges of violating anti-corruption regulations while conducting its business in India, China, Brazil and Mexico. According to the US Security and Exchange Commission (SEC), these violations were conducted by Walmart's third-party intermediaries who made payments to foreign government officials without reasonable assurances that they complied with the Foreign Corrupt Practices Act or FCPA. SEC has charged Walmart with violating FCPA by failing to operate a sufficient anti-corruption compliance programme for more than a decade as the retailer experienced rapid international growth.
21. PM's Awards for Outstanding Contribution for Promotion & Development of Yoga 2019 announced
Prime Minister's Awards for outstanding contribution for Promotion and Development of Yoga - 2019 has been announced. Swami Rajarshi Muni of Life Mission, Gujarat, Ms. Antonietta Rozzi of Italy, Bihar School of Yoga, Munger and Japan Yoga Niketan, Japan are the recipients of the Award. The award is given for outstanding contribution for promotion and development of Yoga. On the occasion of the 2nd International Day of Yoga celebrations at Chandigarh, the Prime Minister had announced the institution of awards for the promotion and development of Yoga. The winners will be felicitated with of a Trophy, Certificate and a Cash Award of 25 lakh rupees each
22. India extends $15 mn assistance to Niger for holding AU summit
India has extended USD 15 million assistance to Niger for organising the African Union (AU) summit. The summit is scheduled to be held in Niamey from July 7-8. It will also be the first time that Niger is scheduled to host an AU summit. The support of grant assistance was in response to a specific request made by the Niger government.
23. PM Modi to set up a committee to examine the issue of one nation one election
Prime Minister Narendra Modi chaired a meeting of Presidents of all political parties having representation in Parliament on the issue of One Nation One Election. Prime Minister will form a committee to look into the various aspects of One Nation One Election in the country.
"One Nation, One Election" envisages a system where elections to all states and the Lok Sabha will have to be held simultaneously. This would mean that the voters will cast their vote for electing members of the LS and the state assemblies on a single day, at the same time.
24. 23 Indian Institutions ranked among best global universities in QS World University ranking
IIT-Bombay has been ranked India's best university for the second year in a row, gaining a global ranking of 152 in the QS World University Rankings for 2020. Two other Indian universities, IIT Delhi (182) and the Indian Institute of Science, Bengaluru (184), have also cracked the top 200. There are a total of 23 Indian institutions in the top 1,000.
25. Himachal Pradesh makes GPS device must for trekkers
The Himachal Pradesh government make it mandatory for trekkers to carry a GPS device to tackle any exigency. The decision has come out to secure trekkers so that they can be provided with all possible help in case of an emergency. Being a disaster-prone state, it is essential to pay special attention to disseminating weather advisories and installing early warning systems in Himachal Pradesh. Kullu and Dalhousie have been identified for installation of early warning systems.
26. J&K Govt to open 18 AMRIT stores
Jammu and Kashmir Government is planning to open 18 AMRIT (Affordable Medicines and Reliable Implants for Treatment) stores in all the Medical colleges' Hospitals and prominently associated hospitals of the State. The purpose of the initiative is to provide quality and affordable medicines to the end users. AMRIT pharmacies, operating under the aegis of Ministry of Health and Family Welfare, Government of India. They offer more than 5200 drugs, implants, surgical disposables and other consumables at average discounts up to 60% of the maximum retail price.
27. Unemployed graduates in Rajasthan will get up to Rs 3,500 per month
Unemployed youth having graduation or equivalent degree will be given unemployment allowance up to Rs 3,500 by the Rajasthan government. They will get the benefit of the Chief Minister Yuva Sambal Yojana from February this year. To be eligible for the scheme, applicants should be natives of Rajasthan. The amount will be given for two years or until they get employed.
28. Archery Association of India de-listed by the world body
Archery's world body has de-listed the Archery Association of India (AAI) as a member and given it a month's time to either get its house in order or face suspension. World Archery (WA) will wait till 31st of next month before deciding on AAI's suspension. The WA will wait for the Supreme Court's verdict on the controversial elections of the AAI. The decision to de-list AAI will not prevent Indian archers from taking part in international events under the national flag in competitions for which entries have already been made.
29. Facebook unveils Libra cryptocurrency
Facebook revealed plans to launch a cryptocurrency called Libra.It is the latest development in its effort to expand beyond social networking and move into e-commerce and global payments. Facebook has linked with 28 partners in a Geneva-based entity called the Libra Association, which will govern its new digital coin set to launch in the first half of 2020. Facebook has also created a subsidiary called Calibra, which will offer digital wallets to save, send and spend Libras.
30. Lander and rover meant for Chandrayaan-2 reaches ISRO's launch pad at Sriharikota
The lander and rover meant for India's second lunar mission Chandrayaan-2 reached the ISRO's launch pad at Sriharikota. The rover called Pragyan is installed within the lander known as Vikram.Chandrayaan-2 will be launched aboard India's most powerful booster GSLV-Mark-3 tentatively early in the morning on July 15th with the aim of making the lander to soft-land on the South Pole of the moon by September 6th. India would be the fourth country to have its probe soft-land on the moon.
31. India, Myanmar conduct a joint operation to destroy militant camps in Northeast
The armies of India and Myanmar carried out a three-week-long coordinated operation in their respective border areas, targeting several militant groups operating in Manipur, Nagaland and Assam. The first phase of "Operation Sunrise" was conducted three months ago along the Indo-Myanmar border, during which a number of camps of north-east-based militant groups were busted. In the second phase of Operation Sunrise both the armies busted camps of Kamtapur Liberation Organisation (KLO), the NSCN (Khaplang), the United Liberation Front of Assam (I) and the National Democratic Front of Boroland (NDFB). Four Northeast Indian states share the border with Myanmar: Arunachal Pradesh, Nagaland, Mizoram, and Manipur.
32. Government to remove the minimum education requirement for commercial driving licence
The Ministry of Road Transport and Highways has decided to remove the requirement of minimum educational qualification for driving a transport vehicle. Under Rule 8 of the Central Motor Vehicle Rules, 1989, a transport vehicle driver needs to have passed class 8 to obtain a commercial driving licence. The decision comes after a recent meeting at the Transport ministry where the Haryana government requested for waiver of the educational qualification condition for drivers from the economically backward Mewat region. The decision will also help meet the shortage of nearly 22 lakh drivers in the transport and logistics sector, which is hindering its growth.
33. ICG co-hosts 12th ReCAAP ISC capacity building workshop
Indian Coast Guard (ICG) will be co-hosting 12th Capacity Building workshop with Regional Cooperation Agreement on Combating Piracy and Armed Robbery against Ships in Asia (ReCAAP) Information Sharing Centre (ISC) in New Delhi. The ReCAAP is the first regional Government-to-Government agreement to deal with piracy and armed robbery at sea in Asia. Presently 20 countries are members of ReCAAP. India played an active role in the setting up and functioning of ReCAAPISC along with Japan and Singapore India has hosted this workshop earlier in November 2011 at Goa and December 2017 at New Delhi.1
34. Amazon India is the country's most attractive employer brand
E-commerce giant Amazon India is the country's most attractive employer brand, according to the findings of the Randstad Employer Brand Research (REBR) 2019. The company, which has more than 50,000 direct and indirect employees in India, has been steadily been expanding operations over the past five years. According to the REBR 2019, released Amazon scored high on financial health, utilisation of latest technologies and a strong reputation. Microsoft India emerged as the runner-up, followed by Sony India.
35. Power Minister Shri RK Singh attends G20 Ministerial Summit in Japan
Union Power Minister Shri RK Singh addressed the 'G20 Ministerial Meeting' on Energy & Environment in Japan.In his address, Shri Singh highlighted the pathbreaking efforts made in the last 5 years in providing energy access to all in India. He said that India is implementing one of the largest Renewable Energy expansion programs and Energy Efficiency programs in the world. Power & Energy ministers of the G20 countries gathered in Japan for the first time in the group's history.
36. 'World Food India' to be held in New Delhi from Nov 1
Food Processing Industries Minister Harsimrat Kaur Badal said World Food India will be held in New Delhi from 1st of November 2019. She said, the event which will continue till 4th November, will position India as Food Processing Destination of the World. Indian Food Processing Industry has grown tremendously recording 11 per cent growth rate, which is twice the pace of Global Industry.
37. India accounts for 6.3% of global fish production
India is the second largest fish producing country in the world as it accounts for 6.3 per cent of the global fish production, a release by the Fisheries Department. The fisheries sector in the country is growing at a rate of 7 per cent, sustaining 14.5 million fishermen. Rajni Sekhri Sibal, Secretary, Department of Fisheries, also said that there is a huge potential in harnessing tuna and tuna-like species in the Indian Exclusive Economic Zone (EEZ).
38. Punjab to prepare water management plan with Israel
Punjab Minister Sukhbinder Singh Sarkaria met a team of experts from Israel in Chandigarh to prepare a comprehensive water management master plan for the state. The experts will submit their report of recommendations within 18 months. Earlier, the Israeli team visited various parts of the state to assess the present situation and the challenges in the water sector in the State. The National Water company of Israel M/s Mekorot and Punjab Government had signed an agreement in April 2019 after the visit of Punjab Chief Minister Captain Amarinder Singh to Israel in October 2018.
39. Assam govt to set up Skill University at Darrang district
Assam government will set up a Skill University at the cost of 850 crore rupees at Darrang district. This will be perhaps the first skill university of the country with a capacity of 10 thousand seats. The admission test for the first batch of the North East Skill Centre will be held on 30th of this month. He said 80 per cent seats will be reserved for Assam and rest 20 per cent for other North Eastern states.
40. Assam Transport Minister launches State Transport Corporation's 'Chalo' app
Assam Transport Minister Chandra Mohan Patowary launched the State Transport Corporation's 'Chalo' app for Guwahati. The app will help commuters to know about the live arrival time of their bus so they can plan their travel accordingly. People can also track the live GPS position of their bus on a map. It will also ensure safe travel with features such as Emergency SOS. Mr Patowary also unveiled a one-of-a-kind transport map for the State Transport bus network in Guwahati that has been developed by Chalo.
41. ADB approves Rs 1,650 cr infra projects in Tripura
The Asian Development Bank (ADB) has approved projects for infrastructure development worth Rs 1,650 crore ($235 million) in seven of the eight districts in Tripura. The ADB would give 80 per cent of the amount as grant-in-aid and the Tripura Government would have to repay back only 20 per cent loan in due course of time. The release said that the Urban Development Department of the Tripura government would start preparing a detailed project report with the support of the ADB for speedy execution of the projects.
42. Father's Day: 16 June 2019
Father's Day is celebrated every year on the third Sunday of June to honour the journey of fatherhood and the role that father's play in the family structure and society. This year, it is be celebrated on June 16 (Sunday) in India. It complements similar celebrations honouring family members, such as Mother's Day, Siblings Day and Grandparents' Day.
43. World's highest weather stations installed on Mount Everest
A team of Tribhuvan University and National Geographic Society scientists and researchers have installed the world's highest, fully automated weather stations atop Mount Everest. Total five weather stations, including one at a record height of 27,657 feet, were installed on the Earth's highest mountain above sea level. The weather station will record data on temperature, relative humidity, barometric pressure, wind speed, and wind direction.
44. Central Government granted the approval to set up of e-Foreigner Tribunal (e-FT) in Assam
Central Government has permitted to set up e-Foreigner Tribunal (e-FT) in Assam. It is a quasi-judicial authority which assesses the question of the authenticity of a person's citizenship. It should be set up by July 31, 2019, when the final list of National Register of Citizens (NRC) is published. The CEO of e-FT Mission Anand Prakash Tiwari said that the proposed integrated e-FT IT system will be implemented across the state for effective monitoring and resolution of cases registered with Foreigner Tribunal.
45. PM Kisan Pension Scheme
Farmers will have to contribute Rs 100 per month under the Pradhan Mantri Kisan Pension Yojana that seeks to provide a minimum fixed monthly pension of Rs 3,000 on the attainment of 60 years. The central government will also contribute an equal amount to the pension fund to be managed by the LIC, which will be responsible for the pension payout. The Modi 2.0 government in its first cabinet meeting had approved a separate pension scheme for farmers with an aim to cover 5 crore beneficiaries in the first three years.
46. Bharat Dynamics bags Rs 1,188 cr contract from Indian Navy
Bharat Dynamics Limited (BDL) has signed a contract worth of Rs 1,187.82 crore for supply of Heavy Weight Torpedoes - Varunastra - to the Indian Navy. The execution of the contract will be over the next 42 months. The weapon will be manufactured at BDL Visakhapatnam Unit under collaboration with the Defence Research and Development Organisation (DRDO). The Heavy Weight Torpedo or the Varunastra is a ship launched, electrically propelled underwater weapon equipped with one of the most advanced automatic and remote-controlled guidance systems.
47. Adani group gets final approval for coal mine project in Australia
Gautam Adani on won the last two environmental clearances to begin work on the ₹10,000 crore Carmichael coal mine project in Australia Australia's Queensland government approved Adani's plans to manage groundwater and protect an endangered bird species, clearing the way for the project in the Galilee Basin expected to dig up 10mt of coal every year. The project aims to ensure energy security for India and create more jobs for Australia. Adani Group's mining project in Australia faced various controversies for almost nine years as the environmentalists warned it of the severe damage it might cause to the Great Barrier Reef.
48. RBI penalises HDFC Bank for non-compliance of KYC norms
The Reserve Bank of India (RBI) imposed a penalty of Rs 1 crore on HDFC Bank for non-compliance of Know Your Customer (KYC) norms and anti-money laundering norms, and for failure to report frauds. The regulator said that it received a reference from customs authorities regarding submission of forged bill of entries (BoEs) by certain importers to the bank for remittance of foreign currency.
DEFENCE GURU,S GATEWAY TO DEFENCE
49. Navy launches operation in the Gulf for Indian vessels' security
Indian Navy has deployed Ships INS Chennai and INS Sunayna in the Gulf of Oman. It has deployed to re-assure Indian Flagged Vessels operating or transiting through the Persian Gulf and Gulf of Oman following the maritime security incidents in the region. In addition, aerial surveillance by Indian Navy aircraft is also being undertaken in the area. The Information Fusion Centre - Indian Ocean Region which was launched by the India Navy in December last year at Gurugram is also keeping a close watch on the movement of ships in the Gulf region.
50. CRPF to launch 'save environment' campaign during Amarnath Yatra
In Jammu and Kashmir, apart from performing its primary duty of providing security, the CRPF will launch a 'save environment' campaign during the up-coming Shri Amarnathji Yatra in the South Kashmir Himalayas which is starting from Jammu on June 30. CRPF has made an appeal to the visiting pilgrims as well as the public, in general, to play their vital role in preserving the fragile environment especially along the yatra area in Kashmir. CRPF has prepared hoardings and banners and will display these on prominent places along the yatra route, including the railway station, airport, bus stands etc.