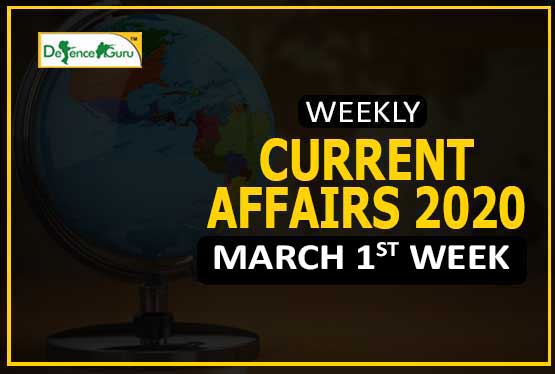 APPOINTMENTS
1.Bimal Julka
President Ram Nath Kovind administered the oath of office to Bimal Julka as Chief Information Commissioner (CIC). Julka, who has earlier served as the Union Information and Broadcasting Secretary, was administered the oath of the office at a ceremony held at Rashtrapati Bhavan. The post was vacant after the transparency watchdog chief Sudhir Bhargava retired on January 11.
2.Kareena Kapoor Khan
German sportswear brand Puma has signed a two-year deal with Indian film actress Kareena Kapoor Khan to be its brand ambassador. With this deal she joins the brand's roaster of celebrity faces such as Virat Kohli, Sara Ali Khan, MC Mary Kom and Dutee Chand. Khan will be the face for Puma's soon-to-be launched collection of low-intensity training apparel collection targeted at workouts such as yoga, barre, and pilates. Puma sells performance and sport-inspired lifestyle products in categories such as football, running and training, basketball, golf, and motorsports.
3.Ajay Bhushan Pandey
The Government of India appointed the current Revenue Secretary Ajay Bhushan Pandey as the new Finance Secretary. Pandey replaces current Finance Secretary Rajiv Kumar. The Appointments Committee of the Cabinet has approved the appointment. Pandey, a 1984 batch Indian Administrative Service officer of Maharashtra cadre, had earlier worked as chief executive officer of Unique Identification Authority of India (UIDAI), the organization behind the Aadhaar.
4.Seema Verma
Indian-American Seema Verma has been appointed as one of the key members of the White House Coronavirus Task Force constituted by US President Donald Trump. The Task Force has been created to combat the deadly disease that has claimed six lives in the country and infected over 90 others. The task force is led by Secretary of Health and Human Services Alex Azar, and is coordinated through the National Security Council.
5.Muhyiddin Yassin
In Malaysia, the King has appointed seasoned politician Muhyiddin Yassin as the new Prime Minister. The appointment came after this week's shock resignation of Prime Minister Mahathir Mohamad, a move that plunged the country into crisis following a weekend of political wrangling and the collapse of the ruling alliance. The announcement came hours after Mahathir struck a new deal to work with his former ruling alliance led by rival Anwar Ibrahim.
BOOKS
6.'Chronicles of Change Champions'- Smriti Zubin Irani
Union Minister for Women and Child Development Smriti Zubin Irani released a book titled 'Chronicles of Change Champions' at an event held in New Delhi. The book is a compilation of 25 innovative initiatives taken at the state and district levels under the Prime Minister's flagship scheme of Beti Bachao, Beti Padhao. It captures the convergent approach adopted at the grass-root level and provides insight into the unique manner of community engagement by the District Administration and front-line workers. The Minister informed that this year the Ministry will work with the Human Resource Development Ministry to launch a mission to get out-of-school girls back into schools with the help of the local community. The Beti Bachao, Beti Padhao scheme was launched by Prime Minister Narendra Modi on 22nd January 2015 at Panipat, Haryana as a comprehensive programme to address the declining Child Sex Ratio and the related issues of empowerment of women over a life-cycle continuum.
DEATHS
7.Javier Perez de Cuellar
Former UN Chief Javier Perez de Cuellar, who served as United Nations Secretary General from 1981 to 1991, passed away. Perez de Cuellar notably led the world body during the Iran-Iraq war and the civil war in El Salvador. The present UN head Antonio Guterres expressed gratitude for Perez de Cuellar's contributions and achievements as Secretary-General.
Secretary General: António Guterres
Headquarters: New York
Founded: 24 October 1945
8.Kristi Prachar Sangha Sanghanayaka Suddhananda Mahathero
The head of the Bangladesh Bouddha Kristi Prachar Sangha Sanghanayaka Suddhananda Mahathero passed away in Dhaka.He was a revered figure among the Buddhists of Bangladesh. He is known for running many social service activities particularly the orphanage at Dharmarajika Buddhist Monastery which takes care of more than 350 children. The Government of Bangladesh awarded the Ekushey Award to him in 2012. According to 2011 census, Buddhism is the third largest religion of Bangladesh constituting 0.6 percent of the population. Most of the Buddhists live in Chittagong division of Bangladesh.
9.Joginder Singh Saini
Veteran athletics coach and Dronacharya awardee Joginder Singh Saini, who groomed some of India's finest track and field stars, died in Patiala. Saini remained the chief national athletics coach for many years from the 1970s to 90s. He became the chief coach of the then Amateur Athletics Federation of India in 1970. Saini received the Dronacharya Award in 1997 for his contribution to Indian athletics. He was the chief coach of the Indian athletics team which won 18 medals, including eight golds, at the 1978 Asian Games.
10.Balbir Singh Kullar
Former India hockey player Balbir Singh Kullar passes away. He was a part of the 1968 Olympics bronze-winning team. He was born at Sansarpur village of Jalandhar district in Punjab. He made his India debut in 1963 in Lyon, France. He was also a member of the Indian team that won the Asian Games gold in 1966 at Bangkok and the Olympic Bronze in 1968 in Mexico.
AWARDS
11.Times of India Sports Awards (TOISA) 2019
World champion shuttler PV Sindhu was named Sportsperson of the Year at the fourth Times of India Sports Awards (TOISA) 2019 in New Delhi. Rio Olympic silver medallist Sindhu, who won the world championship gold at Basel, Switzerland, last year also bagged the Unbreakable Spirit of Sports award. Former India football captain Bhaichung Bhutia was given the Lifetime Achievement award, while hockey legend and three-time Olympic gold medallist Balbir Singh Sr was honoured with the Icon of the Century award. National badminton coach Pulella Gopichand won the Mentor of the Year award, while former shooter Jaspal Rana was recognised as the Coach of the Year.
12.Lalit Kala Akademi's 61st annual awards conferred by Prez Kovind to 15 artists
Lalit Kala Akademi's 61st annual awards conferred by President Ram Nath Kovind to 15 artistes at the Rashtrapati Bhavan. The awardees include Anoop Kumar Manzukhi Gopi (Thrissoor, Kerala), David Malakar (Kolkata, West Bengal), Devendra Kumar Khare (Vadodara, Gujarat), Dinesh Pandya (Mumbai, Maharashtra), Faruque Ahmed Halder (24 Parganas, Kolkata, West Bengal), Hari Ram Kumbhawat (Jaipur, Rajasthan). Lalit Kala Akademi awards are given to recognise the outstanding work in the field of art. The fifteen artists were selected by an esteemed panel of Jury for the 61st annual awards. The awardees honoured with a plaque, a shawl and prize money of one lakh rupees during the felicitation ceremony.
13.Assam's forest man to be conferred with Swami Vivekananda Karmayogi Award
Assam's eminent environmental activist Jadav Payeng will be awarded with Swami Vivekananda Karmayogi Award. He has been conferred for his efforts in creating a man-made forest through reforestation. Padma Shri Jadav 'Molai' Payeng is a Mishing tribe environmental activist and forestry worker from Jorhat, India. Over the course of several decades, he planted and tended trees on a sandbar of the river Brahmaputra turning it into a forest reserve. The forest, called 'Molai' forest after him, is located near Kokilamukh in Jorhat, Assam and encompasses an area of about 1,360 acres/550 hectares.
SPORTS
14.Indian Archery team pulls out of Asia Cup world ranking tournament
The Archery Association of India (AAI) has pulled out its team from the upcoming Asia Cup world ranking tournament in Bangkok scheduled from March 8 to 15 owing to the coronavirus threat there. This would have been India's first international competition since their return from a five-month suspension in January which was lifted after the AAI's election. AAI Assistant Secretary Gunjan Abrol informed India's decision to withdraw after reviewing the current alarming situation and taking into consideration the travel advisories issued by Sports Authority of India and IOC.
15.Sports Authority of India announces first edition of Khelo India Women's Hockey League Under-21
Sports Authority of India, in association with Hockey India announced the first edition of the Khelo India Women's Hockey League Under-21. It will be organized by Hockey India at three different venues in three phases between March to November. While phase one will be held from 23rd to 29th of this month at the Major Dhyan Chand National Stadium in New Delhi, the second phase will be held from 13th to 19th at the SAI Centre in Bengaluru. The final phase will be organised from 22nd to 29th November at the Kalinga Stadium in Bhubaneswar.
16.Mumbai set to host IOC session in 2023
Mumbai is set to host the 2023 International Olympic Committee's session after the IOC Executive Board recommended the Indian city for the annual conference. The IOC Executive Board decided to put Mumbai's candidature to a vote of the members. The decision is to be ratified at the 136th IOC session in Tokyo in July this year. After ratification, this will be the second-ever IOC session to be held in India after a long gap of 37 years. India last hosted an IOC session way back in 1983 in New Delhi.
17.Former Indian spinner Sunil Joshi named BCCI's selection committee chairman
Former India spinner Sunil Joshi was named chairman of the national selection panel by the BCCI's Cricket Advisory Committee (CAC). The 49-year-old Joshi played 15 Tests and 69 ODIs between 1996 and 2001, taking 41 and 69 wickets respectively. The CAC, comprising Madan Lal, RP Singh and Sulakshana Naik, picked the two selectors with Joshi replacing South Zone representative MSK Prasad. The CAC will review the panel's performance after one year and make recommendations accordingly.
18.Badminton Asia Championships moved from Wuhan to Manila over coronavirus outbreak
Next month's Badminton Asia Championships have been moved out of the novel coronavirus outbreak epicentre,Wuhan, to the Philippines capital Manila. The Asia Championships will be staged in Manila from the 21st of next month. The Coronavirus has forced the postponement or cancellation of several badminton tournaments, disrupting the build-up to the Tokyo Olympics. Numerous other sports events have also been cancelled, postponed or moved in recent weeks all over the world because of the deadly virus.
19.Shafali Verma at top spot in ICC women's T20I rankings
Shafali Verma, the teenage Indian batting sensation, has gained the top spot in the ICC women's T20 International rankings. She has become only the second India batter after Mithali Raj to top the women's T20 International rankings. She jumped 19 places and surpassed New Zealand captain Suzie Bates to grab the top spot with 761 points. The 16-year-old Shafali has replaced New Zealand's Suzie Bates, who had been at the top of batting charts since October 2018. During the ongoing ICC Women's T20 World Cup, Shafali has scored 161 runs in four innings demonstrating an explosive batting performance at the top of the order.
20.68th All India Police Athletic Championship kick starts in Haryana
68th All India Police Athletic Championship-2019 began at Bhanu in Panchkula District of Haryana. Union Minister of State for Youth Affairs and Sports Kiren Rijiju declared the meet open at Basic Training Centre of ITBP. Mr Rijiju said that with an aim to bring India in top 10 in the Olympics scheduled in 2028, the government has identified 15,000 plus children and started their training across 284 Sports Authority of India (SAI) training centres across the country.
21.Azlan Shah Cup hockey tournament in Malaysia postponed due to coronavirus
The 29th edition of the prestigious Azlan Shah Cup hockey tournament was pushed from April to September in the wake of the novel coronavirus outbreak across the world. The Azlan Shah Cup, which was scheduled to be held in Ipoh, Malaysia from April 11 to 18, will now be held from September 24 to October 3. The Azlan Shah Cup is the latest sporting event to be affected by the deadly coronavirus, which has claimed more than 3,000 lives and infected 86,000 people.
22.Tasnim Mir, Mansi Singh win bronze at Yonex Dutch Junior International
Young Indian shuttlers Tasnim Mir and Mansi Singh won a bronze medal each in the girls' singles Badminton event at the Yonex Dutch Junior International 2020 in Haarlem, Netherlands. It was the first time India won two bronze medals in girls' singles at this BWF Junior International Grand Prix tournament. Mir was defeated by third seed So Yul Lee of Korea 19-21, 10-22 in the semifinal to settle for Bronze. Mansi lost to Indonesia's Saifi Rizka Nurhidayah 11-21, 16-21 in the semifinal.
23.First Khelo India University Games concludes in Bhubaneswar; Panjab University, Chandigarh tops medals tally
The Khelo India University Games concluded in Bhubaneswar, Odisha. Panjab University, Chandigarh took home the champions trophy-winning 46 medals including 17 gold, 19 silver, and 10 bronze. Savitribai Phule Pune University claimed the second position and Punjabi University, Patiala declared as the second runners up. Panjab University won a total of 46 medals while Savitribai Phule Pune University won 37 medals including 17 gold, 11 silver, and 9 bronze medals. On the last day of the games, India's fastest woman Dutee Chand representing Kalinga Institute of Industrial Technology, clinched gold medal with a timing of 23.66 seconds in the 200m final.
24.First Khelo India University Games concluded in Bhubaneswar
The Khele India University Games concluded in Bhubaneswar, Odisha. The University of Punjab, Chandigarh won the Champions Trophy winning 46 medals, including 17 gold, 19 silver and 10 bronze. Savitribai Phule Pune University declared second place and Punjabi University, Patiala declared second runner-up. Punjab University won a total of 46 medals, while Savitribai Phule Pune University won 37 medals including 17 gold, 11 silver and 9 bronze medals. Punjabi University, Patiala won 33 medals including 13 gold, 6 silver and 14 bronze medals. A total of 113 universities participated in the Games.
25.Rafael Nadal wins Mexican Open title after beating Taylor Fritz
In Tennis, World Number 2 Rafael Nadal captured his first title of the year, defeating unseeded Taylor Fritz in straight sets, 6-3, 6-2, in the final of the ATP Mexico Open. Nadal, playing in his first tournament since losing in the quarter-finals at the Australian Open last month. Nadal ceded the world number one ranking to Novak Djokovic after the Australian Open, where the Serb won a record eighth title. In the women's final, seventh-seeded Heather Watson captured her first WTA title in three years by grinding out a 6-4, 6-7, 6-1 win over Canadian teen Leylah Fernandez.
26.Dutee Chand clinches Gold in 100 meters race at Khelo India University Games in Bhubaneswar
India's fastest woman Dutee Chand clinched gold in the 100 meters race while long-distance runner Narendra Pratap Singh bagged his second title at Khelo India University Games in Bhubaneswar. Representing Kalinga Institute of Industrial Technology, Dutee Chand raced ahead of her competitors to bag gold with a timing of 11.49 seconds. Savitribai Phule Pune University is leading the tally with 16 gold, 11 silver and 8 bronze medals.
INTERNATIONAL
27.India, US sign Rs 1200 crore deal for protection system of new VVIP aircraft
India and the United States have signed a Rs 1200 crore deal for acquiring missile protection suites for the new Boeing VVIP planes that India is acquiring for the President and the Prime Minister. The new aircraft will be used for both international and domestic visits of the President and Prime Minister. The missile protection suites on the two Boeing-777 Extended Range planes will provide it the capability to fend off any missile attacks. A new 28-acre facility will also be created at the Indira Gandhi International Airport for housing the new Boeing 777 aircraft. The aircraft will be flown by Indian Air Force pilots who are getting trained in India by Air India which already operates the Boeing 777 in its fleet. The two planes are expected to arrive in India by the middle of 2020 to begin the VVIP duties.
28.Google announces its plans to open Delhi Cloud Region
Google announced its plans to open a Delhi Cloud Region. This will be the company's second cloud region in India since it launched one in Mumbai three years ago in 2017. The new cloud region will expand Google's existing network which stands at 8 regions in the Asia Pacific and 22 regions globally. Google cloud regions bring Google Cloud Platform services to global organisations in industries like media and entertainment, retail and manufacturing. Projected to be launched in 2021, the Delhi cloud region will have three zones to protect against service disruptions.
29.Luxembourg becomes first country to make public transport free
Luxembourg has become the first country with a free public transport system, with all fares for trams, trains and buses abolished as of February 29 2020. The one exception is first-class train travel, which will cost £2.60 (€3) per journey. The scheme was originally announced in 2018, with a summer 2019 launch planned, but delays pushed the move back to this year. Luxembourg has just over 600,000 inhabitants, but 214,000 more travel in for work every day from neighbouring Germany, Belgium and France, causing heavy traffic jams as the majority of workers commute by car.
Luxembourg Capital: Luxembourg
Currency: Euro
30.Sri Lanka to lead science, technology and innovation sector in BIMSTEC
Sri Lanka will lead the science, technology and innovation sector in the BIMSTEC and a facility for technology transfer is planned to be opened in the future. This was agreed during the 20th Session of the senior officials' meeting chaired by Sri Lankan Foreign Secretary Ravinatha Aryasinha in Colombo. Sri Lanka,will also appoint a Director to the BIMSTEC secretariat in June. Sri Lanka is mandated to lead the sector on Science, Technology and Innovation under which cooperation in Technology, health and human resource development is also included. Bangladesh was mandated to lead Trade, Investment and Development, Bhutan – Environment and Climate Change, Myanmar – Agriculture and Food Security, India – Security (Counter Terrorism and Transnational Crime, Disaster Management & Energy), Nepal – People to people contact (culture, tourism, forums of Think Thanks, Media etc) and Thailand – Connectivity.
31.Israeli PM Benjamin Netanyahu claims victory in general elections
Israeli Prime Minister Benjamin Netanyahu has claimed victory in the general elections held. With 90% of votes counted, his Likud party and its right-wing allies were on course to win 59 seats. This election was Israel's third in less than a year. Neither of the two main party leaders was able to command a majority in the 120-seat parliament following the last two rounds. Mr Netanyahu, 70, is Israel's longest-serving prime minister. He is seeking a record fifth term, having been in office from 1996 to 1999 and again from 2009.
Israel parliament: Knesset
32.World Wildlife Day: 03 March
World Wildlife Day, also known as WWD, is celebrated annually across the world on 03 March. The aim of World Wildlife Day is to acknowledge the importance of wildlife species in maintaining the ecological balance on earth. It also aims to create awareness among humans about the importance of wildlife and tries to curb the various dangers directed towards the flora and fauna. The theme for World Wildlife Day 2020 will be "Sustaining All Life on Earth"
33.India beats Poland And Russia to $40 million defence deal with Armenia
In a major win, India has managed to bag a $40 Million defence export deal. Under the $40 Million contract, India is required to supply four Swathi weapons-locating radars. The radars provide fast, automatic, and accurate location of enemy weapons like mortars, shells, and rockets in its 50-km range. It can also simultaneously handle multiple projectiles fired from different weapons at different locations. Russian and Polish firms were also in the race to bad the mega-deal. The deal is for supplying four Swathi weapon locating radars developed by the Defence Research and Development Organisation (DRDO) and manufactured by Bharat Electronics Limited (BEL) to Armenia in Europe.
34.Training of Nepal's Judicial Officers begins in India
Judicial Officers from Supreme Court of Nepal have started their training program at the National Law University, Jodhpur in Rajasthan. The first batch of 30 Judicial Officers will be trained on "Case Management and Court Management". The course on "Case Management and Court Management" tailored for the Nepalese judicial officers is fully backed by the Government of India under the Ministry of External Affairs' Indian Technical and Economic Cooperation Programme.
Prime minister of Nepal: KP Sharma Oli
President: Bidhya Devi Bhandari
Capital of Nepal: Kathmandu
Currency: Nepalese rupee
35.US, Taliban sign peace deal for phased withdrawal of American troops from Afghanistan
The US signed a historic peace deal with the Taliban in Doha to end America's presence in Afghanistan in a phased manner. India attended the historic event as Observer. India has been an important stakeholder in the peace and reconciliation process in Afghanistan.The landmark peace deal will see a phased withdrawal of thousands of US soldiers from Afghanistan. It was more than 18 years ago that the United States had ordered an attack on the Taliban following the tragic 9/11 happening in America. Ahead of the signing of the deal, the US and the Taliban had agreed to a seven-day cooling-off period which passed off peacefully.
36.Month long Ekushey book fair ends in Dhaka
The month-long Ekushey book fair ended in Dhaka. Large crowds gathered at the exhibition ground in Dhaka to visit the fair and buy books on the concluding day of the largest and longest book fair of Bangladesh. Prime Minister Sheikh Hasina had inaugurated the book fair on February 2. The organising committee of the book fair said that this year a total of 4919 new titles were released. Kotha Prakash publications received the Chittaranjan Saha Memorial Award for publishing the highest number of quality books. On the birth centenary year of the country's founding president Sheikh Mujibur Rahman, also known as Bangabandhu, this year's fair was dedicated to him.
NATI ONAL
37.Fourth Global Ayurveda Festival to be held at Kochi from May 16
The Fourth Global Ayurveda Festival, GAF will be held at Kochi in Kerala from 16th to 20th May. The theme for the five-day event is 'Ayurveda Medical Tourism: Actualizing India's credibility'. It will be the largest Ayurvedic event ever to be held anywhere across the world and will witness the largest gathering of experts, stakeholders and business explorers from the field of Ayurveda. More than 500 stalls, the participation of over 5,000 international delegates, ethnic food carnivals, exhibition of rich medicinal plants and workshops on Panchkarma to be the key highlights of GAF-2020.
38.Day 'Namaste Orchha' festival begins in Madhya Pradesh
In Madhya Pradesh, 'Namaste Orchha' festival is starting from Orchha, a famous tourist destination of the state. Orchha is famous for its Ramaraja temple as well as other historical buildings. Three days Namaste Orchha festival is an attempt to create new opportunities and initiatives to promote the state and its rich cultural, natural and architectural heritage and its traditions and history. The festival will showcase the cultural landscape of Madhya Pradesh through a range of activities like art, music,dance, guided history tours and photography. To beautify Orchha, all the houses of the main road of Orchha have been painted with cream color on the lines of Pink City Jaipur. The festival will also feature a food and crafts bazaar that will have local cuisine and traditional handicrafts of the region.
39.Govt sanctions projects worth over Rs 301 crore in food processing sector
The Union Government has sanctioned ten projects worth over 301 crore rupees in the food processing sector. These projects are likely to generate employment for ten thousand people and benefit nearly forty thousand farmers. The projects were sanctioned under the Agro Processing Cluster Scheme of Kisan Sampada Yojana. 100 per cent FDI is permitted under the automatic route in Food Processing Industries and 100 per cent FDI is allowed through approval route for trading including e-commerce in respect of food products manufacture and produced in India. One hundred per cent Income Tax exemption from profit derived from activities such as post-harvest value addition to agriculture by FPO's having annual turnover up to 100 crore rupees.
40.Chapchar Kut, the biggest and most joyful festival of Mizos, being celebrated
In Mizoram, the biggest and most joyful festival of Mizos, Chapchar Kut is being celebrated across the state. The Chapchar Kut is also regarded as the most popular spring festival to the people of the state. The gaiety and fervour of Chapchar Kut shines through with plenty of dancing and music to keep everyone in good spirits. Traditional bamboo dance - Cheraw and other dances were performed at the main event, attracting thousands of people.
41.Gairsain named Uttarakhand's new summer capital
Uttarakhand Chief Minister Trivendra Singh Rawat named Gairsain as the new summer capital of the state. Rawat made the announcement immediately after concluding his budget speech on the third day of the assembly session convened in Gairsain. Gairsain, located in Chamoli district between the Kumaon and Garhwal regions, will function as the summer capital. The state's current winter capital is Dehradun. Uttarakhand was carved out as a separate state from Uttar Pradesh in 1998.
42.EPFO lowers interest rate on deposits to 8.5% for 2019-20
Retirement fund body, Employees' Provident Fund Organization, (EPFO) lowered the interest rate on provident fund deposits to 8.5 per cent for the current financial year. Earlier it was 8.65 percent. Labour Minister Santosh Gangwar made this announcement in New Delhi after the meeting of the EPFO apex decision making body - the Central Board of Trustee.
43.Govt imposes withdrawal limit of Rs 50,000 for depositors of Yes Bank for a month
The government has imposed a withdrawal limit of 50,000 rupees for depositors of private lender Yes Bank for one month. The cap will stay in effect till 3rd of April. The limit on withdrawal comes with a few exemptions, in cases like medical emergency, higher education, marriage and unavoidable emergency. Yes Bank's board has been superseded for a period of 30 days owing to serious deterioration in the financial position of the private lender. RBI has assured depositors of Yes Bank that that their interest will be fully protected and there is no need to panic. In another development, SBI Board has given the State Bank of India in-principle approval to invest in the capital-starved Yes Bank.
44.Cabinet clears merger of 10 PSBs into 4 banks effective April 1
The Cabinet approved the amalgamation of the 10 public sector banks (PSB) into 4 PSBs that was announced on August 30, 2019. According to the government, the merger of the 10 banks will lead to the creation of stronger establishments that will be able to meet the challenge of a $ 5 trillion economy.The merger would come into effect from April 1, 2020. The Cabinet's approval will lead to the merger of -
Oriental Bank of Commerce and United Bank of India into Punjab National Bank;
Andhra Bank and Corporation Bank into Union Bank of India;
Syndicate Bank into Canara Bank; and
Allahabad Bank into Indian Bank
45.Sebi launches 'SCORES' mobile app for investors to lodge grievances
Markets regulator Sebi has launched a mobile application for convenience of investors to lodge grievances in Sebi Complaints Redress System (SCORES). "SCORES' mobile app will make it easier for investors to lodge their grievances with Sebi, as they can now access SCORES at their convenience of a smartphone. The mobile app will encourage investors to lodge their complaints on SCORES rather than sending letters to Sebi in physical mode. According to Sebi norms, entities against whom complaints are lodged need to file an action taken report with the regulator within 30 days of receipt of complaint.
46.RBI deputy governor Vishwanathan quits ahead of retirement
Reserve Bank of India deputy governor NS Vishwanathan has quit three months ahead of his retirement in June due to health reasons. Vishwanathan would end his nearly four-decade career by March 31 when the central bank would relieve him of his duties. As a deputy governor, he was looking after key departments such as banking regulation, co-operative banking, non-banking regulation, deposit insurance, financial stability and inspection. Vishwanathan, a Master of Economics from Bangalore University, had been the RBI's face for the past few years at the Bank for International Settlements (BIS), the Basel-based central banks' central bank.
47.Janaushadhi Week being celebrated from March 1 to 7
Janaushadhi week is being celebrated across the country from the 1st of this month through more than 6200 Pradhan Mantri Bhartiya Janaushadhi Kendras. Jan Aushadhi Kendra owners are organising different types of activities for making awareness about health and hygiene. Free distribution camps for Suvidha Sanitary Napkins were held at about 2000 places and more than 50,000 Sanitary Napkin packets were given free of cost to the women. Pradhan Mantri Bhartiya Janaushadhi Pariyojana is a noble initiative of the Government which is now making an impact on masses in its endeavor to provide quality medicines at an affordable price. The total sales in the financial year 2019-20 till February have crossed 383 crore which led to total savings of about 2200 crore rupees of common citizens.
48.Setu Bharatam scheme: All level crossings on NH to be replaced by Over/under Bridges
Government has envisaged replacement of all the level crossings on National Highways by Road Over Bridges or Road Under Bridges under the Setu Bharatam scheme. The programme is being implemented by the Road Transport and Highways Ministry to ensure safe and smooth flow of traffic and reduce road fatalities by 50 percent by 2020. Prime Minister Narendra Modi launched the Setu Bharatam scheme on 4th March in 2016 for building rail over-bridges or underpasses for safe and seamless travel on National Highways. Setu Bharatam programme was launched to make all National Highways free of railway level crossings in order to prevent the frequent accidents and loss of lives at level crossings. 208 places were identified for construction of rail over-bridges or underpasses under the project at a cost of nearly 10,200 crore rupees. The Ministry of Road Transport Highways and Ministry of Railways have signed an MoU to replace all level crossings by Road Over Bridges or Road Under Bridges.
49.Thinlas Chorol sets up first women's travel company in Ladakh
The International Women's Day will be celebrated on the 8th of March. In Ladakh, a young woman Thinlas Chorol has introduced a woman trekking guide in the male dominated trekking industry. To train the other women as trekking guides, she setup the first women's travel company fully operated by women only. Every trekking season from April to September, she trains 20 to 30 rural women to work as trekking guides.
50.Western Railway announces bonus of 5% for every recharge to R-Wallet
As an incentive to promote mobile ticketing, Western Railway had announced a bonus of 5 percent for every recharge to the R-Wallet until 24th August 2020. The existing bonus scheme, which expired last week, has been extended to encourage more and more users to use mobile ticketing. Western Railways has said that passengers are requested to patronize the use of UTS Mobile Ticketing App and avail the enhanced benefits attached with their use. The Western Railway is one of the 18 zones of Indian Railways and is Headquartered in Churchgate, Mumbai.
51.Cabinet gives nod for FDI policy on civil aviation
The Cabinet approved Foreign Direct Investment, FDI policy on civil aviation. FDI policy was amended to permit foreign investment in Air India. The Non Resident Indians can acquire up to 100 per cent equity in Air India under automatic route. The Minister said, earlier only 49 per cent were available for sale to NRIs but now they can purchase 100 percent.
52.IRDAI asks insurance companies to design policies to cover coronavirus
Insurance Regulatory and Development Authority of India, IRDAI has asked insurers to expeditiously settle hospitalisation claims related to novel coronavirus disease under health policies. In a circular, the Regulator has instructed insurance companies to come out with policies to cover treatment costs for coronavirus infection. It said, the costs of admissible medical expenses during the course of treatment including quarantine period, should be settled in accordance with the applicable terms and conditions.
53.National Safety Day: 04 March
The National Safety Council observes a National Safety Day (NSD) across India annually on March 4. The National Safety Day aims to promote safety guidelines in logistics, production, construction, transport, research, and development and other important aspects of an industry. The first observance of National Safety Day took place in 1966, on the day when the National Safety Council (NSC) was founded. Its headquarters is situated in Navi Mumbai, Maharashtra. This year's theme is "Enhance Health & Safety Performance by Use of Advanced Technology".
54.NABARD infuses Rs 1.46 lakh crore in rural banking system during current fiscal
National Bank for Agriculture and Rural Development (NABARD) has infused 1.46 lakh crore rupees in the rural banking system during the current fiscal. In a statement, NABARD has said that 66,397 crore rupees have been given in short-term credit and 6,704 crore rupees in long-term credit to rural cooperative banks. Regional rural banks have availed 14,141 crore rupees in short-term credit and 8,417 crore rupees in long-term credit. While short-term refinance is essentially production credit, long-term refinance is aimed at supporting sectors like dairy, poultry, fishery, farm mechanisation, irrigation, and non-farm sectors, among others.
55.35th edition of AAHAR, Food and Hospitality fair, begins in New Delhi
The 35th edition of AAHAR - the Food and Hospitality fair began in New Delhi. This year, the fair will feature a wide range of food products, machinery, hospitality, Food and Beverage Equipment and Decoration items, and Confectionery items from over 750 participants from India and overseas. In the foreign category, the fair will witness participation from countries, including Hong Kong, Israel, Indonesia, Japan, Poland, Russia, Switzerland, UK and UAE. The event will also offer an insight into operational and food safety concerns and innovations to become energy-efficient, finding budget-friendly raw materials boosting productivity, while still aiming for greater profitability.
56.Famous Rangotsav begins at Barsana in Mathura
The famous Rangotsav began at Barsana in Mathura, the place which is famous for its colourful holi festivities. Chief Minister of Uttar Pradesh Yogi Adityanath inaugurated the 10-day Rangotsav and also participated in Laddoo Holi. For the next ten days, various forms of Holi including Chadi Maar Holi, Falain ki Holi and Dau ji ka Aurangabad will be played at different places in Mathura, Vrindavan. The Rangotsav will also feature cultural events and the entire town of Barsana will be decorated with flowers and colours.
57.Pune to host 108th Indian Science Congress in 2021
Pune will host the 108th Indian Science Congress in January 2021. This will be the fourth time that the city will host the prestigious meet in the last 100 years. The event, set to be held at Symbiosis International University's Lavale campus. The theme of this event will be 'Science and Technology for Sustainable Development with Women Empowerment'. Dr Vijay Laxmi Saxena has been elected general president of the Indian Science Congress, 2021. The science congress had commenced in 1914 from then Calcutta with 105 members. Currently, the association has more than 60,000 members from various streams of science like agriculture, archaeology, biochemistry, earth system science among others.
58.Government launches 'Humsafar' mobile app for doorstep diesel delivery
Housing societies, hotels, and hospitals in the national capital region will soon be able to get diesel delivered at their doorsteps, with the launch of mobile application 'Humsafar' by Labour Minister Santosh Gangwar. The app will be used for the fuel delivery services to housing societies, hotels, hospitals, malls, construction sites, industries, banquets and other bulk buyers of diesel in various national capital region cities, including Gurugram, Ghaziabad, Noida, Faridabad, Hapur, Kundli, Manesar, and Bahadurgarh. The main idea of introducing this service is to help entities such as housing societies, industries and malls avoid the hassle of transporting large amounts of fuel from the fuel station to the desired destination. The major benefits of diesel delivery service are good quality and quantity of fuel delivered, live tracking of the delivery vehicle, automated billing, delivery within 8 hours and no spillage and wastage of fuel. Humsafar has 12 bowser tankers in varying capacity from 4 kilo litres to 6 kilo litres and an experienced team of 35 people, excluding bowser crews.
59.Arunachal Pradesh Assembly goes paperless
The Budget session of the 7th Arunachal Pradesh Legislative Assembly began. The Arunachal Pradesh Assembly went paperless on with the implementation of e-Vidhan, a project under the Digital India programme. With the implementation of the e-Vidhan project, MLAs can access every information regarding the Assembly, see the list of business and read questions and other documents pertaining to House proceedings through their laptops and tablet computers. The initiative will make all the proceedings in the house paperless.
60.Tripura Govt and AAI sign MoU for construction of 6 equipment hiring centers
Tripura State Government and Airport Authority of India has signed a memorandum of understanding for the construction of six equipment hiring centers in Manu Block under the Dhalai District of Tripura. The project has been taken as part of AAI's Corporate Social Responsibility scheme. In the equipment hiring centers, equipment related to agriculture, animal husbandry and fisheries will be kept. The types of equipment will be rented out to the needy farmers, Self Help Groups and to any other needy at a minimal cost.
61.Historic city square in Jammu renamed as 'Bharat Mata Chowk'
The historic City Chowk, the commercial hub in old Jammu, was renamed as 'Bharat Mata Chowk'. The renaming of the chowk drew mixed reactions from the people with most of them welcoming the decision but urged the JMC to focus more on development and cleanliness rather than changing names. Every year people are hoisting the tricolour on Republic and Independence days in this chowk. The starting point of the circular road near Panjtirthi in the city was named by the JMC as 'Atal Chowk' in the memory of former prime minister Atal Bihari Vajpayee.
62.Nomination dossiers of 'Dholavira' have been submitted for inclusion in the World Heritage List for the year 2020
The Government of India has submitted two nomination dossiers namely 'Dholavira: A Harappan City' and 'Monuments and Forts of Deccan Sultanate' for inclusion in the World Heritage List for the year 2020. Govt of Madhya Pradesh has submitted the proposal of 'Group of Monuments at Mandu' in the year 2019. The dossier was further forwarded to the World Heritage Centre (WHC) for completeness check. Dholavira is an archaeological site in Bhachau Taluka of Kutch District, in the state of Gujarat.
63.Nokia announces Pekka Lundmark new President & CEO
Pekka Lundmark announced as the new Chief Executive Officer & President of Nokia. Pekka Lundmark is presently serving as the President and CEO of an energy company "Fortum" which is based in Espoo, Finland.
64.ADB sanctions 4 million USD to own members countries to contain CoronaVirus
Asian Development Bank (ADB) will provide a total of USD 4 million (about ₹29 crores) to help developing countries in Asia and Pacific to fight the outbreak of novel coronavirus (COVID-19). The Asian Development Bank will work closely with the World Health Organization. The first tranche assistance was to strengthen the immediate response capacity in Cambodia, China, Laos, Myanmar, Thailand, and Vietnam. A private-sector loan of up to CNY 130 million (USD 18.6 million) to Wuhan, PRC-based Jointown Pharmaceutical Group Co Ltd to enhance the distribution and supply of essential medicines and protective equipment.
65.Lok Sabha Speaker Om Birla launches 'Suposhit Maa Abhiyaan' in Kota
Lok Sabha Speaker Om Birla has launched the 'Suposhit Maa Abhiyaan' in his constituency Kota. Under this Abhiyan, 1,000 pregnant women would be given food items for one month. At the same time, the health of the child, including medical examination, blood tests, medicines, delivery, would be covered. It is a campaign to preserve and maintain the health of our future generations.
66.Two-day unique Chilli Festival begins at Kasrawad in Khargone district of MP
In Madhya Pradesh, the two-day unique Chilli Festival begins at Kasrawad in Khargone district. The Chilli Festival is a big business opportunity for traders, investors and exporters. It will also help in fulfilling the Central Government's goal of doubling the income of farmers. The festival aims to promote the Nimari brand of chillies. Nimar and Malwa regions are the highest chilli producing regions of the state. The red chillies of these regions are exported to China, Pakistan, Malaysia and Saudi Arabia.
67.Indian Railways launches its First 'Restaurant on Wheels'
Indian Railways has launched its first ''Restaurant on Wheels'' at the circulating area of Asansol railway station for the use of passengers as well as the general public. The Restaurant on Wheels was developed by refurbishing two over-aged MEMU coaches. This unique effort will not only improve the facilities at Asansol station but will also generate non-fare revenue earnings approximately Rs 50 lakh in the next five years.