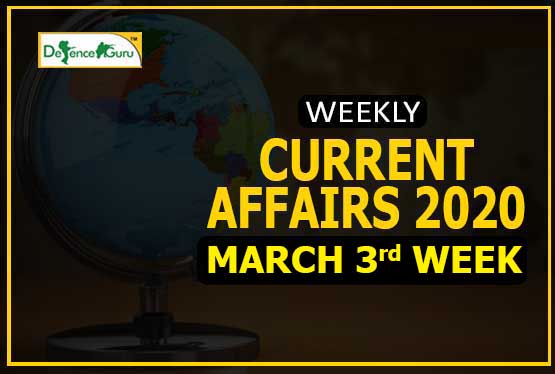 APPOINTMENTS
1. Adnan al-Zurfi
Iraqi President Barham Salih has appointed Adnan al-Zurfi as the country's new prime minister-designate in the latest bid to resolve a months-long political crisis. Al-Zurfi has 30 days to form his cabinet which he must then put to a vote of confidence in Iraq's fractious Parliament. Al-Zurfi would replace caretaker Prime Minister Adel Abdul Mahdi, who quit in December following widespread mass demonstrations against a government that protesters see as corrupt, failing to provide them with basic services, and beholden to powerful neighbouring Iran.
2.Ravinder Singh Dhillon
The Appointments Committee of the Cabinet chaired by Prime Minister Narendra Modi has cleared the appointment of Ravinder Singh Dhillon as Chairman and Managing Director of Power Finance Corporation (PFC). Dhillon has been cleared for appointment as the Chairman and Managing Director (CMD) in PFC with effect from the date of assumption of charge of the post on or after June 1 till the date of his superannuation on May 31, 2023. Power Finance Corporation Ltd. is an Indian financial institution. Established in 1986, it is the financial backbone of Indian Power Sector.
3. Hirdesh Kumar
The Election Commission of India appointed Hirdesh Kumar as the new Chief Electoral Officer of the Union Territory of Jammu and Kashmir. He will replace Shailendra Kumar with effect from the date he assumes charge. Hridesh Kumar, a 1999 batch IAS officer is presently serving as Commissioner Secretary in the School Education Department of J&K.
4.Prashant Kumar
The central government appointed former SBI banker Prashant Kumar as the new Chief Executive Officer of the financially troubled Yes Bank. All members of the board, except additional directors, will be appointed for a period of one year or until an alternate board is reconstituted. The lead investor in the bank, State Bank of India, has already announced to infuse Rs 7,250 crore in it, while other private lenders including ICICI Bank, Axis Bank and Kotak Mahindra Bank have also been roped in to revive the cash-strapped lender.
5.Arundhati Bhattacharya
The past chairman of State Bank of India, Arundhati Bhattacharya, has submitted her resignation as independent director of Crisil effective April 15.In her resignation, Bhattacharya has indicated that the reason for her resignation is her decision to accept a full time role as chairperson and CEO in another company.Bhattacharya was the first woman to lead the more than two centuries-old State Bank of India, which controls over a quarter of the nation's banking system.She retired in 2017 after a one-year extension, spending four decades in various roles.CRISIL is a global analytical company providing ratings, research, and risk and policy advisory services.
BOOKS
6. 'Invincible' : Tarun Vijay
Defence minister Rajnath Singh released a coffee table book on the life and times of the former Union minister Manohar Parrikar. The book titled 'Invincible' has been edited by former MP and BJP leader Tarun Vijay. Parrikar, four-time chief minister of Goa and former defence minister, passed away on March 17, 2019 after battling pancreatic cancer for over a year.
7.'An Extraordinary Life': Sadguru Patil and Mayabhushan Nagvenkar
A book on the life and times of bureaucrat-turned-politician Manohar Parrikar, who served as the defence minister and Goa chief minister, will hit the stands in April. The book titled 'An Extraordinary Life: A biography of Manohar Parrikar' is written by veteran journalists Sadguru Patil and Mayabhushan Nagvenkar. 17 March marks the first death anniversary of Parrikar who died after battling pancreatic cancer for over a year. He was 63. Parrikar was among the few from Goa who made it to the national level. He held the defence portfolio in the Modi government from 2014 till 2017 before returning to his first love, Goa, to take over the chief minister's post.
DEATHS
8. Roger Mayweather
Roger Mayweather, a two-time world champion turned trainer boxer has died. Roger Mayweather, who had struggled with diabetes, won world titles in super featherweight and super lightweight. Widely considered to be one of the world's best boxing trainers, Roger helped coach nephew Floyd to one of the greatest careers in boxing history.
9. Jairam Kulkarni
Noted Marathi actor Jairam Kulkarni died due to old-age related ailments. Born in Barshi tehsil in Solapur district, Kulkarni had acted in more than 150 films, including 'Chal Re Laxya Mumbaila', 'Ashi Hi Banwabanwi', 'Thartharat', 'Rangat Sangat'. His last movie 'Khel Aayushyacha' was released recently. Before embarking on a full-fledged career in acting, Kulkarni had worked in Akashwani in Pune where he came into contact with personalities from the fields of literature, theatre and film.
10.Patil Puttappa
Veteran journalist and former Rajya Sabha member Patil Puttappa passed away due to age-related ailments. Puttappa represented Karnataka in the Rajya Sabha for two terms. He was also the first president of the Kannada Watchdog Committee and was also the founder-president of the Border Advisory Committee. Fondly referred to as "PaPu", Puttappa was the founder-editor of weekly "Prapancha" and also edited "Navayuga".
11.Imtiaz Khan
Amjad Khan's brother and Bollywood actor Imtiaz Khan passed away. Imtiaz Khan starred in movies like Yaadon Ki Baraat, Dharmatama, Dayavan and Noor Jahan among more. He was an actor and director, and associated with popular films such as Hulchul, Pyaara Dost, Procession of Memories and Noor Jahan.
12. Puthussery Ramachandran
Veteran poet and Malayalam scholar Puthussery Ramachandran, passed away. Puthussery, who undoubtedly led an eventful life through his varied roles as a teacher, poet, writer, even doubling up as a political activist at one point of time. With his appealing, heart-warming poetry, he earned the sobriquet of a poet during the country's freedom struggle to break free from its colonial masters. His poems have also been translated into Hindi, English and Tamil and published in various journals. 'Puthussery ki Kavitha', a Hindi translation of his works was published in 2001, while his autobiography Thilacha Mannil Kalnadayayi came out in 2017. Puthussery has won many prestigious awards including the Ezhuthachchan Puraskaaram in 2015 among others.
SPORTS
13.Taiwan's Tai Tzu Ying clinches her third women's singles title of All England Championships
In Badminton, Taiwan's shuttler Tai Tzu Ying clinched her third women's singles title of the All England Championships at Birmingham in the United Kingdom. Ying beat China's Chen Yufei in two straight games 21-19, 21-15 in 44 minutes. Earlier in the men's singles, Denmark's Victor Axelsen outclassed Taiwan's Chou Tien-Chen. Indian representation in the competition ended as ace shuttler PV Sindhu lost in the quarterfinal match by Japan's Nozomi Okuhara 21-12, 15-21, 13-21.
14.Achanta Sharath Kamal clinches men's singles title of Oman Open
Ace Indian paddler Achanta Sharath Kamal wins the ITTF Challenger Plus Oman Open. The 37-year-old Indian veteran beat top-seeded Marcos Freitas of Portugal 4-2 in the final played in Muscat. Earlier, in the semi-final, fourth-seeded Achanta pulled off a stunning seven-set victory against Russia's Kirill Skachkov.
15.Viktor Axelsen lifts men's singles title at All England Open
Denmark's Viktor Axelsen clinched the men's singles title of the All England Open at Birmingham Arena. Axelsen outclassed Taiwan's Chou Tien-Chen in two straight games 21-13, 21-14. This was Axelsen's maiden All England Open title.
INTERNATIONAL
16.International Day of Happiness: 20 March
Every year on March 20, individuals across the world celebrate International Day of Happiness. It was initially founded and conceptualised in 2006 by Jayme Illien, CEO of the United Nations New World Order project. The resolution was initiated by Bhutan, a country which recognized the value of national happiness over national income since the early 1970s and famously adopted the goal of Gross National Happiness over Gross National Product. Also known as Happiness Day, it was established to advance happiness as a fundamental human right for all.
Theme "Happiness For All, Together."
17.US Federal Reserve cuts interest rates to 0%
The US Federal Reserve cut interest rates to zero. The Fed's hugely surprising move comes as the world fights to prevent further damage from the rapidly-spreading coronavirus. The Federal Open Market Committee (FOMC) decided to lower the target range for the federal funds rate to 0 to ¼%. This is the second time in as many weeks the US Fed has cut interest rates as the deadly virus threatens to cause massive disruption to the world economy. The first and last time interest rate were zero in the US was in December 2008 at the peak of the global financial crisis.
18.Bangladesh celebrates birth Centenary of Bangabandhu Sheikh Mujibur Rahman
Bangladesh is celebrating the birth centenary of its founder President Sheikh Mujibur Rahman. Prime Minister Sheikh Hasina marked the day by paying floral tributes to Sheikh Mujibur Rahman. The day marks the beginning of the year long celebration of the birth centenary named 'Mujib Barsho' in Bangladesh and across the world. Sheikh Mujibur Rahman was born on 17th March 1920 in the town of Tungipara in Gopalganj district of the then undivided India. He led the movement against the oppressive Pakistani rulers in the then East Pakistan leading to its liberation in 1971. Known as Bangabandhu, he became the first President of the independent nation of Bangladesh.
19.First human trial to evaluate vaccine against COVID-19 begins in US
The first human trial to evaluate a candidate vaccine against coronavirus disease 2019 has begun in Seattle, US. The open-label trial will enroll 45 healthy adult volunteers ages 18 to 55 years over approximately 6 weeks. The first participant received the investigational vaccine on 16 March.
20.World Consumer Rights Day: 15 March
World Consumer Rights Day is celebrated on the 15th of March every year to raise global awareness about consumer rights and needs. Celebrating the day is a chance to demand that the rights of all consumers are respected and protected and to protest against market abuses and social injustices which undermine those rights. Government has taken various steps to protect the rights of the consumers and early redressal of their grievances. Consumer Affairs Ministry is also running various consumer awareness programmes through Jaago Grahak Jaago.
2020 theme: The Sustainable Consumer
21.The tiny island of Niue has been declared the World's First 'Dark Sky Nation'
The small Pacific island nation Niue, with a population of just over 1,600, is the first country to receive the designation by the International Dark-Sky Association. It has become the world's first whole country recognised as a 'Dark Sky Place'. International Dark Sky Places are spaces recognised for responsible lighting policies that keep the night-time environment naturally dark. There are over 130 of these accredited dark sites across the world, including parks, reserves, and local communities, but never before has the honour been bestowed on an entire country like this.
Niue Capital: Alofi
Currency: New Zealand dollar
NATI ONAL
22.Uttarakhand govt abolishes quota in promotion for employees
The Uttarakhand government abolished reservation in promotion in the state government jobs. The Trivendra Rawat-government took the major decision on completion of three years of its tenure. The government employees from the General-OBC category in the state had been staging a protest, demanding the implementation of the Supreme Court's decision on the issue.
23.PM Modi calls for Janata Curfew on 22nd March from 7 am - 9 pm in wake of COVID 19
Prime Minister Narendra Modi has announced Janata Curfew on Sunday (22nd March) in the wake of COVID 19 outbreak. It will be self-imposed and self-regulated and will be effective from 7 in the morning till 9 in the evening. He said, no one should step out of their homes during this period except those people in essential services. He also urged senior citizens above the age of 65 years to stay at home in the coming days. The Prime Minister also said the government has decided to constitute a Task Force under the Chairmanship of the Finance Minister which will interact with all the stakeholders.
24.Govt creates WhatsApp Chatbot for queries on Novel Coronavirus
The government has created WhatsApp Chatbot for queries on Novel Coronavirus COVID-19. National Pharmaceuticals Pricing Authority, NPPA said, the WhatsApp Chatbot is called MyGov Corona Helpdesk. It said people can just save the number 9013151515 on WhatsApp and get an automated response on queries related to Corona.
gang rape convicts in Nirbhaya case hanged to death in Tihar Jail
The four men convicted of the gang rape and murder of a Delhi woman on December 16, 2012 were hanged. Mukesh Singh (32), Pawan Gupta (25), Vinay Sharma (26) and Akshay Kumar Singh (31) were executed at 5.30 am for the savage assault in an empty moving bus on the 23-year-old physiotherapy intern who came to be known the world over as Nirbhaya, the fearless one. This is the first time that four men have been hanged together in Tihar Jail, South Asia's largest prison complex that houses more than 16,000 inmates. The executions were carried out after the men exhausted every possible legal avenue to escape the gallows. She died in a Singapore hospital after battling for her life for a fortnight. Six people, including the four convicts and the juvenile, were named as accused. While Ram Singh allegedly committed suicide in the Tihar Jail days after the trial began in the case, the juvenile was released in 2015 after spending three years in a correctional home.
26.Indian Railways to electrify all broad gauge routes by December 2023
Piyush Goyal-led Railway Ministry has planned to electrify the complete Indian Railways broad gauge routes on the network by the month of December 2023. Union Railway Minister Piyush Goyal shared that the Railway Ministry has planned to source around 1000 megawatt (MW) of solar power as part of its solar mission and around 200 megawatt of wind power based on the techno-commercial assessment. Solar and wind power are renewable energy resources, which is being utilized by the Indian Railways network.
27.Ramesh Pokhriyal Nishank chairs meeting on Research in Indian Traditional Knowledge Systems in Delhi
Union Human Resource Development Minister Mr Ramesh Pokhriyal Nishank chaired a meeting on Research in Indian Traditional Knowledge Systems in New Delhi. Objective of the meeting is to ensure the development of the society by coordinating the ancient and modern genres of knowledge. Citing the example of Yoga, the Minister said Indian traditional knowledge is not only logical but also scientific. Mr Pokhriyal appealed to the participants to solve the present-day problems by connecting traditional knowledge to modern research and innovation.
28.Govt taking positive steps for listing Bhojpuri, Rajasthani & Bhoti into 8th Schedule of constitution
The Union Government is taking positive steps for the listing of three languages Bhojpuri, Rajasthani and Bhoti into the Eighth Schedule of the Constitution. The issue was raised during Zero hour in Lok Sabha by Jagdambika Pal of the BJP. He urged the government to consider the listing of these languages into the Eighth schedule. Mr Pal said that almost 20 crore people in 16 countries speak them. The Ladakhi language also called Bhoti is a Tibetic language spoken in the Ladakh union territory of India.
29.DAC gives approval for procurement of 83 indigenous Tejas fighter aircraft for Indian Air Force
Defence Acquisition Council (DAC) gave approval for procurement of 83 indigenous Tejas fighter aircraft for Indian Air Force. The Light Combat Aircraft Tejas indigenously-designed by Aircraft Development Agency (ADA) under the Defence Research and Development Organisation (DRDO) and manufactured by Hindustan Aeronautics Limited (HAL) is going to be the backbone of Indian Air Force in future. While orders of 40 Tejas aircraft had been placed with HAL in initial configurations, DAC paved the way for procurement of another 83 of the more advanced version of the aircraft from HAL. This procurement will be a major boost to Make in India as the aircraft is indigenously designed. The Defence Acquisition Council also accorded approval for acquisition of indigenous Defence equipment for about 1,300 crore rupees.
30.Centre issues gazette notification for adaptation of 37 central laws in J&K
The Centre has issued a gazette notification for the adaptation of 37 Central laws in the Concurrent List for the Union Territory of Jammu and Kashmir. The gazette notification, issued by the Home Ministry's Department of Jammu, Kashmir and Ladakh Affairs will come into force with immediate effect. It contains 37 Central laws including the representation of people act, the Real Estate (Regulation and Development) Act, the Protection of Human Rights Act, the Prevention of Corruption Act and the Indian Penal Code among others.
31.Entry of pilgrims in Thanjavur temple prohibited till March 31
In Tamil Nadu, entry of pilgrims into the internationally acclaimed Big Temple in Thanjavur has been prohibited till 31st of March. The decision has been announced by the District Administration, against the background of Coronavirus pandemic. However, the four-time daily rituals of the temple will be offered as usual. Brihadishwara Temple in Thanjavur is a Hindu temple dedicated to Shiva located in the South bank of Kaveri river in Thanjavur, Tamil Nadu. It is one of the largest South Indian temples and an exemplary example of a fully realized Dravidian architecture.
32.Banihal to Katra railway link to be completed by 2022
Union Railway Minister Piyush Goyal announced that Banihal to Katra railway link in Jammu and Kashmir will be completed by 2022. The Katra-Banihal railway track is a 111-km long stretch which would link Kashmir Valley with the rest of the country by train. The railway line will include the Chenab Bridge, which will be the highest railway structure of its kind in the world with a height of 359 m above the river which is 35 metres higher than the top of the Eiffel Tower. The railway is expected to cross over 750 bridges and pass through over 100 km of tunnels, the longest of which is 11,215 m .
33.Konark Sun Temple and Statue of Unity to be included in 'Iconic Sites' list
The famous Black Pagoda, the Sun temple in Konark in Puri district of Odisha is to be included in the 'Iconic Sites' list of 19 monuments, informed Union Culture and Tourism Minister Prahlad Singh Patel. Accordingly, the Sun temple will be developed as an iconic site by the Centre. The Union Minister further said that the Statue of Unity in Gujarat and the Sun temple in Odisha will be included in the said list as the total number of monuments in the list is to be raised from 17 to 19. Union Finance Minister Nirmala Sitharaman in her budget speech for 2019-20 fiscal had announced allocations to develop infrastructure at 17 famous tourist places across the country to develop these monuments as iconic sites.
34.Rs 20,466.94 crores of loans sanctioned under Stand Up India Scheme since inception
Rs 20,466.94 crores of loans have been sanctioned under Stand Up India Scheme to over 91,000 accounts upto 10.03.2020 since inception of the Scheme. Giving the details of the Scheme, the Minister said that the Stand Up India Scheme was launched by the Government on 5th April, 2016. The Scheme facilitates bank loans between Rs 10 lakh and Rs 1 crore to at least one Scheduled Caste/Scheduled Tribe borrower and at least one woman borrower, per bank branch of Scheduled Commercial Banks (SCBs), for setting up greenfield enterprises in the manufacturing, services or the trading sectors.
35.Priyanka Chopra collaborates with WHO to spread awareness over COVID-19
Actor Priyanka Chopra urged followers to rely on authentic sources of information about coronavirus and arranged an Instagram live with top personnel of the World Health Organization (WHO) to raise awareness about the pandemic. The 37-year-old actor documented her videos on Instagram stories where she expressed the importance of only relying on authentic information about the highly contagious disease. Priyanka and her husband Nick Jonas are on day 8 of self-isolation and have said they are taking all the recommended precautions to combat the spread of the virus.
36.Ordnance Factory Board foundation day: 18th March
The Ordnance Factory Board are observing their 219th foundation day on the 18th March 2020. The first Ordnance Factory, now known as the 'Gun and Shell Factory' Cossipore in Kolkata was established on this day. From these beginnings the OFB has evolved into one of largest defence manufacturing conglomerates in the world with more than 90% of indigenous content and a strong technological and R&D infrastructure which currently contributes to 25% of revenue. The highlight of the previous year, the handing over of "Dhanush" 155 X 42 artillery gun system to the Army, was followed this year by the dedication of the upgunned version of the 1950s vintage Russian 130mm to 150X45 calibre known as "Sharang" at the recently concluded DEFEXPO at Lucknow.
37.Govt approves Rs 7,660 cr green highway project in UP, 3 other states
The government has approved a proposal for the development of 780 km of national highways in four states at a cost of Rs 7,660 crore. This project will set new standards for green highway projects in the form of green cover, utilisation of reusable material in laying roads, etc. The project investment includes Rs 3,500 crore assistance from the World Bank under Green National Highways Corridor Project (GNHCP). The project pertains to rehabilitation and upgradation of various National Highways covering a total length of over 780 km in four states - Himachal Pradesh, Rajasthan, UttarPradesh and Andhra Pradesh. The project comprises components like sustainable development and maintenance of National Highways, Institutional Capacity Enhancement, Road Safety and Research and Development.
38.Supreme Court clears permanent commission for women in Indian Navy
Maintaining that women and men officers should be treated equally, the Supreme Court cleared permanent commission for women in the Navy and asked the Centre to complete the modalities within three months. A bench headed by Justice D Y Chandrachud said, there cannot be any excuses for not granting gender equality in the armed forces. The bench, also comprising Justice Ajay Rastogi, rejected the Centre's stand that sea sailing duties cannot be granted to SSC (Short Service Commission) women officers in the Navy as its Russian vessels do not have washrooms for them.
39.Lok Sabha passes Aircraft (Amendment) Bill, 2020 through voice vote
The Lok Sabha passed the Aircraft (Amendment) Bill, 2020 through voice vote. While introducing the bill, the Minister said that the amendments would fulfill the requirements of the International Civil Aviation Organization (ICAO). This will enable the three regulatory bodies in the Civil Aviation sector in India, namely Directorate General of Civil Aviation, Bureau of Civil Aviation Security and Aircraft Accident Investigation Bureau to become more effective, which will lead to enhancement in the level of safety and security of aircraft operations in the country.
International Civil Aviation Organization Headquarters: Montreal, Canada
Head: Fang Liu
40.Parliamentary panel reports annual post-harvest losses of Rs 61,000 crore in fisheries
A parliamentary panel has observed that the Fisheries Sector suffers from very high Post-harvest losses. It says that for Marine Fisheries the losses stand at 15,000 crore rupees and combined losses for both Marine and Inland Fisheries, the losses stand at 61 thousand crore rupees. The possible causes for Post-harvest losses are faulty handling practices, inordinate delay in packing and transportation, lack of proper cold storage facilities, and lack of technological know-how for harvesting fishes.
41.Contamination of Ground Water by Uranium in India
Minister of State for Jal Shakti and Social Justice and Empowerment, Shri Rattan Lal Kataria said that, there is prevalence of Uranium concentration above 30 microgram per litre in some of the localized pockets of few States/UTs in the country. As per WHO provisional guidelines, the maximum permissible limit of Uranium as 0.03 mg/l in all drinking water standards. Elevated uranium level in drinking water may affect human health. Health studies carried out elsewhere in the world suggest that elevated uranium level in drinking water may be associated with kidney toxicity.
42.India to provide 107.01 million Nepali Rupees for three new school buildings in Nepal
The Government of India will provide 107.01 million Nepali Rupees for three new school buildings in Nepal. The schools will be constructed in Darchula, Dhanusha and Kapilvastu districts. These schools will be built under the India-Nepal Development Partnership program. The Government of India is happy to be associated with these projects which complement the efforts of the Government of Nepal in augmenting infrastructure in the field of education.
43.Parliament nod for three central Sanskrit universities
Parliament passed a bill to upgrade three deemed Sanskrit universities into central universities. The Central Sanskrit Universities Bill, 2019 was passed by voice vote in Rajya Sabha. Earlier the bill was passed by Lok Sabha. The Bill seeks to upgrade three deemed to be universities in Sanskrit - Rashtriya Sanskrit Sansthan, Sri Lal Bahadur Shastri Rashtriya Sanskrit Vidyapeeth, and Rashtriya Sanskrit Vidyapeeth Tirupati - into central universities.
44.President Kovind nominates former CJI Ranjan Gogoi to Rajya Sabha
President Ram Nath Kovind has nominated Former Chief Justice of India Ranjan Gogoi to the Rajya Sabha. Mr Gogoi served as the 46th Chief Justice of India from 3rd October 2018 till 17th November last year. The President of India nominates twelve persons to the Rajya Sabha.
45.PM Modi proposes Covid-19 emergency fund, other measures
Prime Minister Narendra Modi hosted a video-conference meet of leaders of all SAARC member nations. PM Modi also proposed a COVID-19 emergency fund, which will be based on voluntary contributions from all SAARC members. India can start with an initial offer of 10 million US dollars for this fund. The PM also proposed the creation of a common research platform to carry out research to control epidemic diseases in the region. The South Asian Association for Regional Cooperation (SAARC) is the regional intergovernmental organization and geopolitical union of states in South Asia. Its member states are Afghanistan, Bangladesh, Bhutan, India, the Maldives, Nepal, Pakistan and Sri Lanka.
SAARC Headquarters: Kathmandu
Secretary-General: Esala Weerakoon
46.Phool Dei festival begins in Uttarakhand
"Phool Dei" festival is being celebrated in the Kumaon and Garhwal regions of Uttarakhand. The festival also showcases the inner bonding between the communities who all are residing in the hills. Phool Dei is celebrated on the first day of Chaitra or in mid-March (according to the Gregorian calendar). People, especially the children, enjoy the Phool Dei festival; they delight in the festivity and wake up early to bring the flowers from the forests to celebrate the festival.
47.NMCG concludes 'Ganga Amantran Abhiyan' in New Delhi
The National Mission for Clean Ganga (NMCG) recently organised a grand event in the national capital to mark the conclusion of its flagship programme 'Ganga Amantran Abhiyan'. Union Home Minister Amit Shah was invited as the chief guest at the event to confer the awards to various achievers who contributed towards the successful completion of the programme. "Ganga Amantran Abhiyan" was a pioneering exploratory open-water rafting and kayaking expedition on the Ganga river from Devprayag to Ganga Sagar.
50.''Ropax'' ferry service launched between Mumbai and Mandwa
A roll-on-roll off cum passenger ferry service, also called ''Ropax'', between Mumbai and Mandwa near Alibaug, was launched. The vessel, built in Greece, can carry 200 cars and 1000 passengers, and is capable of plying even during monsoon. It can reach speeds of 14 knots and will complete the 18-kilometre sea journey in 45 minutes to one hour. The road distance between Mumbai and Mandwa is 110 kilometres.
51.Manipur CM announces scheme for welfare of sportspersons and artists
Manipur Chief Minister N. Biren Singh has announced the biggest ever scheme for the welfare of sports persons and artists of the State. 'Chief Minister's Akhannaba Sanaroising gi Tengbang (CMAST)' and Chief Minister Artist Sing gi Tengbang (CMAT)' would provide benefits to thousands of sportspersons and artistes of the State who have brought laurels to the State and Country. Under the CMAST Scheme, a suitable employment in government services will be provided to sports persons, who have won medals in notified disciplines in selected International Sports events. In scheme for artists, CMAT is designed with a view to encourage the artists in different fields and targeted to cover 4000 artistes in a year.
52.Govt declares face masks and hand sanitizers as essential commodities to boost supply
The government has declared face masks and hand sanitizers as essential commodities for the next 100 days. The move is aimed at stepping up efforts to boost supply and prevent hoarding of these items in its fight to check the spread of coronavirus disease. The Centre has also invoked the Disaster Management Act to ensure price regulation and availability of surgical and protective masks, hand sanitizer and gloves. The decision will empower the government and States/Union Territories to regulate the production, quality and distribution of masks and hand sanitizers for smooth sale and availability of these items. It also empowers to carry out operations against speculators and those involved in overpricing and black marketing.
53.Mumbai Central Station to be Renamed After Nana Shankarsheth
The Maharashtra cabinet approved a proposal to rename Mumbai Central station in the city as "Nana Shankarsheth Mumbai Central Railway Station". The proposal to rename the station would now be sent to the Railway Ministry. Jagannath "Nana" Shankarsheth (1803-1865) was a Maharashtrian philanthropist and educationist famous for his contribution to Mumbai's development.
54.India's first culinary arts museum at WGSHA enters Limca Book of Records
Welcomgroup Graduate School of Hotel Management (WGSHA) of Manipal Academy of Higher Education entered the Limca Book of Records for establishing 'India's First Living Culinary Arts Museum' at WGSHA. Celebrity chef Vikas Khanna is the Founder and curator of India's first living culinary arts museum at WGSHA. It was his idea which led to the establishment of this culinary museum. He also donated thousands of kitchen tools and equipment worth millions of dollars to the culinary arts museum for preserving history of India's rich tradition of culinary arts and to educate the future generations. There are historical as well as regular household items such as plates made by the Portuguese in India, a 100-year-old ladle used to dole out food at temples and bowls dating to the Harappan era and an old seed sprinkler.
55.Bill Gates is stepping down from the boards of Microsoft and Berkshire Hathaway
Bill Gates is stepping down from the boards of Microsoft and Berkshire Hathaway to focus on his work at the Bill & Melinda Gates Foundation. Gates has not worked at Microsoft full-time since 2008, when he stepped away to focus on his foundation. He stepped down as chairman of the board six years ago, when Microsoft's current CEO Satya Nadella was appointed to the role. He would continue to serve as an advisor to Nadella.
56.Lava launches non-internet based digital payment solution
Lava International Ltd launched its digital payments app, Lava Pay. The Noida-based smartphone company claims that the app is the world's first digital payment solution that does not require internet connectivity. The app will be pre-installed in the brand's upcoming feature phones. In order to send or pay money from the app, users need to enter the phone number of the receiver, the amount and a transaction 'Pass Code.
Business
57.Paytm Bank to issue Visa virtual debit cards to its customers
Paytm Payments Bank Ltd announced it will now start issuing Visa virtual debit cards to its customers. PPBL said it is targeting to issue over 10 million new digital debit cards in 2020-21. The bank said in a statement it is already the largest issuer of RuPay debit cards and has the "fastest growing" bank account base. Visa virtual debit cards would enable its customers to transact at all merchants accepting payments through cards. Soon, the customers will also have an option to request for a physical card.
58.DBS Bank, Bharti AXA join hands for insurance plan covering Covid-19
DBS Bank India has tied-up with Bharti AXA to roll out a complimentary insurance plan covering all medical conditions, including Covid-19. The plan would cover all medical conditions, including Covid-19, and up to 10 days of hospitalisation, with a cover of Rs 5,000 per day, for a 30-day period. Additionally, all DBS customers can purchase health insurance products that are currently offered on the digibank app through their general insurance partners. This includes guarantee of payments for hassle-free hospitalization and arrangement of emergency medical evacuation for NRIs with dependents in the country. It is also offering an Emergency Global Medical Assist Program that provides 24x7 access to medical support.
59. Oil India signs crude sales agreement with Numaligarh Refinery
Oil India Ltd (OIL) announced it has signed an agreement with Numaligarh Refinery for sale and purchase of crude oil. The Crude Oil Sales Agreement (COSA) will come into effect from 1 April, 2020 to 31 March 2025, that is, for a term of five years. The agreement is expected to streamline sale and purchase transactions of crude oil produced from fields in the North East India. The Numaligarh Refinery is in Golaghat district, Assam. It is a joint venture between Bharat Petroleum, Oil India and Govt of Assam.
60. RBI revises exposure limits for urban cooperative banks to single, group borrowers
The Reserve Bank of India on revised exposure limits for urban cooperative banks (UCBs) to a single borrower and a group of borrowers to 15 per cent and 25 per cent, respectively, of tier-1 capital. The RBI had earlier permitted UCBs to have exposures up to 15 per cent and 40 per cent of their capital funds to a single borrower and a group of borrowers The revised exposure limits shall be applicable to all types of fresh exposures taken by UCBs. The RBI also increased the overall priority sector lending (PSL) target for UCBs to 75 percent of adjusted net bank credit (ANBC) or credit equivalent amount of off-balance sheet exposure (CEOBSE), whichever is higher from 40 per cent earlier.
61.GST rates on mobile phones to increase to 18% from 12%
The Goods and Services Tax Council decided to increase GST rates on mobile phones to 18 percent from 12 per cent with effect from 1st of April. The Council also decided to slash GST on maintenance, repair and overhaul services for aircraft to five percent from 12 per cent while the tax rate on handmade and machine-made matchsticks has been rationalized to 12 per cent. The council has decided to waive the late fee for delayed filing of annual returns for the financial years 2018 and 2019 by entities with a turnover of less than Rs two crore.