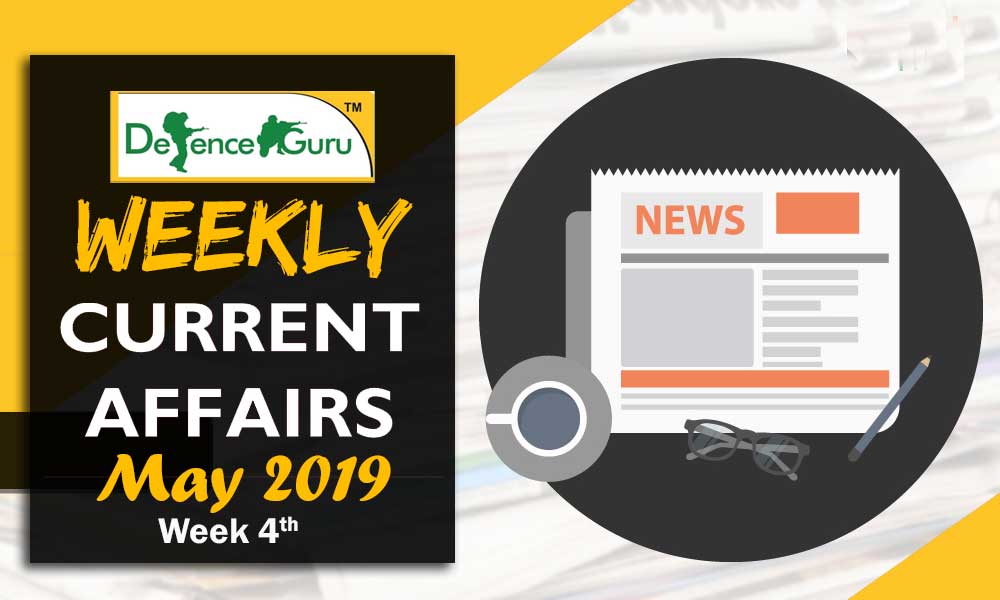 Defence Guru are here for you to provide the important Recent and Latest Current Affairs May 4th Week 2019. Our complete Current Affairs 2019 will help you to get more marks in Defence Exams, Banking, Insurance, SSC, Railways, UPSC, CLAT and all other State Government Exams.
1. Anton Aditya Subowo
Indonesia's Anton Aditya Subowo was re-elected as the President of Badminton Asia on. As a result, he will continue as the President for another four years. There were seven other people who were selected as the vice-presidents of Badminton Asia. The Badminton Association of India's president Himanta Biswa Sarma has also been elected as the vice-president. Badminton Asia also got in a new Secretary-General in Moosa Nashid from the Maldives.
2. P S Golay
Sikkim Krantikari Morcha, SKM President Prem Singh Golay (Tamang) took oath as the New Chief Minister of Sikkim. Governor Ganga Prasad administered the oath of office and secrecy to Mr. Golay and his council of ministers at Paljor Stadium in Gangtok. Along with Mr Golay, 11 cabinet ministers were also administered the oath.
3. Lieutenant General Shailesh Tinaikar
The commandant of the Indian Army Infantry School, Lieutenant General Shailesh Tinaikar, has been appointed the commander of the UN Mission in South Sudan (UNMISS), the second biggest peacekeeping operation. UN Secretary-General Antonio Guterres announced that Mr Tinaikar will succeed Lieutenant General Frank Kamanzi of Rwanda who will complete his assignment. Mr Tinaikar will command over 16,000 peacekeepers, about 2,400 from India, in UNMI.
4. Four new Delhi High Court judges take the oath
Four new Delhi High Court judges, including a woman judge, were sworn in, taking the working strength of the court to 40. Justices Talwant Singh, Rajnish Bhatnagar, Asha Menon and Brijesh Sethi were administered the oath by Delhi High Court Chief Justice Rajendra Menon. The Delhi High Court has an approved strength of 60 and faces a shortage of 20 judges. Including Justice Menon, there are eight woman judges in the Delhi High Court.
5. Artist Nalini Malani wins Joan Miró prize
Artist Nalini Malani has won the seventh edition of the Joan Miró Prize. Miro international award is considered one of the most prestigious art awards in the world. The recipient gets prize money of 70,000-Euro ($78,000) cash prize. Malani (born in Karachi in 1946) is a film, photography, installation, video art and performance artist.
6. Acharya Balkrishna receives 'UNSDG 10 Most Influential People in Healthcare Award'
Acharya Balkrishna, the managing director and chief executive officer of Patanjali Ayurveda, was felicitated with 'UNSDG 10 Most Influential People in Healthcare Award' at UN Headquarters in Geneva. The United Nations had chosen Acharya Balkrishna, among the 10 most influential people in healthcare.He invited to Geneva on May 25 to deliver a talk among other speakers from UNICEF and WHO. For the first time, UNSDG felicitated renowned people from across the world in the health sector.
Points to remember : Patanjali Ayurveda
Patanjali Ayurved is a company producing range Ayurvedic medicinal and personal care products, among other consumer items.
Popular yoga guru Baba Ramdev co-founded the company along with Balkshrina.
7. Veeru Devgan
Ajay Devgn's father, Veeru Devgan passed away due to cardiac arrest in Mumbai. The late director was suffering from breathing problems after which he was immediately admitted to the Surya Hospital, Santa Cruz. The veteran director choreographed action scenes in more than 80 Hindi films including 'Hindustan Ki Kasam' where his son played the lead against Amitabh Bachchan.
8. Saurabh Chaudhary wins 10m Air Pistol after beating his own World record
In ISSF shooting World Cup, in Munich Germany, India's Saurabh Chaudhary has won 10m Air Pistol Gold beating his own World Record. The 17-year-old Chaudhary scored 246.3 bettering his previous best of 245 points that were set in New Delhi World Cup Shooting in February this year. Chaudhury has already secured a berth for the Tokyo Olympics. Also, India's Rahi Sarnobat won the gold in 25m pistol event at the ISSF World Cup in Munich. She also sealed a quota place for India in the event for the 2020 Tokyo Olympics.
9. Apurvi Chandela bags gold medal in 10m Air Rifle in ISSF World Cup
Indians had a good day at the year's third International Shooting Sport Federation (ISSF) World Cup Rifle and Pistol tournament in Munich, Germany. Apurvi Chandela grabbed a gold, winning the women's 10m Air Rifle competition after a closely-fought contest. She shot a score of 251 in the final to outshine Wang Luyao of China, who shot 250.8. This was Apurvi's second ISSF World Cup gold of the year followed by a world record score in New Delhi in February. This was also her career's fourth ISSF medal.
10. India's Mahesh Mangaonkar wins Sekisui Open
In squash, India's Mahesh Mangaonkar triumphed for the second time in the Sekisui Open in Kriens, Switerzland. Sekisui Open is a Challenger tour event of the Professional Squash Association (PSA), the world body which governs the sports. Top-seeded Mahesh beat third seed Bernat Jaume of Spain in four games 11-9, 3-11, 11-5, 11-5 to win his 8th PSA title.
11. China beat Japan to win the 2019 Sudirman Cup
China won the badminton world mixed-team championship, Sudirman Cup 2019 in Nanning, China. They beat Japan in men's doubles, women's singles and men's singles to clinch the title for the 11th time. In the latest Men' singles match, Shi Yuqi stunned world champion Kento Momota 15-21, 21-5,21-11. Japan have never won the Sudirman Cup.
12. Bong Joon Ho's 'Parasite' strikes gold at Cannes this year
South Korean director Bong Joon Ho's "Parasite" bagged the Palme d'Or at the 72nd Cannes Film Festival in France. Bong Joon Ho received the festival's coveted top prize from French cinema icon Catherine Deneuve at a closing ceremony. Belgium's Dardenne brothers won the best director award for their story of a radicalised Muslim youth "Young Ahmed". British actress Emily Beecham won the best actress award for psychological chiller "Little Joe". Antonio Banderas named the best actor for his role of a filmmaker in Pedro Almodovar's self-reflexive "Pain and Glory".
13. ISSF World Cup begins in Germany
International Shooting Sport Federation (ISSF) World Cup will begin at Munich in Germany. Indian shooters Apurvi Chandela, Anjum Moudgil and Elavenil Valarivan will be vying for top honours at the event. The opening day of the competition will see women's 10 metres Air Rifle final. A total of 919 athletes from 98 countries will be competing for the 17 Tokyo Olympics quota places available, besides a coveted ISSF World Cup medal. India already has five quota places in Rifle and Pistol competitions and it can pick up a maximum of 12 further quota places from Munich.
14. India bags 57 medals at India Open International tournament
India bags a total of 57 medals including 12 Gold, 18 Silver and 27 Bronze at India Open International Boxing tournament in Guwahati. MC Mary Kom, Shiva Thapa, L Sarita Devi and Naman Tanwar won gold in their respective finals. This was Mary's second gold in the tournament, having won in 48 kg last year in the capital.
15. Men's compound team wins bronze in Archery World Cup
The men's compound team of Rajat Chauhan, Abhishek Verma and Aman Saini earned India a solitary bronze medal in the Archery World Cup Stage III at Antalya in Turkey. The trio put up a solid performance to edge out higher seeded Russian team of Anton Bulaev, Alexander Dambaev and Pavel Krylov 235-230 in the bronze medal play-off. The Women's compound team of Jyoti Surekha Vennam, Muskan Kirar and Swati Dudhwal lost to Great Britain's Layla Annison, Ella Gibson and Lucy Mason by two points in the contention for a bronze medal. The third stage of the World Cup is the last meet before the World Championships in the Netherlands.
16. 3 Indian boxers win Gold medal in 2nd India open International Boxing tournament
3 Indian boxers have won Gold medal so far in the second India open International Boxing tournament in Guwahati. Deepak defeated Govind Kumar in 49 kg final while in 52 kg category, Amit Panghal defeated Sachin. In women's 54 kg, local favourite Jamuna Boro defeated Sandhyarani and also qualified for the World Championship. In 56 kg, Kavinder Singh Bisht lost to Thailand's opponent in the final. Matches are being held in 18 categories.
17. Sethu FC crowned as Indian Women's League champions
Sethu FC beat Manipur Police by SC 3-1 to win the Indian Women's League trophy. Sethu FC from Madurai emerged champions of the third edition of the Indian Women's League at the Guru Nanak Stadium in Ludhiana. Trailing 0-1 in the first half, Sethu FC made a stunning comeback back to defeat Manipur Police SC 3-1 in the final.
18. Trump becomes the first foreign leader to meet new Japanese emperor
US President Donald Trump got the red carpet treatment at Japan's Imperial Palace where he made history, becoming the first world leader to meet with the new emperor of Japan. Emperor Naruhito ascended to the throne on May 1, opening what is called the era of "Reiwa," or "beautiful harmony." The US President is on a four-day state visit to Japan.
19. Papua New Guinea Prime Minister Peter O'Neill resigns
Papua New Guinea Prime Minister Peter O'Neill resigned from his post after weeks of unrest in the government. The announcement came after high-profile defections from his Government to the opposition. O'Neill has handed over leadership to Sir Julius Chan, who will become prime minister for the third time. Earlier this month, Mr O'Neill staved off an attack on his leadership by adjourning the country's Parliament for three weeks ahead of a planned vote of no confidence in him.
Points to Remember: Papua New Guinea
Capital: Port Moresby
Currency: Papua New Guinean kina
20. NASA unveils schedule for 'Artemis' 2024 Moon mission
NASA unveiled the calendar for the "Artemis" program that will return astronauts to the Moon for the first time in half a century. It also includes eight scheduled launches and a mini-station in lunar orbit by 2024. The original lunar missions were named for Apollo - Artemis was his twin sister in Greek mythology, and the goddess of hunting, wilderness and the Moon. Artemis 1: It is planned for 2020. It will be an uncrewed flight test mission around Moon. The mission will last up to Artemis 3 that will put astronauts on lunar soil in 2024, including the first woman.
21. Africa Day: 25 May
May is observed as Africa Day every year. It commemorates the foundation of the Organisation of African Unity (OAU) on 25 May 1963, which is now known as the African Union. May 25, 2019, will mark 56 years since Africa Day was conceived in Addis Ababa, Ethiopia.
Points to remember: Africa Day
African Union HQ: Addis Ababa, Ethiopia
Members: 55
22. British PM Theresa May announces the resignation
British Prime Minister, Theresa May announced that she is quitting as UK Conservative leader on June 7 in the best interests of the country. She is paving the way for a contest to decide the new Prime Minister after she failed to win over her ministers with a revised strategy to withdraw Britain from the European Union. She had kept Queen Elizabeth II informed of her exit timetable, meaning she would be presiding over US President Donald Trump's state visit to the UK in early June.
23. International Commonwealth Day: 24 May
On 24th May 2019, people in Commonwealth countries in Africa, Asia, the Caribbean and Americas, the Pacific and Europe observe Commonwealth Day. The 53 members of the Commonwealth span the entire globe. It is observed in countries that were once part of the British Empire. The Theme of this year's Commonwealth Day is "A Connected Commonwealth".
Points to Remember: International Commonwealth Day
Canada, New Zealand, South Africa, and Australia are the oldest-standing members of the Commonwealth; they all joined in 1931.
Canada is the largest member at nearly 10 million sq.km.
India is the most populous member with over one billion inhabitants while Nauru is the smallest member, with a mere 13,000 people.
24. WHO declares Algeria, Argentina malaria-free
The World Health Organization (WHO) declared Algeria and Argentina as malaria-free, with no recorded cases of indigenous transmission of the disease since 2013 and 2010 respectively. Contracted through the bite of an infected mosquito, malaria remains one of the world's leading killers. Algeria is the second country in the WHO African Region to be officially recognized as malaria-free, after Mauritius, which was certified in 1973. Argentina is the second country in the WHO Region of the Americas to be certified after Paraguay in June 2018.
Points to Remember : Algeria
Algeria Capital: Algiers
Argentina Capital: Buenos Aires
25. India stopped importing oil from Iran after US waivers expired
India has stopped importing oil from Iran after American waivers granted to eight buyers expired early this month. India depends heavily on West Asia for its energy needs and is against any further escalation of tension in the region. India has joined Greece, Italy, Taiwan and Turkey to become the latest country to comply with the US sanctions on Tehran over its nuclear programme.
The US reimposed sanctions on Iran in November after pulling out of a 2015 nuclear accord between Tehran and six world powers. To reduce Iran's crude oil export to zero, the US on the 2nd of this month ended the waivers that had allowed the top buyers of Iranian oil, including India, to continue their imports for six months.
26. Facebook Registers New Fintech Firm in Switzerland
Facebook has set up a new financial technology company in Switzerland focusing on blockchain and payments as well as data analytics and investing. Libra Networks, with Facebook Global Holdings as a stakeholder, was registered in Geneva on May 2.
27. UAE launches 'Golden Card' scheme
The United Arab Emirates launched a permanent residency scheme to woo wealthy individuals and exceptional talents. The "Golden Card" programme is open to investors and "exceptional talents" such as doctors, engineers, scientists, students and artists.
This move is expected to attract more Indian professionals and businessmen to the Gulf nation. The first group of 6,800 investors from over 70 countries with investments totalling 100 billion dirhams (USD 27 billion) were being given permanent residency.
28. Cyril Ramaphosa re-elected as president of South Africa
South African lawmakers have re-elected Cyril Ramaphosa as the president of the country. Members of Parliament from the African National Congress have chosen the head of state in the parliament's first post-election sitting. The party won 230 out of 400 seats in the election on May 8. The African National Congress party won the ballot with 57.5 per cent of the vote, its thinnest majority since the end of apartheid.
Points to remember: South Africa
Capitals: Cape Town, Pretoria, Bloemfontein
Currency: South African Rand
29. International Day for Biological Diversity: 22 May
According to the United Nations, May 22 is celebrated as the International Day for Biological Diversity (IDB) to increase understanding and awareness of biodiversity issues.
In December 2000, the UN General Assembly adopted 22 May as IDB, to commemorate the adoption of the text of the Convention on 22 May 1992.
2019 Theme: Our Biodiversity, Our Food, Our Health
30. DRDO successfully test fires Akash-1S surface to air defence missile system
Defence Research and Development Organisation (DRDO) successfully test fired the Akash-1S surface to air defence missile system. Akash-1S is a new version of the missile which is fitted with an indigenous seeker. In the last two days, this is the second successful test of the missile by the DRDO. The Akash-1S is capable of striking down enemy fighter jets and drones very effectively.
31. India invites BIMSTEC leaders for the swearing-in ceremony of PM Modi
India has invited the leaders of the BIMSTEC Member States for the swearing-in ceremony of Prime Minister Narendra Modi. President of the Kyrgyz Republic, who is the current Chair of the Shanghai Cooperation Organization, and the Prime Minister of Mauritius, who was the Chief Guest at this year's Pravasi Bhartiya Divas, have also been invited. Prime Minister Modi will take oath for the second term on 30 May. President Ram Nath Kovind will administer the Oath of Office and Secrecy to Mr Modi and other members of Union Council of Ministers at a function in Rashtrapati Bhavan.
Points to remember
BIMSTEC stands for Bay of Bengal Initiative for Multi-Sectoral Technical and Economic Cooperation.
Member States: Bangladesh, India, Myanmar, Sri Lanka, Thailand, Nepal and Bhutan.
32. India's first all-women medium-lift chopper crew flies the battle mission
Three women officers of the Indian Air Force made history as they became the country's first 'All Women Crew' to fly a Medium Lift Helicopter. They flew a Mi-17 V5 helicopter for a Battle Inoculation Training mission. Flight Lt Parul Bhardwaj (Captain), Flying Officer Aman Nidhi (Co-pilot) and Flight Lieutenant Hina Jaiswal (Flight Engineer) have become country's first 'All Women Crew' to fly a Medium Lift Helicopter. A Mi-17 V5 helicopter for a Battle Inoculation Training mission taking off and landing from restricted areas at a forward airbase in South Western Air Command.
33. Isro's new commercial arm NewSpace India officially inaugurated
NewSpace India Limited (NSIL), the commercial arm of Indian Space Research Organisation (Isro), was officially inaugurated in Bengaluru. NSIL's main objective is to scale up industry participation in Indian space programmes. Specifically, it will be responsible for manufacturing the and production of Small Satellite Launch Vehicle (SSLV) and Polar Satellite Launch Vehicle (PSLV) through technology transfer mechanisms.
34. Naveen Patnaik all set for record fifth term as Odisha CM
Naveen Patnaik is all set to take oath as chief minister of the State for a record fifth term in a row. BJD headed by him has won a decisive victory in the assembly polls bagging 112 of the 146 assembly seats, polls for which were held along with the Lok Sabha elections. The 15th Odisha Legislative Assembly which was formed on June 12, 2014, will complete its term on June 11, 2019.
35. Sahara - A Hostel for the Veer Naris
Hon'ble Lt Governor of Delhi Shri Anil Baijal inaugurated the Sahara Naval Hostel for the 'Veer Naris' at Vasant Kunj, New Delhi. The unique project steered by the Indian Navy for 'Naval Veer Naris' has been built in Corporate Social Responsibility (CSR) partnership with National Buildings Construction Corporation (NBCC). The hostel addresses a long term need felt towards the rehabilitation of Naval 'Veer Naris' and provide them with a safe and secure environment which will help them rebuild their lives.
36. Pawan Chamling era ends in Sikkim after over 24 years
Five-time Chief Minister Pawan Kumar Chamling's era ended in Sikkim after over 24 years in power as his party SDF lost the state elections. While Sikkim Democratic Front (SDF) got 15 seats in the hill state, Sikkim Krantikari Morcha, which came into being in 2013, bagged 17 seats, one more than required for a majority in the 32-member Assembly. He was the country's longest-serving Chief Minister.
37. Pak successfully tests ballistic missile Shaheen-II
Pakistan successfully test-fired surface-to-surface ballistic missile Shaheen-II. It is capable of hitting targets as far as 1,500 kilometres away, bringing major Indian cities under its range. Shaheen-II is a highly capable missile that fully meets Pakistan's strategic needs towards the maintenance of desired deterrence stability in the region.
38. Jagan Mohan Reddy to be sworn in as CM of Andhra Pradesh on May 30
In Andhra Pradesh, YSR Congress Chief Jagan Mohan Reddy will be sworn in as chief minister of Andhra Pradesh on 30 May at Vijayawada. Mr Jagan Mohan Reddy has announced this following his party achieving inching towards a landslide victory in the legislative elections for Andhra Pradesh Legislative assembly held on April 11th.
Points to remember: Andhra Pradesh
Governor: E. S. L. Narasimhan
Andhra Pradesh Legislative Assembly seats: 175
39. 5th Smart Cities India 2019 expo inaugurated
The 5th Smart Cities India 2019 expo, including Transport India, Solar India, Buildings India and Water India expos, was inaugurated by Durga Shanker Mishra, Secretary, Ministry of Housing and Urban Affairs, Government of India, at the Pragati Maidan, New Delhi. It was organised by India Trade Promotion Organization (ITPO) and Exhibitions India Group. The event builds upon Government of India's 'Smart Cities Mission' through a display of a vast array of products and solutions relevant to building smart cities in India.
40. IAF successfully fires BrahMos air version missile from frontline Su-30 MKI fighter aircraft
Indian Air Force successfully fired the BrahMos air version missile from its frontline Su-30 MKI fighter aircraft. The BrahMos is a medium-range ramjet supersonic cruise missile that can be launched from submarine, ships, aircraft, or land. It is the fastest supersonic cruise missile in the world. It is a joint venture between Russia and India.
41. India performs poorly in kids right index, ranks 117
India stands in a lowly 117th position out of 181 countries in the Kids Right Index. It is an annual global index which ranks how countries adhere to and are equipped to improve child rights. Countries are judged on five indicators: the right to life, right to education, right to health, right to protection and enabling environment for child rights. Iceland secured the top position in the index followed by Portugal.
42. Affiliation of ICG ship Shaurya with 3rd (Naga Hills) battalion of Assam Rifles
An Affiliation Charter has been signed between 3rd (Naga Hills) Battalion of Assam Rifles and Indian Coast Guard Ship 'Shaurya' at Shillong. The affiliation has been signed as an effort to enhance inter Armed Forces Cooperation and utilise each other's assets for training and sports. Assam Rifles is the oldest Para Military Force of India with a rich history of valour, courage and tradition. Assam Rifles have 46 Battalions manning the Indo-Myanmar border and countering the insurgency in the northeast states. On the contrary, the ICG, with 142 ships & 62 aircraft is one of the youngest Armed Force under Ministry of Defence.
43. Bhawana Kanth becomes the 1st fighter pilot to qualify to undertake combat missions
Indian Air Force officer Flight Lieutenant Bhawana Kanth has become the first day-time Indian woman fighter pilot. This comes after she completed her day operational syllabus as a fighter pilot on the MiG-21 Bison aircraft. Officials said the next woman fighter pilot to undertake missions by day is Flight Lieutenant Avani Chaturvedi.
44. Indra Nooyi receives an honorary degree from Yale University
Former PepsiCo chairman and CEO Indra Nooyi was presented with an honorary degree by the prestigious Yale University. She recieved the award in recognition of her achievements in business and for being a global role model who encouraged women and girls to see themselves as top corporate executives. In 2006, Nooyi became the first woman to helm the global food and beverage giant PepsiCo. She stepped down in October 2 last year as PepsiCo's CEO.
45. ISRO successfully launches earth observation satellite RISAT-2B
Indian Space Research Organisation has successfully launched its earth observation satellite RISAT-2B from Sriharikota. ISRO's trusted launcher PSLV-C46 carrying RISAT-2B blasted off from the Satish Dhawan Space Centre.
RISAT-2B meant for application in fields such as surveillance, agriculture, forestry and disaster management support. It will replace the RISAT-2, which was launched in 2009. The RISAT-2B is equipped with a synthetic aperture radar that can take pictures of the earth during day and night, and also under cloudy conditions.
46. Telangana city offers last rites for poor at Rs 1
Seeking to ensure a decent funeral for the poor, the civic body in Karimnagar city of Telangana will launch a scheme next month under which last rites can be performed for just one rupee. The 'Antim Yatra Aakhri Safar' would be launched on June 15 and Rs 1.10 crore had already been allotted for the initiative, which would take care of the funeral as per the religious customs of the deceased. The middle and low-income group people can avail the facility by paying only Rs 1 as charges for cremation. The scheme will be extended to all, irrespective of caste and religion.
Under the scheme, the municipal corporation of the town will provide wood, pieces of sandalwood and kerosene to the family of the deceased for performing the last rites.
47. India to grow at 7.1% in FY'20: United Nations' report
A report by the United Nations says India's economy is projected to grow at 7.1 per cent in the fiscal year 2020. The report says that the Indian economy expanded by 7.2 per cent in 2018. Strong domestic consumption and investment will continue to support growth, which is projected at 7.0 per cent in 2019 and 7.1 per cent in 2020.
48. Corporation Bank launches 'Corp SME Suvidha' for MSMEs
Corporation Bank has launched 'Corp SME Suvidha', a product for GST-registered MSMEs. The product has been designed as part of the bank's efforts to provide the best products to the MSME sector.PV Bharathi, Managing Director and Chief Executive Officer of the Corporation bank, launched the product in Mangaluru.
49. Standard Chartered partners with IBM to launch Trade AI Engine
Standard Chartered has officially launched the Trade AI Engine, a joint solution developed in partnership with IBM. It has been launched to enhance the client experience in trade document processing through increased operational efficiency and strengthened operational control.
Traditional documentary trade requires millions of data elements in paper-based, unstructured documents that are often issued by various companies and needs to be reviewed through a largely manual process. With the implementation of the Trade AI Engine powered by IBM, this time-consuming and high-risk process is now significantly automated.
50. ADB to provide $750 mn loans to India for railway track electrification project
Multilateral funding agency Asian Development Bank (ADB) has signed an agreement to provide $750 million long-term financing to electrify railway tracks in India. It is the largest single non-sovereign loan ever committed by ADB to Indian Railway Finance Corporation (IRFC) to fund the railways track electrification project. As part of a broad modernisation programme that will help India's railway sector transition to electric power and away from dependence on fossil fuels
Points to remember: Asian Development Bank (ADB)
ADB Headquarters: Mandaluyong, Philippines
President: Takehiko Nakao
Membership: 68 countries
51. HDFC group overtakes Tata group as India's most valuable
The HDFC group has overtaken the 151-year-old Tata group to emerge as India's most valuable by way of market capitalization (m-cap). According to a report the combined market value of the five listed companies of the HDFC group - HDFC, HDFC Bank, HDFC Life, HDFC Asset Management and Gruh Finance - stood at Rs 11.66 lakh crore as on May 20, 2019. The combined m-cap of 29 Tata group companies stood at Rs 11.64 lakh crore, about Rs 2,000 crore less than that of the HDFC group.
52. Snapdeal close to acquiring ShopClues
Online marketplace Snapdeal is close to buying its nearest rival ShopClues in an all-stock deal. The deal is likely to see ShopClues investors get one Snapdeal share if the merger goes through in this planned structure, and will likely give them a 10% stake in the combined entity. If the deal materializes, it will herald a big consolidation move in the long-tail e-commerce market, which has largely catered to small-town customers, away from the core audience of established e-commerce companies Amazon and Flipkart.
53. SBI ties up with FMCG arm of The Art of Living
The State Bank of India (SBI) has announced a strategic partnership with the FMCG arm of The Art of Living - Sri Sri Tattva. YONO users can avail a discount of 15 per cent on the entire range of products offered. The products offered by Sri Sri Tattva includes food, personal care, healthcare, homecare, BYOGI apparels and Shankara skincare products. Sri Sri Tattva will make YONO's online marketplace richer with product portfolio in the organic, wellness and Ayurvedic domains, giving SBI customers formidable shopping experience.
54. Reliance beats Indian Oil Corp to become the biggest Indian company by revenue
Richest Indian Mukesh Ambani's oil-to-telecom conglomerate Reliance Industries has toppled state-owned Indian Oil Corp (IOC) to become the country's biggest company by revenue. Reliance in the 2018-19 fiscal year that ended March 31, reported a turnover of Rs 6.23 lakh crore.
In comparison, IOC posted a turnover of Rs 6.17 lakh crore for the fiscal, according to regulatory filings by the two companies. It was also the most profitable company in the country with a net profit of more than double that of IOC in FY2019.