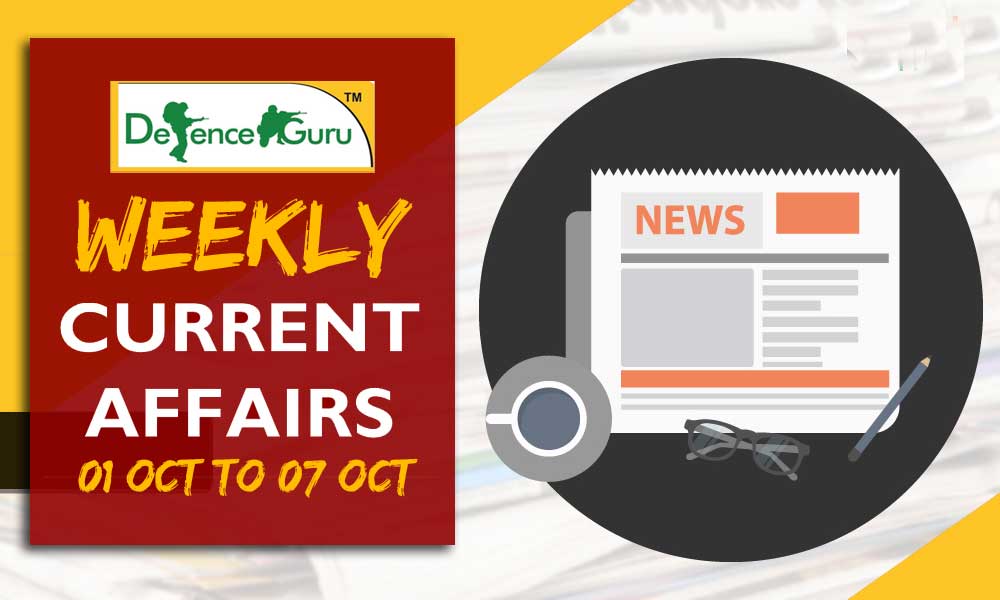 Weekly Current Affairs October 2018 - Week 1
Find weekly current affairs for NDA, CDS, SSB, AFCAT & all competitive exam preparation here. We are sharing Weekly Current Affairs 01 October - 07 October, 2018. Learn important current affairs of last week and latest GK questions. Weekly Current Affairs is a collection of important news and events that occurred every week.
Weekly Current Affairs October 2018 - 01 Oct to 7 Oct
Jayant Mammen Mathew elected president of INS
Jayant Mammen Mathew, Executive Editor of Malayala Manorama, was elected as the president of the prestigious Indian Newspaper Society, an apex body of the country's print media industry.
He was elected to the top post for the year 2018-19 at the organisation's general body meeting.
He succeeds Akila Urankar of Business Standard.
Indian Newspaper Society(INS)
Founded: 1939
Location: Rafi Marg, New Delhi
2. Afghan Ambassador to India Shaida Abdali resigns
Afghan Ambassador to India Shaida Abdali has resigned from the post, saying he wants to serve the people of his country who are facing challenging situation.
Abdali has submitted his resignation letter when Afghan President Ashraf Ghani was on a day-long visit to India.
3. Gita Gopinath appointed IMF Chief Economist
Prominent Indian-American economist Gita Gopinath was appointed as chief economist of the International Monetary Fund.
Gita, 46, will succeed Maurice (Maury) Obstfeld, who announced in July that he would retire at the end of 2018.
She currently serves as the John Zwaanstra Professor of International Studies and Economics at Harvard University.
International Monetary Fund(IMF)
Headquarters: Washington, D.C., United States
CEO: Christine Lagarde (5 Jul 2011–)
Membership: 189 countries
Founded: 27 December 1945, Bretton Woods, Carroll, New Hampshire, United States
4. Air Marshal Anil Khosla took over as Vice Chief of Air Staff
Air Marshal Anil Khosla PVSM AVSM VM took over as the Vice Chief of Air Staff on 01 Oct 2018
Born on 09 Apr 1959, Air Marshal an alumni of the National Defence Academy, was commissioned in Indian Air Force in Dec 1979.
Air officer has over 4000 hours of accident free flying mainly on different variants of Jaguar, Mig-21 and Kiran aircraft.
5. Mushtaq Ahmad appointed as new chief of Hockey India
Mushtaq Ahmad was appointed as new chief of Hockey India(HI). The new chief was appointed in 8th Hockey India congress.
Mushtaq Ahmad held the post of secretary general in Hockey India prior to be elected as chief.
Ahmad replaced Rajinder Singh as chief of HI from 1st of October.
Gyanendro Ningombam of Manipur hockey will take on as Vice Chairman, while Asima Ali of Jammu & Kashmir hockey and Bhola Nath of Jharkhand hockey are appointed as vice presidents.
6. Kurdish moderate Barham Saleh elected Iraq president
Moderate Kurdish candidate Barham Saleh swept to the post of president of Iraq with a resounding victory in a parliamentary vote.
Saleh routed his main rival Fuad Hussein with 219 votes to 22.
Saleh immediately named Adel Abdul Mahdi prime minister-designate.
Mahdi becomes the first elected prime minister in post-Saddam Iraq.
7. Justice Ranjan Gogoi takes over as the 46th Chief Justice of India
Ranjan Gogoi has been sworn-in as the 46th Chief Justice of India by President Ram Nath Kovind at Rashtrapati Bhavan.
Prime Minister Narendra Modi, cabinet ministers and former PM Manmohan Singh were present for the oath-taking ceremony.
Justice Gogoi was born on 18 November, 1954, in Assam's Dibrugarh district. He is the first person from the North-Eastern states to hold the post of Chief Justice of India.
Ranjan Gogoi's tenure as the CJI will continue till November 17, 2019, a day before he turns 65 years old.
8. YES Bank appoints OP Bhatt, TS Vijayan as external experts to scout for new MD & CEO
YES Bank has appointed former State Bank of India chief OP Bhatt and former insurance regulator TS Vijayan as external experts to help find a successor to its Managing Director and CEO Rana Kapoor.
Additionally, internal members to the search panel will include Brahm Dutt, Mukesh Sabharwal and Subhash Chander Kalia.
YES Bank has also invited proposals from Global Leadership Advisory Firms specialising in the banking and financial sector to work with the search and selection committee.
9. Govt appoints Rakesh Sharma as IDBI chief
The government has appointed senior banker Rakesh Sharma as managing director (MD) and chief executive officer (CEO) of IDBI Bank.
Sharma was appointed for six months or until further orders and will have the task of ensuring a smooth transfer of majority ownership from the government to Life Insurance Corporation of India (LIC).
Sharma is a former MD and CEO of Canara Bank and was among the few bankers hired in 2015 from the private sector to lead big state-run banks.
10. Ramon Laguarta succeeds Pepsico's Indian-origin CEO Indra Nooyi
Ramon Laguarta assumed the role of Chief Executive Officer of global beverage giant PepsiCo, succeeding India-born Indra Nooyi who had helmed the American company for 12 years.
Nooyi stepped down after 24 years with the company, the last 12 as CEO.
She will remain Chairman until early 2019 to ensure a smooth and seamless transition.
11. Srinivasan Swamy becomes new chairman of International Advertising Association
Indian advertising veteran and RK Swamy Hansa Group chairman Srinivasan Swamy took over as new chairman of the International Advertising Association (IAA).
Swamy is the first Indian to hold the prestigious seat at the 80-year old institution, which is considered the world's most influential network of marketing and communication leaders.
12. Pankaj Sharma Appointed India's Ambassador To UN Conference On Disarmament
Pankaj Sharma has been appointed as the ambassador and India's permanent representative to the United Nations Conference on Disarmament in Geneva.
Mr Sharma is currently the joint secretary (Disarmament and International Security Division) in the Ministry of External Affairs.
He will replace Amandeep Gill.
13. Entrepreneur Chiranjiv Patel wins Business World's '40 Under 40' title
Prominent entrepreneur Chiranjiv Patel has bagged the prestigious "BW 40 under 40" award in BW Business World's second edition of 40 Under 40 awards held in Gurgaon.
40 Under 40, which honours Indian entrepreneurs and professionals below the age of 40, nominated almost 300 entrepreneurs across India and from that they have scrutinized the 40 best.
14. James Allison and Tasuku Honjo win Nobel Prize in Medicine
American James Allison and Japan's Tasuku Honjo have won the 2018 Nobel Prize in Medicine for a pioneering approach to cancer treatment.
The Nobel committee said the pair's research -- which harnesses the body's immune system to attack cancer cells -- amounted to a "landmark in our fight against cancer."
The approach, known as immune checkpoint theory, had "revolutionized cancer treatment and has fundamentally changed the way we view how cancer can be managed," the committee said.
15. NALCO CMD Dr. Chand conferred with the top national award 'NIPM Ratna'
Dr. Tapan Kumar Chand, CMD, NALCO has been conferred with the prestigious 'NIPM Ratna Award' in the 37th NIPM' Annual National Conference NATCON-2018, held at Pune.
Dr. Chand was given the award in recognition to his significant contribution to People Management & Strategic Leadership.
Dr. Chand dedicated the award to HR professionals in the country and the Team NALCO.
16. Nobel Prize in Physics is shared by a woman for the first time in 55 years
The Nobel Prize in Physics has been awarded to a woman for the first time in 55 years, and for only the third time in its history.
Donna Strickland, a Canadian physicist, was awarded the 2018 prize jointly with Gérard Mourou, from France, for their work on generating high-intensity, ultra-short optical pulses.
They share the award with an American, Arthur Ashkin, who at 96 becomes the oldest Nobel Laureate, for developing "optical tweezers."
17. Nobel Prize in Chemistry awarded for pioneering work in evolutionary science
The 2018 Nobel Prize in Chemistry was awarded to Frances H. Arnold and the other half jointly to George P. Smith and Sir Gregory P. Winter for their work harnessing the power of evolution to develop new proteins used in drugs and medical treatments.
Arnold, of the California Institute of Technology, was recognized for performing the first-ever "directed evolution" of enzymes.
The other half of the prize went to George P. Smith, University of Missouri, Columbia, USA and Sir Gregory P. Winter MRC Laboratory of Molecular Biology, Cambridge, UK "for the phage display of peptides and antibodies".
18. Swachh Survekshan Grameen Awards 2018
Prime Minister Shri Narendra Modi gave awards to top Ranked State, District and State with maximum citizen participation based on the National Swachh Survekshan Grameen 2018 commissioned by Ministry of Drinking Water and Sanitation.
Top 3 States-1) Haryana, 2) Gujarat 3) Maharashtra
Top 3 Districts 1) Satara, Maharashtra 2) Rewari, Haryana 3) Pedapalli, Telangana
States with maximum citizen participation 1) Uttar Pradesh 2) Gujarat 3) Maharashtra
Districts with maximum citizens' participation 1) Nashik, Maharashtra 2) Solapur, Maharashtra 3) Chittorgarh, Rajasthan
19. South Sudanese surgeon receives 2018 Nansen Refugee Award
The UN refugee agency UNHCR honoured Dr. Evan Atar Adaha, a surgeon from South Sudan, with the 2018 Nansen Refugee Award at a ceremony in Geneva.
He has been chosen for his 20-year commitment in providing medical services to people forced to flee conflict and persecution in Sudan and South Sudan.
20. Denis Mukwege and Nadia Murad win Nobel Peace Prize 2018
The 2018 Nobel Peace Prize has been awarded to Denis Mukwege and Nadia Murad for their efforts to end the use of sexual violence as a weapon of war and armed conflict.
Mukwege, a gynecologist and surgeon, has long worked to treat thousands of women and girls affected by rape and sexual violence in the Democratic Republic of Congo.
Murad is a Yazidi woman from the northern Iraqi town of Sinjar, who was held as a sex slave by ISIS.
In 2016, at age 23, she was made a UN goodwill ambassador for the dignity of survivors of human trafficking.
21. Central Information Commission brings BCCI under RTI Act
The Central Information Commission has pronounced the judgement that the BCCI comes under the jurisdiction of the RTI Act.
As a result of the ruling, the board is now "answerable to the people of the country".
The commission, which is the top appellate body in RTI matters, come to a conclusion that the characteristics of the BCCI fulfill the required conditions of Section 2(h) of the RTI Act.
22. Manipur clinch Women's National Football Championship crown
Manipur claimed victory in the final of the 24th Senior Women's National Football Championships, defeating hosts Odisha in the summit clash by a 2-1 margin in Cuttack.
The result marked the 19th occasion that the state from the northeast of India won the trophy. The final held at the Barabati Stadium in Cuttack, Odisha.
23. Youth Olympic Games 2018 Begins in Argentina
The 3rd Youth Olympic Games has officially begun at Buenos Aires, Argentina.
India is represented with a contingent of 68 members, including 46 athletes, will compete in 13 sports during the prestigious event.
16-year-old Manu Bhaker is leading the Indian team in the opening ceremony as the flag-bearer of the Indian contingent for the games.
24. International Day of Older Persons: 1 October
The International Day of Older Persons is observed on October 1 each year.
On December 14, 1990 the United Nations General Assembly voted to establish October 1 as the International Day of Older Persons as recorded in Resolution 45/106.
Theme for the year 2018 is "Celebrating Older Human Rights Champions."
25. World Habitat Day 2018: 1 October
World Habitat Day is celebrated annually on the first Monday of October.
The event focuses on the state of human settlements and people's right to sufficient shelter.
This year theme is "Municipal Solid Waste Management".
26. IBSAMAR-VI kicks off at Simons Town, South Africa
The sixth edition of IBSAMAR, a joint Multi – National Maritime Exercise between the Indian, Brazilian and South African Navies, is being held at Simons Town, South Africa from 01 – 13 Oct 18.
The last edition of IBSAMAR (IBSAMAR V) was conducted off Goa, from 19 – 26 Feb 16.
The aim of the exercise is to undertake collective training for participating navies, building interoperability and mutual understanding as well as sharing of best practices.
27. India moves up to 28th rank in govt e-payment adoption
India's overall ranking on the government's adoption of e-payments has moved up to 28th in 2018, from 36th in 2011.
The country holds the top ranking on B2G and G2B transactions, and comes third on C2G transactions jointly with Argentina.
Norway leads the pack in the 73-country ranking, followed by France and Denmark.
28. India to be guest of honour at Mexico's international cultural fest
The 46th edition of Cervantino International Festival, to be held in Mexico, will see India participating as a guest of honour.
The festival, started in 1953 with a focus on theatre, had India participating regularly since 1979.
However, it will be India's first time as a guest of honour country.
29. PM inaugurates Mahatma Gandhi Museum at Rajkot
The Prime Minister, Shri Narendra Modi has inaugurated the Mahatma Gandhi Museum in Rajkot.
The Museum has been set up at the Alfred High School, which was an important part of the formative years of Mahatma Gandhi.
It will help spread awareness about Gandhian culture, values and philosophy.
The Prime Minister also unveiled a plaque to mark the inauguration of a public housing project of 624 houses.
He witnessed the e-Gruh Pravesh of 240 beneficiary families.
30. Government constitutes Committee to review the Competition Act
In pursuance of its objective of ensuring that Legislation is in sync with the needs of strong economic fundamentals, the Government has constituted a Competition Law Review Committee to review the Competition Act.
The Competition Act was passed in the year 2002 and the Competition Commission of India was set up in pursuance of the same.
The Commission started functioning in right earnest from 2009 and has contributed immensely towards the development of competition and fair play practices in the Indian market.
During the past nine years the size of the Indian Economy has grown immensely and India is today amongst the top five Economies in the World and poised to forge ahead further.
In this context, it is essential that Competition Law is strengthened, and re-calibrated to promote best practices which result in the citizens of this country achieving their aspirations and value for money.
The nine-member committee will be chaired by Corporate Affairs Secretary Injeti Srinivas.
31. India's Largest war memorial of India will be built in Jharkhand
Jharkhand Chief Minister Raghubar Das has said their government is constructing India's biggest war memorial.
Stories of the slain soldiers' bravery will be written in the war memorial which will have a replica of the Kargil War so that the youth can understand their duties towards the nation.
Jharkhand government has hiked compensation amount to the kin of the soldiers who died while serving the country from Rs 2 lakh to Rs 10 lakh.
32. Vice President inaugurates NHRC's International Human Rights Conclave
The Vice President of India, Shri M. Venkaiah Naidu has said that India has been unequivocal in its commitment to the preservation and protection of human rights globally as well as within the country.
He was addressing the gathering after inaugurating the National Human Rights Conclave being organized as a part of the Silver Jubilee Celebrations of the National Human Rights Commission.
The Vice President appreciated the good work done by NHRC as a diligent watchdog of human rights protection and said that the massive rise in the number of complaints received by the NHRC from 496 in 1993 to 79,612 cases in 2018 were a testament to the faith that the people of India placed on the NHRC.
33. PM inaugurates first assembly of the International Solar Alliance
The Prime Minister, Mr. Narendra Modi inaugurated the first Assembly of the International Solar Alliance at Vigyan Bhawan.
The same event also marked the inauguration of the second IORA Renewable Energy Ministerial Meeting, and the 2nd Global RE-Invest (Renewable Energy Investors' Meet and Expo).
The Secretary General of the United Nations, Mr. Antonio Guterres, was present on the occasion.
He said the International Solar Alliance could replace OPEC as the key global energy supplier in the future.
34. Sustainable mountain development summit from Oct 3-5
Deliberations on ecological, social and economic drivers of change will mark the Sustainable Mountain Development Summit VII to be held in Shimla from October 3 to 5.
Integrated Mountain Initiative in New Delhi and Himachal Pradesh Council for Science, Technology and Environment in Shimla have joined hands with Shoolini University of Solan to organise the summit.
More than 150 delegates from across India are expected to participate.
35. PM addresses concluding session of Mahatma Gandhi International Sanitation Convention
The Prime Minister, Shri Narendra Modi addressed the Mahatma Gandhi International Sanitation Convention (MGISC) in New Delhi.
MGISC has been a 4-day international conference that has brought together Sanitation Ministers and other leaders in WASH (water, sanitation and hygiene) from around the world.
The Prime Minister visited a Digital Exhibition, accompanied by the Secretary General of the United Nations, Mr. Antonio Guterres.
From the dais, the dignitaries launched commemorative postage stamps on Mahatma Gandhi, and a medley CD based on Mahatma Gandhi's favourite hymn – "Vaishnav Jana To."
36. "PAN India Workshop on Prevention of Hazardous Cleaning of Sewers and Septic Tanks
Union Minister for Social Justice and Empowerment Shri Thaawarchand Gehlot inaugurated a "PAN India Workshop on Prevention of Hazardous cleaning of sewers and septic tanks" organized by National Safai Karmcharis Finance & Development Corporation (NSKLFDC) under Ministry of Social Justice and Empowerment in East Delhi Municipal Corporation (EDMC), Delhi.
Addressing on the occasion, Shri Thaawarchand Gehlot said that he is pleased to be a part of this momentous occasion of launch of Workshops on Prevention of Hazardous cleaning of sewers and septic tanks, as a part of yearlong commemoration of 150th birth anniversary of Mahatma Gandhi from 2nd October, 2018 to 2nd October, 2019.
37. Cabinet approves Bhopal Metro Rail Project
The Union Cabinet, chaired by the Prime Minister Shri Narendra Modi has approved implementation of Bhopal Metro Rail Project comprising two corridors of total length 27.87 Km (i) Karond Circle to AIIMS (14.99 Km) and (ii) Bhadbhada Square to RatnagiriTiraha (12.88 Km) which will connect major public nodes and city cluster areas of Bhopal.
A SPY namely Madhya Pradesh Metro Rail Co Ltd. (MPMRCL) has been constituted for implementation of the Project.
The financing of Bhopal Metro Rail Project will be partly from GoI and GoMP on equal equity basis and partly as loan from European Investment Bank (EIB).
38. Cabinet approves Indore Metro Rail Project
The Union Cabinet, chaired by the Prime Minister Shri Narendra Modi has approved the implementation of Indore Metro Rail Project comprising Ring Line of length 31.55 Km from Bengali Square - Vijay Nagar - Bhawarsala - Airport - Patasia - Bengali Square which will connect major public nodes and city cluster areas of Indore.
A SPV namely Madhya Pradesh Metro Rail Co Ltd. (MPMRCL) has been constituted for implementation of the Project.
The financing of Indore Metro Rail Project will be partly from Central Government and State Government of Madhya Pradesh on equal equity basis and partly as loan from Asian Development Bank (ADB) and New Development Bank (NDB).
39. India's first dolphin research centre to come up soon in Patna
Much-awaited National Dolphin Research Centre (NDRC), India's and Asia's first, would be set up in Patna.
The NDRC is likely to be set up next month on the banks of the Ganga river in the Patna University premises.
It will play an important role in strengthening conservation efforts and research to save the endangered mammal.
40. Cabinet approves establishment of National Institute of Mental Health Rehabilitation in Sehore
The Union Cabinet chaired by Prime Minister Shri Narendra Modi has approved,in partial modification of the earlier decision taken on 16.05.2018, the establishment of National Institute of Mental Health Rehabilitation(NIMHR) in Sehore District (Bhopal-Sehore highway) instead of Bhopal in Madhya Pradesh.
NIMHR will be the first of its kind in the country in the area of mental health rehabilitation.
It will serve as an institution of excellence for capacity building in human resource and research in the area of mental health rehabilitation, and also recommending body suggesting models/protocols for effective rehabilitation of persons with mental illness.
41. SIDBI launches a National Awareness Campaign Udyam Abhilasha in 115 Aspirational Districts
On the occasion of Birth Anniversary of Mahatma Gandhi Small Industries Development Bank of India (SIDBI), had launched a National Level Entrepreneurship Awareness Campaign, Udyam Abhilasha in 115 Aspirational Districts identified by NITI Aayog in 28 States and reaching to around 15,000 youth.
SIDBI will join to contribute to "the transformation mission" unleashed for these districts. The campaign would be running parallelly from 3rd October to 8thOctober, 2018 across India.
The campaign would create and strengthen cadre of more than 800 trainers to provide entrepreneurship training to the aspiring youths across these districts thus encouraging them to enter the admired segment of entrepreneurs.
SIDBI has partnered with CSC e-Governance Services India Limited, a Special Purpose Vehicle, (CSC SPV) set up by the Ministry of Electronics & IT, Govt. of India for implementing the campaign through their CSCs.
42. First Regional Conference on 'Women in Detention and Access to Justice' in Shimla
The Bureau of Police Research and Development (BPR&D), Ministry of Home Affairs is organising the First ever Regional Conference at Shimla on 'Women in Detention and Access to Justice' in collaboration with the Prison Department, Himachal Pradesh on October 4-5, 2018.
The Conference will be inaugurated by Shri Acharya Devvrat, the Governor of Himachal Pradesh.
The BPR&D organises the conferences on newly emerged issues. The Parliamentary Committee on Empowerment of Women on the subject "Women in Detention and Access to Justice" has made several recommendations.
There is a need to deliberate upon some of the recommendations to devise strategies and programs for bettering conditions of Women Prisoners and upholding their Fundamental Rights.
43. Indian International Science Festival to begin in Lucknow
A four-day Indian International Science Festival 2018 will start in Lucknow on 5 October.
President Ramnath Kovind will formally inaugurate the festival on 6 October.
Union Science and Technology Minister Dr Harsh Vardhan said about ten thousand scientists and experts, including science teachers and students will participate in the event.
Theme of this year's festival is "Science for transformation".
44. Commerce Minister chairs inter-ministerial meeting to promote economic growth
Union Minister of Commerce & Industry and Civil Aviation, Suresh Prabhu chaired a meeting in New Delhi on the issue of stepping up domestic production of goods across key sectors, to increase domestic availability and promote economic growth and export capacity.
The meeting was attended by Secretaries of 16 Ministries and Departments of Government of India.
Discussions were held on steps to be taken by the Ministries and Departments to ramp up domestic production through better capacity utilization and capacity creation and expansion in the short and medium to long term.
Key ministries were asked to examine measures on diversification of export base and increase domestic production in order to deal with merchandise trade deficit.
45. Symposium on 'Dialogue with Organs for Allied Health Force
Smt Anupriya Patel, Minister of State for Health and Family Welfare inaugurated a symposium cum exhibition on 'Dialogue with Organs for Allied Health Force – A step to enhance cognitive skills,' organized by the Department of Anatomy at Vardhman Mahavir Medical College and Safdarjung Hospital.
Speaking at the function, Smt Anupriya Patel stated that it is imperative to maintain a healthy lifestyle and avoid habits which in the long run will pose as a health hazard.
"Only when all the members of our society will be aware of a healthy lifestyle and of the necessity of avoiding unhealthy practices, can we achieve 'Health for All', she said.
46. Digi Yatra central platform will be operational by end of February, 2019
The Union Minister of Commerce and Industry and Civil Aviation, Shri Suresh Prabhu today released the policy on biometric based digital processing of passengers at airports called "Digi Yatra".
Addressing the media, he said that the Ministry has taken the initiative to develop standards for digital processing of passengers at airport to ensure uniform implementation and passenger experience across Indian airports through a connected ecosystem.
He said, a technical working committee having members from airport operators, airlines and industry has been formed for development of standards.
DigiYatra Central Platform will be operational by end of February, 2019.
Bangalore & Hyderabad International Airports will be ready with pilot implementation by end of February, 2019.
Airport Authority of India (AAI) intends to roll out the programme initially at Kolkata, Varanasi, Pune & Vijayawada by April, 2019.
47. GI Tag for Alphonso from Konkan
Alphonso from Ratnagiri, Sindhudurg, Palghar, Thane and Raigad districts of Maharashtra, is registered asGeographical Indication (GI).
A Geographical Indication or a GI is an indication used on products that have a specific geographical origin and possess qualities or a reputation that are due to that origin.
Such a name conveys an assurance of quality and distinctiveness which is essentially attributable to its origin in that defined geographical locality.
Darjeeling Tea, Mahabaleshwar Strawberry, Blue Pottery of Jaipur, Banarasi Sarees and Tirupati Laddus are some of the GIs.
The king of mangoes, Alphonso, better known as 'Hapus' in Maharashtra, is in demand in domestic and international markets not only for its taste but also for pleasant fragrance and vibrant colour.
It has long been one of the world's most popular fruit and is exported to various countries including Japan, Korea and Europe. New markets such as USA and Australia have recently opened up.
The first product to get a GI tag in India was the Darjeeling tea in 2004. There are a total of 325productsfrom India that carry this indication.
48. India to Host the 14th International GCA Conference on Media and Communication
Global Communication Association (GCA), a not-for-profit body of media and communication professionals, which holds international conferences from time to time around the world, is organizing its 14th international conference of communication experts and specialists, in India, on 11-12 October 2018, in the historic 'Pink City' of Jaipur, Rajasthan, India.
In the two-day conference deliberations, about one hundred national and international scholars and subject speakers will sign up and arrive in Jaipur to participate in the two-day deliberations of this program.
GCA Jaipur 2018 conference focusing on 'Digital Inbound: Internet Communications and Beyond', has aroused keen interest amongst many participants from around the globe coming from different academic and industry backgrounds.
49. India Skills 2018, the Country's biggest skill competition, concludes
India Skills 2018, the Country's biggest skill competition, concluded, with the winners being awarded by dignitaries. Minister of State for Skill Development and Entrepreneurship Shri Anant kumar Hegde and Shri Subhash Ghai, Chairman of Media and Entertainment Skills Council and India Film Director gave away the awards in 46 trades to participants from across the country.
India Skills 2018 was the second edition of the nationwide competition organized by the Ministry of Skill Development and Entrepreneurship, Government of India to identify, recognize, promote and reward the best talents in various skills.
23 states actively participated in organizing the competitions at the state and regional levels in which over 50 thousand participants took part.
450 participants took part in the 3-day national level competition organized in New Delhi.
Besides 46 competition trades, there were 10 demonstration trades also. Some of winners of the competition of various trades will be given more training, before they are sent to represent India at the 45th World Skills Competition at Kazan, Russia in 2019.
A number of Divayangs also participated in the competition and the winners will take part at the World level in Abilympics in China.
A large number of Corporates (over 100) supported the Government's efforts in organizing the India Skills 2018.
50. List of MoUs Exchanged between India and Russia during Visit of President of Russia
Protocol for Consultations between the Ministry of Foreign Affairs and MEA for the period 2019-2023
Memorandum of Understanding between the Ministry of Economic Development of the Russian Federation and the National Institution for Transforming India (NITI Aayog)
Memorandum of Understanding between Indian Space Research Organization (ISRO) and the Federal Space Agency of Russia 'ROSCOSMOS' on Joint Activities in the field of Human Spaceflight Programme
Memorandum of Cooperation between the Indian and Russian Railways
Action Plan for Prioritization and Implementation of Cooperation Areas in the Nuclear Field
Memorandum of Understanding between the Russian Ministry of Transport and Indian Railways in the Development Cooperation in Transport Education
Memorandum of Understanding between the National Small Industries Corporation (NSIC), of India and the Russian Small and Medium Business Corporation (RSMB), on Cooperation in the field of Micro, Small and Medium Enterprises
Cooperation Agreement in the Fertilizers Sector between the Russian Direct Investment Fund" ("RDIF"); PJSC Phosagro (PhosAgro) and Indian Potash Limited (IPL)
51. Dharmendra Pradhan launches a Task Force for Closing the Skills Gap in India
Dharmendra Pradhan, Minister of Petroleum and Natural Gas & Skill Development and Entrepreneurship launched a Task Force for Closing the Skills Gap in India, in collaboration with the World Economic Forum.
The task force will bring together leaders from business, Government, civil society, and the education and training sectors to accelerate the future-proofing of education and training systems in the country.
Dharmendra Pradhan will co-chair the task force along with Shri Salil Parekh, Chief Executive Officer and Managing Director, Infosys.
The goal of the Task Force is to develop an action plan to address skills gaps in India and make the Indian workforce ready for jobs of future.
Shri Pradhan also released reports on 'Future of Work in India', an enterprise survey on future of work in India and 'Young India and Work', a survey of youth aspirations in India.
52. Successful night trial of Prithvi-II missile
India's Strategic Forces Command successfully test-fired its indigenously developed nuclear capable Prithvi-II missile during night time as part of a user trial by the Army from a test range in Odisha.
The surface-to-surface missile, which has a strike range of 350 km, was launched from a mobile launcher from launch complex-3 of the Integrated Test Range (ITR) at Chandipur near Balasore.
The missile is capable of carrying 500 to 1,000 kilogramme of warheads and is thrusted by liquid propulsion twin engines.
53.RBI slaps Rs 5 crore penalty on Karur Vysya Bank
The Reserve Bank of India has imposed a penalty of Rs 5 crore on Karur Vysya Bank for non-compliance of its directives.
According to a RBI statement, the penalty was imposed for non-compliance with its directions on "Income Recognition and Asset Classification (IRAC) norms, reporting of frauds, and on the need for discipline at the time of opening of current accounts".
54. Goa, Portugal ink MoU on water management
A Memorandum of Understanding (MoU) signed between the Portuguese Environment Ministry and the Public Works Department of Goa will help the State manage its water resources better.
The MoU proposes technical partnership in the areas of water supply operation and energy efficiency, resource valorisation, waste water and sewerage planning, management and technological solutions, asset management procedure and standards, energy management operational workflows, operational data and information management.
As part of the MoU, the assessment of two of the biggest water treatment and supply plants at Selaulim and Opa in Goa would be undertaken.
55. Government in public interest moved NCLT to supersede Management of IL&FS
The Central Government, based on a report received from the Regional Director, Mumbai, Ministry of Corporate Affairs, concluded that the affairs of IL&FS holding Company and its group companies are being conducted in a manner prejudicial to public interest.
With a view to preventing further mismanagement and protecting public interest, the Ministry of Corporate Affairs moved the National Company Law Tribunal (NCLT), Mumbai, under Section 241(2) read with Section 242 of the Companies Act, 2013 with a prayer to supersede the existing Board and appoint the new Board of Directors with immediate effect.
The NCLT suspended the existing board and directed that the suspended members should not represent the company in any form with immediate effect.
The NCLT approved the induction of 6 Directors recommended by the Government, in the first instance, consisting of Shri Uday Kotak, MD & CEO of Kotak Mahindra Bank as Non-Executive Chairman and Shri Vineet Nayyar, IAS (Retd.), Shri G.N. Bajpai, former Chairman, SEBI, Shri G.C. Chaturvedi, Non-Executive Chairperson, ICICI Bank, Dr. Malini Shankar, IAS and Shri Nand Kishore, IA&AS (Retd.) as Directors.
The new Board shall take up its responsibility with immediate effect, after following due procedures.
The new Board is tasked with the responsibility of preparing a robust and time bound resolution plan.
56. ADB and India sign $150 Million Loan to Improve Regional Connectivity
The Asian Development Bank (ADB) and the Government of India signed a $150 Million Loan to finance continued improvements to road connectivity and efficiency of the International Trade Corridor in West Bengal and North-Eastern Region of India.
Approved in 20'14, the Program aims to expand about 500 kilometers of roads in India's North Bengal and North-Eastern Region that will enable efficient and safe transport within India and regionally with other SASEC member countries.
57. India and ADB Sign $240 Million Loan for 3 West Bengal Districts
Government of India and the Asian Development Bank (ADB) signed $240 million loan for providing safe and sustainable drinking water to about 1.65 million people in three districts of the state of West Bengal affected by arsenic, fluoride, and salinity.
Heavy reliance on groundwater puts most of the rural population in West Bengal at risk from arsenic and fluoride contamination that can lead to health problems including cancer and bone diseases.
The project aims to mitigate these risks through provision of continuous potable water through metered connections to about 390,000 individual households in three districts – Bankura, North 24 Parganas, and Purba Medinipur.
The project is supported by a grant of $3 million from the Japan Fund for Poverty Reduction, financed by the Government of Japan, and a $2 million grant from ADB's Urban Climate Change Resilience Trust Fund.
58. India and the ADB sign $ 150 Million Loan Agreement to support India's First Global Skills Park
Asian Development Bank (ADB) and the Government of India signed a $150 million Loan Agreement in New Delhi to establish a Global Skills Park (GSP) in Madhya Pradesh.
It will be the First Multi-Skills Park in India to enhance the quality of Technical and Vocational Education And Training (TVET) System in the State and create a more skilled workforce.
59. Kochhar quits ICICI Bank
ICICI Bank MD and CEO Chanda Kochhar, who has been in the midst of allegations of corporate misconduct, has opted for early retirement.
The board of directors of the private sector lender has accepted her resignation and appointed Chief Operating Officer Sandeep Bakhshi in her place.
Kochhar, 56 was to retire on March 31, 2019 when her five-year term came to an end.
60. Apple world's top brand, Facebook slips to 9th spot
Apple displaced Google to become the top brand in the world in 2018 while Facebook, mired in data breach controversies, fell to ninth place in the top 100 brands globally.
According to global brand consultancy Interbrand's "Best 100 Global Brands 2018" report, Amazon achieved a 56 per cent growth to become the third top brand globally.
According to the ranking, Apple's brand value grew 16 per cent (year-on-year) to $214.5 billion.
It went on to become the first company in the US to hit the $1 trillion market cap.
61. Fourth bi-monthly monetary policy review
Reserve Bank has maintained status quo on all key policy rates in the fourth bi-monthly monetary policy review.
The six member monetary policy committee, MPC headed by Governor Urjit Patel decided to keep the policy repo rate unchanged at 6.5 percent and the reverse repo rate at 6.25 percent.
Repo Rate: 6.50%
Reverse Repo rate: 6.25%
Marginal Standing Facility Rate: 6.75%
Bank Rate: 6.75%
Cash reserve Ratio: 4%
SLR: 19.5%
62. Reliance Health Insurance gets final nod from IRDAI
Reliance Health Insurance has received the final nod from the Insurance Regulatory and Development Authority of India (IRDAI) to begin operations.
Reliance Health Insurance, a wholly owned subsidiary of Reliance Capital, has received R3 approval from IRDAI for its new health insurance business.
Reliance Health will commence business by the December quarter.
63. India and ADB Signs $110 Million Loan to Improve Rural Connectivity in Madhya Pradesh
Government of India and Asian Development Bank (ADB) signed a $110 million loan to finance the upgrade of 2,800 kilometers all-weather rural roads in the State of Madhya Pradesh under the Prime Minister's Rural Roads Program (PMGSY).
Tranche 2 loan is part of the $500 million Second Rural Connectivity investment Program for India approved by the ADB Board in December 2017.
The overall program is aimed at improving rural connectivity, facilitating safer and more efficient access to livelihood and socio-economic opportunities for rural communities through improvements to about 12,000 kilometers rural roads across the states of Assam, Chhattisgarh, Madhya Pradesh, Odisha, and West Bengal.
Tranche 1 loan of $250 million is currently under implementation in the 5 project states, upgrading over 6,000 km of rural roads.
64. Atal Innovation Mission & SIRIUS sign MoU
To promote innovative cooperation between students of India and Russia, a Memorandum of Understanding was exchanged between India's Atal Innovation Mission (AIM) and the Russian Federation's SIRIUS Educational Foundation in the presence of the Prime Minister of India Shri. Narendra Modi and the President of Russia H.E. Vladimir Putin, in New Delhi on 5th October 2018.
The AIM and SIRUS Education Foundation were represented by Mission Director Shri. R Ramanan and Ms. Elena Shmeleva respectively.
The MoU hopes to remove cultural and language barriers between students of Russia and India, share the best practices in the promotion of educational, scientific, innovative achievements, promote innovative cooperation, and search and develop talented youth of both countries fostering a knowledge driven innovation ecosystem in both the countries.