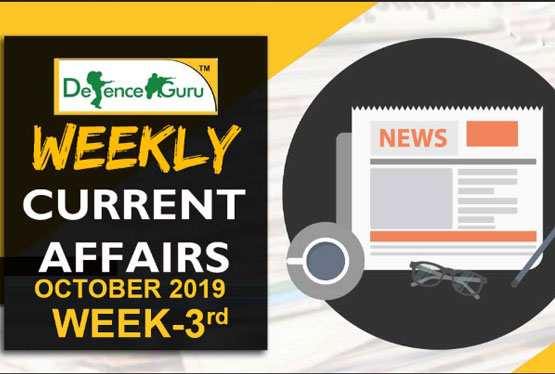 APPOINTMENTS
1.Anup Kumar Singh
Senior IPS officer of Gujarat cadre Anup Kumar Singh has been appointed as Director-General of the National Security Guard (NSG). The appointment of Mr Singh, who is a 1985-batch IPS officer, was approved by the Appointments Committee of the Cabinet. His appointment will be from the date of joining the post and up to 30th of September, 2020.
2.Sudhaker Shukla
The Appointments Committee of the Cabinet has approved the appointment of Sudhaker Shukla as a Whole-Time Member (WTM) of the Insolvency and Bankruptcy Board of India (IBBI). With this appointment, the Governing Board of IBBI is complete, which can have a total strength of 10.The Governing Board Members of IBBI consists of a Chairman, 3 WTM, four ex officio members and two part-time members.
3.K Mendiratta
Sitting District & Sessions Judge (North East) of the Delhi's Karkardooma Courts Anoop Kumar Mendiratta has been appointed as the new Union Law Secretary. It is the first time a sitting judge has been appointed as Law Secretary. AK Mendiratta has been appointed till March 30, 2023, or until he attains the age of 60, whichever is earlier. The post of Law Secretary has been vacant since December 2018, when Suresh Chandra resigned after the Centre decided against extending his tenure.
DEATHS
4.Kalidas Karmakar
Internationally acclaimed painter of Bangladesh Kalidas Karmakar passed away in Dhaka. An icon of modern art in Bangladesh, Kalidas was awarded Shilpakala Padak in 2016 and the Ekushey Padak in 2018 by the Government of Bangladesh for his contribution to fine arts. Solo exhibitions of his works were held in Dhaka and many countries, including the US, India, Japan, Iran, and Hong Kong.
AWARDS
5.Asian Academy Creative Award-2019
Ranveer Singh and Alia Bhatt starrer 'Gully Boy', walked home with the best film from India award in the regional finals at the Asian Academy Creative Awards ceremony. The film draws inspiration from the lives of Mumbai street rappers Vivian Fernandes aka Divine and Naved Shaikh aka Naezy and revolves around the underground rap movement in India. Apart from the Zoya Akhtar-directorial film, Netflix's 'Delhi Crime,' also bagged several awards in various categories. Actor Shefali Shah won Best Actor in a leading role award followed by Richie Mehta for Best Direction and Best Original Screenplay, Beverley Mills for Best Editing and Best Original Programme by a streaming service. The Karavan Production for Netflix series is based on the 2012 Delhi gang-rape case that took place in the neighbourhood of Munirka, in South Delhi.
6.Busan International Film Festival 2019
Two-time National Film Award (India) winner Pradip Kurbah won the prestigious Kim Ji-seok award at the Busan International Film Festival 2019 for his Khasi film 'Market'. Kurbah's film 'Iewduh', or 'Market' in English, is a feature film set in a local market of Shillong and delves into the everyday lives of the people who work and live there, their hopes, joys and sorrows. At the 61st and 63rd National Film Awards, Kurbah received the award for the best Khasi film award for his films 'Ri – Homeland of Uncertainty' and 'Onaatah – Daughter of the Earth' respectively.
7.People's Icon Award 2019
'Friends' star Jennifer Aniston is set to receive the People's Icon Award at the 2019 People's Choice Awards. The actress would be the second-ever recipient of the title. Last year, Melissa McCarthy accepted the trophy for the inaugural award. Fifty-year-old Aniston has played the most iconic, unforgettable characters and has conquered comedy and drama on both the small and big screen.
8.Kiran Uniyal achieves individual Guinness World records
Kiran Uniyal, w/o a serving Colonel of Indian Army has created Individual Guinness World Records for "The most full contact knee strikes in three minutes (one leg) (female), 263 strikes" & "The most full contact knee strikes alternate legs in one minute (female),120 strikes". The earlier records were of 177 strikes and 102 in female category respectively. The objective of both her records was to promote martial arts for girls and women safety and self-defence. While creating the record for the most full contact knee strikes for three minutes, she surpassed the existing male category record of 226 knee strikes. She has so far achieved 15 World Records, including 10 Guinness World Records in Martial Arts, Fitness and Social Work.
9.UNESCO heritage awards
Four Indian sites have been chosen from India for the UNESCO Asia-Pacific Awards for Cultural Heritage Conservation. The UNESCO Asia-Pacific Awards for Cultural Heritage Conservation awards were announced at a ceremony held in Penang, Malaysia, marking 20 years since its institution. The four winners from India, include one from Ahmedabad - Award of Distinction for Vikram Sarabhai Library, Indian Institute of Management (IIM); and three from Mumbai - Award of Merit for Keneseth Eliyahoo Synagogue and Our Lady of Glory Church; while Honourable Mention for Flora Fountain.
10.Nobel for Economics-2019
The 2019 Nobel Prize for Economics has been jointly won by Indian-American Abhijit Banerjee, his wife, Esther Duflo, and Michael Kremer of the United States 'for their experimental approach to alleviating global poverty'. 58-year-old Abhijit Vinayak Banerjee was educated at the University of Calcutta, Jawaharlal Nehru University and Harvard University, where he received his PhD in 1988. He is currently the Ford Foundation International Professor of Economics at the Massachusetts Institute of Technology. In 2003 he founded the Abdul Latif Jameel Poverty Action Lab (J-PAL), along with Esther Duflo and Sendhil Mullainathan, and he remains one of the lab's directors.
11.Booker Prize-2019
Margaret Atwood and Bernardine Evaristo have jointly won the 2019 Booker Prize. British Indian novelist Salman Rushdie's tragicomic 'Quichotte' was among the six books shortlisted for the prize. The Booker rules say the prize must not be divided, but the judges insisted they could not separate Atwood's - 'The Testament' and 'Girl, Woman, Other' by Evaristo, who is the first black woman to win the prestigious award since its creation in 1969. The rules were changed after the last tie in 1992, and organisers told this year's judges that they were not allowed to pick two winners.
SPORTS
12.Sultan of Johor Cup-2019
Indian junior hockey men's team lost a second consecutive final to Great Britain in the Sultan of Johor Cup as it succumbed to a 1-2 loss at Johor Bahru, Malaysia. The first three-quarters of the match went goalless. Indian forward Gursahibjit Singh broke the deadlock in the 49th minute with a goal from a penalty corner. However, Britain struck back through Stuart Rushmere's drag-flick in the 50th minute. Last year, India lost 4-3 to Britain in the penalty shootout after the teams were tied 2-2 after regulation time.
13.Hockey India names women squad for FIH Hockey Olympic Qualifiers
Hockey India named an unchanged women squad, to be led by Rani Rampal, along with the men's team for the upcoming FIH Hockey Olympic Qualifiers. Goalkeeper Savita will be the vice-captain of the women's squad. The 18-member men's squad will be captained by Manpreet Singh and seasoned forward S V Sunil will be his deputy. The men's team has two goalkeepers in P R Sreejesh and Krishan Bahadur Pathak. The winners of the Qualifiers will ensure a place in the 2020 Tokyo Olympics.
14.Indian boxers clinch bumper tally of 21 medals, including six golds at Asian Junior Championships
Indian boxers at the Asian Junior Championships, clinched a bumper tally of 21 medals, including six golds and nine silvers, to end with the best medal haul among 26 competing countries in Fujairah, United Arab Emirates. The Indian men's squad fetched two golds, three silvers and an equal number of bronzes, while the women claimed four gold, six silver and three bronze medals. The team ended top in terms of medals won but finished second behind Uzbekistan (20) which had a better gold count of eight.
15.Lionel Messi receives his sixth Golden Shoe
FC Barcelona striker Argentina's Lionel Messi received the 2018/19 Golden Shoe, the sixth of his career and the third consecutively. The 36 goals in 34 games that he scored last season in the league have served to ensure a new European Golden Shoe and a continuation of his records. The Argentinian was already the only player in history to get five Golden Shoes. It should be remembered that he won the first in the 2009/10 season (34 goals), then two in 2011/12 (50 goals) and 2012/13 season (46 goals), and now he has accumulated three more consecutively: 2016/17 (37 goals), 2017/18 (34 goals) and 2018/19 (36 goals).
16.Amy Satterthwaite becomes world-number one in ODI
New Zealand's Amy Satterthwaite became the world number one ODI batter in the latest ICC Women's player rankings. The 33-year old replaced India cricketer Smriti Mandhana and is now four points ahead of the opener. India all-rounder Shikha Pandey is at the tenth spot, moving up two places.
17.ICC changes super over the rule for all its major events
The International Cricket Council (ICC) has changed the super overrule for all its major events. The decision came after the uproar over the outcome of the men's World Cup final this year when England was declared winners against New Zealand on boundary count. As per new rule, in case of a super over the tie, there will be a repeated super over until one team has more runs than the other. In July this year, England won their first-ever World Cup title. In the final, the winner was not decided after the 50-over and super over action, both of which were tied. In the end, England was announced as the winner as they had hit more boundaries, 26, as compared to New Zealand's 17 boundaries in the match.
18.Sourav Ganguly set to be new BCCI President
Former Indian cricket captain Sourav Ganguly has been unanimously nominated as the new President of the Board of Control for Cricket in India, BCCI. Board member Rajiv Shukla tweeted the names of new administrative heads for BCCI. BCCI members have also unanimously selected Jay Shah as Secretary and Arun Dhumal as Treasurer. 47-year-old Ganguly was the chairman of the BCCI technical committee and has been a media personality for many years. Jay Shah is the son of Union Home Minister Amit Shah while Dhumal is the younger brother of MoS Finance and former BCCI president Anurag Thakur.
19.Priyanshu Rajawat claims men's singles title at Bahrain International Series
Indian shuttler Priyanshu Rajawat claimed the men's singles title at the Bahrain International Series Badminton at Isa Town. Seventeen-year-old Rajawat beat top-seed Jason Anthony Ho-Shue from Canada in the finals 16-21, 21-7, 21-12 in the summit clash. Top-seeded Indian mixed double pair of Juhi Dewangan and Venkat Gaurav Prasad also finished at the top. They defeated Thailand's Pannawat Theerapanitnun and Kanyanat Sudchoeichom 21-18, 21-16 in 34 minutes to bag the gold medal. In women's singles, Ira Sharma finished second best.
INTERNATIONAL
20.Interpol to hold the general assembly in India in 2022
India will host the 91st Interpol General Assembly in 2022 after a proposal received the overwhelming support of member countries at this year's congregation at Santiago in Chile. A proposal in this regard was given to Interpol Secretary General Jürgen Stock by Union Home Minister Amit Shah when the two met in New Delhi during Mr Stock's official visit in August. The 91st Interpol General Assembly in India in the year 2022 will be held as part of celebrations of the 75th anniversary of Indian Independence. The International Criminal Police Organisation (Interpol) had hosted the General assembly, where representatives of all member countries converge, in India in 1997. Based in Lyon, France, Interpol is an international police cooperation organisation with 194 member states and 100 years of experience of international cooperation in policing.
21.China signs deal to lease 'Tulagi' island
A Chinese company signed an agreement to lease an entire island in the Solomon Islands. Tulagi, an island about two square kilometres (0.8 square miles) with a population of 1,200. It is the site of a former Japanese naval base and was the scene of fierce fighting in World War II. The agreement with China Sam mentions developing a refinery on the island, but its potential for dual use as a Chinese military base is certain to raise concerns with the United States and Australia.
22.UAE announces the establishment of 1st graduate-level, research-based AI university in the world
UAE announced the establishment of Mohamed bin Zayed University of Artificial Intelligence (MBZUAI), the first graduate-level, research-based AI university in the world. MBZUAI will enable graduate students, businesses and governments to advance the artificial intelligence field. The University is named after Sheikh Mohamed bin Zayed Al Nahyan, Crown Prince of Abu Dhabi and Deputy Supreme Commander of the UAE Armed Forces. MBZUAI will introduce a new model of academia and research to the field of AI, providing students and faculty access to some of the world's most advanced AI systems to unleash its potential for economic and societal development.
23.World Students' Day 2019: 15 October
World Students' Day is celebrated every year on October 15 on former president APJ Abdul Kalam's birthday. The day is commemorated on his birth anniversary because Dr Kalam was a dedicated teacher. Notably, in 2010, the United Nations declared October 15 to be World Students' Day. Mr Kalam died of a cardiac arrest while delivering a lecture to the students of IIM Shillong on July 27, 2015.
24.World Food Day: 16 October
World Food Day is celebrated every year around the world on 16 October in honour of the date of the founding of the Food and Agriculture Organization of the United Nations in 1945. The day raises awareness and action on hunger to ensure food security and nutritious diet for all. 2019 theme: 'Our Actions Are Our Future Healthy Diets for A #ZeroHunger World'
25.Kais Saied wins Tunisia presidency election
Tunisia's election commission said a preliminary count shows conservative law professor Kais Saied has won the country's presidential election by a significant margin. The commission reported that Saied received 72.71% of the vote. His opponent, media mogul Nabil Karoui, got 27.29%. The 61-year-old Saied is an independent outsider but has support from moderate party Ennahdha, which won Tunisia's parliamentary election last week.
Points to Remember: Tunisia
Capital: Tunis
Currency: Tunisian dinar
26.International Day of Rural Women: 15 October
International Day of Rural Women is celebrated every year on 15 October. The day recognizes rural women's importance in enhancing agricultural and rural development worldwide. The first International Day of Rural Women was observed on 15 October 2008. 2019 Theme: Rural Women and Girls Building Climate Resilience
27.Bangladesh becomes 2nd fastest growing economy in South Asia
Bangladesh has become the second-fastest growing economy in South Asia after Bhutan. World Bank in its report 'South Asia Economic Focus, Making (De) Centralization Work' says that GDP growth rate of the country is projected to moderate to 7.2 per cent this fiscal year and 7.3 per cent in 2020 in Bangladesh. In Bhutan, GDP growth is expected to jump to 7.4 per cent this fiscal year. Growth in South Asia is projected to fall to 5.9 per cent in 2019.
NATIONAL
28.Defence exports soar by seven times in two years, reach 2 billion
India's defence exports have grown seven times in the last two years, reaching a value of two billion dollars. The country is working out modalities to become a hub in top-class defence production with efforts being made to increase defence exports to five billion dollars in the near future. 440 companies in the private sector have taken up defence production in the last five years.
29.Odisha's biggest trade fair to begin on Nov 12
Baliyatra, one of the biggest trade fairs of Odisha, is scheduled to begin on November 12. The trade fair will continue for eight days. This year's Baliyatra will be jointly organized by the Cuttack District Administration, District Cultural Council, and the Cuttack Municipal Corporation (CMC). A preparatory meeting for the mega fair was recently held under the chairmanship of District Collector Bhabani Shankar Chayani at Cuttack.
30.NITI Aayog launches India Innovation Index 2019
NITI Aayog with Institute for Competitiveness as the knowledge partner released the India Innovation Index (III) 2019. Karnataka is the most innovative major state in India. Tamil Nadu, Maharashtra, Telangana, Haryana, Kerala, Uttar Pradesh, West Bengal, Gujarat, and Andhra Pradesh form the remaining top ten major states respectively. The top ten major states are majorly concentrated in southern and western India. Sikkim and Delhi take the top spots among the northeastern & hill states, and union territories/city-states/small states respectively. Delhi, Karnataka, Maharashtra, Tamil Nadu, Telangana, and Uttar Pradesh are the most efficient states in translating inputs into output.
31.The second edition of US-India IP dialogue, concludes in New Delhi
The US Chamber of Commerce's Global Innovation Policy Center (GIPC) and Industry body Federation of Indian Chambers of Commerce and Industry (FICCI) in partnership with US-India Business Council (USIBC) on hosted the second edition of the India-US Dialogue on Intellectual Property (IP) in New Delhi. It was organised to discuss ways to deepen bilateral strategic cooperation between the two countries on Intellectual Property policy. The event saw the participation of leaders from the US and Indian government as well as the Indo-U.S. business community.
32.India ranked third in 2019 'Hurun Global Unicorn List'
The Hurun Research Institute has released the inaugural Hurun Global Unicorn List 2019. It is a ranking of the world's billion-dollar tech 'start-ups' founded in the 2000s and not yet listed on a public exchange. This is the first year of the list and follows from the sixth quarterly Hurun China Unicorn Index. China ranked at the top spot by 206 companies followed by the US with 203. India was placed third with 21 unicorns, led by payments solutions platform One97 Communications ($10 billion) and followed by cab aggregator Ola Cabs ($6 billion); online educator Byju's ($6 billion) and travel-stay finder OYO Rooms ($5 billion).
33.National Institute of Nutrition centenary stamp released
A special commemorative postal stamp of the National Institute of Nutrition (NIN), Hyderabad was released by Union Minister for Health & Family Welfare, Harsh Vardhan. The stamp has been brought out under the "Corporate My stamp" scheme of India Posts. These stamps are of limited edition and are made to order. Alongside these customised themed stamps, the NIN also opted for printing its centenary logo. The National Institute of Nutrition (NIN) is Indian Public health, Nutrition and Translational research centre located in Hyderabad.
34.Andhra Pradesh CM launches a scheme for MSMEs
The Andhra Pradesh Government has launched a scheme called 'YSR Navodayam'. The scheme aims to bail out micro, small and medium enterprises (MSMEs) in the State and provide them financial relief by restructuring their bank loans before March 31, 2020. Under the scheme, about 80,0000 MSMEs in the State would be benefited as their bank loans, that are subject to a ceiling of Rs 25 crores, would be restructured. They would get more financial support and more time to pay back the loan.
35.Kerala extends maternity leave benefits to teachers, other staff of private educational institutions
Kerala is extending maternity leave benefits to teachers and other staff of private educational institutions. The Central Government has approved the Kerala Government's decision to bring these teachers and employees under the Maternity Benefit Act. When the amendment to the Act comes into force, Kerala would become the first state in the country to provide maternity benefits in the private educational sector. Employees covered under the law can avail 26 weeks' maternity leave with salary.
36.20th Livestock Census – 2019
The Department of Animal Husbandry and Dairying released the 20th Livestock Census -2019. India's livestock population has increased to over 535 million showing an increase of 4.6 per cent over Livestock Census-2012. As per livestock census, the share of cattle is around 36 per cent, the goat is over 27 per cent, buffaloes is over 20 per cent, sheep around 14 per cent and pigs around two per cent. The cow population is over 145 million, increasing by 18 per cent over the previous census. Among the states, West Bengal reported the highest increase of over 23 per cent in livestock population, followed by Telangana, Andhra Pradesh, Bihar and Madhya Pradesh. The livestock census is conducted across the country periodically since 1919. The census usually covers all domesticated animals and headcounts of these animals are taken.
37.Tribal Affairs Minister, Arjun Munda announced the second phase of GOAL
Minister of Tribal Affairs, Arjun Munda announced the second phase of GOAL (Going Online as Leaders). GOAL is a Facebook program aimed at inspiring, guiding and encouraging tribal girls from across India to become village-level digital young leaders for their communities. Launched earlier this year in March, GOAL connects underprivileged young women from tribal areas with senior expert mentors in the areas of business, fashion and arts to learn digital and life skills. In the second phase of the program, the Ministry of Tribal Affairs and Facebook will digitally mentor 5000 young women in India's tribal-dominated districts, together.
38.Eastern Air Command conducts fighter operations exercise at 6 civilian airfields
The Eastern Air Command of the Indian Air Force launched fighter operations from six civilian airfields under its area of command. The exercises will be conducted in two phases. Six civilian airfields where the operations will take place are Dimapur, Imphal, Guwahati, Kolkata, Pasighat and Andal. Sukhoi Su-30MKI and Hawk 132 aircraft will be participating in the exercise. The exercise is aimed at familiarizing the Indian Air Force crew with the procedure of flying at busy civilian airfields and coordinate with the civilian airport staff.
39.India, Oman begin joint training exercise 'EX EASTERN BRIDGE-V'
Indian Air Force (IAF) kick started its bilateral joint exercise with Royal Air Force Oman (RAFO), named 'EX EASTERN BRIDGE-V' at Air Force Base Masirah. The IAF contingent comprises of Mig 29 UPG (upgrade) combat aircraft along with C-17 Globemaster transport aircraft. The Royal Air Force of Oman will be fielding Eurofighter Typhoon, F-16 and Hawk 200 combat aircraft in the exercise.For the first time, MiG-29 fighter aircraft will be participating in an international exercise outside India. Last time, the bilateral exercise was held in 2017 at Jamnagar.
40.Defence Minister Rajnath Singh inaugurates 41st DRDO Directors Conference in New Delhi
Raksha Mantri Rajnath Singh inaugurated the 41st DRDO Directors Conference in New Delhi. He said that DRDO has played a significant role in ensuring the technological advancement of our forces and safeguarding our country. Chiefs of the three forces & DRDO Chairman G Satheesh Reddy were also present on the occasion.
41.Indian railways start 9 Sewa Service trains to connect small towns with closest major cities
The Indian railways started 9 Sewa Service trains to connect small towns with their closest major cities. It will ease the hassle of travelling for daily passengers. These trains will provide better rail connectivity between smaller and satellite towns and important cities.
42.Air India becomes the first airline in the world to use Taxibot on A-320 aircraft
Air India has become the first airline in the world to use a Taxibot on an A-320 aircraft with passengers on board. Taxibot is a robot-used aircraft tractor for taxiing an aircraft from parking bay to runway and vice-versa. Air India Chairman and Managing Director Ashwani Lohani flagged off flight AI665 and it was carried to the runway using Taxibot at Terminal 3 of the Delhi Airport. It will bring down the consumption of fuel by 85 per cent and reduce engine wear and tear. The ignition will be turned on only when the aircraft reaches the runway.
43.India is 102 in Hunger Index of 117 nations
India has slipped from 95th rank in 2010 to 102nd in 2019 on the Global Hunger Index (GHI). The Global Hunger Index measures and tracks hunger globally, by region and by country. The focus of GHI 2019 is Climate Change and Hunger, exploring the impact of extreme weather on food production, nutrition and food security. With a score of 30.3, India suffers from a level of hunger that is serious. Seventeen countries, including Belarus, Ukraine, Turkey, Cuba and Kuwait, shared the top rank with GHI scores less than five.
44.Andhra Pradesh CM launches 'YSR Rytu Bharosa - PM KISAN' scheme
Andhra Pradesh Chief Minister YS Jaganmohan Reddy launched 'YSR Rytu Bharosa - PM KISAN' in Nellore. Under the scheme, the state government will give input subsidy of Rs 13,500 to farmers in the state. Out of the amount, The Centre will be contributing Rs 6000 under PM KISAN Yojana. The state government will credit Rs 7500 in May, Rs 4000 in October and Rs 2000 in January.
45.Nitin Gadkari inaugurates conference on 'One Nation One Tag – FASTag' in New Delhi
Road Transport & Highways Minister Nitin Gadkari inaugurated a conference on 'One Nation One Tag – FASTag' in New Delhi.bThe meeting has been organised to roll out the process for having a unified electronic system across the country. Under this system the same FASTag affixed on the windscreen of a vehicle can be used to pay toll across all toll plazas in the country.
BUSINESS
46.Home Credit, Karur Vysya Bank tie-up for joint lending partnership
The India arm of Netherlands-based Home Credit Group has tied up with Karur Vysya Bank (KVB) for joint lending to tap the large unbanked customer base across the country. Karur Vysya Bank is a 103-year-old scheduled commercial bank headquartered at Karur in Tamil Nadu. It has a total business of about Rs 1.1 lakh crore with a deposit base of Rs 60,000 crore and a loan book of Rs 50,000 crore. Since its entry in 2012, Home Credit India has spread its operations over 179 cities across 20 states and emerged with the largest penetration is below Rs 10,000 category with a customer base of one crore.