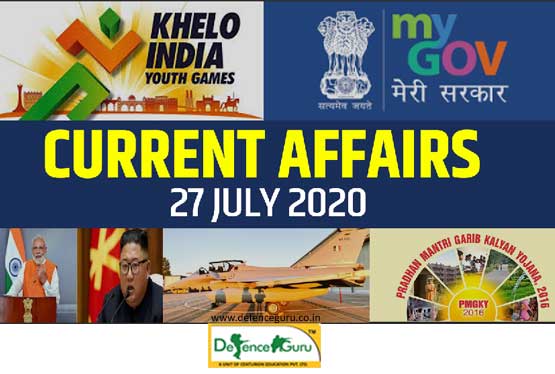 1-Haryana to host 4th Khelo India Youth Games
Haryana will host the 4th Khelo India Youth Games. Sports Minister Kiren Rijiju and Haryana Chief Minister Manohar Lal Khattar announced this through video conferencing. Khelo India Youth Games is scheduled to take place after Tokyo Olympics next year.

The Games will be held at Panchkula in Haryana. Mr Rijiju said, usually the Khelo India Youth Games take place in January every year. He said, however, this time owing to the pandemic, we have to postpone it.

The Minister has expressed confidence that by the time we host the Games the pandemic will abate and we will be able to host the Games at the same scale, with participation of all states and over 10 thousand participants.

Mr Rijiju said, Khelo India Games, envisioned by the Prime Minister, has been instrumental in identifying grassroot level talent from across the country.

Mr Khattar said, as a state Haryana has always promoted sports in a big way and supported its athletes. He said, hosting the Khelo India Youth Games in Haryana will only add greater impetus to the state's commitment towards creating a strong sporting ecosystem.

He added that Panchkula is equipped with the best sporting infrastructure to host a multi-sport event like Khelo India Youth Games and there is enough lodging facilities for the large number of participants who are expected to attend.
2-MyGov initiative completes 6 years
Communications, Electronics & Information Technology Minister Ravi Shankar Prasad has appreciated the work being done by the government's citizen engagement platform MyGov and said this movement must go forward. He was speaking at the event of celebration of 6 years of MyGov. MyGov 'Saathis' - representatives of 1.2 crore MyGov users and followers, celebrated 6 years of citizen engagement and participatory governance yesterday.

The Minister said initiatives should be taken to take citizen engagement through MyGov to every Municipal Body and to every district and every panchayat, and be a catalyst for giving a platform to the most talented minds to share their ideas. He also called upon MyGov to enable effective data analytics and ensure that suggestions given by citizens are shared with concerned departments and mature into actionable items
3-INDIA EXTENDS MEDICAL ASSISTANCE WORTH ABOUT USD 1 MILLION TO NORTH KOREA
The Indian government sent $1 million worth of anti-tuberculosis medicine to North Korea per a request from the World Health Organization (WHO), according to a press release issued by the Indian embassy in Pyongyang on Wednesday.
India has extended medical assistance worth about USD 1 million to North Korea in response to a request received from the World Health Organisation (WHO), the Ministry of External Affairs said on Friday.
India is sensitive to the shortage of medical supply situation in the Democratic People's Republic of Korea (DPRK) and decided to grant a humanitarian assistance of USD 1 million in the form of anti-tuberculosis medicines, the MEA said.
The medical assistance is under the aegis of an ongoing WHO anti-tuberculosis programme in DPRK, it said.
The consignment of medicines was handed over to DPRK authorities by Indian Ambassador to DPRK Atul Malhari Gotsurve in the presence of a WHO representative.
4-First Batch Of Rafales For India Flies Out Of France
The first batch of five Rafale jets has flown out of France today and will arrive in India on Wednesday, July 29, when the fighter jets will officially be inducted and join the Indian Air Force fleet in Haryana's Ambala.
The five aircraft will be the first tranche of the 36 planes bought by India from France in a Rs 59,000-crore inter-governmental deal in 2016.
Twelve IAF pilots and engineering crew members are fully trained trained on the Rafale fighter jets.
The Rafale aircraft will cover a distance of nearly 7,000 km from France to India with air-to-air refuelling and a single stop at a at French airbase in the United Arab Emirates (UAE).
"Delivery of ten aircraft has been completed on schedule. Five will stay back in France for training Mission. The delivery of all thirty six aircraft will be completed on schedule by the end of 2021," the Indian embassy in France said in a statement.
5-In another setback to China, Russia suspends deliveries of S-400 missiles:
Russia has announced suspension of S-400 surface-to-air missile systems to China and said the resumption of further deliveries is yet to be ascertained.
Citing Chinese newspaper Sohu, UAWire reported, "This time, Russia announced the postponement of the delivery of missiles for the Chinese S-400 system. To a certain extent, we can say that it is for the sake of China. Getting a gun is not as easy as signing an invoice after receiving a weapon."
"They say that the work on delivering these weapons is quite complicated. While China has to send personnel for training, Russia also needs to send a lot of technical personnel to put the weapons into service," Sohu said.
Post-Russia's announcement, China has reportedly said that Moscow was forced to make such a decision as it "is worried that the delivery of S-400 missiles at this time will affect the anti-pandemic actions of the People's Liberation Army and does not want to cause trouble to China."
n 2018, China received the first batch of S-400 missile, a military diplomatic source told Russia's TASS news agency.
The S-400 air defence missile system is considered the most advanced of its kind in Russia, capable of destroying targets at a distance of up to 400 kilometres and a height of up to 30 kilometres.
Russia's suspension of S-400 missiles to China comes after Moscow had earlier accused Beijing of spying, despite the two countries enjoying considerably good relations over the years.