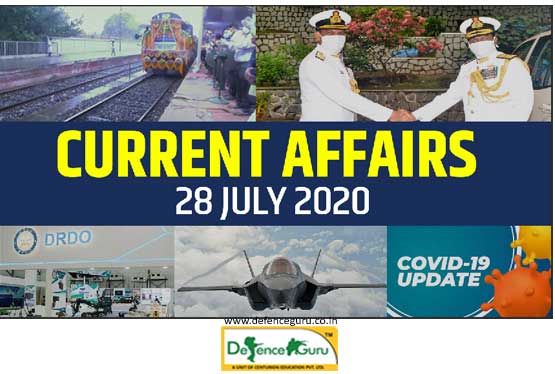 1-Bangladesh receives 10 Broad Gauge locomotives from India
Bangladesh received 10 broad-gauge locomotives from India on Monday. In an online handing over ceremony, the locomotives were flagged off from Gede station in India by the External Affairs Minister, Dr. S. Jaishankar and the Minister of Railways and Commerce & Industry PiyushGoyal. The event was also attended by the Minister of State for Railways Angadi Suresh.

From the Bangladesh side Minister of Railway, Md. Nurul Islam Sujan and Minister of Foreign Affairs, Dr A.K. Abdul Momen received the locomotives on behalf of the Government of Bangladesh.
The locomotives have been modified to suit the requirement of Bangladesh railways. These locomotives will help handle the increasing volume of passenger and freight train operations in Bangladesh.

Speaking on the occasion, Railway Minister PiyushGoyal highlighted the importance of railway cooperation in enhancing bilateral trade and connectivity between the two countries. He said that India is committed to restoring all the pre-existing railway lines operational between India and Bangladesh before 1965.
2-Vice Admiral MA Hampiholi, AVSM, NM Assumes Charge as Commandant Indian Naval Academy, Ezhimala
Vice Admiral Dinesh K Tripathi, AVSM, NM handed over charge as the Commandant, Indian Naval Academy (INA) to Vice Admiral MA Hampiholi, AVSM, NM after a successful tenure of over 13 months on 27 July 2020.
3-DRDO launches 'Dare to Dream 2.0' contest for innovators and start-ups on 5th death anniversary of former president Dr. A P J Abdul Kalam
Defence Research and Development Organisation (DRDO) has launched its innovation contest 'Dare to Dream 2.0' on the 5th death anniversary of former President and noted scientist Dr APJ Abdul Kalam here today. Dr Kalam, also known as missile man, had the vision of self-reliance. The scheme is being launched for emerging technologies to promote the individuals &startups for innovation in defence and aerospace technologies in the country after the call of 'Atmanirbhar Bharat' given by Prime Minister ShriNarendraModi.
The 'Dare to Dream 2.0' is an open challenge to promote the innovators and startups of the country. The winners will be decided after due evaluation by an expert committee. Award money, up to Rs 10 lakh for startup and Rs five lakh to individual category, will be given to the winners.
information will be available on DRDO website www.drdo.gov.in soon.
4-Lockheed Martin to Hold Virtual India Defence Suppliers Conference
Lockheed Martin announced that it would hold its 7th edition of the annual India Suppliers Conference and Exhibition virtually. Themed 'Making India part of the Global Supply Chain', the 5-day conference will be started from on 27 July.
Organized by the Society of Indian Defence Manufacturers, the 2020 India Suppliers Conference is co-hosted with the Confederation of Indian Industry (CII) and Lockheed Martin to strengthen the supplier ecosystem in India.

The Conference will provide an opportunity to the Indian Industry/Micro, Small & Medium Enterprises (MSMEs) to understand and interact with all of Lockheed Martin businesses along with their partners who are looking to source from India. It will be attended by representatives from Indian Ministry of Defence, U.S. government, Indian and Global industry leaders and participation from industry.