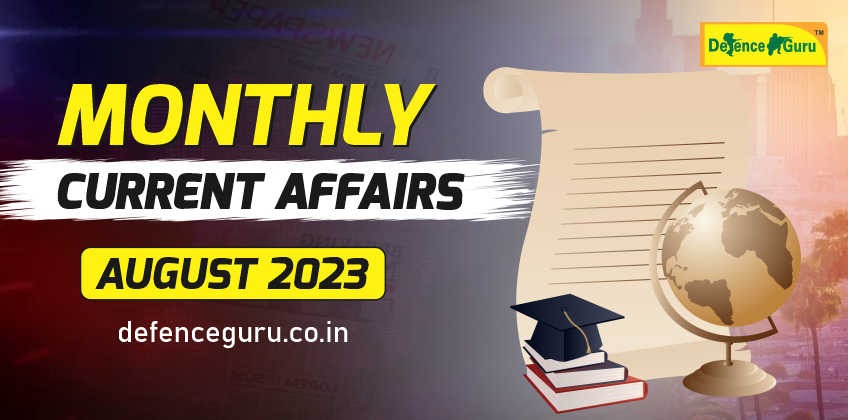 Defence competitive exams such as NDA/ CDS/ IAF/ AFCAT/ NAVY/ AIRFORCE/ AGNIVEER/ MNS etc often test candidates' knowledge of current events and contemporary issues. Whether it's written exam or interview, candidates are expected to have a good grasp of current affairs. Keeping up with current affairs helps candidates develop critical thinking and analytical skills. They need to understand the implications of current events, to help them develop problem-solving abilities. Staying updated on current affairs helps candidates understand the policy changes and their impact on society, which is crucial for defence exams. Current affairs encompass a wide range of topics, including politics, economics, science, technology, environment, and culture. Defence Guru brings you a complete detailed Current Affair article for the month of August 2023 where we have rooted out all the important current affairs from your defence exam point of view. Being well-versed in current affairs can provide you with a competitive edge, as it demonstrates the commitment to learning and the ability to stay updated in a rapidly changing world. Read this article for all important current affairs for the month of August 2023.
1. DHOLPUR - KARAULI TIGER RESERVE:
National Tiger Conservation Authority (NTCA) has given its approval for the establishment of the Dholpur-Karauli Tiger Reserve in the state of Rajasthan. It has secured its position as the fifth tiger reserve in the state of Rajasthan following Mukundra Hills, Ramgarh Vishdhari, Ranthambore, and Sariska.
2. FIRST AIRPORT IN NORTHEAST INDIA TO START 'DIGI YATRA':
Guwahati's Lokpriya Gopinath Bordoloi International Airport became the first airport in the northeast to get 'Digi Yatra' facility. The Digi Yatra service will be available in three major areas of the airport, namely - first entrance, check-in and boarding areas.
3. 'GRIHA LAXMI' SCHEME FOR WOMEN:
The Karnataka Government provides financial assistance of Rs.2,000 every month to eligible women. The government disbursed the Rs.2,000 amount through DBT from 30 August 2023.
4.TRI-SERVICE JOINT MILITARY EXERCISE 'BRIGHT STAR-23':
Exercise Bright Star-23 is a multinational tri-services joint military exercise that will be led by US CENTCOM and the Egyptian Army. Initially, this exercise was conceptualized as a bilateral biennial training exercise between the US and Egypt during the Camp David Accord of 1977.
5. NATIONAL GREEN TRIBUNAL CHAIRMAN:
Justice Prakash Shrivastava has been appointed as Chairperson of National Green Tribunal (NGT). After the former Chairperson Justice A.K Goel retired. Justice Prakash Shrivastava has been appointed as Chairperson of National Green Tribunal (NGT). After the former Chairperson Justice A.K Goel retired.
6. KALYAMPUDI RADHAKRISHNA RAO (C R RAO) PADMA VIBHUSHAN PASSED AWAY:
Renowned Indian-American mathematician and statistician Calyampudi Radhakrishna Rao (102), popularly known as CR Rao, passed away on Wednesday. He was recently awarded the 2023 international prize in statistics, which is considered equivalent to the Nobel Prize in the field.
7. 15TH SUMMIT OF THE BRICS GROUP:
The 15th BRICS summit hosted by South Africa in Johannesburg, holds significant importance against the backdrop of geopolitical changes and global economic dynamics. Notably, this summit marks the first in-person gathering since 2019 due to the Covid -19 pandemic.
8. CHANDRAYAAN-3 LAUNCHED FROM SRIHARIKOTA ON JULY 14, 2023:
The spacecraft consists of a Vikram lander and a Pragyan rover. The Vikram lander touched down on the Moon on August 23. It became the first spacecraft to land in the Moon's south polar region where water ice could be found under the surface. The landing site was the farthest south that any lunar probe had touched down, and India was the fourth country to have landed a spacecraft on the Moon—after the United States, Russia, and China.
9. COUNTRY'S FIRST HYDROGEN FUEL RELATED INDUSTRY:
On July 29, 2023, Jharkhand Chief Minister Hemant Soren approved the establishment of the country's first hydrogen fuel industry in Jamshedpur in the state.
10. BHU-VISION:
also known as KRISHI-RASTAA Soil Testing System, is a revolutionary IoT-based automated soil testing and agronomy advisory platform that was recently launched in India. This system is a game-changer for India's agriculture sector. It is a smart, fast, easy, affordable, and accessible solution for soil testing and agronomy. It has the potential to transform the way farmers manage their soil and crops.
11. BILATERAL EXERCISE 'ZAYED TALWAR':
Two Indian Navy ships, INS Visakhapatnam and INS Trikand, participated in a bilateral exercise 'Zayed Talwar' with the UAE navy. The bilateral naval exercise 'Zayed Talwar' aims to enhance the interoperability and synergy between the Indian Navy and UAE Navy.
12. 'SUSWAGATAM' PORTAL:
The Supreme Court has introduced the 'SuSwagatam' portal, an online platform that facilitates the issuance of e-passes for entering the apex court. 'SuSwagatam' is a user-friendly web application that enables advocates, visitors, and interns to register online and request e-passes for various purposes, including attending court hearings and meeting with advocates.
13. LAKHPATI DIDI:
In the recent Independence Day address, the Prime Minister unveiled two significant initiatives aimed at empowering artisans and women's self-help groups (SHGs) across India.The two initiatives are: the Vishwakarma Yojana and the provision of drones for women SHGs under Lakpati Didi Scheme.
14. ADITYA-L1:
from Sanskrit: Aditya, "Sun", is a coronagraphy spacecraft to study the solar atmosphere, designed and developed by the Indian Space Research Organisation (ISRO) and various other Indian research institutes. It will be inserted at about 1.5 million km from Earth in a halo orbit around the L1 Lagrange point between the Earth and the Sun where it will study the solar atmosphere, solar magnetic storms, and their impact on the environment around the Earth.
Read Also:
Monthly Current Affairs July 2023