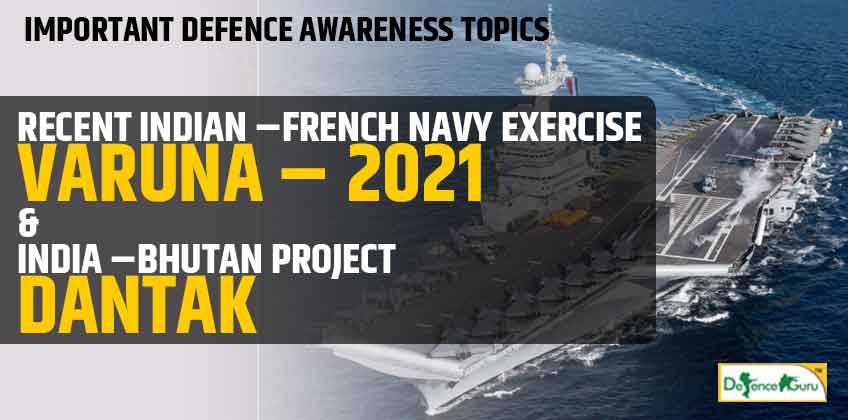 RECENT INDIAN –FRENCH NAVY EXERCISE: VARUNA – 2021 & INDIA –BHUTAN: Project DANTAK
Important Defence Awareness Topic
Below given are two important topics for your upcoming SSB and Defence Exams ! Go through the crisp highlights and enhance your knowledge and general defence awareness.

EXERCISE VARUNA – 2021

The 19th edition of the Indian and French Navy bilateral exercise 'VARUNA-2021' is scheduled to be conducted in the Arabian Sea from 25th to 27th April 2021.

From the Indian Navy's side, guided missile stealth destroyer INS Kolkata, guided missile frigates INS Tarkash and INS Talwar, Fleet Support Ship INS Deepak, with Seaking 42B and Chetak integral helicopters, a Kalvari class submarine and P8I Long Range Maritime Patrol Aircraft, will participate in the exercise. The French Navy will be represented by the Aircraft Carrier Charles-de-Gaulle with Rafale-M fighter, E2C Hawkeye aircrafts and helicopters Caïman M and Dauphin embarked, Horizon-class Air defense destroyer Chevalier Paul, Aquitaine-class multi-missions frigate FNS Provence with a Caïman M helicopter embkared and Command and supply ship Var. The Indian side will be led by Rear Admiral Ajay Kochhar, NauSena Medal, Flag Officer Commanding Western Fleet, while the French side will be led by Rear Admiral Marc Aussedat, Commander Task Force 473.
The three day exercise will see high tempo-naval operations at sea, including advanced air defence and anti-submarine exercises, intense fixed and rotary wing flying operations, tactical manoeuvres, surface and anti-air weapon firings, underway replenishment and other maritime security operations. Units of both navies will endeavour to enhance and hone their war-fighting skills to demonstrate their ability as an integrated force to promote peace, security and stability in the maritime domain.
On completion of exercise VARUNA-21, to consolidate accrued best practices and enhance interoperability, Indian Navy's guided missile frigate INS Tarkash will continue to exercise with the French Navy's Carrier Strike Group (CSG) from 28th April to 1st May 2021. During this period, the ship will take part in advanced surface, anti-submarine and air-defence operations with the French CSG.
VARUNA-21 highlights growing bonhomie and showcases increased levels of synergy, coordination and inter-operability between the two friendly navies. These interactions further underscore the shared values as partner navies, in ensuring freedom of seas and commitment to an open, inclusive Indo-Pacific and a rules-based international order.

Project DANTAK
Project DANTAK is commemorating its Diamond Jubilee in Bhutan. Indian Ambassador to Bhutan SmtRuchiraKamboj laid a floral wreath at the DANTAK Memorial in Simtokha on April 24, 2021. Commandant, Indian Military Training Team (IMTRAT) Maj Gen SanjeevChauhan and Chief Engineer DANTAK Brig KabirKashyap also paid their respects at the memorial. It was a fitting tribute to the sacrifices made by personnel of DANTAK in strengthening the bonds of friendship between India and Bhutan. It may be recalled that over 1,200 DANTAK personnel laid down their lives while constructing important infrastructure in Bhutan.
Project DANTAK was established on April 24, 1961 as a result of the visionary leadership of His Majesty the Third King and then Prime Minister JawaharLal Nehru. Identifying the utmost importance of connectivity in spurring the socio-economic development and growth of Bhutan, DANTAK was tasked to construct the pioneering motorable roads in the Kingdom. DANTAK completed the road connecting SamdrupJongkhar to Trashigang in 1968. In the same year, Thimphu was connected to Phuentsholing by DANTAK. Many Bhutanese had also volunteered to work with DANTAK.
Over the years, DANTAK has met the myriad infrastructure requirements in Bhutan in accordance with the vision of Their Majesties and the aspirations of the people in a symbiotic manner. Some other notable projects executed by the project include the construction of Paro Airport, Yonphula Airfield, Thimphu – Trashigang Highway, Telecommunication & Hydro Power Infrastructure, Sherubtse College, Kanglung and India House Estate.
The medical and education facilities established by DANTAK in far flung areas were often the first in those locations. The food outlets along the road introduced the Bhutanese to Indian delicacies and developed a sweet tooth in them. The famous Takthi Canteen midway between Phuentsholing and Thimphu has been a compulsory stop for travelers.

As DANTAK celebrates six decades in Bhutan, the project reaffirms its commitment to support the march of Bhutan towards realising the dreams of His Majesty DrukGyalpo, the plans of the Royal Government of Bhutan and aspirations of the people of the kingdom.
To read more such articles , subscribe our defenceguru.coi.in portal !
Jai Hind!

By,
Gurkirat Kaur
Personality Development Coach, Defence Career Mentor,
Center Head-Centurion Defence Academy