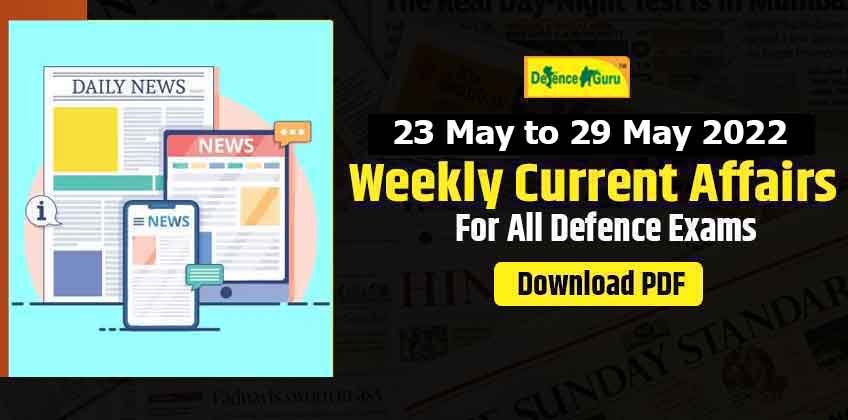 CURRENT AFFAIRS 23RD MAY TO 29TH MAY 2022
Current affairs play a very important role in the competitive examinations and hence, aspirants have to give undivided attention to it while doing preparation for the defence examinations. These examinations comprise a section of "General Awareness" to evaluate how much the aspirant is aware of the daily happenings taking place around the world. To complement your preparation, we are providing you with a compilation of the current affairs of the last week.
A little 10-year-old champion skater from Worli, Rhythm Mamania, has become one of the youngest Indian mountaineers to summit the Everest Base Camp (EBC) in the Himalayan ranges in Nepal.
The Union Ministry of Ayush has confirmed the observance of the 8th International Day of Yoga (IDY) at Mysuru city, which is known as the cultural capital and major historic destination of Karnataka state.
Chief Commissioner, Delhi Customs Zone, SurjitBhujabal inaugurated project 'NIGAH' at ICD GarhiHarsaru, Gurugram.
German club Eintracht Frankfurt has won their first European trophy in 42 years after defeating the Rangers by 5-4 on penalties in Seville, Spain.
Odisha women's team has won its first-ever gold in Senior Nationals as they defeat Karnataka 2-0 in the final of the 12th Hockey India Senior Women's National Championship.
Manchester City has won 2021/22 Premier League champions their fourth title success.
Union Health Secretary, Rajesh Bhushan has been appointed as the chairperson of the Committee B at the 75th World Health Assembly (WHA)
Shri Dharmendra Pradhan, Union Minister for Education and Skill Development, launched the North East Research Conclave (NERC) 2022 at IIT Guwahati.
Minister for energy and urban development Arvind Sharma has launched the SAMBHAV (Systemic Administration Mechanism for Bringing Happiness and Value) portal for disposal of public grievances and monitoring programmes and schemes of the two departments in Uttar Pradesh.
DEFENCE NEWS:
The fourth edition of the Indian Navy-Bangladesh Navy Coordinated Patrol (CORPAT) commenced.
The Army Training Command and GandhinagarbasedRashtriyaRaksha University (RRU) inked a memorandum of understanding (MoU) to establish a Wargame Research and Development Centre in New Delhi. The project, dubbed 'WARDEC' as a prototype, will be India's first simulation-based training centre, which will use artificial intelligence (AI) to create virtual reality wargames.
The third edition of Indian Navy (IN) – Bangladesh Navy (BN) Bilateral Exercise 'Bongosagar' commenced at Port Mongla, Bangladesh on 24 May 2022.
Haryana's Captain Abhilasha Barak has become the first woman officer to join the Army Aviation Corps as a combat aviator after successfully completing her training
Union Defence Minister Rajnath Singh has approved the proposal for the creation of a new Defence Estates Circle exclusively for Uttarakhand.
Download 23 May to 29 May 2022 Weekly Current Affairs