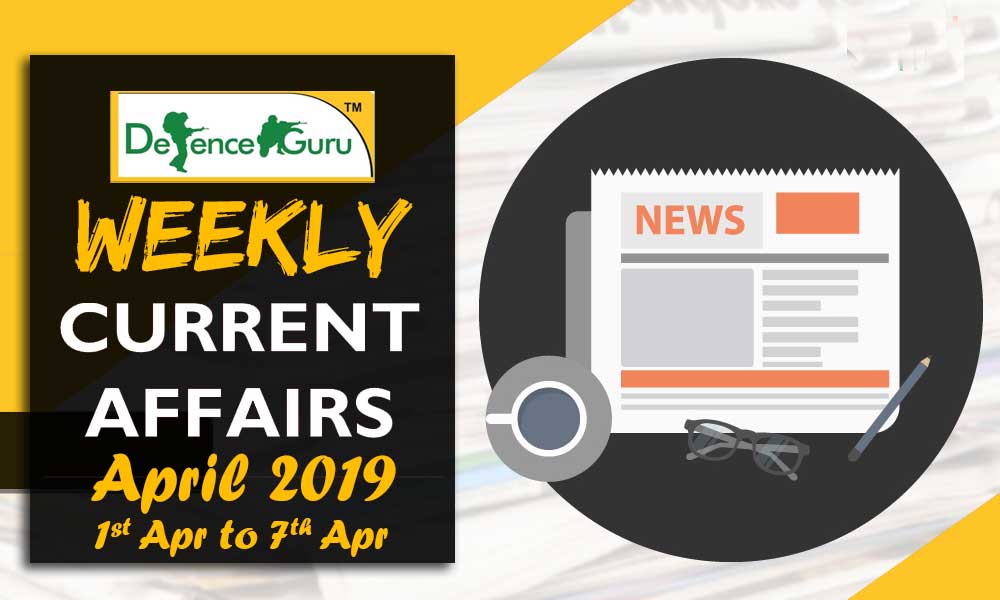 Current Affairs April 2019
We are sharing Weekly Current Affairs 1st Apr - 7th Apr 2019. This file of Weekly Current Affairs is a collection of important news and events that occurred in the April 1st Week 2019. These News are highly important for various competitive exams and interviews.
1. David Malpass : President of World Bank
Senior US Treasury official David Malpass has been selected as President of the World Bank. The World Bank's executive board unanimously selected 63-year-old Malpass as the bank's 13th President for a five-year. The World Bank President is Chair of Boards of Directors of the International Bank for Reconstruction and Development and International Development Association.
Points to Remember: World Bank
Headquarters: Washington, D.C., United States
Membership: 189 countries (IBRD); 173 countries (IDA)
2. Sawhney
The International Cricket Council (ICC) announced that Manu Sawhney will assume the position of Chief Executive with immediate effect. Sawhney has been working alongside the outgoing Chief Executive David Richardson for the last six weeks. Richardson will remain with the ICC until July as originally planned to oversee the delivery of the ICC Men's Cricket World Cup 2019. ICC Men's Cricket World Cup 2019 Hosts: England, Wales.
3. N.S. Dhillon : Strategic Forces Command chief (SFC)
Fighter pilot Air Marshal N.S. Dhillon has been appointed as the new Strategic Forces Command Chief. The Strategic Forces Command (SFC) is tasked to look after the strategic nuclear arsenal of the country and is a part of India's Nuclear Command Authority (NCA) headed by PM Narendra Modi. Dhillon graduated from the National Defence Academy in Khadakwasla in Pune and later attended Defence Services Staff College in Wellington Cantonment and National Defence College in New Delhi. The SFC was created on January 4, 2003, by the Atal Bihari Vajpayee Government and Air Marshal Teja Mohan Asthana became the first commander-in-chief of the SFC.
4. Tata Steel gets an award at Global Slag Conference & Exhibition
Tata Steel has been named as the 'Global Slag Company of the Year' at the 14th Global Slag Conference and Exhibition 2019. The award was presented to Tata Steel for its innovative practices in the development of new applications for Steel by-products (Slag). The award demonstrates global recognition of Tata Steels commitment towards sustainability & circular economy principles. The conference was held in Aachen, Germany. It was one of the largest global annual slag event, attended by major steelmakers, steel mill service providers & associated companies.
5. UAE confers prestigious Zayed Medal on PM Modi
UAE has conferred the prestigious Zayed Medal on Prime Minister Modi. It is the highest decoration awarded to kings, presidents and heads of states. The award comes in appreciation of Prime Minister Modi's role in consolidating the long-standing friendship and joint strategic cooperation between the two countries. UAE express their appreciation for PM Modi's role and efforts in developing friendly relations and extending bridges of cooperation between the UAE and India in various fields.
6. Shah Rukh Khan felicitated with an Honorary Doctorate by London's University of Law
After the honorary doctorates from The University of Bedfordshire and The University of Edinburgh, superstar Shah Rukh Khan has received an honorary doctorate in Philanthropy by The University of Law, London. The actor received the merit during a graduation ceremony for more than 350 students. Over the years, he has established himself as a successful actor, film producer, television host, philanthropist and an entrepreneur. He has lent support to the Indian government's campaigns, including Pulse Polio and National Aids Control Organization. He has worked closely with several charitable foundations, including the Make-a-Wish Foundation.
7. Vikram Patel awarded the prestigious John Dirks Canada Gairdner Global Health Award
The Gairdner Foundation announced the 2019 Canada Gairdner Award laureates, recognising Goa and Boston-based Vikram Patel. He has been awarded for his research career raising the global profile of mental health problems. Each year seven Canada Gairdner Awards are presented to honour the world's most significant biomedical and global health researchers. Laureates receive a $100,000 cash honorarium and will be formally presented with their awards on October 24, 2019, at the annual Canada Gairdner Awards Gala in Toronto.
8. '#Modi Again' and 'Saffron Swords': Garuda Prakashan
India's publishing houses Garuda Prakashan launched its next two books '#Modi Again' and 'Saffron Swords - Centuries of Indic Resistance to Invaders' Aabhas Maldahiyar's "#Modi Again: Why Modi is right for India, An Ex-Communist's Manifesto" is the story of someone who was raised on Communist ideology but grew to question the dogmas he was taught in the education system. Manoshi Sinha Rawal's "Saffron Swords: Centuries of Indic Resistance to Invaders" is another book of timeless tales.
9. Economist VG Patel passes away
Noted economist, Viharidas Gopaldas Patel passed away after a brief illness. He was 79. He was also known as the 'Father of Entrepreneurship Movement' in India. In 2017, the Government of India had decorated him with a Padma Shri for his contribution to the entrepreneurship movement. Patel had set up the Entrepreneurship Development Institute of India (EDII) in Ahmedabad in 1983 to work for potential and existing entrepreneurs. EDII is now a globally-recognised institution in this field.
10. ITBP organises first National Sky Running Championship
Border guarding force Indo Tibetan Border Police (ITBP) along with Sky Running Association of India organised the National Sky Running Championship at Mountaineering and Skiing Institute of ITBP at Auli in Uttarakhand. This is the first time such championship was organised at a high altitude of up to 4000 metres. The high altitude marathon was organised for both junior and senior categories from April 4 to April 5, 2019. Various athletes from ITBP, Himachal Pradesh, Jammu and Kashmir, Uttar Pradesh, Haryana and Uttarakhand participated in the championship. The Indo-Tibetan Border Police (ITBP) is one of the seven Central Armed Police Forces of India, raised on 24 October 1962, under the CRPF Act. The ITBP was intended for deployment along India's border with Tibet.
11. India clinch 7 gold, 3 silver, 2 bronze in Ghana Junior & Cadet Open
In table tennis, India's young paddlers clinched seven gold, three silver and two bronze medals in the Ghana Junior & Cadet Open, an ITTF Junior circuit event. Ananya Chande and Diya Chitale, both from Maharashtra, proved to be stars of the weekend, accounting for nine medals - seven gold, one silver and one bronze. Ananya also cornered a silver in the junior doubles along with Ruby Chan of England and a bronze in the junior girl's singles.
12. All India Football Federation President Praful Patel becomes 1st Indian to be elected as a member of FIFA Executive Council
All India Football Federation president Praful Patel has become the first Indian to be elected as a member of the FIFA Executive Council. He got 38 out of 46 votes. Mr Patel was one of the eight candidates vying for the spot in the election which was held during the 29th Asian Football Confederations Congress in Kuala Lumpur. The membership in the council will be for four years, from 2019 to 2023.
13. Indian football team rises two places to 101 in FIFA rankings
The Indian football team gained two places to rise to 101 in the new FIFA rankings. With 1219 total ranking points, the Indian team lies 18th among the Asian countries. Iran continued to top the Asian rankings at 21, followed by Japan (26), South Korea (37), Australia (41) and Qatar (55). Overall, Belgium remained on top with 1737 points, ahead of France (1734), Brazil (1676), England (1647) and Croatia (1621).
14. ICC to join hands with Interpol to fight corruption in sport
The International Cricket Council (ICC) has sought closer working relations with the Interpol to widen the scope of its fight against corruption in the sport. The cooperation was discussed during ICC Anti-Corruption Unit General Manager, Alex Marshall's visit to the Interpol headquarters in Lyon, France. Marshall said the idea is to ensure that players are better educated about the corruptors and Interpol's vast network would be helpful in this. The International Criminal Police Organization is more commonly known as Interpol. It is an international organization that facilitates worldwide police cooperation. Headquarters: Lyon, France
15. Saurav Ghosal scripts history, beco`mes first Indian male squash player to enter top 10 of PSA rankings
Saurav Ghosal scripted history after he became the first Indian male squash player to enter the top 10 in the latest PSA world rankings. It was a first of sorts for any Indian male squash player as before Saurav it was only two Indian women players, Joshna Chinappa and Dipika Pallikal had made it to the top 10 in the world rankings. Riding on his recent run of good performances, Ghosal has moved up two places to a career-high ranking of 10. Egypt's world champion Ali Farag maintains his position at the top of the ladder.
16. Hamilton wins Bahrain Grand Prix
Defending world champion Lewis Hamilton claimed a dramatic victory for Mercedes in the Bahrain Grand Prix. He took advantage of Ferrari boy Charles Leclerc's wretched misfortune. Leclerc came home third as the race finished behind a Safety Car. Bottas stayed on top in the driver's championship, one point ahead of Hamilton. Valtteri Bottas won the season-opening Australian Grand Prix.
17. Roger Federer wins Miami Open
Roger Federer lifted the 101st title of his remarkable career by winning the Miami Open. He defeated the defending champion John Isner 6-1, 6-4 in just 63 minutes. Only American Jimmy Connors, with 109, has more career singles titles than Federer. Isner struggled to continue late in the second set, hampered by pain in his left foot. This is the fourth Miami open title for Federer.
18. World Health Day: 7 April 2019
The World Health Day is a global health awareness day celebrated every year on 7 April, under the sponsorship of the World Health Organization (WHO). This day dedicated to spreading awareness about equal healthcare facilities worldwide, the importance of health and wellness. Theme: 'Universal Coverage: Everyone, Everywhere.'
Points to Remember : World Health Day
World Health Organisation Formation: 7 April 1948
Headquarters Geneva, Switzerland
Head Director-General: Tedros Adhanom
19. South Korea to launch world's first national 5G networks
South Korea launched the world's first nationwide 5G mobile networks. Three top telecom providers SK Telecom, KT, and LG Uplus began their 5G services at 11 pm local time 3 April 2019. Experts say 5G will bring smartphones near-instantaneous connectivity will be 20 times faster than 4G.
20. International Day for Mine Awareness and Assistance: 04 April
On 8 December 2005, the United Nations (UN) General Assembly declared that April 4 of each year would be officially proclaimed and observed as International Day for Mine Awareness and Assistance in Mine Action.
Points to Remember : International Day for Mine Awareness and Assistance
This day aims to raise awareness about landmines and progress toward their eradication.
It was first observed on April 4, 2006.
Theme: Safe Ground - Safe Home
21. Chicago makes history electing Lori Lightfoot as the first black woman
Chicago has created history by electing an African-American woman as its mayor for the first time. Lori Lightfoot, a 56-year-old former federal prosecutor and practising lawyer who has never before held elected office, won the city's mayoral race by a huge margin. Lightfoot will take over office from Mayor Rahm Emanuel, who previously served as chief of staff under former President Barack Obama.
22. World Autism Awareness Day: 2 April 2019
April 2 is celebrated all world over as World Autism Awareness Day and April, the month for autism awareness. The theme for this year is Assistive Technologies, Active Participation. Autism Spectrum Disorder (ASD) is a neurodevelopmental disorder which affects communication and socialisation. They have difficulties with making eye contact with people, using gestures and actions for communication. Currently, studies say one in 59 children have autism.
23. Algeria's President Abdelaziz Bouteflika to resign before his mandate expires
Algeria's President Abdelaziz Bouteflika will resign before his mandate expires on 28 April. A statement issued by the President's office said the president will take steps to ensure state institutions continue to function during the transition period. Millions of Algerians have been holding weekly protests nationwide calling for the 82-year-old Bouteflika to step down after almost 20 years in office. He has rarely been seen in public since he suffered a stroke in 2013.
Points to Remember: Algeria
Capital: Algiers
Currency: Algerian dinar
24. China successfully launches second generation data relay satellite
China has successfully launched the first of its new-generation data relay satellites into orbit that will provide data relay, measurement and control services for its manned spacecraft. The Tianlian II-01 satellite was launched by a Long March-3B carrier rocket from the Xichang Satellite Launch Centre. The Tianlian II network will be markedly more advanced in mission planning, system management and operations than the first-generation network composed of Tianlian I satellites. The satellite is developed by the China Academy of Space Technology under the China Aerospace Science and Technology Corporation. China launched its first data relay satellite, the Tianlian I-01, in April 2008.
25. Phayeng Village of Manipur becomes Indias first carbon-positive settlement
Phayeng Village of Manipur has been tagged as India's first carbon-positive settlement. A village is given the carbon-positive tag if it sequesters more carbon than it emits, slowing the accumulation of greenhouse gases and mitigating the effects of climate change. Phayeng is a scheduled caste village of the Chakpa community in Imphal West district. As part of the carbon-positive village project, Phayeng will receive a grant of Rs10 crore in phases to facilitate afforestation in the catchment of river Maklang that flows along the village.
26. Vice President inaugurates 3-day National Cardiology Conference in Lucknow
Vice President inaugurated the 3-day conference organised by Dept of Cardiology in Lucknow. The conference leads national and international experts from Europe, USA, Japan, Singapore South Korea, Indonesia and Australia deliberate on the latest topics of Interventional and cutting edge technology. The conference being held for the first time in Uttar Pradesh offers an opportunity to showcase newer innovations in Cardiology that can help deliver cost-effective cardiology care to patients.
27. Traditional new year festivities being held in several parts of the country
Traditional new year festivities are being celebrated in several parts of the country. Festivals of Chaitra Sukladi, Ugadi, Gudi Padava, Cheti Chand, Navreh and Sajibu Cheiraoba are being celebrated with traditional fervour and gaiety. In Telangana, people are celebrating Ugaadi across two Telugu states, Telangana and Andhra Pradesh to mark the beginning of the Hindu Lunar calendar. In Maharashtra, Gudi Padwa signifies the welcoming of spring. The day marks the beginning of Chaitra Navratri, that lead up to Ram Navami.
28. Indian Navy signs MoU with Council of Scientific and Industrial Research (CSIR)
The Indian Navy and Council of Scientific and Industrial Research (CSIR) inked an MoU to undertake joint research and development of advanced technologies for the Indian Navy. This will be a collaborative arrangement between labs of CSIR, the Indian Navy and Indian industry. The MoU provides a formal framework for interaction between the Indian Navy and CSIR. It would facilitate joint R&D activities in diverse fields of Mechanical, Electronics, Communication, Computer Science, Propulsion systems, Metallurgy and Nanotechnology.
29. Indian flights will have WiFi soon
Airlines flying through the Indian airspace will now be able to offer their passengers Wi-Fi connectivity in the air. India has got a new "in-flight and maritime connectivity" (IFMC) license. India's state-run telecom operator, Bharat Sanchar Nigam Limited (BSNL) procured the license from Inmarsat, a British telecommunications satellite company that offers global mobile services. According to the rules, passengers can make phone calls or use the Internet when a flight is at a minimum height of 3,000m in Indian airspace to avoid interference with terrestrial mobile networks.
30. Bureau of Indian Standards inks an MoU with IIT Delhi
The Bureau of Indian Standards (BIS) has inked a Memorandum of Understanding (MoU) with the Indian Institute of Technology in Delhi to collaborate in the field of standardisation and conformity assessment. The MoU was signed by IIT Delhi Director Professor V Ramgopal Rao and Director General of BIS Surina Rajan. BIS and IIT Delhi have also agreed to set up a Centre of Excellence in the field of standardization, testing and conformity assessment.
Points to Remember: Bureau of Indian Standards (BIS)
The Bureau of Indian Standards (BIS) is the National Standards Body of India.
Formed: 23 December 1986
Headquarters: Manak Bhawan, New Delhi
31. National Maritime Day: 5 April
5April marks the National Maritime Day of India. On this day in 1919, navigation history was created when SS Loyalty, the first ship of The Scindia Steam Navigation Company Ltd. journeyed to the United Kingdom. It was a crucial step for Indian shipping history when sea routes were controlled by the British.
32. NuGen Mobility Summit 2019
The International Centre for Automotive Technology (ICAT) will organise a NuGen Mobility Summit, 2019, at Manesar, NCR, from 27th to 29th November 2019. NuGen Mobility Summit is a biennial event being organised by the International Centre for Automotive Technology in collaboration with SAE-NIS. More than 2500 participants and over 250 exhibitors are expected to take part in the Summit.
33. India likely to grow at 7.2% in the current fiscal year: ADB
Asian Development Bank, ADB, says India's growth is set to pick up. ADB said India is expected to grow at 7.2 per cent in the current fiscal on strengthening consumption. It is expected to grow at 7.3 per cent in 2020 as policy rates are cut and farmers receive income support, bolstering domestic demand.
34. India inks an agreement for setting up India-Africa Institute of Agriculture & Rural Development
India signed an agreement with a development bank for setting up the India-Africa Institute of Agriculture and Rural Development (IAIARD) in Malawi. IAIARD will be a Pan-African Institute wherein trainees not only from Malawi but also from other African countries, will receive training to develop their human resources and build their capacity. The travel, logistics and training course expenses for students from other African countries will be borne by the Government of India for an initial period of three years. This institute will be the first of its kind developed in an African country by India.
Malawi Capital: Lilongwe
35. Maitri Bridge over Indus in Leh opened to the public
The 260-foot Maitri Bridge, the longest suspension bridge over the Indus River at Choglamsar village in Leh was opened to the public. The bridge has been named 'Maitri Bridge', symbolising the excellent civil-military relations existing in the Leh-Ladakh region. It was constructed by the combat engineers (Sahas aur Yogyata Regiment) of the Fire and Fury Corps of the Indian Army in a record time of 40 days, ferrying almost 500 tons of equipment and construction material.
36. Telangana tops in eLearning training for field staff
In eLearning training, Telangana state has ranked number one by reaching 20,000 field staff during 2018-19. This is the second year in succession that the State got the distinction under the Department of Personnel and Training (DoPT). Dr MCR HRD Institute enrolled over 20, 000 field staff in different districts of the State to impart training on 12 soft skills modules and three domain-specific modules.
37. Rajan Anandan logs out of Google India
Rajan Anandan, Google's vice-president for Southeast Asia (SEA) and India, stepped down. Anandan is also an investor in multiple startups and is slated to join venture fund Sequoia Capital. Caesar Sengupta, who leads Google's most important project 'Next Billion Users', is likely to succeed Anandan. Vikas Agnihotri, country director-sales, at Google, will be replacing Anandan in the interim, after he steps down by April-end.
38. WhatsApp launches 'tipline' to tackle rumours ahead of elections
WhatsApp launched a new service named as 'tipline'. It allows users to submit for review messages they think are misleading or carry unsubstantiated information, in the latest of a series of steps to curb misinformation on the messaging platform. Users can send suspicious messages to the 'tipline phone number' to validate the authenticity of claims in those messages, which may be in the form of text, images or videos. The service will respond by classifying the said information as "true, false, misleading, disputed or out of scope and (may) include any other related information that is available. Users can check the authenticity of the information or rumours received on the platform by reporting the forward to the WhatsApp number +91-9643-000-888.
39. Kandhamal haldi gets GI tag
Kandhamal haldi (turmeric) produced by the tribal farmers in Odisha's Kandhamal district received the Geographical Indication (GI) tag. Kandhamal turmeric, originally grown by tribal people in Kandhamal, is famous for its medicinal properties. Kandhamal haldi is organic by default being cultivated by more than 60,000 families The colour of Kandhamal haldi is golden yellow being well distinguished from other varieties.
40. India and Chile signed three MOUs
India and Chile signed three MOU for cooperation in the fields of mining, culture and Empowerment of persons with disabilities. The agreements would further enhance engagement in economic, social and cultural fields between the two countries. Chile is the sixth largest trading partner of India in the Latin American region. They also agreed to work together to strengthen the global response to defeat and destroy terrorism in all its forms and manifestations.
Points to Remember: Chile
Capital: Santiago
Currency: Chilean peso
41. Supply of ultra-clean Euro-VI grade fuels begins in cities adjoining NCR
Supply of ultra-clean Euro-VI grade petrol and diesel has begun in cities adjoining the national capital. Delhi in April 2018 became the first city in the country to leapfrog from Euro-IV grade petrol and diesel to Euro-VI fuels. Cities in the 12 contiguous districts of Rajasthan and Uttar Pradesh, as well as the city of Agra, switched over to the cleaner fuel. Rest of the country will follow suit from April 2020. In 2015 India had decided to leapfrog to Euro-VI emission norm compliant petrol and diesel from April 2020, from the Euro-IV grade at present. Euro-VI grade fuel contains 10 ppm of sulphur as against 50 ppm in Euro-IV fuels.
42. ISRO launches observation satellite EMISAT
Indian Space Research Organisation (ISRO) successfully launched its latest observation satellite EMISAT. The launch vehicle PSLV-C45 lifted off from the Satish Dhawan Space Centre in Sriharikota carrying EMISAT and 28 other customer payloads. The main satellite EMISAT and the 28 customer satellites will be ed into two different orbits, and later, the fourth stage engine of the rocket will be taken to a third orbit in space. The foreign satellites include 24 from the United States, two from Lithuania and one each from Switzerland and Spain.
43. EC clears revised MGNREGA wage rates from April 1
Election Commission has approved a request of the Rural Development Ministry to revise the wages under the MGNREGA scheme from April 1. The wages paid under the Mahatma Gandhi National Rural Employment Guarantee Act (MGNREGA) are linked with the Consumer Price Index for agricultural labourers (CPI-AL). The new wage rates are notified on April 1, the beginning of the new financial year. Different states have different wage rates so the increase in wages will also be different. The increase could be up to 5 per cent over and above the current wage. MNREGA was launched on Launched 2 Feb 2006.
44. Odisha celebrating 84th foundation day
Odisha is celebrating 84 years of its foundation. The day is also known as 'Utkal Divas.' To commemorate the sacrifices of people for the formation of Odisha province in 1936, programmes are being organised at various places across the State. Odisha was the first State to be formed on linguistic basis in 1936. Earlier, Odisha was part of Bihar.
Points to Remember: Odisha
Governor: Ganeshi Lal
Capital: Bhubaneswar
Chief minister: Naveen Patnaik
Lok Sabha seats: 21
Rajya Sabha seats: 10
45. Lakshmi Vilas Bank to merge with Indiabulls Housing
Chennai-based Lakshmi Vilas Bank is set to merge with Indiabulls Housing Finance in a share-swap deal. It reflects the trend of consolidation in the financial services sector. The boards of both entities approved the merger proposal. The shareholders of Lakshmi Vilas Bank (LVB) will get 14 shares of Indiabulls Housing Finance (IBHF) for every 100 equity shares held in the bank.
Points to Remember : Lakshmi Vilas Bank
Lakshmi Vilas Bank Headquarters: Chennai
46. CCI approves L&T's proposal to acquire up to 66.15% stake in Mindtree
Larsen and Toubro (L&T) have secured the approval of Competition Commission of India (CCI) to acquire a controlling stake in Mindtree. The competition watchdog has allowed L&T to acquire up to 66.15 per cent stake in the Bengaluru-based IT services firm. With this, the engineering and construction major has cleared the first step in its hostile takeover of Mindtree. Stake acquisition deals beyond a certain limit need CCI's approval to go through.
47. NTPC signs Rs 2,000 cr term loan pact with Canara Bank
State-run NTPC has inked a term-loan agreement with Canara Bank to raise Rs 2,000 crore. The loan has a door to door tenure of 15 years and will be utilised to part finance the capital expenditure of the NTPC. In February this year, NTPC had signed a term loan agreement for Rs 5,000 crore with State Bank of India. The loan facility from SBI was also aimed at part financing the company's capital expenditure.
Points to Remember: Canara Bank
Canara Bank Headquarters: Bangalore, Karnataka, India
Chairman: Shri T. N. Manoharan
48. GMR Hyderabad International to raise USD 300 mn in the international bond market
GMR Hyderabad International Airport (GHIAL), a subsidiary of GMR Airports announced that it had on April 03, 2019 successfully priced an offering of US$ 300 Mn bonds in the international bond market. GHIAL has entered into a Purchase Agreement to issue and allot US$ 300 Mn 5.375% senior secured notes of 5-year tenure. The proceeds from the Notes will be used towards the capital expenditure with respect to the master plan (expansion) of the Rajiv Gandhi International Airport at Hyderabad. It will be used in increasing the capacity of the Airport to 34 Mn Passengers Per Annum (MPPA).
49. BSE, India INX become first Indian exchanges to sign MoU with Moscow Exchange
BSE and India International Exchange (India INX) have signed a memorandum of understanding with Moscow Exchange (MOEX). The MoU has been signed to connect investor community and companies in both countries besides allowing a capital formation platform. BSE and India INX are the first Indian exchanges to enter into the MoU with Moscow exchange. The exchange companies have agreed to the secondment of senior personnel to enhance understanding of activities in each other's market.
50. RBI cuts repo rate by 25 basis points
The Reserve Bank of India (RBI) has cut its repo rate under liquidity adjustment facility (LAF) by 25 basis points to 6%, with immediate effect. This is the second consecutive rate cut from RBI under new Governor Shaktikanta Das, after a rate cut in February. Consequently, the reverse repo rate under the LAF stands adjusted to 5.75 per cent, and the marginal standing facility (MSF) rate and the Bank Rate to 6.25 per cent.
51. RBI tweaks LCR norms to boost liquidity
In a bid to further improve the cash position of banks, RBI has tweaked liquidity coverage ratio (LCR) norms to provide an additional 2 per cent window to lenders. This move will harmonise the liquidity requirements of banks and release additional money for lending. LCR indicates the proportion of highly liquid assets held by banks to ensure their ability to meet short-term obligations.
52. Reliance Jio acquires Haptik for Rs 700 crore
Reliance Industries Ltd announced that its subsidiary Reliance Jio has acquired Mumbai-based Haptik for about Rs 700 crore. Haptik is one of the world's largest conversational Artificial Intelligence (AI) platforms. Reliance will hold about 87 per cent of the business, with the rest being held by Haptic's founders and employees via stock options. With this acquisition, Jio, with its widespread reach, will be in a formidable position to challenge Amazon's Alexa and Google Assistant.
53. Paytm Money receives Sebi approval to start stock broking services
The Securities and Exchange Board of India (Sebi) has given approval to Paytm Money to start offering broking services. According to reports, it had applied for the licence in October last year. Paytm Money has also received membership of NSE and BSE. To handle the broking operations, Paytm Money is looking to set up a team to deal with settlements, trade, risks, treasury and other functions of a broking house. The broking services will allow investors to trade in the cash segment, derivatives, exchange-traded funds (ETFs), among other listed entities.
54. Kotak Bank first lender to charge for UPI use
Kotak Mahindra Bank (Kotak) told its customers that it will charge customers for UPI transactions starting first of May 2019. The bank said every month, for each Kotak Bank account, the first 30 UPI fund transfers will be free, after which a charge will be levied on all fund transfers from the bank account. This will be applicable across all platforms, including Paytm, PhonePe, Google Pay or Truecaller Pay among others. The bank will charge Rs 2.50 per transaction for an amount value below or equal to Rs 1,000, and Rs 5 per transaction will be levied for a payment value above Rs 1,000.
55. RBI sets WMA Limit for Government at Rs 75000 crore for H1 of 2019-20
The Reserve Bank of India, in consultation with the Government of India, has decided that the limits for Ways and Means Advances (WMA) for the first half of the financial year 2019-20 (April 2019 to September 2019) will be Rs 75000 crore. The Reserve Bank may trigger fresh floatation of market loans when the Government of India utilises 75% of the WMA limit. The Reserve Bank retains the flexibility to revise the limit at any time, in consultation with the Government of India. The interest rate on WMA will be Repo Rate and overdraft will be 2% above the Repo Rate.
56. Reserve Bank to inject USD 5 billion more liquidity into the banking system
The Reserve Bank of India will inject long-term liquidity worth 5 billion US Dollars into the banking system. It will inject through a dollar-rupee buy-sell swap for a tenure of three years on April 23. The move intends to meet the durable liquidity needs of the system. It is the second such auction within a month. Earlier, on March 26, the central bank had bought USD 5 billion through similar swap auction in a bid to ease liquidity ahead of elections.
57. Vijaya Bank, Dena Bank to merge with Bank of Baroda
Vijaya Bank and Dena Bank will merge with Bank of Baroda (BoB) to create the third-largest lender of the country. The government-forced merger, announced in September last year, creates the third largest bank in the country after State Bank of India and HDFC Bank. All customers of Dena Bank, which is under prompt corrective action (PCA) framework of the RBI, will have renewed access to credit facilities immediately. To make the merger a smooth affair, the government last week decided to infuse 5,042 crore rupees in Bank of Baroda to enhance its capital base to meet the additional expense. Branches of Dena Bank and Vijaya Bank will function as Bank of Baroda outlets from April following the amalgamation. This is the second merger of state-run banks in recent years in the banking sector after State Bank had merged five of its associate banks from April 2017.