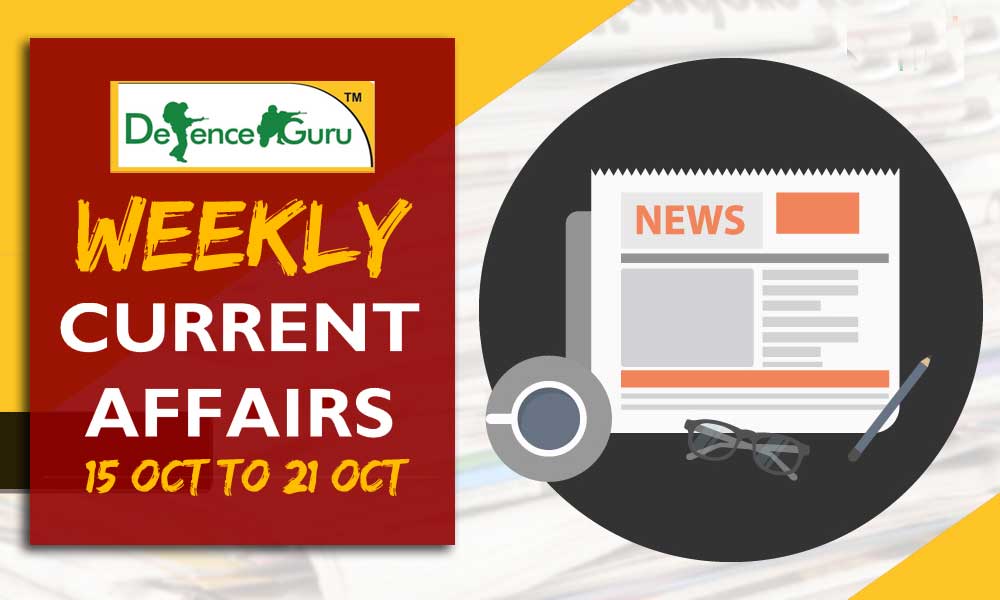 Weekly Current Affairs October 2018 - Week 3rd
You are Searching weekly current affairs for NDA, CDS, SSB, AFCAT & all competitive exam preparation. Here We are sharing Weekly Current Affairs 15 to 21 October, 2018. Learn important current affairs of last week and latest GK questions. Weekly Current Affairs is a collection of important news and events that occurred every week.
Weekly Current Affairs October 2018 - 15 Oct to 21 Oct
1. Govt appoints chief of child rights body
National Commission for Protection of Child Rights has got a new chief with the appointments committee of the cabinet appointing Priyank Kanoongo to the post for a period of three years. Kanoongo has been member of the commission from November 2015 and his tenure as member ends next week. The post of chairperson fell vacant last month after Stuti Kacker's tenure ended on September 16. Kanoongo will be the fifth NCPCR chief since the commission was formed.
2. World Steel Association elects Sajjan Jindal as treasurer
Global body World Steel Association (world steel) said it has elected JSW Steel CMD Sajjan Jindal as its treasurer. The association has also appointed Tata Steel MD T V Narendran and ArcelorMittal Chief L N Mittal as its members.
3. Maeen Abdulmalik sworn in as Yemen's new PM
Yemen's newly appointed Prime Minister Maeen Abdulmalik was sworn in to lead the internationally-backed government in the war-torn Arab country. The newly appointed Prime Minister Abdulmalik (L) takes the oath before Yemeni President Abdu-Rabbu Mansour Hadi in Riyadh, Saudi Arabia, on Oct. 18, 2018.
4. RBI approves Sandeep Bakshi appointment as ICICI Bank MD, CEO
ICICI Bank has said the RBI has approved Sandeep Bakshi's appointment as Managing Director and CEO of the bank for three years. After resignation of Chanda Kochhar, the bank's board had elevated Chief Operating Officer (COO) Bakshi as the new managing director and CEO for five years until October 3, 2023.
5. IRDAI panel to study feasibility of paying claims in instalments
The Insurance Regulatory and Development Authority of India (IRDAI) has formed a panel to examine the feasibility of payment of general and health insurance claims in instalments. The concept of settlement of claim benefits in instalments will enable the beneficiaries/claimants receive payments in a series of pre-determined instalments. In order to examine the proposal, the regulator has constituted a working group with Suresh Mathur, ED (Health), IRDAI, as its chairman.
 
6. BJP MP Bhola Singh passes away
Bharatiya Janata Party (BJP) Member of Parliament (MP) Bhola Singh died in Delhi's Ram Manohar Lohia Hospital at the of 79. Singh was Lok Sabha MP from Bihar's Begusarai. Singh has also served as the deputy speaker of the Bihar Assembly.
7. Veteran politician N D Tiwari passes away
Congress veteran Narayan Dutt Tiwari, who served in various positions at the Centre and in states, died on his birthday after prolonged illness. Tiwari had the unique distinction of having served as the chief minister of two states, Uttar Pradesh and Uttarakhand. He was a three-time chief minister of Uttar Pradesh. He was also the Uttarakhand chief minister from 2002-2007. From 2007 until 2009, he served as the Governor of Andhra Pradesh.
 
8. US-based Dalit Writer Sujatha Gidla Wins Shakti Bhatt First Book Prize
A New York subway conductor's story of growing up in a Dalit community in India won the Shakti Bhatt First Book Prize 2018. Fifty-five-year-old Sujatha Gidla's "Ants among Elephant: An Untouchable Family and the Making of Modern India", published by HarperCollins India, beat five other titles in the shortlist to claim the prestigious award. Instituted in memory of editor Shakti Bhatt, the prize honours first-time writers for an outstanding work of fiction or non-fiction.
9. Ustad Chand Khan Lifetime Achievement Award for Pandit Vishwa Mohan Bhatt
Grammy-winning Hindustani classical music instrumentalist Pandit Vishwa Mohan Bhatt will be honoured with the annual Ustad Chand Khan Lifetime Achievement Award. Best known for his Grammy award winning album "A Meeting by the River" with Ry Cooder, Bhatt, born in Jaipur, plays the Mohan Veena (slide guitar).
10. Piyush Goyal receives Carnot prize
Union Minister for Railways, Coal and Corporate Affairs Piyush Goyal received the prestigious Carnot prize for his contribution towards sustainable energy solutions. The former power minister will be awarded by the Kleinman Center for Energy Policy at the University of Pennsylvania School of Design. The Carnot Prize is the Kleinman Center's annual recognition of distinguished contributions to energy policy through scholarship or practice.
The award in the energy sector is named after French physicist Nicolas Sadi Carnot who recognised that the power of the steam engine would "produce a great revolution" in human development.
11. Indian-American awarded at White House for combating human trafficking
An Indian-American woman has been honoured with a Presidential award by U.S. Secretary of State Mike Pompeo for her extraordinary contribution towards combating human trafficking in Houston. Minal Patel Davis, Special Advisor on Human Trafficking to Houston Mayor Sylvester Turner, received the 'Presidential Medal for Combating Human Trafficking'. Appointed in July 2015, Ms. Davis has made a local impact on human trafficking in America's fourth largest city from a policy-level perspective.
12. Wildlife Photographer Of The Year 2018 Bagged By Marsel van Oosten
Dutch photographer Marsel van Oosten won the grand title with his photo of critically endangered golden snub-nosed monkeys in China. With this photo titled "The Golden Couple," Dutch photographer Marsel van Oosten has won Wildlife Photographer of the Year, awarded by London's Natural History Museum.
13. Northern Irish Author Anna Burns Wins 2018's Man Booker Prize
Milkman" by writer Anna Burns scooped the 2018 Man Booker Prize, with the Northern Irish writer winning the literary award for her third full-length novel. Set in an unnamed city during the bloody "Troubles" of Northern Ireland, the "Milkman" tells the coming-of-age story of a young girl's affair with an older man. As winner, the 56-year-old writer, who was born in Belfast, received the award from Prince Charles' wife Camilla. Established in 1969, the annual literary prize recognises the judges choice of "the best original novel written in English and published in the UK".
14. Suheil Tandon wins International Olympic committee award
Social Entrepreneur Suheil F. Tandon has won the International Olympic Committee's Sport and Active Society Commission's Grant Award for his contribution to sports development. Suheil is the Founder of Pro Sport Development (PSD) and Executive Director of Martha Farrell Foundation.  The award ceremony was held during the Olympism in Action forum at Buenos Aires.
15. Khayyam named for Hridaynath Award for lifetime achievement
National Award winning music director Mohammed Zahur Khayyam Hashmi, famous as 'Khayyam', has been named for this year's Hridaynath Award for Lifetime Achievement.Instituted by the Hridayesh Arts, the award carries a cash prize of Rs 100,000 and a memento and shall be conferred by Chief Minister Devendra Fadnavis at a function in Mumbai on October 26.
 
16. Stephen Hawking's final book "Brief Answers to the Big Questions" launched
Stephen Hawking's final work, which tackles issues from the existence of God to the potential for time travel, was launched by his children, who helped complete the book after the British astrophysics giant's death. Hawking was forever being asked the same things and started work on "Brief Answers to the Big Questions" last year.
 
17. Denmark Open: Saina loses in final to Tai Tzu Ying
Saina Nehwal was defeated by the world no.1 Tai Tzu Ying to settle for a runner-up finish at the Denmark Open. In an exciting 52-minute final, Saina lost 13-21 21-13 6-21 to the superior Chinese Taipei rival. Tzu Ying claimed the Denmark Open title after a gap of two years. She had last won the tournament in 2016.
18. Mumbai beat Delhi to win Vijay Hazare Trophy 2018
Aditya Tare struck half-century as Mumbai defeated Delhi by four wickets to win their third Vijay Hazare Trophy title at M Chinnaswamy stadium. Mumbai last won the trophy way back in 2006-07 when they defeated Rajasthan. The Vijay Hazare Trophy was started in 2002–03 as a limited-overs cricket domestic competition. It is named after the famous Indian cricketer Vijay Hazare.
19. Praveen Kumar Announces Retirement From All Forms of Cricket
Medium pacer Praveen Kumar has decided to retire from all forms of cricket, calling time on his 13-year long career. Kumar, 32, played six Tests, 68 ODIs and 10 T20Is for India, picking up 112 wickets across the formats. Known primary for his ability to swing the ball both ways, Kumar made his limited-overs debut in 2007 and was a part of India's historic CB series win in Australia the next year.
20. India finishes with 16th in Youth Olympic Games
India's campaign at the 2018 Summer Youth Olympic Games in Buenos Aires ended with 13 medals (three gold medals, nine silvers and one bronze). This is India's best medal haul at the Summer Youth Olympic Games. India had won 8 medals in 2010 and 2 in 2014. Overall, India finishes the campaign on 16th spot. Russia and china grabbed the top two spots respectively.
 
21. India 9th most valuable nation brand in the world
India ranked one of the 10 most valuable nation brands in the world. In Brand Finance's annual Nation Brands report, India was ranked 8th last year but slipped by a spot to the 9th rank. India's brand value is $2,159 billion in 2018. Topping the list and maintaining its lead is US with a brand value of $25,899 billion.
22. Vice President addresses plenary and retreat sessions of 12th ASEM Summit
The Vice President of India, Shri M. Venkaiah Naidu has said that terrorism is a major threat to peace and stability, and called for an early conclusion of the Comprehensive Convention on International Terrorism. He was addressing the plenary and retreat sessions of the 12th ASEM Summit, with the theme "Global Partners for Global Challenges", in Brussels, Belgium. During his interventions, the Vice President stated that India valued ASEM as a platform that brings together leadership of Asia and Europe to exchange views and address global challenges.
23. Indian SMEs Delegation participates in 8th European SMEs Congress in Poland
A delegation of 32 Indian SMEs led by Ms. Alka Arora, Joint Secretary, Ministry of MSME,is participating in the 8th European Congress on SMEs at Kotawice, Poland. The main theme of the event is "Business-Self-Government Together for Economy".
Inaugurating the event, Ms. Alka Arora said India is home to more than 60 million MSMEs, which have the ability and capability to access international markets and work as ancillaries to larger international firms. These MSMEs provide livelihood to more than 100 million people and create value for the entire global community.
Ms. Arora said, given the impact of MSMEs in India, it is imperative to integrate them now into the global value chain by establishing possible linkages with International partners. Small and Medium Enterprises from around 50 countries are participating in the 3-day event, which will continue till 19th of this month.
24. International Day for the Eradication of Poverty: 17 October
The United Nations' (UN) International Day for the Eradication of Poverty is observed on October 17 each year since 1993. This year's theme is 'Accelerating global actions for a world without poverty'. It promotes people's awareness of the need to eradicate poverty and destitution worldwide, particularly in developing countries.
25. India is world's most depressed country
According to a World Health Organization report, India is the world's most depressed country, closely followed by China and the US. According to the 2015-16 National Mental Health Survey (NMHS), every sixth person in India needs mental health help of some sort. At least 6.5 per cent of the Indian population suffer from some form of the serious mental disorder.
26. World Food Day: 16 October
World Food Day is a day of action dedicated to tackling global hunger. The theme of World Food Day 2018 is 'Our actions are our future – A zero hunger world by 2030 is possible'. Speaking on the World Food Day, Minister of Agriculture and Farmers Welfare Shri Radha Mohan Singh said that the Indian Council of Agricultural Research takes action to remove the suffering from hunger and ensure food security and a nutritious diet for all.
27. India is 58th most competitive economy in WEF index
India has been ranked as the 58th most competitive economy on the World Economic Forum's global competitiveness index for 2018, which was topped by the US. India's rank rose by five places from 2017, the largest gain among G20 economies, the WEF said. On the list of 140 economies, the US is followed by Singapore and Germany at the second and the third positions respectively. India was ranked 58th with a score of 62.0 in the latest Global Competitiveness Report.
28. World Students' Day: 15 October
World Students' Day is observed to mark the birthday of A. P. J. Abdul Kalam. It is observed on Kalam's birthday, 15 October. In 2015 the United Nations declared 15 October "World Students' Day".Dr. Kalam was the 11th president of India.
29. Naidu to visit Brussels for 12th ASEM summit
Vice President M Venkaiah Naidu will be on a three-day visit to Belgium later this week to attend the 12th Asia-Europe Meeting (ASEM) summit. Naidu will lead an Indian delegation to the summit, scheduled to be held on October 18-19 in Brussels. The theme of this year's ASEM summit is 'Global Partners for Global Challenges'.
 
30. Prime Minister dedicates National Police Memorial to the Nation
The Prime Minister, Shri Narendra Modi, dedicated the National Police Memorial to the nation, on Police Commemoration Day. The Prime Minister announced an award in the name of Netaji Subhas Chandra Bose, to honour those involved in disaster response operations. The award would be announced every year, recognizing the bravery and courage displayed in saving lives of people, in the wake of a disaster.
31. India's longest bridge to be built across Brahmaputra
India's longest river bridge will be built across the Brahmaputra, connecting Dhubri in Assam to Phulbari in Meghalaya, and will cut road travel by 203 km as also travel time. The 19.3 km, four-lane bridge will be built by 2026-27, Government officials said. At present, vehicles take an over-200 km-long detour using the Naranarayan Bridge, which is 60 km upstream. The new bridge will complete the missing link of NH127B from Assam to Meghalaya.
32. Four Himalayan peaks named after former PM Atal Bihari Vajpayee
Four Himalayan peaks near Gangotri glacier have been named after former Prime Minister Atal Bihari Vajpayee. The peaks are located at 6,557m, 6,566m, 6,160m and 6,100m on the right flank of Gangotri glacier. Located near Sudarshan and Saifi peaks in Raktvan valley, the peaks have been named Atal-1, 2, 3 and 4.
33. PM addresses India Carpet Expo at Varanasi, via Video Conference
The Prime Minister, Shri Narendra Modi addressed via video conference, the India Carpet Expo at Varanasi. Welcoming guests from India and abroad, the Prime Minister noted that this is the first time that the India Carpet Expo is being organized at the Deendayal Hastkala Sankul, in Varanasi. He mentioned Varanasi, Bhadohi and Mirzapur as important centres of the carpet industry. He spoke of efforts being made to encourage handicrafts, small and medium industries.
34. 4th Edition of NITI Lecture Series to be held on 22nd October
NITI Aayog is organizing the fourth edition of NITI Lecture Series at Vigyan Bhawan, New Delhi on 22.10.2018. Prime Minister Shri Narendra Modi will attend the 4th edition of NITI Lecture series in which the key note address will be delivered by Jensen Huang, President and Co-Founder, NVIDIA Corporation.
The theme this year is "AI for ALL: Leveraging Artificial Intelligence for Inclusive Growth". Union Ministers, policy makers, experts from different walks of life along with NITI Aayog Vice Chairman, Members, CEO and Senior officials will be a part of august gathering on this occasion.
35. 3rd Himachal Pradesh Science Congress begins in Mandi
In a bid to give a major boost to rural innovation sector, two-day 3rd Himachal Pradesh Science Congress began at IIT, Mandi. During the event, scientists and researchers will discuss recent progress and future trends in technologies/ products relevant for rural transformation. The event was jointly organised by Himachal Pradesh Council for Science, Technology, and Environment and IIT, Mandi on the theme "Rural Upliftment through Science and Technology Interventions".
36. President in Maharashtra; inaugurates Vishwashanti Ahimsa Sammelan
The President of India, Shri Ram Nath Kovind, inaugurated the Vishwashanti Ahimsa Sammelan at Mangi Tungi, Nasik, Maharashtra. The event is being organised by the Bhagwan Shri Rishabhdev 108 Feet Vishalkai Digambar Jain Murti Nirman Committee. Speaking on the occasion, the President said that in the Jain tradition, the principle of 'Ahimsa Paramodharma' is distinguished for human welfare and compassion - not just for the absence of physical violence.
37. "Harit Diwali-Swasth Diwali" campaign launched by Ministry of Environment
Keeping in view the detrimental effects and also the importance of the festival, Ministry has initiated a "Harit–Diwali" campaign. This campaign was initiated in 2017-18 wherein large number of school children especially from eco-clubs participated and took pledge to minimize bursting of crackers and also discouraged the neighborhood and their friends from bursting of crackers. During this intensive campaign, the children were advised to celebrate Diwali in an environment-friendly manner.
38. First India-China High Level Meeting on Bilateral Security Cooperation
Union Home Minister Shri Rajnath Singh co-chaired the first India-China High Level Meeting on Bilateral Security Cooperation with Mr. Zhao Kezhi, State Councilor and Minister of Public Security of the People's Republic of China in New Delhi. During the meeting, the two sides discussed issues of mutual interest, Other issues including bilateral counter-terrorism cooperation were also discussed and welcomed increased cooperation between India and China in the area of security cooperation.
39. Women of India Organic Festival to be held at IGNCA, New Delhi
The Ministry of Women and Child Development is organizing the 5th edition of the Women of India Organic Festival from 26th October to 4th November, 2018 at Indira Gandhi National Centre for the Arts, Janpath Road, New Delhi. This is aimed to boost organic culture and promote Women Organic Farmers and Entrepreneurs. Being the country's largest organic festival, it bears witness to the fact that women are the torchbearers of the nation's organic movement. "The WOI Festival has given a successful platform to empower women farmers and entrepreneurs in a festive and fruitful manner for the past 4 years" said the Minister of Women & Child Development, Smt. Maneka Sanjay Gandhi.
40. India to Host Fourth Edition of Global Partners' Forum 2018 in December
This year, India will play host to the largest-ever Partners' Forum on 12th and 13th December 2018 in New Delhi. PMNCH (The Partnership for Maternal, Newborn & Child Health) will bring together 1,200 partners from over 100 countries dedicated to the Every Woman Every Child (EWEC) movement. The forum will be co-hosted by the Ministry of Health and Family Welfare, Government of India and PMNCH.
41. India's first railway station inside tunnel to come up in Himachal Pradesh
For the first time in India, a railway station will be built inside a tunnel at a height of 3,000 metres, on the strategic Bilaspur-Manali-Leh line close to the Sino-India border. While many metro stations in Delhi and other cities are inside tunnels, once completed, the Keylong station in Himachal Pradesh will be the first on the railway network to be inside a tunnel. Keylong is the administrative centre of Lahaul and Spiti district, 26 km north of Manali and 120 km from the Indo-Tibetan border.
42. Commemoration of '75th Year of Establishment of Azad Hind Government'
The Prime Minister of India, Shri Narendra Modi, would be hoisting the National flag and unveiling the plaque to celebrate the 75th anniversary of the formation of Azad Hind Government on 21st October, 2018, at the Red Fort, Delhi. The Azad Hind Government, founded on 21st October, 1943 was inspired by Neta ji Subhash Chandra Bose who was the leader of Azad Hind Government and also the Head of State of this Provisional Indian Government-in-exile. It was a part of the freedom movement, originating in 1940s outside India with a purpose of allying with Axis powers to free India from British rule.
43. Assam celebrates Kati Bihu festival
Assam's Bihu festival, known as Kati Bihu or Kongali Bihu, is being celebrated across the state. On the occasion of Kati Bihu, women, both in urban and rural areas, try to ward off evil and pray for a rich harvest by lighting earthen lamps. The festival derives its name from the Assamese month of Kati.
44. Prime Minister chairs 6th meeting of NDMA
The Prime Minister, Shri Narendra Modi chaired the sixth meeting of National Disaster Management Authority (NDMA) at New Delhi. Prime Minister reviewed the activities of NDMA to effectively manage and respond to disasters affecting the country. He also reviewed ongoing projects undertaken by NDMA. Prime Minister emphasized on the need for better coordination between the various stakeholders and undertake more joint exercises to bring about effective response to save life and property. He stressed upon the need to bring in global expertise in the field of disaster management.
45. Armies of India and Japan to hold first ever joint exercise from November 1
Armies of India and Japan will hold their first ever joint exercise from November 1 at a jungle warfare school in Mizoram's Vairengte with a focus on strengthening counter-terror cooperation. The focus of the two-week-long exercise 'Dharma Guardian" will be to increase interoperability between the two forces and enhance coordination in dealing with various security challenges. The Indian contingent will be represented by 6/1 Gorkha Rifles while the Japanese contingent will be represented by 32 Infantry Regiment of the Japanese Ground Self Defence Force.
46. First National Summit on Invest in AYUSH
On the occasion of Ayurveda Day celebrations, Ministry of AYUSH is organising First National Summit on Invest in AYUSH at Ambedkar International Centre, New Delhi on 4th November, 2018. The summit is to encourage public sector undertakings (PSUs) under different Ministries/Departments of the Government and private companies to invest in AYUSH. NITI Aayog and Department of Industrial and Policy and Promotion are the partner organisations of this first National summit in AYUSH.
47. Goa Maritime Symposium – 2018
The Goa Maritime Symposium – 2018, the second edition of the Goa Maritime Symposium (GSM) – a forum towards fostering friendly relations with the maritime neighbours - was inaugurated by the Chief of Naval Staff, Admiral Sunil Lanba PVSM, AVSM, ADC, at INS Mandovi at Goa on 16th October 2018. The "Naval War College Journal", an academic compendium with ideas and papers from writers and thinkers on maritime strategy and security, was also released on the occasion by the CNS. Welcoming the delegates to the seminar, Admiral Lanba reiterated the importance of cooperative engagement to promote maritime security in the Indian Ocean Region (IOR). The theme of the seminar, this year was "Building Stronger Maritime Partnerships in IOR".
48. Much awaited Rani-Jhansi Flyover inaugurated in Delhi
Rani Jhansi Grade separator, the ambitious flyover project in north Delhi was thrown open to public by Union Environment Minister Dr. Harsh Vardhan. The six-lane, 1.8-km grade separator will provide connectivity to St Stephen's Hospital near the Tiz Hazari Courts complex with Filmstan Cinema and also it will provide a link with the intersections for Baraf Khana, DCM Chowk, Azad Market and Subzi Mandi areas of Delhi.
49. IITs dominate first-ever Indian university rankings
The Indian Institutes of Technology (IITs) dominate the first-ever standalone ranking of India's higher education institutions released by a UK-headquartered think tank. IIT Bombay tops the 'QS India University Rankings', with IITs Madras (3), Delhi (4), Kharagpur (5), Kanpur (6), Roorkee (9) and Guwahati (10) grabbing seven of the top 10 slots. Indian Institute of Science (IISc) in Bangalore comes in at second, with University of Hyderabad and University of Delhi among the others making a top-10 mark at seventh and eighth respectively in the list released by QS Quacquarelli Symonds.
50. 6th India International Silk Fair Inaugurated
Union Minister of Textiles, Smriti Zubin Irani, inaugurated the 6th India International Silk Fair (IISF) at Pragati Maidan in New Delhi. Among those present on the occasion was Ambassador of Vietnam to India, Pham Sanh Chau. 108 exhibitors from all over the country including 10 from North East and 9 from J&K are participating in the 3-day fair. The largest contingent of buyers is from Vietnam followed by Sri Lanka, Australia, Kuwait and Egypt. India is the 2nd largest producer of silk after China and is emerging as a leading exporter. The Indian products are in demand in USA, UK, Vietnam and Sri Lanka.
51. MoU signed between Lady Irwin College & MoRD for Roshni
Ministry of Rural Development and Lady Irwin College, have signed a Memorandum of Understanding (MoU) for establishing ROSHNI – Centre of Women Collectives led Social Action. ROSHNI is technically and financially supported by UNICEF India serving as a technical support unit at national level.
52. International Film Festival of Shimla 2018 concludes
The International Film Festival of Shimla 2018 concluded with "The Fog" by Ali Shoorvarzi and Hoseyn Mahroughi bagging the 'best short film' award. The festival organised by the Ministry of Information and Broadcasting in collaboration with Himalayan velocity saw the participation of 23 countries including the US, Russia, Japan, Iran, Dubai, Argentina, Cyprus, Bangladesh, Canada, Israel, France, Australia, Belarus, Nepal. A total of 80 international and national films were screened at the festival.
53. A "Museum on Prime Ministers of India" to be set up in Delhi
A "Museum on Prime Ministers of India" is to be set up in Delhi. Union Minister for Culture Dr. Mahesh and Minister for Housing and Urban Affairs Shri Hardeep Singh Puri laid the Foundation stone for proposed Museum at Teen Murti Estate, in New Delhi. Shri Hardeep Singh Puri said that the proposed Museum is dedicated to all the Prime Ministers of India and is envisaged to give visitors a holistic understanding of the continued thread of leadership, initiatives and sacrifice that have helped shape our nation since independence."
54. Air Quality Early Warning System for Delhi launched
Air Quality Early Warning System for Delhi was launched in Delhi by the Union Minister for Earth Sciences and Environment, Dr. Harsh Vardhan. The System is designed to predict extreme air pollution events and give alerts to take necessary steps as per Graded Response Action Plan (GRAP) of the Government of India. The air pollution system has been developed jointly by the scientists at Indian Institute of Tropical Meteorology (IITM), Pune, India Meteorological Department and National Centre for Medium Range Weather Forecasting (NCMRWF).
55. MoU Between ICFRE & Navoday Vidyalaya Samiti and Kendriya Vidyalaya Sangathan
 
Two Memoranda of Understanding (MoU) were signed by Indian Council of Forestry Research and Education (ICFRE), Dehradun, with Navodaya Vidyalaya Samiti (NVS) and Kendriya Vidyalaya Sangathan (KVS). ICFRE is an autonomous Council under the Ministry of Environment, Forest and Climate Change. The MoUs have been signed to launch the programme "PRAKRITI" with the objective to promote awareness about forests and environment, to stimulate interest among the students of NVS and KVS in maintaining a balanced environment and for acquiring skills that reflect care and protection towards forests, environment and society. Another objective is to provide a platform to school children to learn practical skills towards judicious use of our resources and to mobilize a cadre of youth for raising a peoples' movement committed to conservation of forest and environment.
56. RK Singh launches award scheme under 'Saubhagya'
Shri RK Singh, Minister of State (IC) for Power and New & Renewable Energy announced an award scheme under Saubhagya to felicitate the DISCOMs / Power Department of the States and their employees for achieving 100 per cent household electrification in their area of operations. Awards would be provided for achieving 100 per cent household electrification at DISCOM/Power Department level of the States. Eight States which have already achieved more than 99 per cent household electrification prior to launch of Saubhagya (Andhra Pradesh, Gujarat, Goa, Haryana, Himachal Pradesh, Kerala, Punjab and Tamil Nadu), are ineligible for participation under the award scheme. All the remaining States and their Discoms are eligible for the award.
 
57. Bank of India shuts down operations in Jersey
State-run Bank of India has closed down its operations at Jersey in the Channel Islands with effect from October 18. Earlier, the bank had also closed down its operations in Yangoon, Bostwana and Dubai. As per the BoI website, it has overseas operations in Japan, Singapore, the UK, Vietnam, France, Kenya, the US, Uganda, Hong Kong, New Zealand, Tanzania and South Africa. The closure of overseas branches is part of the public sector banks' efforts to wind up the unviable operations as per the instructions of the Finance Ministry.
58. India's first Cryptocurrency ATM opens in Bengaluru
Despite the government and Reserve Bank of India's (RBI) crackdown on cryptocurrency in India, virtual currency exchange Unocoin has installed a currency deposit and dispensing ATM at Kemp Fort Mall in Bengaluru. The kiosk, installed by Unocoin, allows its customers to deposit and withdraw minimum amount of Rs 1000 from the platform. First of its kind in India, this ATM circumvents the RBI regulation against bitcoins transaction.