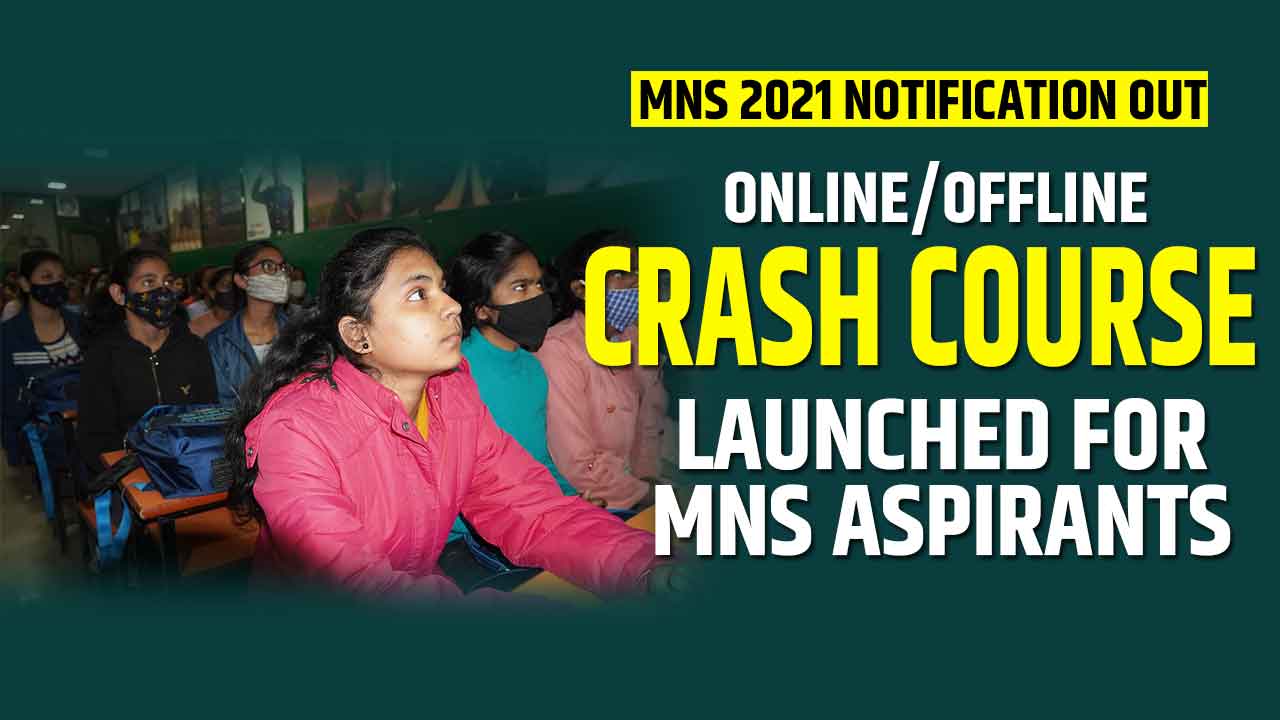 MNS nursing entrance exam conducted every year and over 10000+ students appears every year. As the Indian Army notified the registration dates for the candidates. To crack the MNS exam you need a complete strategy and focus. Centurion Defence Academy dawning the MNS crash course for the students who wish to accomplish their dream to move in the Indian Army.
The Crash Course for MNS 2021 won't just give you openness to the assessment design however will likewise control you in explicit areas that you need to cover in a restricted timeframe. The crash course material has been cautiously and thoughtfully planned by our specialists with the goal that hopefuls can take advantage of the restricted preparation time and be prepared to face MNS Exam 2021. A deliberately planned Crash Course for MNS 2021 will help cover the total schedule rapidly and score well in the last test of the year. Students who have procured the ability to solve the problems will have a more prominent potential for success to crack the examination.
Downoad CDA Students APP
MNS 2021 Exam Important Note
- MNS crash course available online and offline
- Duration of the crash course is 6o days
- The Crash Course will cover subjects like Physics, Chemistry, and Biology, along with English, Reasoning, and General Knowledge.
- Duration of class for a particular subject is 60 Minutes.
Syllabus to be covered in the Crash course is being given in the PDF of lesson plan in detailed.
Points to Remember
- Centurion Defense Academy has a pre-arranged examination model planned by our exceptionally experienced exam specialists and you simply need to focus and execute the plan.
- The legitimate updates and practices that you'll be given will make a strong establishment for impending exam and will upgrade your certainty.
- You can concentrate any topic as you want and instead of memorizing you can picture the idea that will empower you to recall it deep rooted.
- There are various sample papers covering every single topic from the MNS Syllabus. Any theme could be taken up and polished however many times as you wish in this manner permitting you to focus in additional on your more vulnerable areas.
- Regular tests will fortify your test perseverance and time the executive's abilities and will put you in good shape to progress.
- Centurion Defense Academy will offer you a chance to learn extraordinary easy route procedures for improving your speed, precision, and time the executive's abilities.
- Special meetings will be directed on tips and deceives to endeavor the MNS Nursing Exam 2021.
- Bookmark significant question in practice question bank, important questions in tests for flawlessness and saving time.
- You don't have to design your examinations as everything is dealt with. You should simply to focus on your examinations and use every single second.
Looking for the right course for the final revision of MNS EXAM 2021? Join Centurion Defence Academy and score better in MNS Nursing 2021 Exam. You can learn the concepts from qualified faculties or experts by attending MNS online or offline classes at the convenience of your home and can perform better in the final exam.
Searching for the correct course for the last update of MNS EXAM 2021? Join Centurion Defence Academy and score better in MNS Nursing 2021 Exam. You can take in the ideas from qualified faculities or specialists by attending online or offline classes at the accommodation of your home and can perform better in final exam.
Benefits of MNS Crash Course
- Interactive classes by qualified faculty
- Doubt explanation with master personnel during lectures.
- Learn to endeavor question with speed.
- Notifications keeping students updated.
- Regular test of all subjects with routine practice
Mock test helps in speeding and managing the question in the limited time.
Centurion Defence Academy offers a complete power-packed MNS Crash Course. Specially-designed crash courses will be conducted for students of MNS, who required to study in few days before exam. This MNS intensive lesson would assist with finding the remainder of the schedule.
Check 60 Days Master Plan