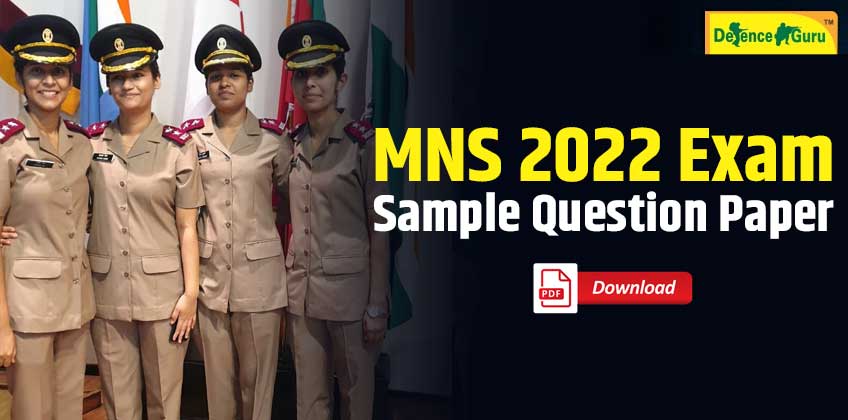 MNS 2022 Exam Sample Paper
The Military Nursing Services (MNS) exam is administered by the Directorate General of Medical Services- DGMS (Indian Army). The MNS exam is held on a national level to select eligible female applicants for admission to the 4-year B.Sc (Nursing) course at Armed Forces Medical Services Colleges. The Military Nursing Services - MNS is a popular choice among young female candidates interested in joining the Indian Army. Female candidates who have passed their 10+2 exams with Physics, Chemistry, and Biology (Zoology and Botany) can apply for the Military Nursing Services (MNS) exam. To help female aspirants crack the MNS exam successfully, we are here providing MNS sample question paper for 2022 exam. Read on to know more about the MNS sample paper 2022 and other relevant details.
MNS is an online computer-based exam with objective-type questions.

The MNS exam covers three primary subjects: general English, general science, and general intelligence.

There are 150 questions in the MNS online exam, for a total of 150 marks.

The MNS exam does not have any negative marking.
MNS Syllabus 2022
The main subjects included in the Military Nursing Services (MNS) exam are General English, General Intelligence, and General Science (Physics, Chemistry, Biology). The MNS aspirants should have good command over all these subjects to secure their seats in the prestigious nursing colleges of Armed Forces Medical Services. The detailed syllabus of these subjects is mentioned below.
Subjects

Topics Covered

Physics

Laws of Motion & Work

Energy, and Power

Properties of Matter

Current Electricity

Magnetic Effects of Electric Current

Electromagnetic Induction and Alternating Current

Dual Nature of Radiation and Atomic Physics

Nuclear Physics

Semiconductor Devices and their Applications

Chemistry

Coordination

Chemical Equilibrium

Atomic Structure

Chemistry and Solid-State Chemistry

Thermodynamics

P, D, and F Block Elements

Chemical Kinetics

Isomerism in Organic Compounds

Alcohols and Ethers

Carbonyl Compounds

Organic Nitrogen Compounds, and Biomolecules

Carboxylic Acids and their Derivatives

Biology

Cell and Molecular Biology

Genetics and Evolution

Human Health and Diseases

Plant Physiology

Human Physiology

Biotechnology and its Applications

Biodiversity, Ecology, and Environment

General English

Synonyms & Antonyms

Spotting the Error

Fill in the Blanks

Detecting Misspelled Words

Idioms and Phrases

One Word Substitutions

Shuffling of Sentences Parts

Shuffling of Sentences in a Passage

Cloze Passage & Comprehension Passage

General Intelligence

Number Series

Space Visualization

Decision-making & Problem Solving

Similarities and Differences

Figure Classification

Visual Memory

Relationship Concepts

Non-verbal Series

Arithmetical Computation

Analytical Functions
MNS Exam Pattern 2022
The aspirants who are preparing for the upcoming MNS exam can make full utilization of the MNS exam pattern to prepare strategically for the exam. The MNS exam is an online test comprising 3 sections where each section consists of 50 questions and the candidates are awarded 1 positive mark for every right answer. The detailed exam pattern of the MNS exam is given below.
Particulars

Details

Subjects Covered

General English

General Intelligence

General Science

No. of Questions

150

Questions Per Subject

50

Maximum Marks

150

Time Duration

90 Minutes

Positive Marking

01 mark for every right answer

Negative Marking

Nil

Mode of Exam

Online Mode
MNS Marking Scheme 2022
MNS is a computer-based online exam that lasts for 90 minutes.

Candidates are awarded 1 positive mark for every right answer.

As per the official notification, there is no negative marking in the MNS exam.

There are 3 sections and each comprises 50 questions containing 50 marks.
We hope that the above article on MNS Sample Question Paper for 2022 Exam will help you to understand the exam pattern and the difficulty level of the questions to score well in the exam. If you are preparing for the MNS, NDA, AFCAT, CDS, and SSB Interview, contact us on 9795977776 for the best preparation for the defence exams. Click here for ONLINE REGISTRATION FOR ADMISSION to the new batches of MNS, NDA, AFCAT, CDS, and SSB with India's Best Defence Coaching.