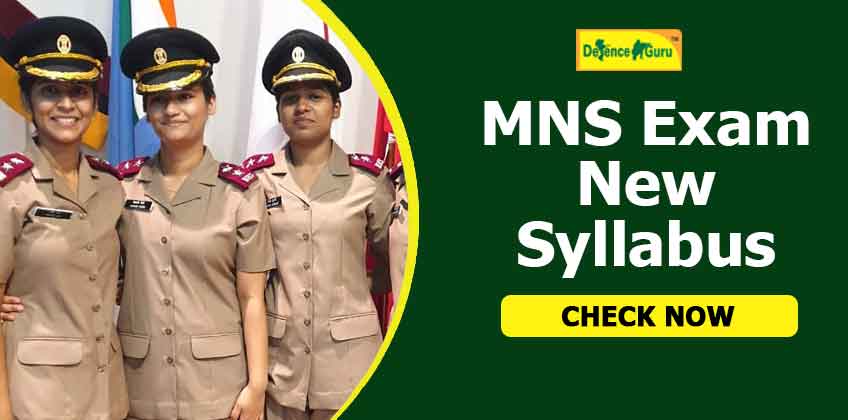 Military Nursing Service Exam Syllabus
The Directorate General of Medical Services (DGMS) conducts a national entrance exam for the Military Nursing Services (MSN). When it pertains to the most intensive career options for young female aspirants, the MNS exam is always the first pick. Every year, it is conducted to select eligible female applicants for admission to the 4-year B.Sc (Nursing) course at the Armed Forces Medical Services Colleges of Nursing. The qualification requirements for the MNS exam 2022 have been revised throughout the six affiliated colleges. Instead of a single MNS written test, candidates will now have to pass the National Eligibility cum Entrance Test (NEET) under the new syllabus. Let's take a closer look at the new MNS exam syllabus.
Important Updates Regarding MNS New Syllabus
Prior to the implementation of the updated MNS exam syllabus, candidates had to take a written exam that included questions on English, General Knowledge (GK), and General Science, followed by a panel interview and a medical test.

Candidates will now have to appear for five qualifying rounds under the new syllabus, with NEET being required to proceed to the next step. The National Testing Agency (NTA), an Indian government agency entrusted with conducting entrance tests for educational institutions, conducts the NEET, which is an all-India pre-medical entrance test.

Following NEET, an 80-mark Test of General Intelligence and General English (ToGIGE) will be conducted. An objective-type psychological assessment test (PAT), an interview, and a medical exam make up the last three stages.
MNS Syllabus 2022
The Military Nursing Services (MNS) exam covers various subjects such as General Science (Physics, Chemistry, Biology), General English, and General Intelligence. The detailed syllabus of these subjects is mentioned below.
MNS Physics Syllabus -
Laws of Motion & Work
Energy, and Power
Properties of Matter
Current Electricity
Magnetic Effects of Electric Current
Electromagnetic Induction and Alternating Current
Dual Nature of Radiation and Atomic Physics
Nuclear Physics
Semiconductor Devices and their Applications
MNS Chemistry Syllabus -
Coordination
Chemical Equilibrium
Atomic Structure
Chemistry and Solid-State Chemistry
Thermodynamics
P, D, and F Block Elements
Chemical Kinetics
Isomerism in Organic Compounds
Alcohols and Ethers
Carbonyl Compounds
Organic Nitrogen Compounds, and Biomolecules
Carboxylic Acids and their Derivatives
MNS Biology Syllabus -
Cell and Molecular Biology
Genetics and Evolution
Human Health and Diseases
Plant Physiology
Human Physiology
Biotechnology and its Applications
Biodiversity, Ecology, and Environment
MNS General English Syllabus -
Synonyms & Antonyms
Spotting the Error
Fill in the Blanks
Detecting Misspelled Words
Idioms and Phrases
One Word Substitutions
Shuffling of Sentences Parts
Shuffling of Sentences in a Passage
Cloze Passage & Comprehension Passage
MNS General Intelligence Syllabus -
Number Series
Space Visualization
Decision-making & Problem Solving
Similarities and Differences
Figure Classification
Visual Memory
Relationship Concepts
Non-verbal Series
Arithmetical Computation
Analytical Functions