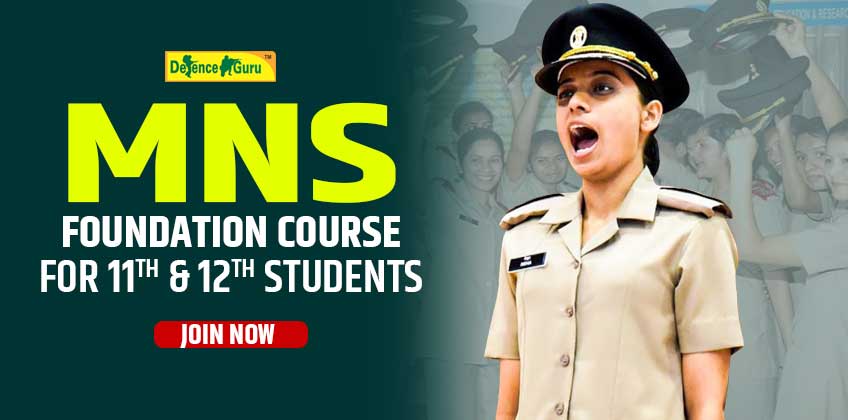 The Centurion Defence Academy – India's most trusted MNS Preparation Coaching Institute launches a foundation course for Military Nursing Services.
Team Centurion Says: Your dream to join the armed forces is our responsibility therefore we have compiled a foundation course to make you study the entire exam syllabus with multiple revisions ensuring that you crack the MNS exam in your first attempt.
The Indian Military Nursing Services is a part of Armed Forces Medical Services (AFMS) of the Indian Army, first formed under British rule in 1888. An officer in the Military Nursing Services is granted Permanent Commission or Short Service Commission by a Govt Gazette Notification.
Centurion's MNS Foundation Course: Key Highlights!
In this foundation course, Centurion Defence Academy will guide you with your 11th and 12th Board exam preparation as well as MNS exam preparation.
Centurion Defence Academy will ensure that you qualify for your MNS exam in your very first attempt (12th appearing attempt). 11th class preparation serves as your basic concepts and we make sure your core is strong by covering all the subjects, namely English, Biology, Chemistry, Physics, GK reason + MNS guidance subjects.
Personality Development and spoken English will be taken care of by our experts who will also guide you for the interview.
We provide complete study material online and offline.
Apart from this weekly test practices and smart classroom programs with vaccinated staff and a covid help desk to ensure your safety is what makes Centurion your best option to prepare for the MNS exam.
The course will be valid through 11TH Class, 12th Class-till next 4 years of MNS Exam. (To Note: The motive of MNS Foundation is to enable the candidate to qualify Exam in First attempt, still as a part of service rendered it is applicable till next 4 attempts of MNS Exam.) For E.g. Radhika is presently in 11th Class in the year 2021. She enrolled herself in MNS Foundation Course at Centurion Defence Academy. Her Prep procedure will be as given as 11TH Class Syllabus Completion: Feb 2022.12th Class Syllabus Completion: Aug 2022. Full Fledged MNS All India Batch: wef Sep 2022 till MNS Exam.
Among extra services, we provide schooling from CBSE Board School if required. The school fee shall be charged extra. Candidates from outside Lucknow can stay at Centurion's Safe Hostel with a proper 3-time Food and Mess facility.
We will ensure uninterrupted education amid the Covid-19 pandemic.
For Detailed Catalogue and MNS Foundation Cpursedetails, Just Go through the PDF given below.