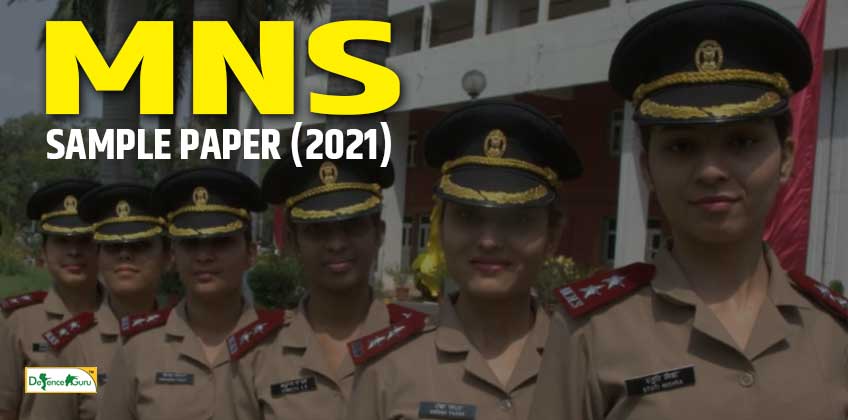 MNS 2021 Exam Sample Paper
Well the women preparing for their MNS Exam 2021 could be immensely benefitted with the below designed sample paper designed after rigorous tracking of all the required details of the MNS 2021 course while adhering in mind to the various refinements and scientific methodology required at different levels during the preparation of this exam.
The sample paper designed has been prepared under trusted and reliable sources. We at Centurion Defence Academy make the candidates aware of the exact module and pattern of the paper. The analysis has been formulated and devised from the best of the MNS Experts with a structured, scientific and standardized pattern that will enable the students to definitely help them in their preparation as well as to bust the myths, confusion and clear the facts in a better and more comprehensive way.
Important Pointers for MNS 2021 Exam
- All candidates need to appear for their written test (CBT- objective type).
- The test is of 90 minutes.
- The total no. of questions is 150, with each question carrying weight age of 1 mark.
- No negative marking is adhered.
- A total of 50 questions for each of the topics under General Science, General English as well as General Knowledge and Reasoning are covered.
The MNS 2021 sample Question paper provided below will let you to prepare better in a much comprehensive manner because solving sample papers is definitely of great use as it makes you familiar with the exam pattern and places you in a better position to equip and have a better hand at your preparations. To get detailed information regarding syllabus, tips and tricks, admit card dates, result, cut off trend analysis, information regarding Physical Fitness Test, Current Affairs, etc. can be availed from the official website. Go through articles related to defence examination at defenceguru.co.in.