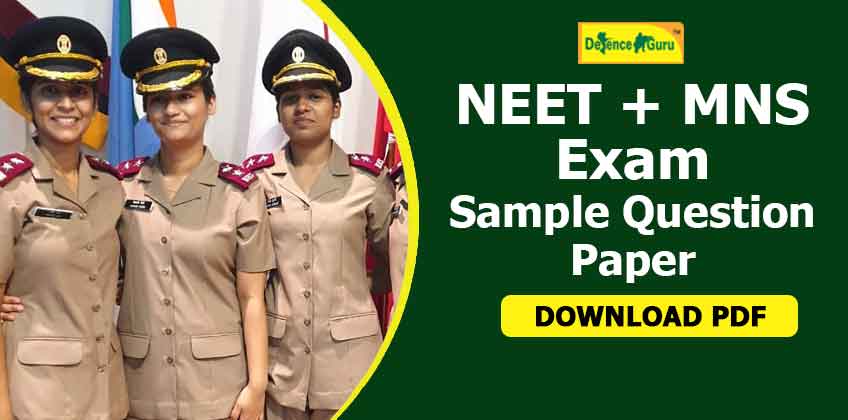 NEET + MNS Sample Question Paper with Answers
The most rigorous career prospect for young female applicants is the Military Nursing Services - MNS exam. Candidates who want to reconcile the military and healthcare lifestyles prefer to pursue the MNS exam. The Armed Forces Medical Colleges of Nursing select qualified female applicants for admission to the 4-year B.Sc. (Nursing) course through the MNS exam. Candidates must now pass the National Eligibility cum Entrance Test (NEET) in order to be qualified to take the MNS exam, which has revised the entry requirements. As a result, to help candidates prepare well for the exam, we have created a NEET + MNS 2022 Sample Question Paper that is also available for PDF download.
Importance of NEET + MNS Sample Paper 2022
After attempting the MNS sample paper 2022, candidates must be able to formulate a strategy based on their comprehension of fundamental concepts.
Assessment of Strong and Weak Areas
Attempting sample papers will ensure that you have considered the crucial topics that you find difficult and have allocated additional time for practicing accordingly when preparing for an exam as competitive as NEET.
Clarity of Fundamental Concepts
In order to have a firm understanding of the fundamentals, candidates who plan to take the NEET exam and enter the Military Nursing Services as officers must practise exams.
Candidates must be able to pinpoint the crucial areas where they need to improve after thoroughly practicing the MNS sample paper in order to make the necessary improvements.
All of this will help you create a thorough exam strategy and give you a realistic sense of the exam once you've completed taking the sample paper.
NEET 2022 Cut-off Scores and Strategy for MNS Aspirants
Candidates must organize their time and study resources carefully because the NEET exam is far more competitive than the MNS examination. The Biology component of the NEET exam is worth 360 marks, the Chemistry section is worth 180 marks, and the Physics section is worth 180 marks out of a total of 720 maximum scores. The aspirants seeking to join the Military Nursing Services must score 400-480 marks in the NEET to qualify for further stages of the MNS exam.
Check - Preparation Tips for NEET + MNS 2022 Exam - Cut-off Score & Strategy
We hope this article on 'NEET + MNS 2022 Sample Question Paper - Download PDF' will help you explore different avenues of the MNS exam. Explore our website to read more such articles on defence exam preparation.
Download NEET + MNS 2022 Sample Question Paper PDF