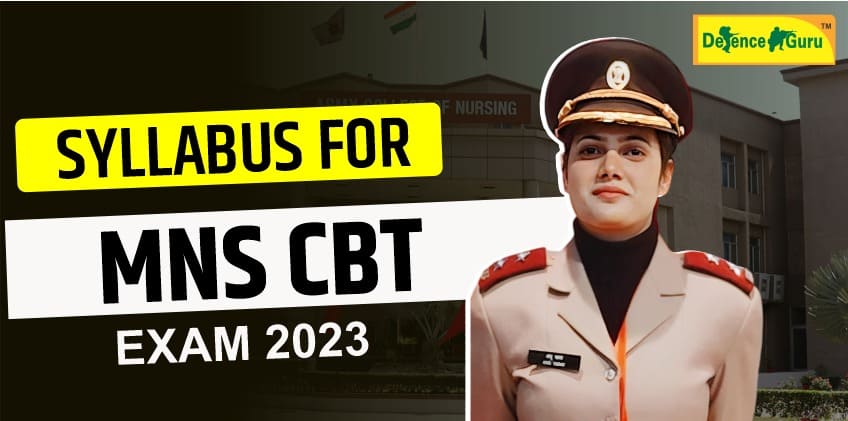 MNS or Military Nursing is a national-level defence exam for 12th pass/appearing female defence aspirants to become Nursing Officers in the Indian Armed Forces. This exam is conducted by Indian Army to select candidates for 4 years of B.Sc Nursing Course. This B.Sc Nursing Course is conducted at 5 defence medical institutions of India. In these medical defence institutions, they are trained not only to become a nursing officer but also for the hard life in the Armed Forces. Military Nursing Service Officers are required to assist medical staff in the treatment of officers and soldiers of the Indian Armed Forces. MNS Exam is the best opportunity for female defence aspirants as it offers to become part of the Indian Armed Forces as an officer. In this article, we are going to provide you the detailed information on syllabus MNS CBT Exam and other details, so that you can properly prepare for MNS CBT Exam 2023.
MNS Exam Eligibility, Pattern, and Syllabus
Eligibility for MNS Exam 2023
Eligibility

Details

Educational Qualification

10+2 or Equivalent Passed with Physics, Chemistry, Biology, and English with not less than 50% aggregate marks.

Or

Candidates appearing for the final year of the qualifying examination during the current academic session.

Age

Candidates should be between the age of 16.5 to 24.5 years.

Marital Status

unmarried/ divorced/ legally separated/widow without encumbrances.

Height

152 Cm
147 Cm for Candidates from Hill and North-East.
MNS CBT 2023 Exam Pattern
MNS CBT 2023 Exam Pattern

Particulars

Details

Number of Questions

Nature of Questions

Time Duration

Subjects

General English
General Intelligence
General Science

Negative Marking

Mode of Exam
MNS CBT 2023 Exam Syllabus
Subject

Syllabus

General English

Synonyms/ Homonyms
Antonyms
Spot the error
Fill in the blanks
Spellings
Idioms and phrases
One word substitutions
Detecting Mis-spelt words
Shuffling of Sentences in a passage
Improvement
Cloze passage
Comprehension passage

Physics

Laws of Motion & Work, Energy, and Power
Properties of Matter
Electrostatics
Current Electricity
Magnetic Effects of Electric Current
Electromagnetic Induction and Alternating Current
Optics
Dual Nature of Radiation and Atomic Physics
Nuclear Physics
Semiconductor Devices and their Applications

Chemistry

Atomic Structure
p,d, and f – Block Elements
Coordination Chemistry and Solid State Chemistry
Thermodynamics, Chemical Equilibrium, and Chemical Kinetics
Electrochemistry
Isomerism in Organic Compounds
Alcohols and Ethers
Carbonyl Compounds
Carboxylic Acids and their derivatives
Organic Nitrogen Compounds and Biomolecules

Biology

Taxonomy
Cell and Molecular Biology
Reproduction
Genetics and evolution
Human health and diseases
Biochemistry
Plant physiology
Human physiology
Biotechnology and its applications
Biodiversity, ecology, and environment

General Intelligence

Analysis
Number Series
Observation
Judgment
Space Visualization
Decision Making
Problem-Solving
Similarities and Differences
Figure Classification
Visual Memory
Relationship Concepts
Non-Verbal Series
Arithmetical Computation
Analytical Functions etc
We have provided a detailed and topic-wise MNS CBT 2023 exam syllabus. Candidates must understand that it is not enough to know the syllabus. Candidates need a clear-cut plan to qualify MNS CBT Exam 2023. This syllabus will help you to know what topics you have to cover for the MNS CBT Exam 2023. After covering all the topics, candidates need to revise them periodically and keep practicing general intelligence questions.
Read More:
All You Need to Know About MNS 2023 - CBT, PAT & PI