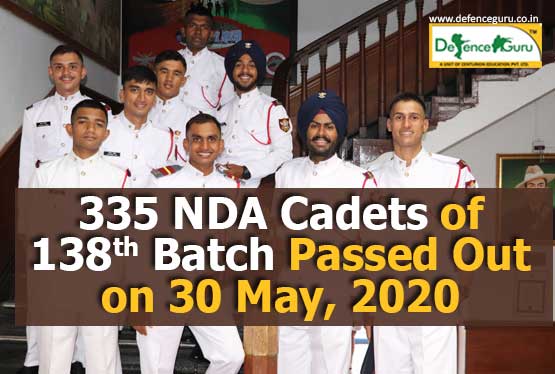 335 NDA Cadets of 138th Batch Passed out on 30 May, 2020
NDA Commandant Lieutenant General Asit Mistry presided over the function, which was attended only by cadets of the passing out course and some members of the NDA faculty. In view of the pandemic, the passing out ceremony had to be modified and conducted in a scaled down manner without the presence of high dignitaries and dear ones.
Over 300 cadets of the 138th course of the National Defence Academy (NDA) completed three years of rigorous training and passed out on Saturday to serve and lead the Nation from military front.
The ceremony was held in the historic Habibullah Hall, as against the tradition of holding the Passing Out Parade on the Khetarpal Ground of the tri-services academy, Khadakwasla, overlooking the Sinhagad valley. One important thing missing was the cheerful presence of proud family members of the cadets, and that of many serving and veteran military personalities, who could not attend the ceremony because of the nationwide lockdown. Traditionally every year, family members of the passing out cadets are invited and accommodated in the academy for about three days prior to the Passing Out Parade, during which they witness various facets of training that a cadet undergoes in the academy.
The ceremony was made memorable for the cadets, same time social distancing 'do gaz ki doori ' was also primarily focused upon.
A total of 335 cadets graduated from the Academy, which includes 226 Army cadets, 44 Naval cadets and 65 Air Force cadets. The passing out cadets included 20 cadets from friendly foreign countries — Bhutan, Tajikistan, Maldives, Vietnam, Tanzania, Mauritius, Afghanistan, Kyrgyzstan, Sri Lanka, Myanmar, Turkmenistan, Fiji, Uzbekistan, Sudan, Mongolia and Bangladesh.
All present for the ceremony, including the cadets, were wearing masks.
These military warriors were upholding rules and all precautions against Covid 19. But in spite that,they had the same spirit,high josh like any other passing out ceremony cadet.

"Service before self", is what they were ready for!