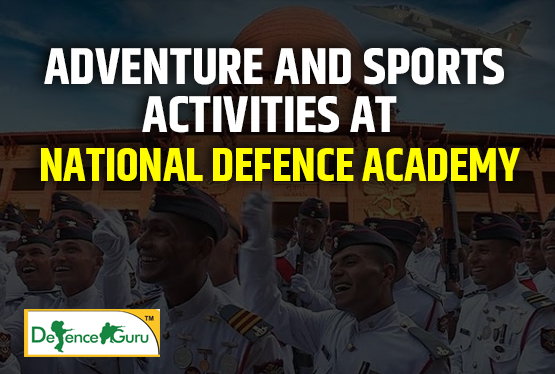 NDA is equipped with such an infrastructure which is suitable for variety of adventure and sports activities wherein, cadets join various clubs during three years of training tenure at NDA as part of their extracurricular activities. Cadets get ample opportunity to pursue the Adventure And Sports activities they like and refine their skills in that. NDA endeavors to provide best of training and imbibe in them the discipline, spirit of sportsmanship, leadership and self control. The change in cadets can be seen after completing 3 years of the rigorous training which transform them into a personality of gentlemen.
1-Sailing – The most sort after club and adventure activity liked by many cadets. This is followed by Kayaking, Canoeing and Rowing.
2-Horse Riding- The Equitation training.
3-Mountaineering- This also includes hiking and trekking.
4-Swimming/ diving from dive board and water sports like water polo.
5-Fencing Club – To learn Self defence.
6-Variety of sports- Hockey/Football/Volleyball/Golf/Cricket/Squash/ Tennis/ Basketball.
7-Cycling- Cycling Expedition.
8-Astronomy Club
9-Go- Karting
10-Aero modeling
11-Archery
12-Camp Opportunities( Camp Green horn for II Term cadets/ Camp Rover for IV Term/ Camp Torna for VI term cadets)
During the training, the Camps they undergo, through this they get a real life experience. For Instance – Battlefield training practice/ Survival techniques/ Map reading/ Compass reading. The cadets become mentally and physically strong.
1-Weapon Training Activities (Learning about weapons and weapon shooting).
2-Indoor hobby clubs like Journalism, Arts, Music and Drama, Computer Application, GIS and Electronics.
Tactical Training Camps
Marked over a period of 5 to 6 days of outdoor training camps wherein the cadets are put through tactical training and endurance under pressure. How to survive and live off the land by best living and cooking with most frugal resources is the basic aim to introduce and give knowledge to the cadets.
Jungle Lane Shooting
This exercise is basically to teach the cadets how to effectively engage with the targets emerging in jungle terrains while a counter terrorism scenario prevails. Various targets are placed to enable the cadets to instill their reflexes, in quick identification and recognition of targets especially in counter insurgency operations.
Weapon Training
The weapon training being provided to the cadets is of a very high standard and also includes the following-
1- Close Quarter Battle (CBQ) Range- Developed with an objective to train the cadets in reflex shooting and engaging targets at close ranges consisting of a totality of 15 rooms divided into two firing alleys of seven rooms each and with one common room. Two cadets can fire simultaneously in each alley. A total of 30 targets with a mix of static pop up, traverse and hostage targets are used for firing practice. High-resolution CCTV cameras are placed in each room to facilitate control at all times. Video playback option and live streaming options are also available in order to observe the faults and institute corrective measures accordingly.
2-Location of Miss and Hit Target System (LOMAH)- LOMAH is basically an acoustical projectile detection system installed with an aim to basically impart quality weapon training to cadets by facilitating application and classification fire. It is all-weather equipment, which enables the live firing and unlike simulators, providing instant results/review of shots to the firer and saves time by obviating physical checking and repairing. The scores obtained by cadets can be retrieved and printed at a later stage.
3-Team Battle Shooting Range (TBSR)- TBSR has been introduced for IIIrd term Gentlemen Cadets with an objective of training them on practical aspects of employment of platoon and section weapons in a defensive battle as well as to exercise them on fire control orders.
A Considerable and balanced emphasis is laid on outdoor, indoor and other character-building extracurricular activities. The extensive facilities and infrastructure available for games and sports include a two sized Olympic-size swimming pools, a stadium, a well-equipped gymnasium, several squash and tennis courts, a huge golf course and large number of play fields for hockey, football, cricket, basket-ball, polo and other games. The Khadakwasla Lake adjoining the NDA provides excellent facilities for water 6 Super Dimona : The Training Aircraft of Air Force Cadets, Naval Cadets Undergoing training on a ship, A class in progress Vyas Library : Reference Section of sports throughout the year. The Academy has large number of horses; a wide inventory of water sports equipment including boats, and powered gliders for training the cadets. It also has an indoor shooting range.
The NDA trains you to lead the life from front. It enables you to be trained in all aspects of combat training and other tactics using all the modern age technologies. Apart from that it has excellent facilities for one's all round development with going for various sports and adventure activities thus when you go out into the world you turn up into a person of valour and wisdom.
By,
Maj Nasreen Fatima
(Sqn Ldr Retd.) Ex. NDA Instructor, IO
Academic Head CEPL
(©) Defence Guru