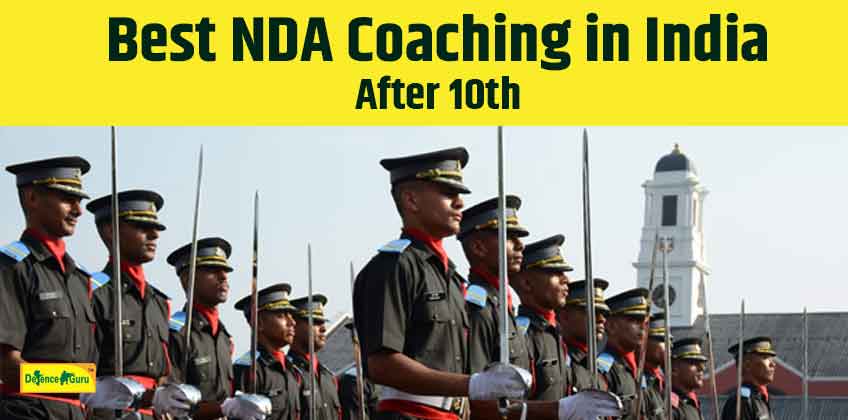 NDA Coaching in India after 10th
Once students have completed their educational journey up to class 10th, they will have to select between finishing senior secondary schooling or enrolling in skill development courses or training programs that will help them find work in their subject of interest. In general, 10th pass courses are available in a variety of fields, and candidates can enroll in any of them to create a strong foundation in their chosen field. If you want to pursue a career in the armed forces, the NDA is one of the most popular options for new defence aspirants. Many students aspire to join the Indian Armed Forces, making the defence sector one of the most popular employment alternatives in our country. In this article, we shall cover the best NDA coaching in India after the 10th for young defence aspirants.
Centurion Defence Academy - Best NDA Coaching in India
Centurion Defence Academy, based in Lucknow, is the best NDA coaching in India after the 10th. It is one of the most prestigious coaching institutes for the NDA foundation courses, with experienced faculty members and ex-military men as tutors. For students who have completed the 10th standard and aspire to join the Indian Armed Forces, Centurion Defence Academy offers a two-year NDA Foundation Course. Centurion Defence Academy's NDA Foundation curriculum is geared toward students in grades 11 and 12. The Academy covers the scholastic syllabus while also coaching students through the entire NDA course work in its one-of-a-kind curriculum, which gives the top NDA scores.
Why choose Centurion Defence Academy?
With India's elite SSB Panel, which includes notable defence personalities, ex-SSB Board members, and Indian Armed Forces veterans, Centurion Defence Academy offers both online and offline NDA exam training.

It has two locations in Lucknow, including India's largest GTO training center, which prepares NDA candidates for group hurdles and other SSB Interview activities.

The Academy provides educational facilities, professional SSB interview counselling, hostel and mess facilities, sports facilities, physical fitness training, and extra-curricular activities to NDA applicants.

The Academy also offers a 21-day and 45-day SSB Interview training and guidance program that covers Personality Development, Physical Robustness & Mental Alertness, GTO, OIR, and Group Discussion for good performance in the SSB Interview.
Furthermore, we strive hard to provide a supportive environment for students preparing for the NDA Foundation Course. By commencing their test preparation as soon as possible, aspirants can improve their abilities and knowledge and increase their chances of passing the NDA exam in the very first attempt. The NDA Foundation curriculum of Centurion Defence Academy covers the entire NDA syllabus with the purpose of supporting each student in passing the NDA written examination with flying colors.
Key Features of NDA Foundation Course by Centurion Defence Academy
When it comes to joining the Indian Armed Forces at a young age, enrolling in the top NDA coaching after tenth class is the best option. The NDA exam, as we all know, is a highly competitive exam that requires a great deal of hard effort to pass. As a result, students require exceptional help in order to prepare for the NDA after 10th grade. Students who intend to take the NDA written exam after completing 10th grade can enroll in Centurion Defence Academy and begin preparing for the upcoming NDA exam through the NDA Foundation Program while still in school. The following are the highlights of Centurion Defence Academy's NDA Foundation Course.
To ensure your success in defence examinations, we've developed a coaching program that builds both your knowledge and problem-solving skills in a technically and practically rigorous and professional manner. The academic environment at Centurion Defence Academy is very encouraging, which will help you succeed in your studies.

Centurion Defence Academy has started its Foundation Program, which aims to help young people realize their dreams. In this course, we give academic support as well as nourish the roots of the student's cognition so that he or she can study for the NDA exam while still attending school.

The NDA Foundation curriculum is superior to traditional schooling in that it helps you to achieve your goal while retaining your academic performance. Centurion Defence Academy strives to equip students with a bright future by offering excellent classroom sessions and a foundation course that teaches you how to understand the fundamentals and solve problems using effective approaches and ideas.

The NDA Foundation program is well-run and strikes a good balance between the two forms of training available to students. To prepare students to pass the NDA written exam and SSB interview in the very first attempt, Centurion Defence Academy uses a results-oriented training program.
We hope that the above article on the Best NDA Coaching in India after 10th will help you to understand the different aspects of the best foundation coaching for NDA to score adequate marks in the NDA written exam. Click here to Register for NDA Foundation Course at Centurion Defence Academy If you are preparing for NDA, MNS, Territorial Army, AFCAT, CDS, and SSB Interview, contact us on 9795977776 for the best preparation and proper career guidance.
Read More About :