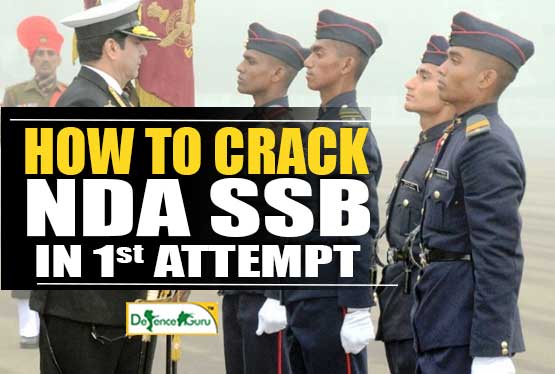 CRACK NDA SSB INTERVIEW
Located in Khadakwasla, Pune the National Defence Academy is a pride jewel of India. Not just in India but all over the world NDA has its own honor.
NDA is renowned everywhere to be the first Defence Academy to provide tri- service, that is, training to all three wings of Indian Armed Forces: Indian Army, Indian Air Force and Indian Navy. To get into this prestigious institution an aspirant has to clear written exam, SSB interview and a short medical test.
Today, I endeavor to highlight some significant notions on how to crack NDA SSB interview. If you are a Defence aspirant then the name of SSB must be on the top list of your preparation list.
Well SSB has been often pictured as something scary and too difficult but the reality is quite different. SSB is a lifetime experience with multitude of tests designed to understand the candidate inside - out.
Here is a brief description of them:
The first day begins with certain Verbal, Non- Verbal Questions as well as Picture Perception and Description Test (PPDT). The motive behind these tests is to understand the thinking, ideology, observation power, description skills, state of mind (positive or negative), spontaneity and intelligence.
Next day has the most interesting series of tests. Called as Psychological Test, day 2 involves TAT, WAT, SRT and SD. As obvious from the name, Psychological test assesses your intelligence, spontaneity, reasoning, sense of responsibility, logic and intelligence.
Following up Psychological tasks comes the Group Tasks. Again the name itself spills the meaning. Herein the candidate's team spirit and co- ordination is under view. Group tasks involve Group Discussion (G.D) and few outdoor tasks. Your co- ordination, communication, behavior, intelligence, physical ability and team spirit are the primary judging parameters here.
Last to mention is the Personal Interview. Herein a candidate is in direct conversation with the Interview Officer. The Officer of course aims to analyze your overall personality. Through a series of rapid fire questions he probes deep into your present, past and future details.
Keeping the above tests in mind, here are few golden hacks to successfully crack NDA SSB interview:
1- Practice writing especially short- stories, picture based stories. Keep a Defence background in mind while drafting your stories.
2- Work upon your communication skills.
3- Be audible, be clear.
4- Be logical when you answer, either through speech or writing.
5- Do not pretend to be super- heroic. Be realistic and answer accordingly.
6- When it comes to Psychological tasks, be the true you.
7- Be honest and spontaneous.
8- Polish your observation skills.
9- Increase your knowledge graph. Daily read newspaper or listen to news or download an e- news app.
10- Indulge in some kind of physical activity daily to prepare yourself for the outdoor tasks. Exercise, walk or run but be physically active.
In Group tasks, co- operate with the team members. Give them fair chance to perform.
11- Try to take initiative wherever possible, primarily in outdoor tasks and G.D.
12- Do not be aggressive to your group mates.
13- Follow the instructions very carefully and take care of not breaking any rule when it comes to outdoor tasks.
14- In G.D avoid fish market- like situation to develop and if it does try to resolve it.
15- Do not get over friendly with the Interview Officer.
16- Dress properly, look decent.
Be confident and shed off all nervousness. You are there to proof how worthy you are to get into Indian Armed Forces. Hence keep a smile and proceed with a positive frame of mind.