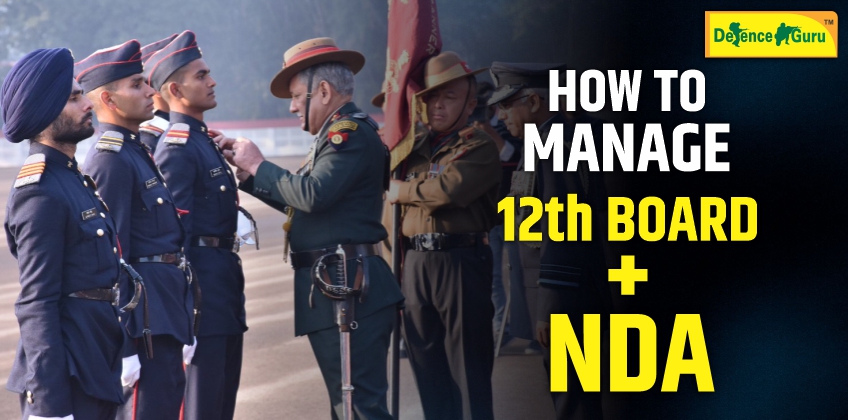 How to Manage 12th Board Exam with NDA Preparation
The NDA exam is undertaken by the majority of students who want to serve their country by joining the armed forces. The NDA written exam is open to both male and female students who are pursuing or have passed the 12th class exam. The Union Public Service Commission holds a national entrance exam to select eligible male and female candidates for admission to the National Defence Academy in Khadakwasla, Pune. The NDA written exam is held twice a year and is divided into several parts, including a written exam, an SSB interview, and a medical examination. In this article, we will discuss key strategies for managing the 12th board exam as well as NDA preparation.
NDA Eligibility Criteria
Specifications

Details

Nationality

Indian

Educational Qualification

For the Army Wing - Should have passed the 10+2 examination in any stream from a recognized board /12th appearing can also apply.
For Air Force & Navy - Should have passed the 10+2 examination with Physics and Mathematics /12th appearing can also apply..

Age Limit

16.5-19.5 years or

As may be notified in the official notification.

Eligible Category

Both Male and Female

Marital Status

Unmarried

Physical Fitness

Should be physically and mentally fit.
The NDA written exam has two sections: mathematics and the GAT (General Ability Test). The NDA written exam is conducted in a paper-and-pencil format and contains solely objective-type questions with responses recorded on an OMR sheet. After passing the 10+2 examination, female aspirants who want to serve their country by entering the defence services can also take the NDA entrance exam. Both male and female candidates must have Physics and Mathematics at the 10+2 level in order to be admitted to the NDA's Air Force and Navy wings. Candidates from any stream at the 10+2 level are eligible to apply for the written exam for admission to the Army wing of the NDA.
Strategy for 12th Board Exam with NDA Preparation
Candidates who have a thorough understanding of their school curriculum at the 10+2 level will find it easier to prepare for both the NDA exam and the 12th board exam at the same time. This is because the majority of the subjects included in the NDA exam are similar to those covered in the class 12th exam for candidates who have taken Physics, Chemistry, and Mathematics. The written portion of the NDA exam is divided into two sections: mathematics and the General Ability Test (GAT), which contains a significant portion of English. Candidates from other streams who are only qualified for the Army wing may have an advantage in General Studies, but they will need to improve their mathematical knowledge in order to pass the NDA written exam. As a result, applicants who take a holistic approach to learning will be able to ace both exams.
Aspirants should concentrate on English and General Knowledge, as these are the areas in which they must score well in order to pass the NDA exam. Candidates benefit from general knowledge and English in both the GAT and the SSB interview. Aspirants should study newspapers, current affairs, magazines, and other sources to gain a strong command of these sections.
A smart study plan is required for strategic preparation in order to focus on each significant topic covered in the syllabus. Candidates must be able to effectively manage their time in order to study for the exam in a systematic manner.
To organize your preparation, you'll need to do a thorough analysis of the entire syllabus and exam pattern. Aspirants should begin their preparation with the fundamentals, such as NCERTs, while also evaluating the crucial topics that demand more attention.
Candidates should be very picky when it comes to selecting study resources that can provide them with a thorough covering of the syllabus as well as correct and up-to-date content. Aspirants can obtain an idea of the precise exam structure and difficulty level of the questions asked in the NDA written examination by attempting previous years' questions.
Candidates should prepare short notes in a summarized form after gaining a thorough understanding of the relevant topics and revise them on a regular basis. Candidates should also take mock tests and practice questions to assess their level of preparation and make necessary improvements.
Qualified candidates are invited to an interview with members of the Services Selection Board (SSB) after passing the NDA written exam. The SSB Interview consists of a series of personality assessments, psychological tests, and an evaluation of a candidate's eligibility for induction into the armed services.
The most essential aspects that aid the Services Selection Board in selecting the best applicants are officer-like qualities ("OLQs"). Candidates should also improve their observation skills and problem-solving strategies so that they can handle a variety of scenarios with ease.
The SSB is in charge of evaluating and recommending qualified applicants for further training and commissioning at the National Defence Academy. To deal with pertinent questions during the SSB Interview, aspirants should have excellent communication skills as well as a broad understanding of current events.
Joining a Coaching Institute for 12th Board Exam with NDA Preparation
The NDA exam has gone mainstream among young people who want to join the Indian Armed Forces. This national-level admission exam is open to female candidates as well, resulting in fierce competition. As a result, considering the high level of competition among lakhs of aspirants, enrolling in an NDA exam coaching class can help you boost your chances of being selected. Under the supervision and mentorship of experienced professionals, the NDA coaching institutes give extensive learning opportunities for candidates. In a constantly competitive environment, enrolling in a coaching institute will help you accelerate your NDA preparation while also preparing for the 12th board exam. The NDA exam is exceedingly competitive, so proper guidance and a competent approach are essential. Coaching institutes help you maintain a high level of consistency in your exam preparation, which results in a high score.
We hope this article will help you explore different avenues of the NDA exam while preparing for the class 12th board exam. Explore our website to read more such articles on defence exam preparation. You can get in touch with our mentors for preparation of several defence exams like Air Force X and Y Group, AFCAT, NDA, SSB, CDS, MNS, or any other defence exam including Army TGC, Navy AA & SSR.
Click Here To Register For Our Online/Offline Batches Now
Feel free to get in touch with us through centurioneducare@gmail.com or you can also contact us on +91 9795977776 | +91 9795977779