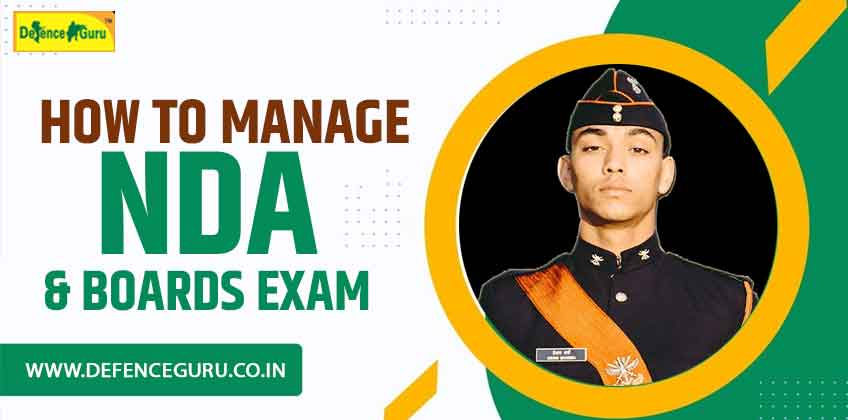 Students usually start preparing for any government competitive exam after completing their 12th. But numerous of students understand their goal very soon, they have a keen eye towards their target from school days.
There are various exams for students, in which they can take part while appearing in 12th class and NDA is one of them.
NDA (National Defence Academy) Examination is a National level defence Exam conducted by UPSC (Union Public Service Commission) twice every year, for students who want to serve the nation through Indian Armed Forces ( Indian Army, Air Force and Navy).
The most likely thing about NDA Exam is, students can take part in the examination while appearing in Board Exams. And numerous of students do so.
But isn't it obvious to ask, that how a student manage to prepare for both – Board and NDA Examination? Thus boards are the most important and crucial part of a student's life, they can't be ignored. Still many of students manage to prepare for both exams simultaneously, and even got selected in NDA.
That means it is possible to crack NDA Exam while preparing for Boards. So are there any tips and strategies to follow? Yes! Here we're going to discuss very crucial and necessary tips and strategies to manage NDA and Board Exams together.
Tips to Follow
Before talking about strategies that one can make to study, we have some tips for students to consider -
CHECK YOUR ELIGIBILITY :
It sounds obvious but pretty important. Various students didn't check the eligibility criteria properly to appear in NDA Exam and get stuck at final stage.
Here are some basic eligibility details to apply for NDA Examination -
Contents

Eligibility

Gender

Both Male and Female

Marital Requirement

Unmarried

Age limit

Upper Age – 19 Years

Lower Age – 16 Years

Educational Qualifications

For Army Wing – Pass certificate in 10+2 exam
For Air Force and Naval Wings – Passing certificate of Class 12th with Physics and Mathematics or appearing in the same

Physical Requirements

Body Mass Index should be below 25.
The Waist to Hip ratio should be below 0.9 for males and 0.8 for females.
Waist Circumference should be less than 90 cm for males and 80 cm for females.
All biochemical metabolic parameters should be within normal limits.
You can check brief Eligibility guidelines of NDA Examination from its official 2023 Notification.
KNOW COMPLETE SYLLABUS :
You've to gain knowledge of your weapons before going to the arena. If you're studying for board exams, that means you're already preparing for English, Physics and Mathematics. But NDA contains other subjects too.
Let's take a look on the subjects and their syllabus in NDA Examination -
| | |
| --- | --- |
| Subject | Topics |
| Mathematics | Matrices and Determinants, Sets, Venn Diagram, Trigonometry, 2D and 3D Geometry, Differential calculus, etc. |
| English | Reading Comprehension, Synonyms-Antonyms, Spotting errors, Vocabulary, Idioms and Phrases, etc. |
| General Knowledge | History, Geography, Polity, Economy, Current Affairs, Art and Culture, Physics, Chemistry, Basic Science, etc. |
You can further check a detailed syllabus of NDA Examination 2023 form here.
UNDERSTAND BOTH REQUIREMENTS :
Most of the students preparing for NDA with Boards, lost their efforts towards Boards in the way of NDA Exam. You don't need to give equal time to both things, your boards are more important. Make a proper study schedule and give at-most 2 to 3 Hours to NDA Preparation.
​​​​​​​MAKE CHANGES IN DIET :
Healthy diet is an important factor for Healthy mind. Following a proper health diet not just help you to manage both things simultaneously, it further helps you for NDA physical test.
It feels bit early but it's important. You don't get enough time to transform your physique for SSB round after cracking Written exam. So be early and be healthy!
Strategies for Management
It's time to make best strategies, a better plan to manage both exams at the same time. You can't prepare for them both just by normal study schedule, you've to plan some strategies. So let's discuss some golden Strategies you should know :
FOCUS ON NCERT :
Don't go to the heavy mess. Prefer NCERT as your first priority for both Boards and NDA Exam. NCERT books are the concept clearing material and you should make clear your basic concepts first.
START READING NEWSPAPER :
You have to play clever, so choose unique strategies to learn. Start reading newspaper on daily basis and it'll so good if you prefer an English Newspaper ex. The Hindu, The Times of India.
It helps you to enhance your English practice as well as preparing for Current Affairs.
MAKE SEPARATE NOTES :
It is always the best strategy to make your own notes for board exams. But you've to apply it on NDA Preparation too. Make a separate Notebook for it and start making notes in them, especially for Current Affairs.
MAKE A STUDY PLAN :
There is nothing without discipline, so you've to make a strict study plan to follow. Add your daily routine on it, allot time for everything, schedule subjects as per hours and even add your refreshment timing.
It'll make you aware, consistent and well focused towards your target. Following a good study plan further helps you to manage two or more things more leniently.
START PHYSICAL ACTIVITIES :
Don't wait for the last month or the time of qualification. You need to work on your physique from day 1. It doesn't mean that you start giving 2 to 3 Hours everyday to workout and exercising.
It's about to prepare your body. Give at-most 1 hour everyday to basic physical activities, like jogging, cycling, stretching, sit-ups, etc.
AVOID EXTRA COACHING :
Don't be over-pressurised. The days of Board Preparation are not so easy and comfortable, there is already a very busy schedule for you. So don't take any extra coaching for NDA Exam.
It'll messed both the things, don't try to be over-smart. You can do this by your own, self study is well enough to win the race.
SOLVE LAST YEAR QUESTIONS :
It feel obvious but it's the most important step to do. Managing both at same time is a big deal, but it can be easy by smart study. So focus on less but best.
Solve at least last 5 years Questions and it's not just to check yourself. It is needed to analyse the pattern and important topics of paper that examiner covers. Make notes of those filtered topics and give extra efforts to those.
PLAN THE LAST MONTH :
Last but not least, make plans for the last month before exam. After finishing your boards, you've very less amount of time for NDA Exam. So be pre-planned for that golden period.
Mark important topics, pages for a quick revision on that time, collect paper cut-outs of important incidents that occur last year for current affairs, make a list of important words for English vocab to be revised on that time.
Overall, everything is about planning or dedication. If you're studying with focus and consistency with a well scheduled study plan, you'll rock on Boards and crack NDA as well. You don't need to give heavy efforts, you just need to give smart efforts. ​​​​​​​