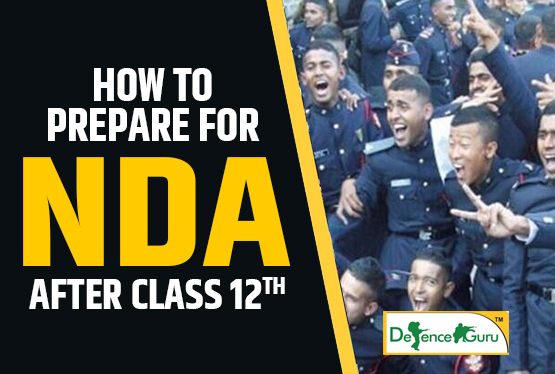 The UPSC is the prime body conducting the NDA Exam twice every year and many students appear for the same and get selected for the defence services. This exam comprises of a written test, an interview or rather a personality cum intelligence test called SSB Interview. The candidates who ace and clear up both the rounds end up being recommended for their final selection. Since the competition is quite tough it is recommended for the students to prepare judiciously and wisely so as to ensure maximum result and clear selection.
The NDA Preparation Tips should be such that the students should be aware of the examination pattern and about the selection procedure because then only can they prepare themselves in a proper direction and fulfill all their dreams and aspirations. Let's have a look at the preparation strategy for excelling in this exam described as below-
- Fixation of goal is of prime importance as you have to fiercely prepare for this exam as it is a really competitive exam therefore as soon as you can prepare for this exam you should begin with the same as it requires a lot of hard work and passion with utmost focus to clear this exam.
- The candidates should be updated to be thorough and in sync with all the basics and necessary details so that the base is strong because only if the base is strong can the students proceed to understand the complex problems. Referring to all the NCERT Textbooks is very mandatory starting from Class 6th onwards.
- Strong and good command over English is of prime importance and to improve the same the candidates must start reading a newspaper on daily basis and brushing of grammar is also mandatory. Learning the usage of new words will definitely improve your vocabulary and improve your conversation skills as well.
- A routine should be set up with a proper time table that must be followed on a regular daily basis schedule because doing so only will enable you to cover all the subjects and topics in a judicious and wise manner.
- The areas and sections where the candidates lack behind or are weak must be taken care of by devoting extra time and effort so that the same can be rectified and improved, be it for any particular subject or a particular topic.
- It is of utmost importance to refer to previous year question paper and guides and to solve mock papers and testsas this will definitely place you with a better edge to be prepared beforehand and give you an idea of what is the pattern and syllabus of the examination that you are appearing for because without doing so you will fall behind.
Subject wise NDA Preparation Tips-
Written exam of NDA comprises of two sections namely Maths and General Ability Test. Each paper has the timestamp of 2.5 hours. The marks breakup for both is that the Mathematics section constitutes of 300 marks whereas the General Ability Test constitutes of 600 marks. Both the papers are objective and are set in bilingual mode. Negative marking will also be awarded.
Mathematics Preparation- This paper has 120 questions with a weightage of 300 marks. It covers basically the topics like Integral Calculus, Differential Equations, Trigonometry, Algebra, Vector Algebra, Matrices and Determinants, Analytical Geometry, Statistics & Probability,etc.to name a few. The syllabus of Maths is that of the level of class 12th. Students of class 12th those who are from this stream can easily solve the question because they are in practice while the rest need to strive hard. It is advised to solve and refer previous year papers and to cram up all the formulas and to manage your time to achieve accuracy in that short span of time.
General Ability Test Preparation- This test is again divided into 2 parts namely Part A and Part B. Part A constitutes of 50 questions of English and Part B constitutes of 100 questions of General Knowledge. Maximum weightage for this section is 600 marks. Negative marking is awarded. The G.K. test constitutes of 400 marks and basically aims at testing the candidate's general understanding of topics like General Science, Physics, Chemistry, Indian History, Geography and Current Events. Since the syllabus of G.K. is quite vast candidates have to prepare many sections in General Science and Social Science therefore students have to refer to newspapers, magazines, listen to news and be updated with all the current happenings of in and around the world.
SSB Interview Tips- The candidates who qualify their written exams are aligned and called for their SSB Interview which is the second stage at qualifying their NDA. The SSB has 2 rounds namely Psychological Aptitude Test and Intelligence Test. For qualifying and acing this interview the candidates need to work upon their personality. This test is basically designed to assess the Officer Like Qualities therefore prime importance is given to check whether the candidate has all the qualities and traits required to be in an Armed Officer therefore a very strong approach and preparation is required.
Physical and Medical Examination Tips- All the candidates must be physically and mentally sound as per UPSC standards and guidelines. It is advised that all the candidates should follow a regular exercise and have a balanced diet to stay fit and healthy as many of them get rejected on medical grounds.
Defence cum Graduation Plan-
Well a smart career plan for defence aspirants Centurion Defence Academy enthralls and presents before you a wholesome set of career, college degree and personality development program which enables the students to enroll themselves for an NDA preparation program simultaneously preparing for their graduation as well. This innovative program enables the students to get ready for the defence courses as well as shaping their career giving wings to their dreams and fulfilling their vision.
CDA Defence Preparation + 3 year Graduation Plan
A master plan for explorers, definitey the Centurion Defence Academy Defence Preparation+ 3 year Graduation Plan equals to a Smart Career Plan. For every student it is most crucial to select the best institute and this institute towers all its opponents with its unblended training, strategy, books, learning material and guidance found no where else.
CDA offers its students to enroll in a Graduation course (B.A, B.Sc, B.Com) along with lending defence oriented training. The academy also offers P.G. courses for graduate students. This higher education plan is available in distance mode as well as regular mode and can be processed only on final discretion and will of the student.
Being an Academy, Centurion is not only a Coaching Institute because unlike other coaching centers it provides you admission in graduate courses along with gaining Defence Training. It is an added benefit to your career as you get to be a graduate while prepping up for the Defence Forces and that too when you have such great perks of getting training for NDA, CDS, AFCAT, SSB,etc.+ An NCC Certificate + Enrolment Into A Graduation Course + Food And Lodging. Isn't That A Rewarding Pair? Well it is surely a treat because at CDA, we believe in Efficient and Proper Counseling+ Proper Plan= Graduation+ Defence, thus making your career secure with giving you a backup plan as well.
In short the NDA exam is difficult and cumbersome but with CDA at your side and with the right and appropriate preparation under the correct guidance of the counselors, with the right kind of subject material and correct strategy definitely the chances of selection of the candidates increase and they can finally achieve their dream goal.