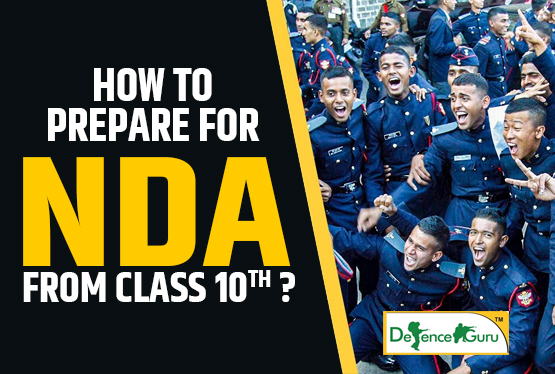 NDA is undoubtedly one of the most sought after and prestigious defence entrance exams in the country. A successful clearance of this exam entitles a candidate for being admitted to The Indian Air Force, The Indian Army or The Indian Navy. This exam is conducted twice a year in two stages- first is the written exam and second is the SSB Interview. On an average basis around 6 lakh candidates every year appear for this exam, out of which only 5000-6000 candidates reach for their SSB Interview.
Understanding the NDA exam pattern and being familiar with its syllabus will ensure success in the exam. Solving previous year question paper is all the more mandatory as it is important to know and be familiar with the type of questions being asked. Preparation of NDA from class 10th is all the more fruitful as the candidates need to be well versed with 10th syllabus covering the sections of Biology, Political Science, Maths, Chemistry, Physics and Economics sections and have to brush up with all the NCERT books bringing clarity in each concept of the syllabus. Thus it becomes all the more imperative to start from the basic, i.e. from class 10th to prepare for your NDA Exams.
NDA Preparation Tips-
- A detailed and proper study along with analyzing the exam syllabus.
- Making a proper schedule of your study plan.
- Clearing all the basic concepts.
- Practicing as much questions as you can.
- Making notes for quick and easy revision.
- Being confident is utmost mandatory.
- Proper eating and sleeping habits.
Strategy to Clear Out the NDA Exams-
1- Revise the NCERT textbooks this will help in bringing a clarity to each of the concepts and doubts.
2- It is mandatory to brush up the syllabus of class 10th for Maths, Physics, Chemistry, Biology, Political Science and Economics section as NDA exam covers this syllabus from class 10th.
3- A revision sheet with all the important tips and formulas should be kept at ready especially for Mathematics section as this subject is carrying more weight age as per the total number of marks this exam carries.
4- Basic grammar related to Comprehension, vocabulary, reading skills must be precise and clear with utmost practice so as to score more marks in this section as this is the most important and scoring section as a result much attention is required for the preparation of the same.
5- The current affairs section is yet another undeniable section therefore candidates must refer to NCERT books of class 10th for Environmental Science and General Science topics as well.
6- Students also must be abreast with all the political scenario and recent happenings of the country, the Constitution of India, our cultural and historic heritage, etc. as this forms a crucial part of this competitive exam.
7- A strict timetable needs to be followed and practiced for each of the respective sections being mandatory for Writtens of the NDA with preparation of each subject with sufficient time duration for each.
8- Sample practice of previous year papers of NDA is mandatory as this will give the students an idea as to what and how much is the syllabus that would be relevant from Class 10th to prep up for.
NDA Foundation Course
Well for beginner's who wish to pursue their regular studies along with preparing for their NDA as well, there are NDA Foundation Programs and Courses available designed especially to cover the academic syllabus as well as covering the NDA syllabus simultaneously as well. This program is very unique and beneficial in every sense as it ensures the candidate to achieve best result in their NDA Examination as well as giving them a holistic approach of excelling in their academics as well.
Centurion Defence Academy NDA Foundation Program
Well CDA makes its candidates ready with the NDA Foundation Program making them ready for their Academics of Class 11th and Class 12th as well as for the NDA along with result oriented competitive skills. A well balanced and systematic approach is sought after to cover the entire syllabus, conceptual topics with an analytical approach making you NDA ready. No doubt it is a productive program for the students who wish to get a competitive touch with gaining an excellence in academics along with getting hands on experience at variety of exercises. This program definitely is a solid way to have a strong grip over concepts as it is prominent that the basics remain same for any exam but the level and type of questions vary as per each competitive exams. CDA is definitely such an NDA Foundation Institute in Lucknow that enables the students with result driven, committed and ethics based training.
Highlights of the CDA NDA Foundation Program
- Excellent Classroom Teaching by the best of the trained and experienced subject experts.
- Preparation Of Class 11th and 12th Boards along with NDA.
- Separate Hindi & English Medium Batches.
- Pattern-Based Study Material with a systematic lesson plan for each subject to cover the entire syllabus.
- Unit Wise Monthly Test and weekly mock tests so as to assess the retention and understanding of the concepts and making the students ready for the competition.
- Personalized and Individual Attention.
- Personality Development.
- Chapter Wise Practice Problem.
- Physical Training.
- Feedback & Parent Meeting so as to maintain a strong communication between students and guides.
- Library, study material and reading room for comprehensive study.
In short, it is beneficial for class 10th students who are preparing for their NDA Exam to enroll for the NDA Foundation Program firstly making themselves familiar with the pattern and structure of the NDA Exam and to be clear as to what and how much syllabus is relevant in NDA as per the current syllabus and then to brush up with the basic of the facts of all the topics and subjects being covered in NDA Examinations along with preparing for their 11th and 12th as well so as to have a precise and headstrong approach.