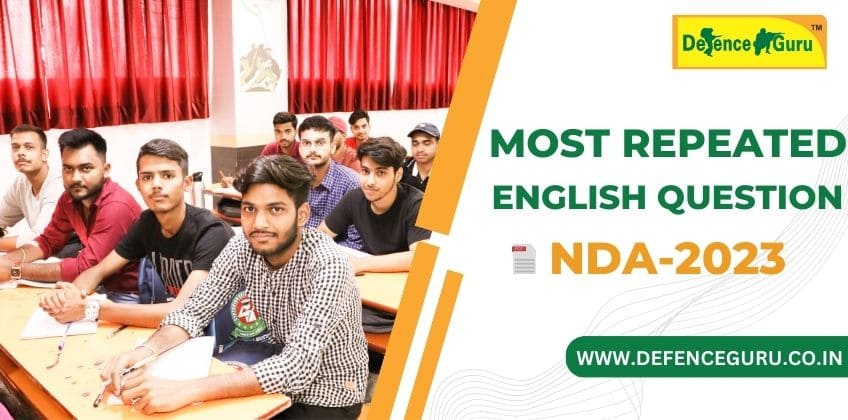 NDA 2023 English Questions: Most Repeated English Questions PDF
As the NDA (1) 2023 Exam is approaching and scheduled to be conducted on 16th April, it is best for the NDA aspirants to start practicing English and other subjects for the upcoming exam. English is part of the NDA exam's second paper, i.e. GAT (General Ability Test). The General Ability Test is divided into two parts. In part A, English questions are asked; in part B, questions on science, history, geography, and polity are asked.
In the English section of the GAT paper, mostly questions relating to vocabulary, comprehension, passage writing, fill-in-the-blanks, synonyms, antonyms, idioms, phrases, etc. are asked. The paper has been designed to check the command of candidates over the English language and its use.
Exam Pattern of NDA Exam
Particulars

Details

Papers

Mathematics
GAT(General Aptitude Test)

Total Questions

Total Marks

Mathematics- 300
GAT- 600
Total- 900
Syllabus of English in NDA GAT Paper
Section A-English

English Syllabus

Grammar & usage
Comprehension & cohesion
Spotting of errors
Para Jumbling
Fill in the blanks
Synonyms & Antonyms
Vocabulary
Cloze Test
Idioms & Proverbs
Completion of Sentence & Para
Sentence Correction & Improvement
Check more model papers for NDA 2023 Exam links are given below:
NDA GAT Model Question Paper 2023 Download PDF
NDA Maths Model Question Paper 2023 Download PDF
Download Most Repeated English Questions PDF