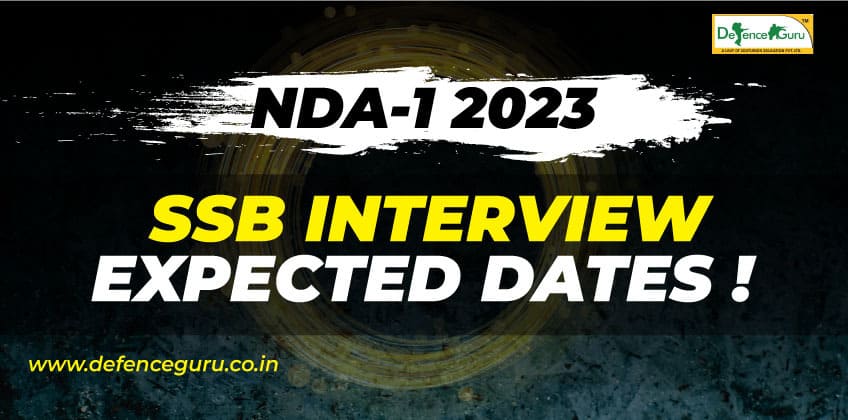 NDA-1 2023 SSB Interview Expected Dates - Check Now
The NDA-1 2023 Exam was conducted on the 16th of April. Now, NDA Written Exam is over, you must be wondering about the dates of SSB for NDA-1 2023. Through this article, we will explain the SSB Interview's detailed procedure and update you with NDA-1 2023 SSB Interview Expected Dates.
SSB Interview is conducted after the written examination. The SSB (Services Selection Board) interview is a crucial part of the selection process for candidates who wish to join the Indian Armed Forces as an officer through the NDA Exam. The interview process includes a series of tests such as OIR, PPDT, TAT, WAT, SRT, GTO, and Personal Interviews. These tests have been designed to evaluate the candidates' psychology, personality, and thought processes.
SSB Interview is a five days process and its five days of schedules are following as:
Day One
Screening Test- The first day of the SSB interview includes a screening test, which will include OIR (officer intelligence rating) Test that evaluates a candidate's verbal and non-verbal intelligence. After the OIR Test, a PPDT (Picture Perception and Description Test) is conducted.
Day Two
Psychological Tests- On the second day, candidates are given a series of psychological tests that assess their personality traits, aptitude, and mental agility. These tests include the Thematic Apperception Test (TAT), Word Association Test (WAT), and Situation Reaction Test (SRT).
Day Three and Day Four
Group Testing Officer Tasks (GTO)- The third and fourth days of the SSB interview include the GTO tasks, which are group exercises that evaluate a candidate's leadership potential, communication skills, and ability to work in a team. These exercises include group discussions, group planning exercises, outdoor group tasks, and individual obstacles.
Personal Interview- The fifth and final day of the SSB interview includes a personal interview with an interviewing officer, who evaluates a candidate's overall suitability for a career in the military.
Day Five
Conference- On the fifth day five, a conference is conducted which is headed by the president of the board. At this conference, a candidate's recommendation is decided.
After these five days of Interviews, recommended candidates are sent for the medical tests which may last for 4-5 days depending on the availability of medical experts. In these medical tests, candidates' medical and physical suitability is evaluated by medical experts to ensure candidates are suitable for working in the Armed Forces
NDA-1 2023 Expected Dates
Candidates will get will be able to select dates for SSB after one month of the NDA-1 2023 written exam. Candidates will get several dates for their NDA SSB, so they should choose their SSB Date wisely. Candidates should check their schedules so that their SSB Dates should not clash with their exams or important work.
How to Select NDA SSB Dates?
Candidates can select their SSB Dates after creating their profile on joinindianarmy. Candidates should create their profile on joinindianarmy using the same email id that they had entered while registering for the NDA Exam on the UPSC website. After creating a profile, candidates should upload their documents such as Adhaar card, 10th mark sheet, and recent photograph.
Candidates will get an email for selecting their SSB Dates from joinindianarmy. Candidates can select their SSB Dates by logging into their profile.
Defence Guru is a dedicated platform for defence exam preparation. We provide the best guidance for all defence exams such as NDA, CDS, MNS, AFCAT, and SSB. We have provided all required material for the SSB such as OIR, PPDT, TAT, WAT, and SRT. You can download practice sets for these tests also. We have provided tips and solutions for practicing these tips. Before attempting these tests, candidates can go through those articles.
Read More:
What to do After NDA-1 2023 Exam?