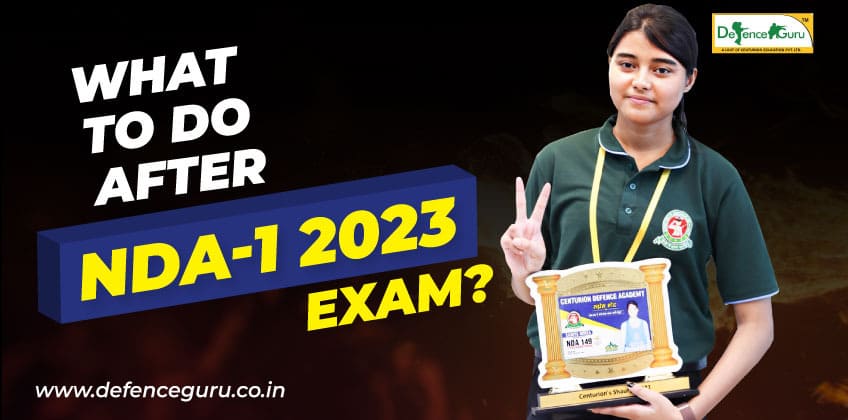 NDA- 1 2023 Exam was conducted on 16th April by UPSC (Union Public Service Commission). About a million candidates have registered for this exam and many of them will clear the exam once the results are announced by UPSC. The majority of candidates who have appeared for the NDA-1 2023 exam must be wondering what to do after the NDA-1 2023 Exam. So through this article, we are going to tell you about what candidates should do after appearing for NDA-1 2023.
The NDA (National Defence Academy) exam is a highly competitive entrance exam conducted by the Union Public Service Commission (UPSC) of India for candidates who wish to join the Indian Army, Navy, or Air Force as an officer. It is a two-stage selection process that includes a written exam and an SSB (Service Selection Board) interview. Candidates who qualify for the written exam are called for the SSB interview, which is a five-day selection process. It includes various tests like OIR, Psychological Tests, Group Testing Officers Tasks, Interviews, and Conference.
What should Candidates do after appearing for the NDA-1 2023 Exam?
Candidates must understand that NDA includes not only a written exam but also SSB Interview. SSB Interview is known for its difficult tests and complex procedures. So it will be better for candidates who have appeared in the NDA -1 2023 to start preparing for the SSB Interview as soon as possible. But before starting preparation for SSB, candidates must take a few steps which we will explain further in this article.
Check NDA-1 2023 Answer Key
Before starting preparation for the SSB, candidates must ensure they are getting marks above the expected cut-off of the NDA exam suggested by us. If they are well above the expected cut-off, they should definitely start preparing for the SSB Interview. If they are not able to get marks above the expected cut off then, they should start preparing for the NDA-2 2023 Exam. You can download the answer key for the NDA-1 2023 Exam which is posted on our portal.
Do Some Research about SSB interview Process
Before starting preparation for the SSB Interview, candidates should do some research about the SSB Interview procedure. Candidates should search about the tests conducted in the SSB Interview like OIR, PPDT, TAT, WAT, SRT, and Self Description. To know about the SSB process in detail, candidates can read a very famous book of SSB preparation 'Ranniti or रणनीति'.
Improve Your Communication Skills
Communication plays a very big role in SSB interviews because the majority of the tests take place in an oral medium. Candidates should improve their English communication skills. To improve communication skills, candidates can start talking in English among themselves. Candidates should understand that communication is not only about speaking but also about listening also. So, Candidates should try to practice effective communication with their peers.

Improve knowledge of Current Affairs
Current Affairs also have a big role to play in the SSB Interview. Knowledge of Current Affairs will help you in group discussions, lecturette, and most importantly in a personal interview. Having good knowledge of current affairs shows how much you are a serious and informed person who has knowledge of whatever is going on around the world.
Improve your Physical Fitness
Physical Fitness is very important for the SSB Interview because there are many tasks in GTO that involve the use of physical strength and if you are not physically strong, you will find it very difficult to complete them. Candidates should run at least 2.5 km a day, and do 20 push-ups, 20 chin-ups, and 20 pull-ups to maintain their physical strength and stamina.
Gather Information on the Armed Forces of India and Their Working
Candidates should gather basic information about the Armed Forces of India. Candidates must know the rank and structures in the Indian Armed Forces, Weapons used by Indian Armed Forces, Important Regiments, and Other Fighting equipment such as Fighter Jets and Missiles.
Candidates should follow the above-mentioned suggestions for preparing themselves for SSB Interview. Candidates should understand that SSB is not a simple process, it takes time and consistent efforts to prepare for the SSB Interview. Candidates should make easy and achievable targets and then increase their level of preparation. Defence Guru is a dedicated platform for defence exam preparation. Candidates can refer to material and tests provided by us for preparation of SSB. Candidates can download practice sets for TAT, WAT, and SRT for practice.
Read More: