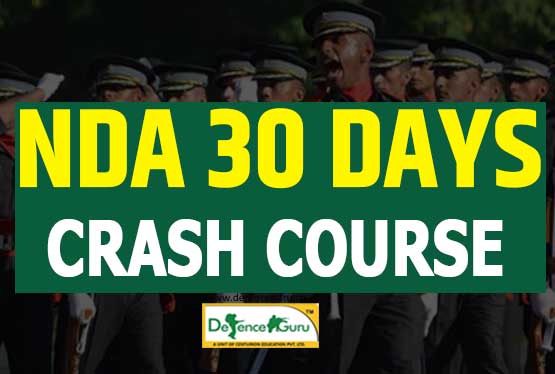 भारतीय सेना में शामिल होना सभी युवाओ का सपना बन गया है, during our school days, one has desire to get success in one's life, in search of various career options students aspire to join NDA & NA. After completion of 12th class (12th appearing) students are more dedicated towards Indian Army the most prestigious career option i.e. Indian Armed Forces in officer cadre rank. Joining NDA & NA which is most prestigious organization in this world brings pride, honor and job satisfaction to a candidate while secures all dreams that a candidate possesses while studying.
In today's digital world when technology & generations has progressed beyond limits, the youths have multiple career options. The bulk of information is available on internet about various professions, its pros and cons and most important the value it holds in real-life. Currently choosing right career option after 12th is a big fight, students are nowadays more fascinated after learning about the bravery of Indian soldiers and Officers in Indian Army. After12th bright career opportunity is joining Indian Army the feeling of patriotism, respect, courage, well-suited, well-paid profession nowadays is to join Indian Army. The success stories of Indian Army Officers are there to boost your morale and push you to be one of them.
Your wish has been granted by Team Centurion, one of the leading defence institute in North India now available both on online and offline mode. Centurion defence Academy Student App with huge response and download is today's leading learning app. With the immense success of NDA 40 days Crash Course and MNS Suryakiran 60 Days Crash Course, Centurion launched 30 days NDA crash course for NDA entry. Know complete about NDA Crash Course.
NDA 30 Days Crash Course 2020 for the exam conducted on 6th September 2020. Considering the time limit and COVID 19 situation, Team Centurion come up with NDA 30 Days Crash Course for NDA-I-2020 & NDA-II-2020 (WRITTEN & SSB) exam scheduled on 6th September 2020.
NDA 30 Days Crash Course Complete Details
NDA 30 Days Crash Course 2020 Starting from Tuesday 4th August, 2020 to 5 September, 2020
NDA 30 Days Crash Course 2020 LIVE CLASS
Daily 6 Hours LIVE Classes (for each subject)
2 Maths Sessions
1 English Sessions
1 GS Sessions
1 Science Session
1 Spoken English & SSB Interview (Optional)
NDA 30 Days Crash Course 2020 TEST
4 Mock Test in 30 days plan
2Mock Test for Maths
2 Mock Test for GAT (General Ability test)
NDA 30 Days Crash Course 2020 Target
AIR within 2 hours of each test will be displayed on CDAS App and defenceguru.co.in
NDA 30 Days Crash Course 2020 Target
10 years question paper solve all
Important segments of all subjects covered
Short trick in Maths
Special Features of NDA 30 Days Crash Course
Daily 1 Hour Class (for each subject)
Daily 1 Live Classes (for each subject)
Doubt Clearing Sessions- Live chat with teachers
Bilingual Lectures-Hindi & English both
4 Test for NDA each subject
Free Test Series
Study Plan Timetable– Date, Time, Lectures, Weekly Test
Downloading eNotes, ebooks, Daily class PDFs
Well structured plan NDA 30 Days Crash Course will include 30 days classes for written exam and SSB Interview i.e. from Tuesday 4th August, 2020 to Saturday 5 September, 2020.
Saving your time, effort, money with the most relevant and reliable online source Centurion Defence Academy Student App. Instilled with the same level of difficulty &enables you to practice exactly same types of question to the actual NDA entrance exam CDA student app strengthen your preparation status.
CDA Mobile App features:-
Features

Description

Notification

Defense exam recent updates and messages will be timely updated

Daily Video Lectures

Not able to grasp the points at once then pause the video understand the point and continue to proceed further, as easy as you want it to be. Course wise select subjects to watch new, archive lectures

Live Stream Classes

Daily Live classes on new concepts with real time essence of live classes can be experienced digitally

Edutainment involved with FAQs, tips and tricks

Course wise select subject to watch live class

eDoc and eNotes

Video lectures PDF and important documents can be easily downloaded

Course wise select subjects to download PDF

Interactive

Enjoy interactive video sessions to meet all your needs and queries.

Assignments

Regular assignment upload and evaluate homework to encourage a healthy dose of fresh perspective can help you organize yourself. Complete the assignment on time and still do a good job

Tests

Choose test from the list to see which test is right for you under multiple test on each course with subject filter improve your score.

Active, Coming, Passed field provide hassle free participation of all tests.

Scores

Check all test scores and get a key evidence of your performance

Attendance

Digital Presence and activity scrutinized on today, previous week, next week regular updation on the app

Help Desk

Raise your queries and receive to the point and quick response

Feedback

Your opinion matters so do we look proficiently of students feedback

eBooks-

All subject eBooks formulated by R&D team of CDA NDA experts for reference are available

Quiz-Pad

Easy, moderate and gateway to defence level questions can be practiced through quiz
NDA 30 Days Crash Course with 30 days classes for written exam and SSB provides a golden opportunity to crack your exam. CDA student app for NDA 2020 will make you ready to crack your exam in a much easy and affordable price. Specialized and uniquely designed by experts and R&D team of Centurion Defence Academy a unique, reliable and superior platform from other platforms. Gear up your NDA exam preparation with CDA mobile app.
Be an Efficient Learner! Save Time and Effort! Get Centurion Defence Academy Student App.
Visit www.centuriondefenceacademy.com Just Call or Whatsapp 9795977779 | 9795977776