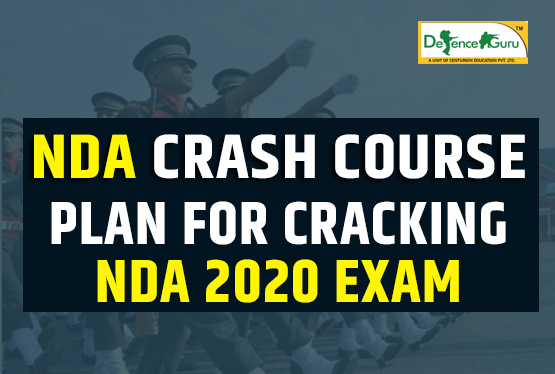 अगर NDA 2020 crack करना है आपका लक्ष्य तोह पढाई शुरू करिये Centurion Defense Academy Student App के साथ। बेहतरीन अनुभव के साथ Centruion Defence Academy offline mode of education के साथ अब पूरी तरह सक्षम है आपकी NDA की कुशल तयारी को घर बैठे करवाने में अपने online mode of education के माध्यम से |
Save your time, money, energy at once and utilize to maximum extent a knowledge rich content from CDA online learning. FREE 40 Days Master Crash Course For Cracking NDA 2020 come with effect from 13th July, 2020 to 21st August, 2020 TARGETING NDA-I-2020 & NDA-II-2020 (WRITTEN & SSB) ON 6th September, 2020.
NDA aspirants who are looking for defence education scholarship then your search meets its destination to the best-fit SRNT 2020-2021 scholarship. NDA अभियर्थियों के लिए भारत में अब तक की सबसे बड़ी open scholarship viz: SRNTH Open Scholarship 2020. पढाई करे शीर्ष वर्ग की शीर्ष श्रेणी के शिक्षको के साथ बिलकुल FREE में अब क्युकी SRNTH scholarship करता है मुक्त अब financial burden से जो बन रहा था आपके सपने में रूकावट|
Join 40 days NDA crash Course Starting From 13 July 2020 to 21 Aug 2020
SRNTH Open Scholarship Key Points:
✔ बिना परीक्षा दिए सीधे मिलेगी छात्रवृत्ति
✔ 5000 छात्र होंगे लाभान्वित
✔छात्रवृत्ति up to 2.5 cr
SRNTH Open Scholarship for NDA 2020 Registration:
| | |
| --- | --- |
| Registration Open Date | 08/07/2020 at 10:00 AM |
| Registration Close Date | 19/07/2020 at 10:00 PM |
| Registration Fee | No Fee |
| Age Limit | As per NDA 2020 age limit 16 ½ to 19 ½ year's (as on the first day of the month in which is due to commence |
| Eligibility Criteria | Unmarried Male |
| Educational Qualification | 11th Appearing, 10+2 Passed/ Appearing (in any stream) |
| Total SRNTH Scholarship Granted | 5000 students |
What requirements to meet for NDA scholarship includes:
• If applied for NDA 2020, submit your application form
• If not applied for NDA 2020 (as you are not eligible), submit your Aadhar card
How to avail SRNTH scholarship on CDA Student App:
• Students need to contact on the official numbers and follow the instructions given by the executives
• Students having the app or demo app they can directly inform the executives and could get the access on app directly
The more flexible and dynamic in its nature CDA offers to maximum students SRNTH scholarship every year to make them compatible to win their dreams. "SRNTH is first step towards your defence dreams", line up your shots, chalk up your cue, and sink with SRNTH 2020-2021 exclusive talent hunt for this season. Shishir Rameshwar National Talent Hunt Scholarship 2020-2021 for students to excel as lifelong learners began.
What SRNTH offers to its students on CDA Student App:
• Free CDA student app for 40 days crash course with affect from 13 July till exam
• NDA 2020 Master Crash Course online targeting 6th September 2020 NDA exam
• Monday-Friday online classes, total 5 classes every day that include: 4 classes on written paper and 1 class on personality development/medical.
• Saturday & Sunday online practice tests
• Total number of classes : 165-170 (APPROX)
• Total number of tests: 8
CDA student app saves your time, effort, money plus stand ahead to match the same level of difficulty & enables yourself to practice exactly same types of question to the actual NDA 2020 entrance exam. SRNTH Open Scholarship 2020 on CDA students app targeting 6th September 2020 NDA exam from 13 th July, 2020 begins. CDA की FREE पहल का लाभ उठाये बिना परीक्षा दिए 5000 छात्रों में आप भी हो सकते है लाभान्वित छात्रवृत्ति के लिए| NDA 2020 ONLINE CLASSES PLAN जयादा जानकारी के लिए निचे दिए गए LINK पर CLICK करे |
- https://drive.google.com/file/d/1rMUUWLaLrrMYRPI7sQcYlQrJlZchVmBm/view?usp=sharing

- https://drive.google.com/file/d/1jw4kTkCWTCsaV4Q4_XU7m5JCqlXlbaDg/view?usp=sharing