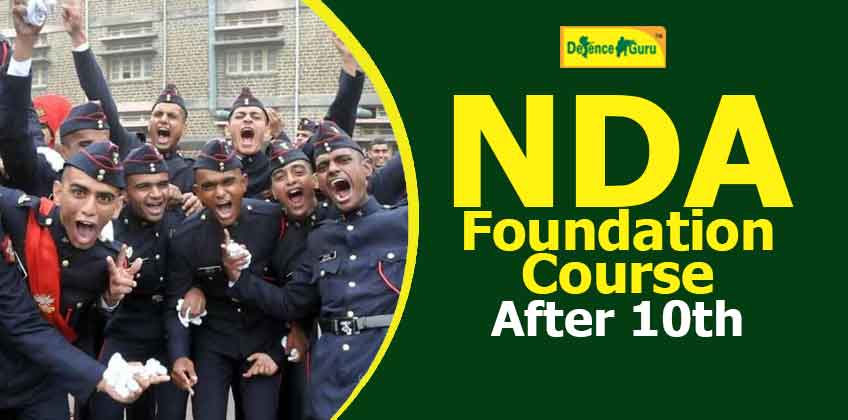 NDA Foundation Coaching after 10th in India
The NDA foundation course after 10th is the best alternative for young defence aspirants. There are several defence academies that provide foundation courses, integrated learning and preparation for the NDA exam. As a result, candidates who have just completed their 10th grade and want to prepare for the NDA entrance exam as well as their 11th and 12th grade exams can register in an NDA foundation programme to equip themselves with an inclusive learning approach for both school exams and the NDA exam. Continue reading to learn more about how to enroll in an NDA foundation course after 10th and which defence academy provides the best NDA foundation course after 10th.
Why Should You Join NDA Foundation Course After 10th?
The National Defence Academy (NDA) entrance exam is widely regarded as the most effective channel towards becoming an officer in the Indian Armed Forces. Candidates must be either 12th passed or 12th appearing to be eligible to apply for the NDA entrance. The NDA foundation course has been designed to help you prepare for both your board exams (11th & 12th) and the NDA exam. The following are the key reasons why you should enroll in an NDA foundation course for NDA preparation after passing your 10th class exam.
The NDA foundation course enhances both your understanding and problem-solving capabilities in a theoretically and practically robust manner to ensure your success in defence examinations.

The NDA foundation courses are well-managed, and they strike a perfect balance between your school examinations and NDA preparation.

The NDA foundation course uses a results-oriented learning technique not only for the NDA written exam but also for the next step, the SSB interview.

The NDA Foundation programme is better than traditional learning because it allows you to work toward your goal while retaining your academic performance.

The NDA foundation programme includes excellent classroom sessions as well as a foundation course that teaches you how to solve problems using effective strategies and techniques.
Which is the Best Coaching for the NDA Foundation Course After 10th?
There are several coaching institutions that offer the NDA foundation course, but the Lucknow-based Centurion Defence Academy is the best NDA foundation coaching, enabling young enthusiasts to achieve their goals and strengthen their foundations for both school exams and NDA preparation. Centurion Defence Academy provides a two-year NDA foundation course after 10th standard for students who want to join the Indian Armed Forces. The NDA foundation course at Centurion Defence Academy is primarily intended for students who will be taking 11th and 12th grade exams while also preparing for the NDA entrance test. Let's look at why Centurion Defence Academy is the best NDA foundation coaching after 10th.
Centurion Defence Academy's NDA foundation course after 10th guides students through the entire NDA syllabus while also assisting them in succeeding in the 11th and 12th class exams.

Centurion's experienced problem-solving experts empower students to employ their best approaches and pursue a career in the renowned armed forces.

Aside from classroom sessions, teachers at Centurion Defence Academy strive to create a positive environment for students preparing for the NDA foundation course.

After the 10th grade, students who want to take the NDA written exam can begin preparing through the Academy's NDA foundation programme.

By providing the best guidance, the academy not only prepares students to pass the written exam but also to perform well in the SSB Interview.

Centurion Defence Academy not only offers an offline foundation course for the NDA exam, but also an online foundation course after 10th.
Key Features of NDA Foundation Course by Centurion Defence Academy
Centurion Defence Academy is a well-known coaching institute that has established a benchmark in defence coaching by having the highest rate of selection in the NDA and other defence exams. The Academy has earned the distinction of being the best NDA foundation coaching because it prepares students for the NDA entrance exam using a hybrid model of learning. Let's take a look at Centurion Defence Academy's key features and how they can help you improve your educational path to achieve your goals.
Regular & Free SSB Training To Written Qualified Students

Individual Attention & Guidance Are Our Core Strength

Free Spoken English & Personality Development Classes

Weekly Mock Tests Are Conducted At All-India Level

Access To Free Study Materials Created by Our R&D Team

Short Trick Based Smart Classes By Our Experienced Faculty

New Batches For SSB Preparation Starts Every Monday

Access to Free Personality Test by DIPR Trained Assessors

Psychology Guidance & Strategic Techniques for Interview

Rigorous Training for GTO Activities By Ex-Board Members

Availability of Fooding & Lodging Facilities for Boys & Girls
Which is the best NDA Foundation Online Coaching?
Some students may be unable to participate in the offline classroom programme for NDA Foundation after 10th grade. As a result, Centurion Defence Academy has launched NDA Foundation online classes for detailed NDA exam preparation for such candidates. Centurion Defence Academy, based in Lucknow, offers the best NDA Foundation online coaching in India, with a focus on the SSB Interview. Let us look at the primary reasons why you should choose Centurion Defence Academy for online NDA Foundation coaching.
Mentorship under Experienced Professionals

Interactive Daily Video Lectures

Coverage of eDoc, eNotes, eBooks

Free Participation in All Tests

Doubt-Clearing Sessions

Thorough Understanding of Syllabus

Consistency in Exam Preparation

Detailed Performance Assessment

Model Test Papers and Mock Exams
How to Join Centurion's NDA Foundation Online Course?
The NDA foundation online course offered by Centurion Defence Academy provides students with comprehensive learning experiences under the mentorship of professionals. Students are given free study materials and weekly mock tests to help them improve their preparation. It also offers individual assessment and personalized guidance to NDA candidates, with an emphasis on a blended learning environment. Centurion's online NDA foundation course provides students with:
The ability to create your own schedule to improve your concentration while learning.

Candidates have 24/7 access to a comfortable learning environment.

A well-organized study schedule will assist you in saving time and covering the entire course.

Strategic planning is required to complete the course and focus your attention in the right order.

Through informative and participatory learning, every important topic is explored.
If you are preparing for the NDA entrance exam, you can enroll in Centurion's NDA Foundation online classes via the Centurion Defence Academy Student App, which allows candidates to attend regular classes, receive important updates, and download e-books instantly. It also provides interactive video lectures, live stream classes, and question and answer sessions to assist you in gaining a conceptual understanding of key concepts. Candidates who want to excel in their online NDA exam preparation can access the features of this app by clicking the URL provided below.
The steps to enroll in Centurion Defence Academy's NDA Foundation online course are as follows.
Visit Google Play Store and download the Centurion Defence Academy Student App.

After downloading the app, click on the Guest User tab to create your account.

Enter your name, mobile number, email and select the desired course from the menu.

In the next step, enter the OTP that you will receive on your registered number.

After you've submitted the OTP, click on the ENTER tab to see the available options.

Now, click on the Pay Online tab to initiate payment for the selected online course.

You have options to make payment either using the app or by calling us at 9795977776.

Once the payment process is done, you will be provided with a user id and password.

Now, you can access all live classes, scheduled classes and other learning advantages.
We hope that the above article on NDA Foundation Course after 10th will help you to understand the different aspects of the best foundation coaching for NDA to score adequate marks in the NDA exam.
Read More : Top Five NDA Coaching in India