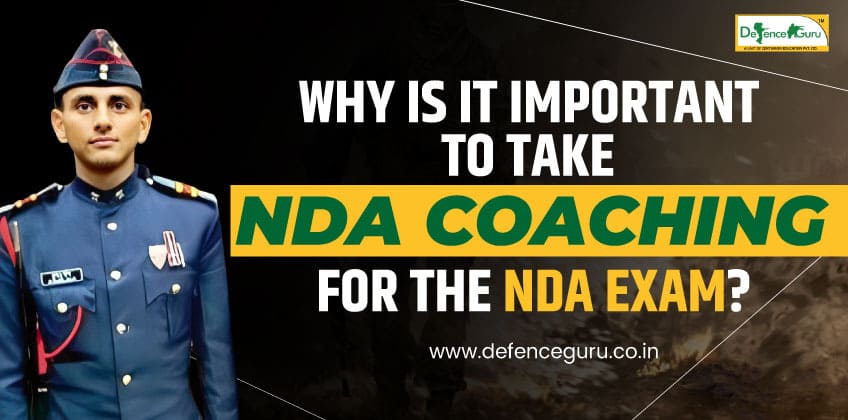 NDA or National Defence Academy Exam is considered to be one of the toughest exams in India. Every year about a million aspirants apply for this exam but only a few hundred are fortunate enough to qualify for this exam. The biggest reason behind this vast syllabus and difficulty level of the questions. So, the question arises how should candidates actually prepare for the NDA Exam? Through this article, we are going to discuss why it is important to take coaching for the NDA Exam. We will discuss the reasons why Coaching is important for the NDA Exam.
The NDA (National Defence Academy) exam is a highly competitive entrance exam conducted by the Union Public Service Commission (UPSC) of India for candidates who wish to join the Indian Army, Navy, or Air Force as an officer. It is a two-stage selection process that includes a written exam and an SSB (Service Selection Board) interview.The written exam consists of two papers, Mathematics and General Ability Test (GAT), and is conducted in offline mode. The Mathematics paper is of 300 marks, while the GAT paper is of 600 marks.
NDA-2 Exam Pattern
The exam Pattern of NDA-2 2023 is following as
NDA Written Exam Pattern

Particulars

Details

Papers

Mathematics
GAT(General Aptitude Test)

Total Questions

Total Marks

Mathematics- 300
GAT- 600
Total- 900

Time Duration

Mathematics- 2.5 Hours or 150 Minutes
GAT- 2.5 Hours or 150 Minutes

SSB Interview
Why is it important for students to take Coaching for the NDA Exam?
We have already explained that NDA is one of the toughest exams in India and the success rate in this exam is barely 3-4%. It means out of every 100 students who apply for the NDA Exam, Only 3-4 Candidates actually pass the NDA Exam. Rest 96 students end up failing the NDA Exam. We will discuss what are the reasons for such a high rate of failure and how coaching can help students to clear this exam with ease.
Vast Syllabus
The NDA Exam is conducted by UPSC (Union Public Service Commission) which has prescribed a very wide syllabus for the NDA Exam. NDA Syllabus includes topics from mathematics, english, physics, chemistry, biology, history, geography, polity and so many other topics. Syllabus is limited to these subjects only but the syllabus is divided into so many other sub-topics as well. It takes a unique strategy and persistent efforts to cover such an extensive syllabus. It will be difficult to cover such a vast syllabus all by the candidates themselves. Faculties at coaching Institutes have extensive experience in teaching for the NDA Exam they know to cover it easily. Coaching Institutes help you to make persistent efforts through daily classes and homework.
Difficulty Level of Questions
The difficulty level of questions in the NDA Exam is very high as they are not simple one-liner-based questions. Questions asked in the NDA Exam are of a depth nature. It requires deep knowledge and practice to solve these questions. Coachings regularly conduct mock tests which help students to familiarize themselves with the actual difficulty level of the questions. Mock tests help you to gain sufficient speed in solving questions also.
SSB Interview
If we talk about the biggest roadblock in clearing the NDA Exam, then It must be the SSB Interview. So Many Candidates clear the written exam but they fail to get recommended in the SSB Interview. SSB Interview is a very complex selection process and it is nearly impossible to prepare for this exam in isolation. You need a group and mentor to prepare for this selection process in a good manner. You need proper infrastructure for the GTO Test preparation also. Coaching Institutes provide all of these, they have mentors who are usually ex-GTO or ex-IO (Interviewing Officer). Coaching Institutes provide obstacles to practice for the GTO Test also.
Mock Test and Other Value-Added Services
Mock Tests are one of the most helpful elements that most NDA students ignore. Giving Mock Tests regularly help you in revising concepts before exams and makes you fully ready for the exams. Coaching Institutes offer not just mock tests but various other facilities such as libraries, English Speaking courses, and extra co-curricular activities, etc. You can get such facilities when you are preparing on your own. Such facilities act like a 'Force Multiplier' which improves the quality of your NDA preparation.
Peer Group or Friend Circle
When you join a coaching Institute, you become a part of a friend circle and you start increasing your social interaction. It actually helps in your preparation. You will be exposed to positive competition among your peers/friends. You will be motivated to achieve a higher target once you become a part of the competition. But in isolation, you will be doing all your preparation on your own and you will not be able to know your real progress. You will not be able to know where you actually stand while doing self-preparation.
These were some reasons for joining coaching for preparation of the NDA Exam. Students must ensure that coaching must have given a sufficient number of selections in the NDA Exam, and coaching must have trained, expert, and experienced faculties. Candidates should not entirely rely on the coaching Institutes, they should understand that coaching can only guide them. Candidates should try to revise whatever is taught in the coaching every day and give mock tests regularly so that they can track their preparation. Overall, Coaching is 100% required for NDA preparation but it can make your preparation a lot easier.
Read More:
NDA-2 2023 Exam Syllabus and Exam Pattern
What to do After NDA-1 2023 Exam?