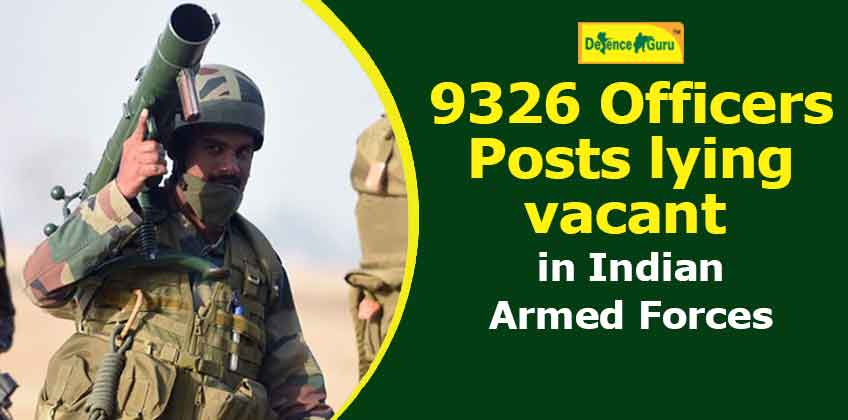 Indian Army, Navy, And Air Force Have 1,35,850 Vacant Posts
The Centre told LokSabha that as many as 1,35,850 posts are lying vacant in the Indian Armed Forces. According to a category-wise list of vacancies shared by Centre, there are a total of 1,16,464 vacancies in the Indian Army, 13,597 in the Indian Navy and 5,789 in the Indian Air Force. As per the list, out of a total of 1,16,464 vacancies in the Indian Army, there are 7308 vacancies for Officers, 471 vacancies for Military Nursing Service (MNS) Officers and 1,08,685 vacancies for Junior Commissioned Officers (JCOs/OR.)The Government listed 1446 vacancies for Officers (excluding Medical and Dental) and12,151 vacancies for Sailors in the Indian Navy.In the Indian Air Force, 572 posts are vacant for Officers while 5217 vacancies are for Airmen.
The vacancies in the armed forces are as result of retirements, premature retirements, attrition due to casualties and injuries. However, there is no acute shortage of manpower as recruitment in the armed forces is a continuous process. Also the government has taken various steps like improving promotion prospects to make the career in the armed forces attractive and to fill up vacancies. This was mentioned by the Minister of State for Defence Ajay Bhatt in his written reply to the LokSabha on Friday.
It further stated that employment in RajyaSainik Boards falls under the purview of the concerned State Government and each of the State Government has provided reservation/priority for appointment for Ex-servicemen in State Government jobs as per their welfare policy.The government statement also mentioned that the reservation prescribed for ESM is Horizontal in nature and depend on occurrence of vacancies per year and not as per the number of Posts. Adequate number of ESM are not qualifying for these Posts for want of requisite educational qualification prescribed for the Posts.The Government endeavors to explore every possible avenue for increasing employment opportunities for the Ex-servicemen through various initiatives including pre and post-retirement trainings and awareness programmes, and suitable training is also imparted to the willing Ex-servicemen to prepare them for self-employment ventures.
The number of posts lying vacant in the Armed Forces are as under:-
In the Indian Army:- Officers 7308, MNS Officers 471, JCOs/OR 108685

In the Indian Navy:- Officers (excluding Medical and Dental) 1446, Sailors 12151

In the Indian Air Force:- Officers 572, Airmen 5217