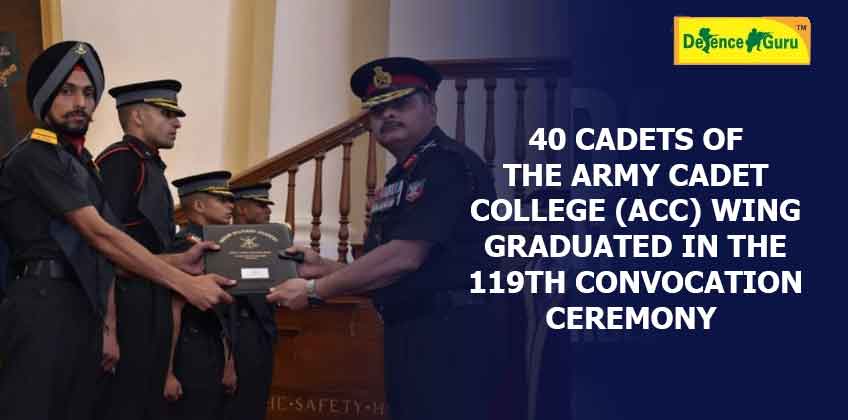 40 CADETS OF THE ARMY CADET COLLEGE (ACC) WING GRADUATED IN THE 119TH CONVOCATION CEREMONY
"One person alone is nothing. We the people are a nation."
The Army Cadet College is an integral wing of the Indian Military Academy. The college was established with the aim to train and induct deserving soldiers into officer cadre. A total of 40 Cadets of the Army Cadet College (ACC) Wing graduated on 03 Jun 2022 and were awarded degree during the presentation ceremony at the Khetarpalcof the Indian Military Academy. These degrees were conferred upon the Cadets by the prestigious Jawaharlal Nehru University, New Delhi. The ACC has a rich history of training selected personnel from other ranks of all three Services who have the potential to become officers in the Indian Army. After three years of training at the Army Cadet College, the graduated course will join Indian Military Academy for one year for their Pre-commissioning Training.
After three years of rigorous training and studies in ACC, these cadets have joined the mainstream of the Armed Forces. Army Cadet College entry is the golden opportunity for serving soldiers to become a commissioned officer in the Indian Army and fulfill their dream of serving nation as an officer.ACC stands for Army Cadet College. ACC is the premier college of Indian Army. It provides opportunity for all serving soldiers to prove their commanding skills as an officer. There are few courses exclusive for serving soldiers of Indian Army, Navy and Air Force.
The ceremony was presided over by Lieutenant General Harinder Singh, ParamVishishtSeva Medal, AtiVishishtSeva Medal, YudhSeva Medal, Sena Medal, VishishtSeva Medal, Commandant, Indian Military Academy. Brigadier Shailesh Sati, Commander ACC Wing, in his address, highlighted the commitment & dedication shown by the Cadets of the Graduating course. He also appreciated the Cadets for their all round excellence despite the challenges faced due to COVID restrictions.The Commandant, Indian Military Academy, in his convocation address, congratulated the Course for successfully completing their three years of rigorous training at the Army Cadet College Wing.In his address he congratulated the passing out cadets for having crossed this milestone in their professional career after completing three years of rigorous training at the college. He said this graduation today, represents a major milestone in their professional growth and development.
He emphasised upon important aspects of military way of life which includes firstly, the motto of ACC Wing – 'Duty is SUPREME' as the guiding principle in honouring the commitment towards Nation. Lastly he adds that 'Courage' is the most important of all the virtues because without courage, you can't practice any other virtue consistently.