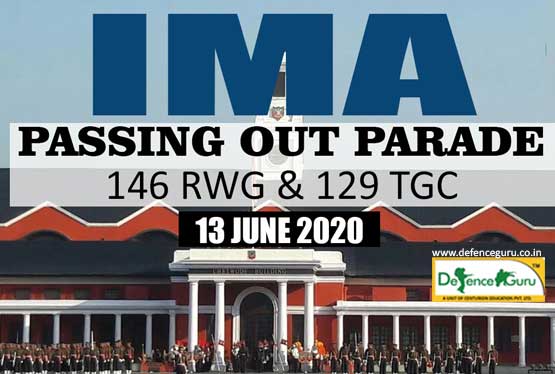 Spectacular Passing Out Parade of the IMA, Dehradun held high on josh without cadets parents on their side due to COVID-19
वीर तुम बढ़े चलो! धीर तुम बढ़े चलो! Spectacular and Impressive Passing Out Parade of the Indian Military Academy (IMA) for the 146 Regular Course and 129 Technical Graduate Course live broadcast across the country on Saturday, June 13 in Dehradun.
High on Josh - 333 Indian and 90 Gentlemen Cadets from nine foreign countries ready to shoulder the nation's responsibility by becoming Army Officers. The reviewing officer this year is Chief of the Army Staff (COAS) General Manoj Mukund Naravane who will see Cadets from nine foreign countries becoming army officers.
IMA on Saturday morning conducted the Passing out Parade (PoP) for the 146 Regular Course and 129 Technical Graduate Course cadets however could not invite the parents of the cadets to attend the ceremony due to the COVID-19 outbreak.
In the history of the Indian Army POP ceremony for the first broadcasted live across the country on the Indian Army's YouTube channel - ADGPI Indian Army - from 6 AM onwards.
Honouring the cadets with magnificent Passing Out Parade a grandeur event at IMA, Dehradun was organised and to that the Indian Army decided to broadcast the parade live on social media concerning the COVID-19 pandemic outbreak. Following all precautionary measures and GOI guidelines with COVID-19, the IMA maintained to follow the necessary steps to cut the virus spread.
Accepting the IMA decisions the parents of the cadets have not attended the ceremony while the ranks i.e. usually pip-in on the shoulders of cadets by the parents or relatives for this year PoP would be put on by instructors or families residing within the academy premises.
The passing out parade symbolizes the culmination of rigorous training and transformation of a gentleman cadet into a young officer. This time a significant part of their training was conducted with new rules and precautions. An emphasis was provided on increasing the immunity of these cadets. They were also given the occasional allowance to watch television for a while and to talk to the housekeepers on the phone to reduce their mental stress.