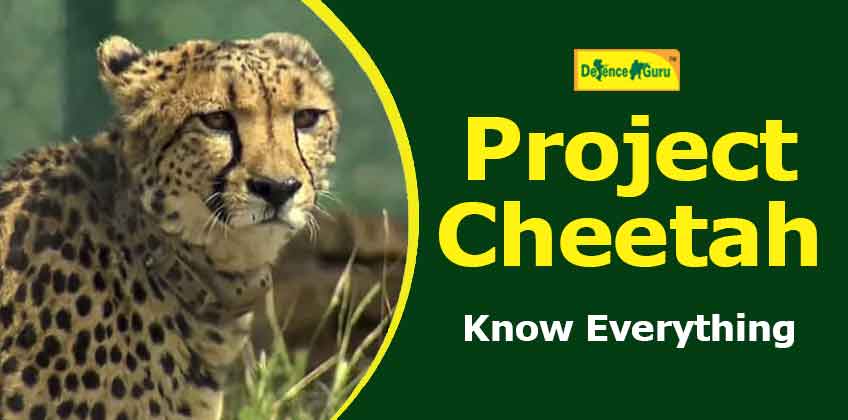 Important SSB Interview Questions on Project Cheetah - Know Everything
Recently on his birthday on 17th September, the Prime Minister of India, Shri Narendra Modi, released wild Cheetahs which had become extinct from India in Kuno National Park of Madhya Pradesh. The Prime Minister also met with Cheetah Mitras, members of the Cheetah Rehabilitation Management Group, and students. Since the reintroduction of cheetahs in India is currently in the spotlight, there is a high possibility that significant questions will be asked in upcoming competitive exams. Since this is a major news story, relevant questions from candidates preparing for defence exams may be asked in SSB interviews. As a result, in order to ensure that candidates understand everything about Project Cheetah, we have created a detailed article on Cheetah rehabilitation. Continue reading to learn more.
Important Highlights of Project Cheetah
Cheetahs introduced from Namibia are part of Project Cheetah, the world's first inter-continental large wild carnivore translocation project.

The return of cheetahs to India will aid in the restoration of open forest and grassland ecosystems, as well as improve livelihood opportunities for the local community.

The Prime Minister released eight cheetahs at two locations in Kuno National Park, with five females and three males among them.

The Indian government is also attempting to relocate another 12 cheetahs from South Africa to India. However, the translocation agreement between India and South Africa has yet to be signed as of August 2022.
Historical Perspective of Project Cheetah
Cheetahs were declared extinct in India in 1952, with extensive hunting and habitat loss being the primary causes.

The Prime Minister's release of wild cheetahs in Kuno National Park is part of his efforts to revitalize and diversify India's wildlife and habitats.

The most suitable sites for the reintroduction project were Kuno National Park and Nauradehi Sanctuary in Madhya Pradesh and Shahgarh Landscape in Jaisalmer, Rajasthan.

Cheetahs were released from Namibia and were eventually brought to Madhya Pradesh's Kuno National Park.

Cheetahs will aid in the restoration of open forest and grassland ecosystems in India, as well as the conservation of biodiversity and the enhancement of ecosystem services.
Important Points on Project Cheetah for SSB Interview Questions
Cheetah
The cheetah is a large cat native to Africa and central Iran, and it is the fastest animal in terms of speed. The cheetah lives in a variety of habitats, including Serengeti savannahs, the arid Sahara mountain ranges, and hilly desert terrain in Iran. Several factors endanger the cheetah, including loss of habitat, discord with humans, illegal hunting, and a greater vulnerability to disease.
Kuno National Park
Kuno National Park is a national park in Madhya Pradesh, India, founded in 1981 as a wildlife sanctuary with an initial area of 344 km2 in the Madhya Pradesh districts of Sheopur and Morena. It was designated as a national park in 2018. In 2009, Kuno Wildlife Sanctuary was also proposed as a potential site for cheetah reintroduction in India.
Namibia
Namibia is a country in Southern Africa, with Windhoek as its capital and largest city. The Atlantic Ocean serves as its western border, and it shares land borders with Zambia and Angola to the north, Botswana to the east, and South Africa to the south and east. Namibia declared its independence from South Africa on March 21, 1990.