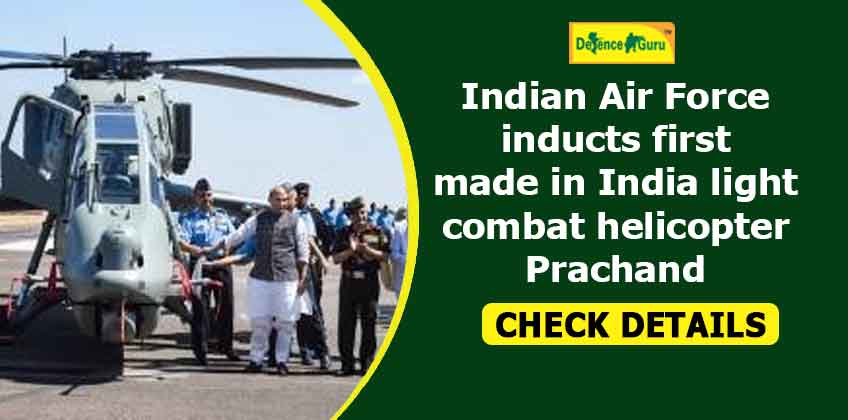 Indian Air Force inducts first made in India light combat helicopter Prachand
The Indian Air Force (IAF) today, October 3, 2022, inducted its first batch of made-in-India light combat helicopters (LCH), manufactured by Hindustan Aeronautics Limited (HAL), an Indian state-owned aerospace and defence company headquartered in Bangalore. In the presence of Defence Minister Rajnath Singh, newly appointed CDS General Anil Chauhan, and IAF Chief Air Chief Marshal VR Chaudhari, the indigenously-built light combat helicopter 'Prachand' was incorporated into the Indian Air Force at Jodhpur air base. Continue reading to learn more about Prachand, India's first indigenous light combat helicopter.
The Defence Minister of India, Shri Rajnath Singh, participated in the induction ceremony of the first indigenously developed LCH in Rajasthan's Jodhpur today, and a 'sarv-dharam' prayer was also conducted. While attending the introduction of the first made-in-India Light Combat Helicopters (LCH) into the Indian Air Force (IAF) at the Jodhpur Air Force base in Rajasthan, the Defence Minister stated that the step will strengthen defence manufacturing in the country.
"The introduction of indigenously developed Light Combat Helicopters (LCH) will stimulate our potential and defence production." The Defence Minister said, "There could not have been a better time for LCH induction than during Navratri in Rajasthan, the land of warriors."

The official introduction of the light combat helicopter "Prachand" comes months after the Cabinet Committee on Security sanctioned the procurement of 15 Limited Series Production (LSP) light combat helicopters in March. The Indian Air Force will receive ten helicopters from the limited series production, while the Indian Army will receive five.

Light combat helicopters can severely damage opponent air defence systems and can be employed in counter-insurgency operational processes and combat search-and-rescue deployments. The LCH accumulated many of its technological improvements from one of HAL's earlier indigenous rotorcraft, the HAL Dhruv, which is a utility helicopter developed and designed by Hindustan Aeronautics Limited (HAL).
According to the Ministry of Defence, the helicopter is equipped with the requisite quickness, speed, and agility, an extended range, high altitude effectiveness, and round-the-clock, all-weather combat proficiency to perform combat search and rescue, enemy air defence destruction, and counter-insurgency activities. It is also an effective counter-measure against slow-moving aircraft and remotely-piloted aircraft, and it can be employed in high-altitude bunker-busting operations as well as counter-insurgency operations in both forest and urban environments. It can provide effective assistance to ground forces in a variety of tactical situations.
The Army Aviation Corps put in place an attack squadron in Bangalore on June 1, 2022. A total of seven squadrons, each with ten helicopters, is intended. On October 3, 2022, the Indian Air Force formally raised its first LCH squadron at Jodhpur.
Insights have been received from a variety of media outlets. Subscribe to our portal for the most recent updates on defence news and various defence exams, and keep yourself updated with the latest information to help you prepare for the upcoming competitive exams.