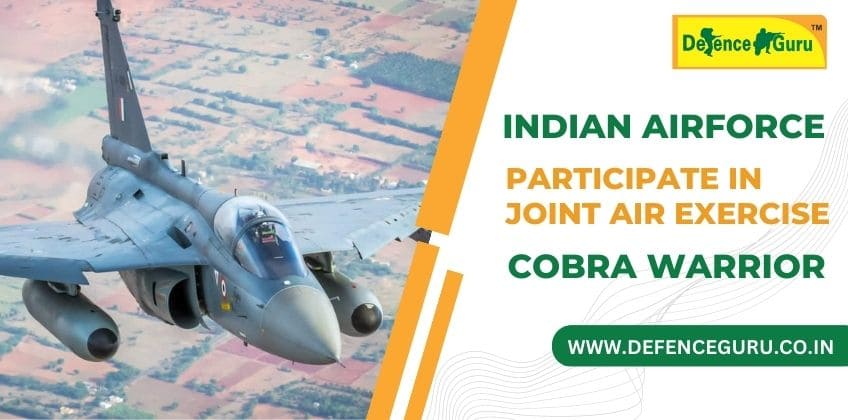 Indian Air Force is going to participate in the joint air exercise 'Cobra Warrior'
An Indian Air Force contingent comprising 145 Air Warriors will be participating in Exercise Cobra Warrior at the Waddington Air Force Base of the Royal Air Force in the United Kingdom. The exercise is scheduled from 06 Mar 23 to 24 Mar 23. The Exercise Cobra Warrior is a multilateral Air exercise in which Air Forces from Finland, Sweden, South Africa, the United States of America, and Singapore would also be participating alongside the Royal Air Force and Indian Air Force.
The IAF is participating in the exercise this year with five Mirage 2000 fighters, two C-17 Globemaster III and an IL-78 mid-air refueller aircraft. The aim of the exercise is to participate in diverse fighter aircraft engagements and learn from the best practices of various Air Forces.
Brief Details of Exercise Cobra Warrior

Particulars

Details

Name of Exercise

Cobra Warrior

Type Exercise

Air

Venue

United Kingdom

Participating Countries

7 Countries including

Indian Jets Participating in the Exercise

Mirage 2000, C-17 Globemaster, IL-78
Brief Details of the United Kingdom

Continent

Europe

Capital

London

King

King Charles

Prime Minister

Rishi Sunak

Currency

Euro/Pound

Language

English
Importance of Joint Military Exercise
Questions on Joint Military Exercises are asked in all defence exams. That's why this exercise is very important for upcoming defence exams like NDA, CDS, AFCAT and AGniveer. Candidates should remember the name of the exercise, the venue, and other important details.
For more defence-related news, tips for NDA. CDS, AFCAT and SSB, keep visiting Defence Guru. Defence Guru is a dedicated defence platform run by professionals to help defence aspirants in defence exams as well as SSB. We also provide materials for all defence exams and SSB. You can check out our model question papers for NDA, CDS, and AFCAT Exams.